Nicholas Homcy
Realtor Associate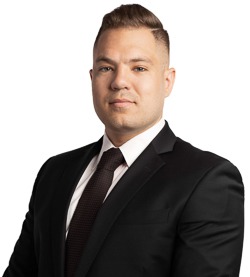 Nicholas Homcy
Nearly a Decade of Excellence in Real Estate
In the fast-paced world of real estate, few have consistently risen to
the top like Nicholas Homcy. Since diving into the industry in
November 2014, Nicholas has solidified his reputation as a relentless
advocate for his clients, boasting an impressive 800+ home sales,
with around 300 of those in the last three years alone.
His unwavering commitment to excellence and his keen market insight
have not only led to successful transactions but have also earned him
a prestigious spot in the RE/MAX Platinum Club for six consecutive
years from 2017 to 2022. A testament to his top-tier performance,
Nicholas was also inducted into the RE/MAX Hall of Fame by 2019.
Nicholas's journey in real estate is backed by a rich legacy and
practical experience in construction, having spent his formative years
learning the ropes from his father and grandfather, both of whom
were deeply involved in the industry. This, coupled with his time as a
project manager at a large-scale construction company, has endowed
him with a unique perspective and a robust skill set that sets him
apart in the real estate field.
But Nicholas's achievements aren't just limited to his RE/MAX
accolades. He has consistently been recognized by the New Jersey
Circle of Excellence, securing the Platinum Award from 2018 to 2022,
the Gold Award in 2017, and the Silver Award in 2016. These honors
speak volumes about his dedication, expertise, and the trust that his
clients place in him.
Beyond the world of real estate, Nicholas is an avid skier, having
carved the slopes across North America since the tender age of five.
His love for adventure and the great outdoors is matched by his
passion for automobiles, marking him as a true car enthusiast. Yet,
it's his role as a Big Brother in the Big Brother/Big Sister Mentor
program that truly showcases his commitment to community and his
desire to make a positive impact in the lives of others.
With a decade of exceptional service, a legacy enriched by
construction and project management, and a heart dedicated to
mentorship, Nicholas Homcy stands out as not just a realtor, but as a
community pillar, an adventure seeker, and a trusted ally in the
journey of buying or selling a home.