Rajat Seth
Realtor Associate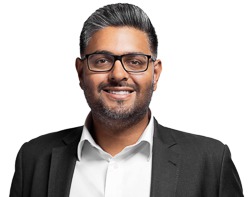 Rajat Seth
A Legacy of Real Estate Excellence
Meet Rajat Seth, a dedicated and accomplished real estate
professional with over a decade of unparalleled experience in the
industry. Since obtaining his license in 2012, Rajat has been
passionately helping clients navigate the complexities of buying and
selling homes, ensuring they make informed and confident decisions
at every step.
Rajat's real estate journey began with Weichert, Realtors, where he
honed his skills and developed a deep understanding of the market.
In October 2013, he took his expertise to new heights by joining
RE/MAX 1st Advantage, a move that has since proven to be a catalyst
for his impressive career growth.
Over the years, Rajat has successfully closed deals on approximately
564 homes, a testament to his relentless work ethic, in-depth market
knowledge, and exceptional negotiation skills. His performance from
October 2020 to October 2023 has been nothing short of stellar, with
a staggering $96.5 million in sales volume—a clear indication of his
ability to deliver results in even the most challenging market
conditions.
Rajat's commitment to excellence has not gone unnoticed. He is a
proud recipient of the RE/MAX 100% Club Award from 2015 to 2019,
a recognition reserved for top-performing agents. His outstanding
performance further earned him the coveted RE/MAX Platinum Award
from 2020 to 2022. Complementing these accolades, Rajat has been
honored with the NJAR Silver Award from 2015 to 2019 and the
prestigious NJAR Gold Award from 2020 to 2022, showcasing his
consistent delivery of exceptional service and results.
What sets Rajat apart is not just his impressive sales stats and
accolades, but also the qualities he embodies as a real estate agent.
He is known for his integrity, professionalism, and unwavering
dedication to his clients' best interests. His clients praise him for his
attentive nature, clear communication, and his ability to provide
tailored solutions that meet their unique needs.
Rajat Seth is not just a real estate agent; he is a trusted advisor, a
skilled negotiator, and a steadfast advocate for his clients. Whether
you're looking to buy your dream home or sell your property at the
best possible price, Rajat is the agent you want by your side, guiding
you through every step of the process with expertise, care, and
dedication.