Michael Laico
Realtor Associate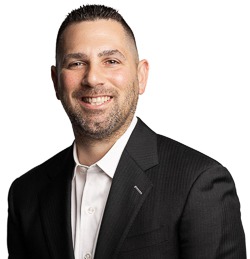 Michael Laico
Your Trusted Real Estate Expert

With a decade of rich experience in real estate, Michael Laico stands as a
testament to dedication and success in the ever-evolving housing market.
Michael's journey in real estate began in 2011, not with immediate grand
listings or high-stakes sales, but rather, with a humble start as a courier at
RE/MAX 1st Advantage. It was here that Michael learned the intricate details
of the real estate business, from the ground up, laying a solid foundation for
his future success.
In 2012, Michael transformed his on-the-ground knowledge into a licensed
reality, becoming a full-fledged agent with the very same firm that witnessed
his nascent career take flight. Since then, Michael has become a force to be
reckoned with in the real estate arena, having sold an astonishing 1,028
homes. The past three years have seen Michael's career soar to new heights,
selling close to 475 homes—a figure that speaks volumes of his relentless
drive and exceptional acumen in the housing market.
Michael's trophy case is a physical embodiment of his prowess, with honors
such as the prestigious RE/MAX Chairman's Club, RE/MAX Platinum Award,
and the New Jersey Realtors Circle of Excellence at the Platinum, Gold, and
Silver levels. His career milestones are further celebrated with the RE/MAX
Circle of Legends, RE/MAX Lifetime Achievement, and an induction into the
RE/MAX Hall of Fame—accolades that not only underscore his sales
achievements but also his long-standing commitment to excellence in the
field.
Beyond the impressive statistics and awards lies the essence of what makes
Michael a remarkable agent. His clients know him as the realtor who
combines market savvy with a personal touch, ensuring that every
transaction is as seamless as it is successful. Michael's approach is
characterized by a quiet confidence and a focus on results rather than
rhetoric—a true embodiment of showing, rather than telling.
In the competitive landscape of real estate, where every agent seeks to
stand out, Michael has carved his niche by simply outdoing the competition,
one successful closing at a time. He doesn't need to boast about his
accomplishments; the numbers, the satisfied clients, and the respect of his
peers speak on his behalf.
Choosing Michael Laico as your real estate agent means partnering with a
seasoned professional who not only delivers exceptional results but also
values the trust and dreams of every client he serves. Experience the
difference with Michael—where actions, achievements, and a commitment to
excellence define the very essence of a true real estate maestro.