Hardscaping & Softscaping: How to Perfect Your Yard Landscaping
Posted by Rob Dekanski on Tuesday, July 12, 2022 at 7:25 AM
By Rob Dekanski / July 12, 2022
Comment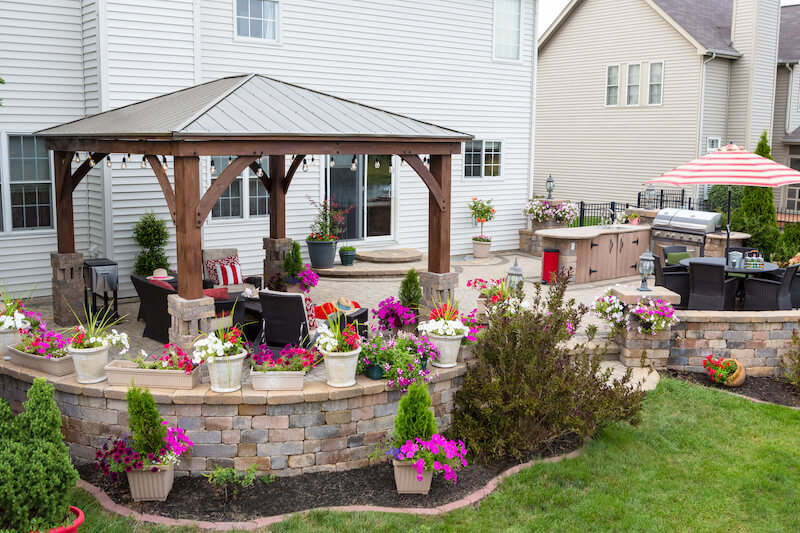 Landscaping matters! Whether you're a first-time homebuyer or a long-time homeowner, staying on top of your property's landscaping is one of the most cost-effective ways to increase your curb appeal and property values.
Have you considered the balance between hardscaping and softscaping around your house? If you want to get the most out of your backyard or garden, you'll want to know more about it.
Striking the perfect balance between hardscaping and softscaping is key to making your yard look and function just right. Get your gardening gloves on; it's time to make your landscaping dreams come true with these tips to balance hardscaping and softscaping.
What Is Hardscaping?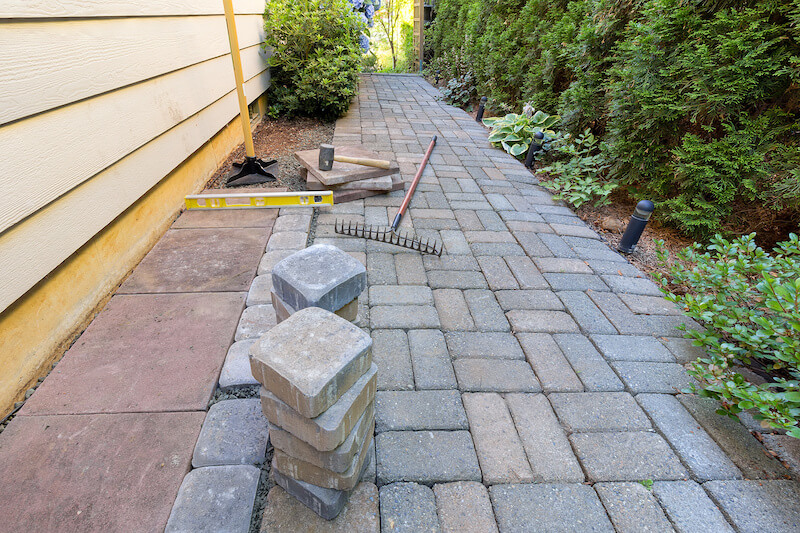 As the name suggests, hardscaping generally refers to your landscape's "hard" elements. However, this definition alone is somewhat limiting. It's more accurate to say that any "inorganic" addition to your landscape is hardscaping.
Think of structural features made of stone, brick, or concrete, including walkways, patios, retaining walls, swimming pools, and other landscaping features that aren't plants or flowers. These objects are generally sturdy, durable, and require minimal maintenance.
Examples of Hardscaping
You can separate hardscaping features into two categories: structural and livable.
Structural hardscaping elements enhance the form and function of your landscaping environment. Have you ever seen a tiered backyard? Tiered yards increase a sloped area's functionality by creating flat usable spaces. You can achieve a tiered backyard with retaining walls or other structural hardscape elements.
Livable hardscape elements are the amenities that allow you to spend time in your landscaped areas. If you have a backyard kitchen, the paved patio, dining table, and built-in grill improve the quality of life as livable hardscaping.
Why Do You Need to Balance Hardscaping Elements?
Hardscaping elements organize your yard or garden and, generally, reduce the amount of area that requires regular maintenance. If you don't want to spend a lot of time working in the garden, you might think it's best only to pursue hardscaped additions.
However, most landscaping professionals would urge you to reconsider.
Overusing hardscape elements around your house can have negative consequences that reduce the overall value of your home. Optimizing curb appeal is one of the best ways to sell your home for the best price, and hardscaping alone won't create the buyer-friendly appearance you want.
Overabundant hardscaping steals warmth and character from your home. For example, consider what potential buyers and property appraisers might think if your front yard was entirely hardscaped.
A massive driveway can look like the parking lot of a strip mall, while features like lampposts and benches fail to differentiate your property from the neighborhood street. Furthermore, overdone hardscaping can have adverse environmental effects. Most solid garden elements like stone and concrete don't absorb water, which increases runoff to nearby bodies of water and unevenly distributes water to your plants.
Even if you prefer hardscaping, you need to consider striking a balance with natural features.
What Is Softscaping?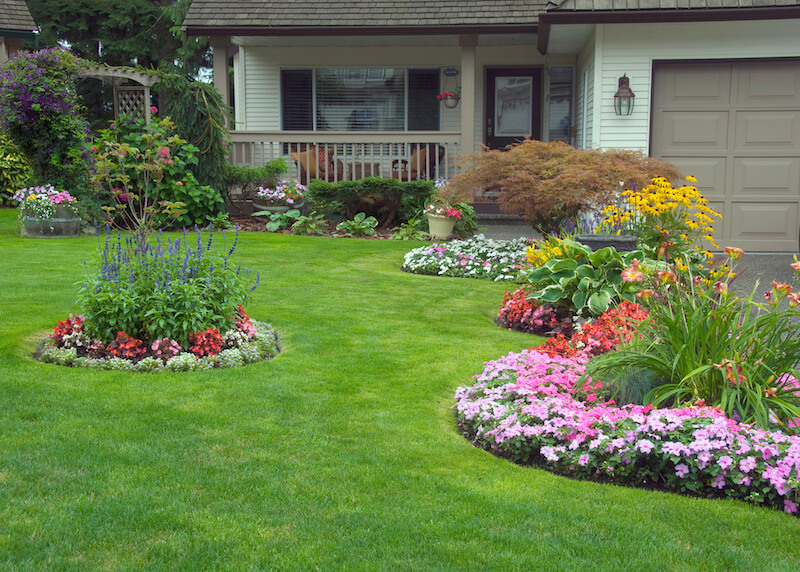 Simply put, softscaping is the organic component of your landscape, including grass, trees, shrubs, and other plants. These living additions to your garden require regular care and deliberate attention.
While hardscape features build the framework of your landscaping, softscape features provide the finishing touches.
Types of Softscaping
Like hardscaping, softscaping comprises two categories: base layers and accents.
Base layers include the plants that create the foundation of your softscaping layout. Lawn grass is the most common base layer, but rows of shrubs, ornamental grasses, and certain beds of flowers can function as base layers.
Accents are the more energetic and prominent aspects of your landscaping. Towering mature trees, colorful seasonal flowers, and uniquely shaped bushes stand out from the base layers and give your yard its personality.
Why Do You Need to Balance Softscaping Elements?
Unlike hardscaping, your softscaping elements are constantly growing and changing. Even the lowest maintenance plants require time and attention to grow properly. A space with too much softscaping can quickly become unmanageable and unsightly.
Softscape elements can create a calming natural oasis that you escape to every time you walk out your door. However, they need the order and form of hardscape elements to flourish.
Again, first impressions matter when selling your home. If a buyer arrives at your property and sees an overgrown softscape, they might assume that the rest of the house has been poorly cared for.
Ready to Try It? 4 Tips For Balancing Hardscape & Softscape
Now that you have a good idea of the differences between softscaping and hardscaping, it should be clear that the best landscaping requires a thoughtful balance.
The ratio of hard elements to soft elements will vary from person to person. Use these tips to help get the best results next time you collaborate with a landscaper.
Begin With the End in Mind
Before you start landscaping, you should have some goals in mind.
How would you like to spend time in your outdoor spaces? If you're an avid gardener and want your yard to be a working agricultural space, you need to choose hardscaping elements that support the segmentation and growth of your soft elements. Your box planters, irrigation systems, and pest deterrents are hardscape elements you might want to consider.
On the other hand, you might want to create an outdoor oasis where friends can lounge together by the pool or share an alfresco meal in an outdoor dining room. In this case, you should prioritize softscape features that cancel out the impersonal aesthetic of rigid fixtures.
You can plan your workflow or communicate more effectively with professionals by deciding what you want before starting.
Leave Some Room to Grow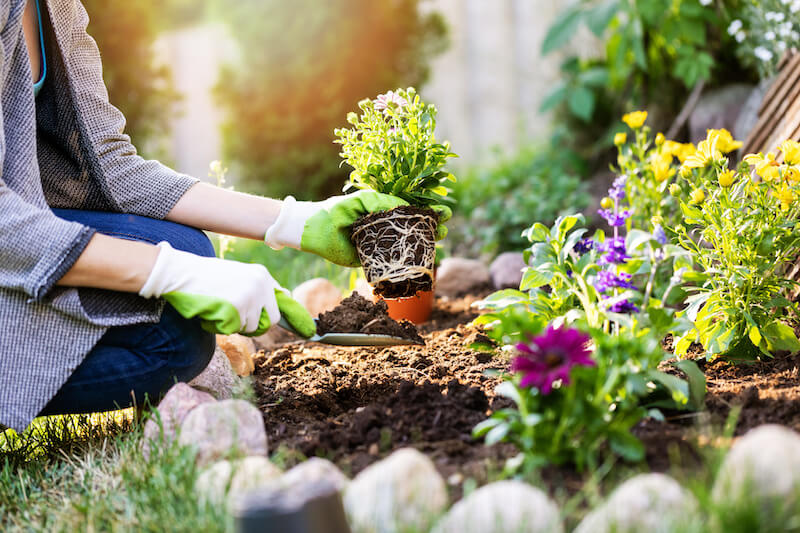 Remember that your plants, trees, and flowers are constantly changing—account for growing softscapes by leaving additional room around any fixed objects in the area.
Consider the direction in which your plants will grow. Growth patterns can be predicted by the types of softscapes you choose. If you plant trees, they will grow taller and broader. Flower beds might spread out and fill in as the years pass. Viney plants will spread out and climb anything within their reach.
Be prepared for the unexpected. Plants sometimes have a mind of their own and grow in random patterns, naturally gravitating towards sunlight, nutrients, and water sources.
Choose Items That Serve Multiple Purposes
When you're trying to limit the number of objects in your yard, choosing items that serve multiple purposes is essential. For example, a pergola can provide shade for an outdoor seating area while also supporting climbing plants. A bounty of colorful flowers might grow beautifully in a planter that doubles as a retaining wall. Stepping stones and concrete walking paths provide adequate separation between garden beds.
Let One's Strengths Complement the Other's Weaknesses
Hardscaping and softscaping are a match meant to be. When designing your backyard, think about how the strengths of your softscaping can reconcile the weaknesses of your hardscaping elements and vice versa.
For example, patios, gazebos, and other high surface area fixtures prevent water absorption. By clearing spaces within the stone or the concrete, you can insert plants that will absorb the rainfall that otherwise would be wasted.
Stay Flexible
Even the best-laid plans lead to unexpected obstacles. Be prepared to reevaluate your strategy when you encounter setbacks. Landscaping takes a lot of work, but it's one of the best ways to take ownership of your property and increase its value over time.
As you spend time in your yard, take inventory of what's working and what can be improved. The balance between hard and soft landscaping isn't a destination; it's a journey. If you learn to enjoy the process of solving problems and achieving balance, you'll always be able to find fun, rewarding projects. Your plants are constantly growing, so you should be, too.
Better Together: Enjoy the Benefits of Hardscaping & Softscaping
Landscaping, much like life in general, is all about balance. Softscaping features provide natural beauty and require ongoing work, while hardscaping elements create structure and give you a place to relax.
If your goal is to create a landscape that increases your home value and attracts future buyers, strive to create a balance between hard and soft elements. Have fun working in your garden and caring for your softscaping, and kick back on your hardscaping when the day is over.