Top 8 Essex County Towns: Find the Best Place to Live in Essex County
Posted by Rob Dekanski on Thursday, December 16, 2021 at 9:32 AM
By Rob Dekanski / December 16, 2021
Comment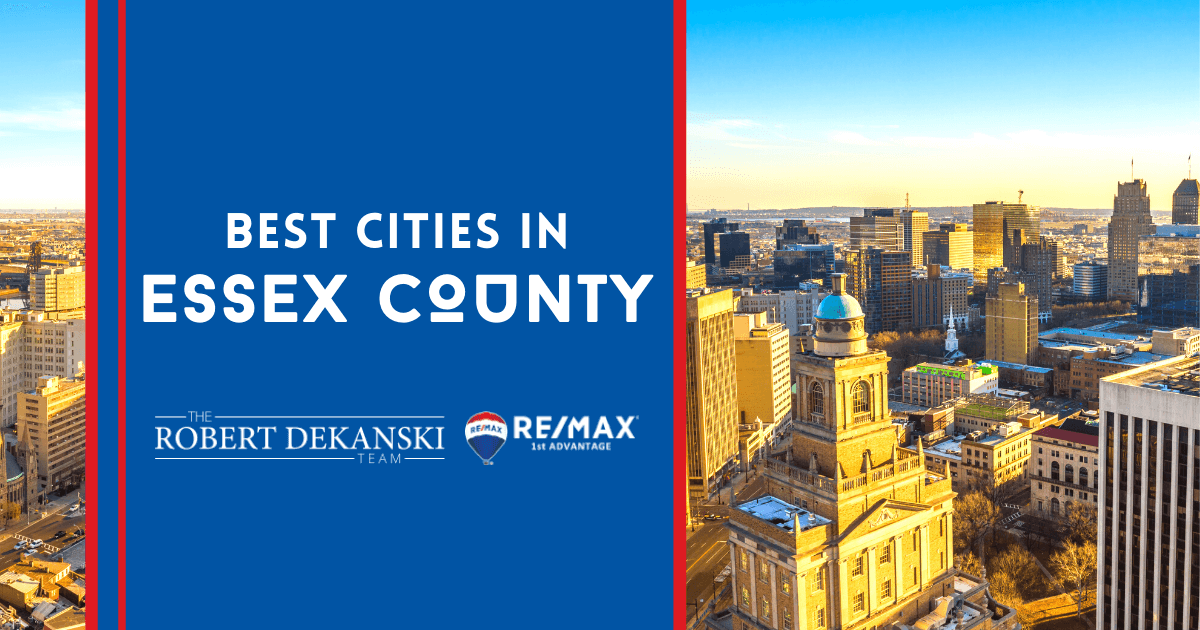 Covering close to 130 square miles in the northeastern section of New Jersey, over 1 million people live in Essex County homes. Since the last census, the area has experienced more than 10% population growth and is filled to the brim with flourishing communities.
Essex County comprises 22 unique municipalities, all with their personality and style. Homebuyers moving to Essex County will be pleased to find a multitude of communities, ranging from quaint and quiet townships to bustling downtowns. Keep reading to learn about the top eight towns in Essex County.
Montclair: Ideal for Essex County Commuters
Montclair Amenities
Whole Theatre
Montclair Art Museum
Presby Memorial Iris Gardens
Yantacaw Brook Park
A township with a population of close to 40,000 people, Montclair is a commuter suburb of New York City. The main road is Bloomfield Avenue, and several NJ Transit buses run this route through town. The Montclair-Boonton Commuter Rail Line provides Montclair residents with hassle-free access to New York's Penn Station.
Not all Montclair residents use public transportation. Montclair is centrally located and close to several major roadways for those who drive. In addition to Bloomfield Avenue, the township has easy access to the Essex Freeway and Garden State Parkway.
The township's proximity to New York City has marginally driven up real estate prices. However, the price range for single-family homes is still accessible for many budgets. The prices for Montclair homes for sale hover between $300,000 and $600,000. Condos are less expensive, typically at $100,000 and dropping off around $350,000, making Montclair one of the most affordable cities in Essex County.
Most single-family homes range between 1,000 and 2,000 square feet of living space and boast two and three bedrooms. Popular architectural styles in Montclair include Colonial and Tudor.
The variety of amenities in Montclair saves residents from trekking into New York City every weekend. Walnut-Grove and the South End are commercial districts within Montclair that boast art galleries, bakeries, restaurants, and unique shops that delight residents and visitors alike.
Verona: A Serene Essex County Haven
Verona Amenities
Verona Public Library
Bella Gente
Avenue Bistro
Vintage Alley
Pilgrim Shopping Plaza
Thanks to the rolling topography, many areas in Essex County are located at a higher elevation than the rest of New Jersey. Verona is a township nestled in the valley between the First and Second Watchung Mountains.
With less than 15,000 residents, the area is tranquil. It's ideal for residents looking for a bit of peace while remaining close to amenities. The area is so pleasant that New Jersey Monthly Magazine named it as #3 on their list, "The Top Places to Live in New Jersey."
Homes for sale in Verona range between $500,000 and $700,000. Due to the area's rural and suburban feel, condos are sparse. However, this could change as the neighborhood continues to grow.
Most properties are between 1,000 and 2,500 square feet, and it's common to see luxury features like well-manicured front lawns, open floor plans, and hardwood floors.
Verona's picturesque scenery attracts many lovers of the outdoors. Two attractions in the area that are favorites of the locals include Verona Park, a 54-acre park adorned with twin lakes and a picturesque bridge, and Kip's Castle Park, a 9,000 square-foot mansion on 11 acres of a mountain ridge.
Short Hills: Essex County Luxury
Short Hills Amenities
Mall at Short Hills
Enzo's Trattoria-Restaurant
Boxcar Bar
Restaurant Serenade
Short Hills is a census-designated place within Millburn Township, and Short Hills is a commuter suburb for New York City employees. Short Hills also boasts the Kearny Connection, a rail service that provides direct service from Short Hills to Penn Station in Manhattan. The population of Short Hills has been rapidly growing since the rail station's inception in 1996.
The price of homes for sale in Short Hills has grown alongside its population. Home prices in the area start at $800,000 and can be as expensive as $5,000,000 or more. With these price tags come sprawling estates sitting on several acres of land. Homes boast luxury features like sprawling foyers, stonework fireplaces, hardwood floors, and walk-in closets.
While the population is shy of 15,000 residents, the number of amenities and conveniences offered by Short Hills is surprising. In addition to the Kearny Connection, the community boasts its own post office and zip code.
There are plenty of gorgeous places to relax in Short Hills. Dotted throughout the picturesque, tree-lined streets are several parks and green spaces for residents to enjoy. Hartshorn Arboretum in Short Hills boasts a well-manicured waterfall garden. Other popular parks include Gero Park and Old Short, Hills Park.
North Caldwell: Home of Essex County Shops
North Caldwell Amenities
Jola Coffee
Horseneck Tavern
The Brook Tap House
Camp Wyanokie
Grover Cleveland Park
The tiny borough of North Caldwell is considered a suburb of New York. The area boasts just under 7,000 residents. While the rural community feels far removed from anything resembling a downtown area, it's just a few minutes from nearby attractions and boasts easy access to County Routes 527 and 506.
Popular attractions in and around North Caldwell include many shopping opportunities. Essex Mall is located within the borough of North Caldwell, and the area is a short drive away from the West Caldwell Shopping Center, the Willowbrook Mall, and Livingston Mall.
Many residents are drawn towards North Caldwell's unique position at the highest elevation in Essex County. North Caldwell homes for sale range in price from $500,000 for a quaint single-family to $3,000,000 or more for a grand, sprawling estate.
Most homes in the area boast three or more bedrooms, multiple bathrooms, and over 1,500 square feet of living space. Popular architectural styles in the area include gorgeous Tudors and classic Colonials.
Livingston: Artsy in Essex County
Livingston Amenities
Riker Hill Art Park
Livingston Public Library
THAVMA Mediterranean Grill
Panevino Ristorante
A bustling township located on the western edge of Essex County, Livingston keeps busy with its near 30,000 residents. Essex County locals agree that it's one of the best cities in the area.
This ranking has several reasons, including the incredibly artistic and creative residents. Several performance venues reside in the township to accommodate these performers, including the Livingston Symphony Orchestra, the Children's Theatre of Livingston, and the New Jersey Ballet.
The township also has an ideally central location. It's less than 25 miles from New York City, making it an easy ride for those with daily commutes into the city. Major nearby roads include Eisenhower Parkway, County Route 508, and Interstate 280. The Newark Liberty International Airport is less than a thirty-minute drive.
Despite these many amenities, real estate in Livingston has managed to stay relatively affordable. Most homes for sale in Livingston go for prices that range between $450,000 and $750,000. Lots are typically less than an acre, and most properties offer at least three bedrooms and 1,000 square feet of living space.
Maplewood: Fun Attractions in Essex County
Maplewood Amenities
Rahway River
Hilton Branch Public Library
Winchester Gardens
Arturo's
The population of Maplewood currently sits at just under 25,000 people. This number has increased by over 10% from the last census and continues to grow. Not only is the community convenient and close to plenty of amenities, but its playful atmosphere and numerous attractions inspire many folks to stay long term.
The fun is nonstop in Maplewood, with the township being a massive supporter of the performing arts. Maplewoodstock is a free annual concert Maplewood hosts, bringing together both local and nationally-known musicians and local vendors for the event. Nearby, Burgdorff Center for the Performing Arts is a 100-seat theater that hosts events like visual storytelling and arts and crafts nights to support local artists and small businesses.
The drive from Maplewood into New York City is under forty-five minutes, making it a perfect area for those commuting into the city. Residents have easy access to the Garden State Parkway and Interstate 78, making commuting a breeze.
Maplewood homes for sale can cost between $350,000 and $800,000. Condos and townhomes in Maplewood come at a lower price tag, ranging between $100,000 and $300,000. These units boast open floor plans and luxury amenities like fitness centers, swimming pools, and in-unit washer dryers.
South Orange: Up-and-Coming in Essex County
South Orange Amenities
South Orange River Greenway
Baird Center, located in Meadowland Park
South Orange Community Garden
South Orange Public Library
With a population of just under 20,000, the township of South Orange is an up-and-coming area. With plenty of restaurants, shops, theaters, and more, this community makes its residents never want to leave. Two additional highlights in the area include Seton Hall University and South Mountain Reservation.
One of the best things about South Orange is its diverse cuisine. Close to 100 restaurants adorn the streets of this township, and even the most seasoned foodies struggle to try them all.
South Orange's most popular eateries include The Fox & Falcon, a modern American restaurant, Bistro d'Azur, based on cuisine from Southern France, and mozzarella, a traditional Italian restaurant with rotating specials.
South Orange real estate varies in price. Single-family properties in the area sell for anywhere between $500,000 and $2,000,000. Victorian, Colonial, and Cape Cod architectural styles are popular.
Unlike some other areas of Essex County, condos in South Orange are plentiful. Prices for these properties can be as low as $100,000 and will sometimes go above $500,000. Most units are in high-rise buildings with sought-after conveniences and amenities like elevators, doorkeepers, swimming pools, and fitness centers.
Glen Ridge: Gaslamp-Lined Streets in Essex County
Glen Ridge Amenities
Nevada Diner
Town Pub
Foley Field
Fitzgerald's 1928
A small borough in Essex County, Glen Ridge has less than 10,000 residents. Despite its size, the community remains a sought-after area with plenty of amenities.
One charming trademark of the area is the street gaslights in Glen Ridge. Only 3,000 gaslights remain in the United States, and close to one-third of them are located on the streets of Glen Ridge, New Jersey.
This townscape is an array of different architectural styles that are rare and delightful to see. Some of the most popular styles include Victorian, Carpenter Gothic, and Georgian. Homes for sale in Glen Ridge typically sell for between $300,000 and $2,000,000.
While the small community feels like it's a million miles away from city living, Newark Liberty International Airport and New York City are less than a thirty-minute drive. County Routes 506 and 509 make commuting into the city easy.
There is no shortage of shops, restaurants, and amenities within Glen Ridge. Shopping, in particular, is a favorite hobby of residents and visitors alike, with two of the most popular stores in the area being the Glen Ridge Store and Vintage Park. Both shops provide visitors with no shortage of unique and fashionable finds.
Essex County Cities Are Waiting For You
Municipalities in the area are a short commute from New York City and boast plenty of amenities and conveniences. The picturesque scenery and endless parks and green spaces ensure that there are plenty of things to do in Essex County. These excellent communities present unbeatable options to choose from for prospective residents when looking for homes in Essex County, New Jersey.