8 Best Cities in Monmouth County NJ: What's Your Favorite?
Posted by Rob Dekanski on Monday, January 24, 2022 at 12:00 PM
By Rob Dekanski / January 24, 2022
Comment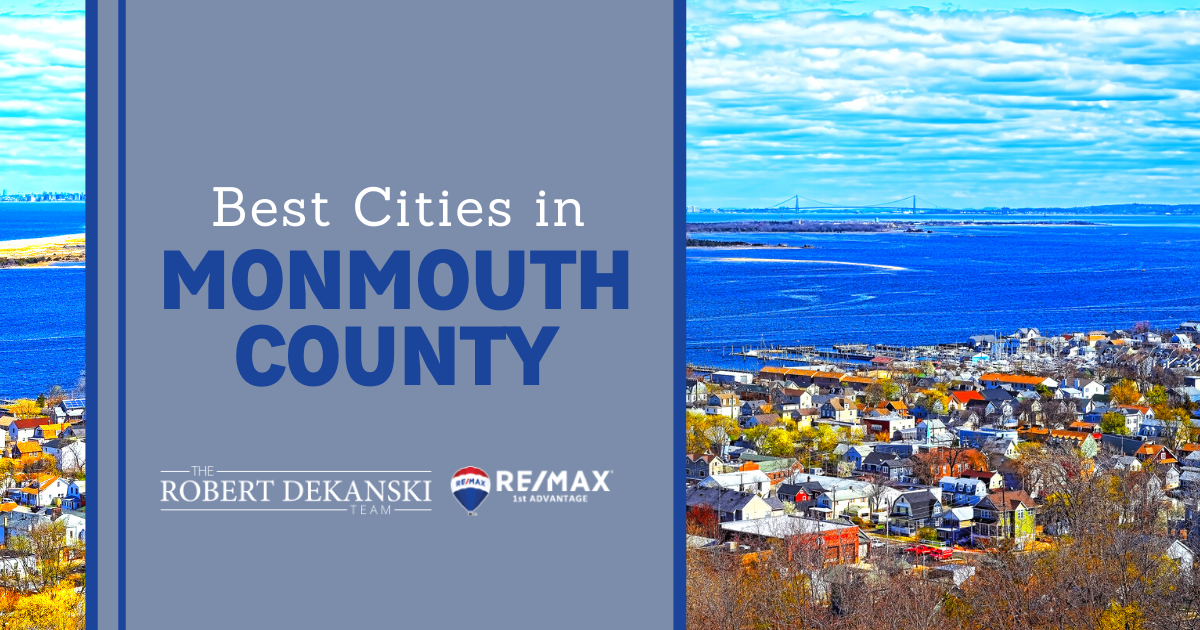 A hub of boating and fishing, Monmouth County, New Jersey, is located across the water directly south of New York and Long Island. A part of the much larger New York metropolitan area, Monmouth County is also located along the Jersey Shore, famous for its many boardwalks and amusement parks.
The residents of Monmouth County occupy 53 distinct municipalities, home to cities that give easy access to the surrounding region via major roadways. As with all places, some cities within Monmouth County rise above the rest. Keep reading to learn about some of the best cities in Monmouth County, New Jersey.
Little Silver
Little Silver Amenities
Ferrucci's Market
Rumson Country Club
True Blue Boutique
Challenger Field
The borough of Little Silver is a quiet community with a charming downtown area. The location of Little Silver along the banks of the Shrewsbury River means the borough is very popular with people who love to spend time on the water, including boaters and water sports enthusiasts.
Homes in the Little Silver community sell for anywhere between approximately $400,000 and $2.3 million. Waterfront homes in Little Silver are pretty prevalent, with over 40% of residences located either on the Shrewsbury River itself or one of its tributaries.
In addition to boating, fishing, and other water-related activities, Little Silver has plenty of other amenities, including a bevy of restaurants, most located in the downtown area. Restaurant Diomede serves fresh seafood, steak, and other items. Nicky's Oceanport Pizza & Subs serves pizza in the heart of the city. Edie's Luncheonette, a quaint restaurant, brings breakfast items to the citizens of Little Silver.
Other locations within Little Silver include Sickles Park, a small community park with a playground, walking trails, and sports facilities; Trademark Boutique, a store specializing in woman's clothing, gifts, and accessories; and the Red Tank Brewing Company.
Manasquan
Manasquan Amenities
Palm Place
Scarborough Fair Restaurant
Alex's Inlet Bait & Tackle
The Salty Whale & Guesthouse
Known for its beach and world-class surfing, the borough of Manasquan is located along the Jersey Shore. Manasquan is first and foremost a beach town. This is most evident on the Manasquan Inlet, where waves from the nearby bay area are made larger by the jetty that projects out into the Atlantic Ocean.
Homes in Manasquan range from typically $400,000 for small condos and townhomes to about $2 million for larger luxury homes. Home types in Manasquan include custom-built models, beachfront properties, and more traditional Colonial designs, among others.
Some popular area amenities include Manasquan Beach, one of the biggest draws in the area; Carlson's Corner, a small restaurant located right on the Manasquan Inlet; and the Fisherman's Cove Conservation Area, a 55-acre site geared toward fishing, walks on the beach, and sunbathing.
Other area amenities include Gee Gee's, a local hotspot that serves pizza right on the beach; Riverside Café, a seasonal restaurant that offers an extensive breakfast menu and other menu items; and Squan Tavern, a family-owned restaurant and bar with a variety of menu items and drinks.
Manasquan area shopping includes the Surf and Sun Shoppe, women's clothing store Waterlily, and Off Main Gift Shop.
Robertsville
Robertsville Amenities
Aunt Butchie's of Brooklyn
Whole Foods Market
Marlboro Dog Park
The Jersey Dugout
Robertsville is a census-designated place located in the northeastern part of Monmouth County. The closest cities to Robertsville include Morganville, Yorketown, and Marlboro, which is the township that Robertsville is considered a part of.
Home prices in the Robertsville area include smaller homes and condos starting at around $190,000 and reaching up to approximately $1 million for larger luxury homes. In addition to a wide variety of custom homes, the Robertsville community also has Colonial, ranch-style, and multi-level models.
Favorite local hotspots include The Pickled Herring, an old-fashioned delicatessen; the Koi Grill, offering authentically fresh Mediterranean food; and Il Nido, serving a variety of Italian fare with a New Jersey spin.
Retailers in the Robertsville area include The Shoppes at Old Bridge, a shopping center in the Old Bridge community to the north; Fox's, a women's clothing store; and Marlboro Plaza, with 17 stores area residents can shop.
For outdoor activities, Robertsville residents have many options, including Marlin Estate Parks, which has a variety of sports fields. The Union Hill Recreation Complex is another option, a playground established in memory of the victims of 9/11.
Fair Haven
Fair Haven Amenities
Canyon Pass Provisions
Mystic Crystals
Dune + Salt
Raven & the Peach
Located on the Navesink River, the borough of Fair Haven is known for its small-town feel and the easy access it gives for outdoor water activities. Most importantly, Fair Haven boasts a strong economy, making it a perfect fit for potential homebuyers.
Homes in the Fair Haven area generally range from about $400,000 to almost $2.3 million. Property types range from a variety of standard Colonial models to custom-built homes. Homebuyers can also find new construction homes near Fair Haven.
In addition to top-notch housing options, Fair Haven has a lot to offer area residents when it comes to things to do. This includes such locations as Booskerdoo Coffee & Baking Co., a local coffee house that also serves a variety of baked goods; the Nauvoo Grill Club, which offers a variety of dishes in a ski lodge setting; and Sansu Japanese Steak House, a contemporary Japanese restaurant with Hibachi, sushi, and more.
Other area hotspots include the Fair Haven Fields Natural Area, a primarily wooded 77-acre park devoted to walking trails and sports; and the Harding Bird Sanctuary, home to many birds and other animals.
Brielle
Brielle Amenities
The Golden Wax Bar
Marine's Cove Restaurant
Sugar Bake Shop and Gourmet Foods
Manasquan River Golf Club
Found on the Manasquan River, the borough of Brielle is known primarily as a boater's town due to its proximity to the water. The Brielle area is also known for the Laurel River Beach Path, which offers a pleasant and relaxing walking path alongside the Manasquan River.
The cost for homes in Brielle generally falls between $225,000 for a small two-bed, two-bath residence and $5 million for a larger house with an accompanying dock on the Manasquan River. Home sizes in Brielle range between around 800 and 7,600 square feet.
Brielle Bait and Tackle provides a wide selection of bait and other fishing supplies for residents who like to fish. Meanwhile, shoppers looking for other items can check out Golden Hour Boutique, which sells clothing items, beauty supplies, and accessories.
There are also numerous eateries in Brielle, including the Shipwreck Grill, which serves a variety of seafood dishes while also offering a bar; Waterman's Tavern, a restaurant located in the heart of Brielle that has hand-crafted cocktails and fresh seafood; and the River Café, which serves breakfast and lunch options.
Rumson
Rumson Amenities
The French Market
Bain's Outdoor Living
Drifthouse
The Rum Runner
In addition to being known for the many sprawling 19th century estates that line the Navesink and Shrewsbury Rivers, the borough of Rumson is also known for the Navesink River Wildlife Management Area. This area overlooks the Navesink River and surrounding waters at the northeastern tip of the borough.
When shopping for homes in Rumson, homebuyers can expect to pay anywhere from approximately $600,000 to $5 million and up. Fortunately, those shopping for a home in the Rumson area have a wide selection of house sizes and styles to choose from.
Some area amenities include the Rumson Country Club, a private club that has an 18-hole course, a swimming pool, and its very own marina, among other amenities. Rumson has a variety of community parks, including its flagship park, Victory Park; Piping Rock Park; and Rogers Park, among others.
In addition to outdoor activities, Rumson has a variety of other locations, such as Salt Creek Grille, which features food flavored with its signature mesquite-grilled flavor; J.McLaughlin, a premier clothing store that sells fashions for men and women; and Butler's Market, a local deli that serves sandwiches and breakfast all day long.
Morganville
Morganville Amenities
Nonna's Citi Cucina
Union Hill Recreation Complex
Pomegranate Restaurant
Il Nido
Morganville is another census-designated place within the township of Marlboro. An unincorporated community, Morganville sits between Marlboro to the east, Englishtown to the southwest, and Robertsville to the north. To the south is the county seat of Freehold.
Homes within Morganville range in price from around $300,000 to $3 million. Most of the luxury homes in the area are custom built. Meanwhile, lower-priced homes tend to be townhomes, condos, and a mix between one- and two-story homes.
Nearby shopping locations include the Marlboro Commons, with a Target, Home Depot, and Staples; Vanilla Sky, a trendy women's clothing store; and the local ShopRite, a supermarket selling grocery items.
Local Morganville restaurants include Tio Taco + Tequila Bar, a family-owned Mexican restaurant; Bulbap Grill, which serves authentic Korean fare; and La Cucina Nouveau, which offers authentic Italian seafood dishes and some vegetarian options.
Nearby parks include the Marlboro September 11 Memorial Park, featuring a 12-foot I-beam recovered from the World Trade Center and dedicated to the people who lost their lives during the attack, and Opatut Park in Freehold to the south. Additionally, Pine Brook Golf Course is a part of the Monmouth County Park System to the west.
Holmdel Township
Holmdel Township Amenities
Olde Village Pub
Commons at Holmdel
Nicholas Barrel & Roost
Jos A. Bank
Holmdel Township is known for its connection to Bell Laboratories and the discovery of the Big Bang. Holmdel Township also serves as a bedroom community for nearby New York City. The community is within easy driving distance of the Jersey Shore and its beaches.
Homes in Holmdel Township run the gamut in price from about $400,000 to $5 million. The houses available include a variety of larger custom-built luxury homes and smaller one- and two-story homes in more traditional styles, including Colonials, ranches, and other styles.
One of the more popular locations in Holmdel Township is Holmdel Park. This community park features a fishing area, 10 miles of walking trails, and a couple of historical sites. Other area parks include Cross Farm Park, which has a playground, trails, and sports facilities, and Veterans Park in Hazlett Township to the north.
Area restaurants include Peter's Crab and Steakhouse, specializing in fresh seafood and steak; Simply Greek, a family-owned Greek restaurant serving Mediterranean favorites; and Palumbo's Italian Restaurant & Pizzeria, offering delicious pasta, pizza, and more.
Monmouth County, NJ Has Many Great Places to Live
With its proximity to New York City and the Jersey Shore, Monmouth County is a great place to live. The county offers a more suburban feel while allowing residents to enjoy everything the area offers, including area restaurants, shopping, and outdoor activities.
Additionally, there are plenty of homes to buy that fit all price ranges, from standard Colonial and ranch-style homes to extravagant luxury properties, some even on the water or beach. Best of all, Monmouth County has natural beauty in many area parks.