Colonial Decor: Design Ideas For Colonial Homes
Posted by Rob Dekanski on Monday, January 31, 2022 at 9:45 AM
By Rob Dekanski / January 31, 2022
Comment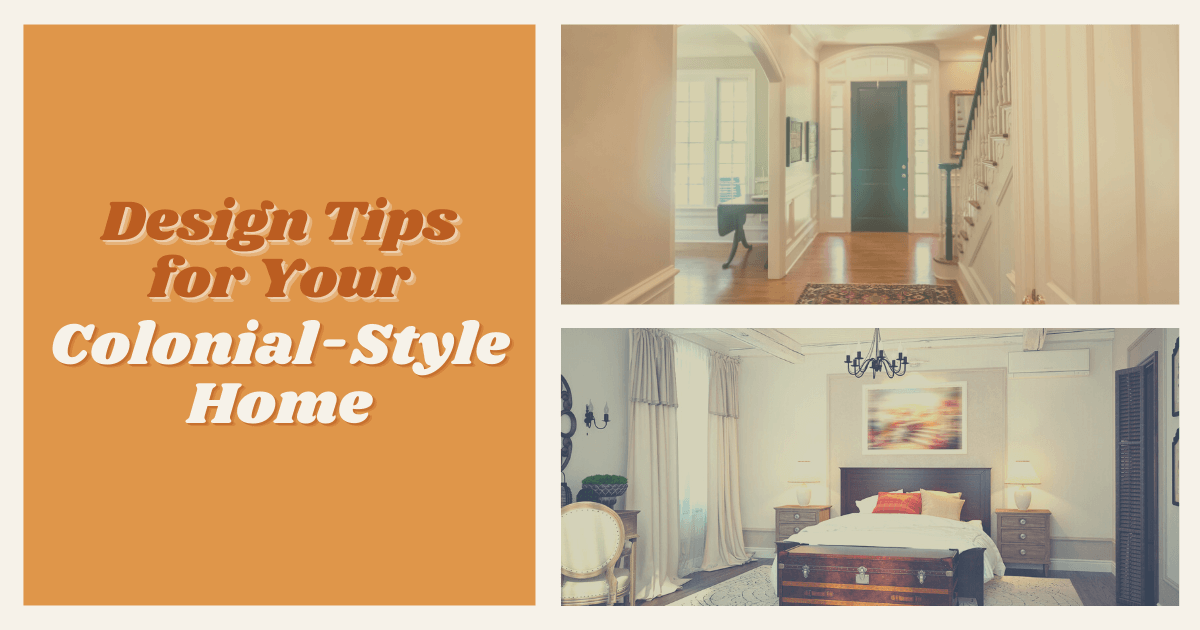 The colonial style is one of the most popular interior design styles today. This type of design makes for a space that can be elegant and formal, yet also warm and comfortable at the same time.
There are many different types of furniture available in this style, from wing chairs to mahogany-finished pieces. The key with all these items is simplicity and practicality; focus on what will best serve needs first, and then accessorize from there. You could even add antique pieces or reproductions if the homeowner wants a bit of historical flair!
Looking to give a colonial-style home some stylish decor? Keep reading to explore top ideas to help incorporate the American colonial style into a home.
What Is American Colonial Design?
Colonial architecture is a type of American architecture that was prominent in the 17th and 18th century. This type of design set out to emulate European style designs such as Palladian and Georgian, but with the use of native materials such as local woods.
Essentially, the common characteristics of colonial-style architecture include a symmetrical arrangement of doors and windows with a central hall plan. This style also often includes a cross-gabled roof with a dentiled cornice on top, paneled walls, and an upper story—sometimes several.
American colonial style is a remnant of the period in American history from around 1600 to the mid-1800s. This type of design is a natural extension of traditional English Georgian and Tudor architecture, with characteristics that made it practical for colonists such as simpler building materials and a straightforward construction process.
More popular today than ever before, this type of interior design has been gaining in popularity for years.
The History of American Colonial Design
The origin of this architecture style comes from the 1600s when settlers began to slowly populate America. With these settlers came the architectural styles of their homelands, which they continued building even in a new country. This cultural shift meant that homes were being built with styles from all over Europe, including England, France, Spain, and Italy. Over time, the styles blended together and became recognizable as the colonial-style architecture we see today.
Creating an American Colonial Look Today
In the case of American colonial interior design, it's about simplicity and practicality. Homeowners take a look at their furniture and accessories and ask themselves what they need the furniture to do. Then, they can choose a style that works for their home.
There are many antique pieces from the 17th and 18th centuries on the market today as reproductions, as well as some current designers who offer a variety of pieces inspired by this classic style. Homeowners can even look into adding a few originals or using a mix of old and new pieces to create a fun and functional look for their home.
American Colonial Interior Design Tips By Room
For a more detailed look at American colonial interior design, here's a guide to help discover how to style different rooms throughout a colonial-style home.
The Entryway
The entryway is a very important room in any house. This is where the homeowner greets their guests, so it should be welcoming and functional. This room can have some of the most ornate pieces in the whole house, as the front door and entryway are considered to be one of the most important elements of a colonial home. Use colors that are appropriate for the space, and make sure that the decor doesn't hinder the room's function.
One of the most distinct features of the entryway in an American colonial-style home is the staircase. This focal point is often used to welcome guests into the home and show off the second floor, which was a sign of wealth in older times. Today, styling a staircase with the trappings of early colonial aesthetics can be an easy way to add character to a home.
The Living Room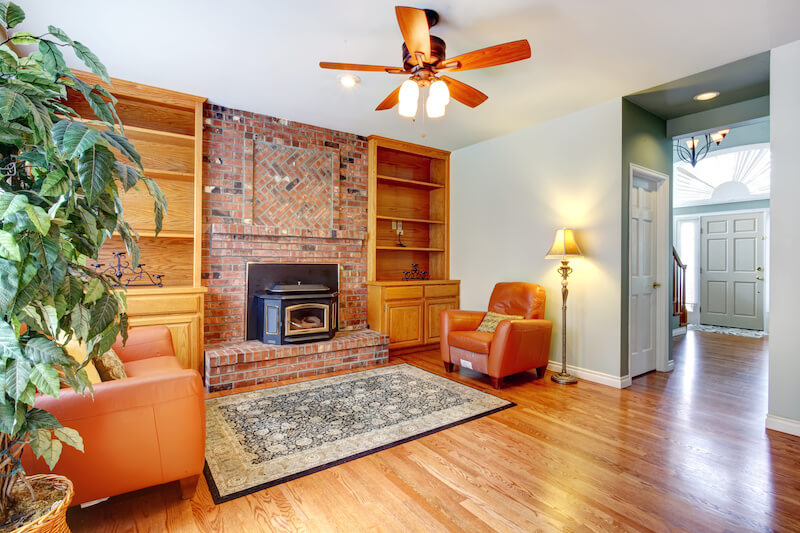 The living room is one of the most prominent rooms in a colonial-style home. This is where occupants will likely spend the most time, so it's important to make it comfortable and inviting. When styling this room, it's best to keep things simple and use colors and textures that are appropriate for the space.
One of the most distinct features of a colonial-style living room is the fireplace. This focal point can be used to create a cozy and inviting space for residents and guests. Try styling the fireplace with antique pieces or with pieces that are inspired by this classic style.
Another key element to consider when styling a living room is the furniture. When choosing furniture for this space, it's important to remember that less is more. There doesn't need to be a lot of furniture to create a comfortable and functional living room in a colonial-style home.
The Kitchen
The kitchen is often called the heart of the home. This space should be functional and easy to move around in, with furniture that is appropriate for the space.
One of the most important elements of a colonial-style kitchen is the table. This space should be large enough to accommodate many people, making it the perfect place for family gatherings or dinner parties.
Another essential consideration when styling a kitchen is the lighting. Chandeliers are a must in a colonial-style kitchen, and they should be placed over the table or island. For those looking for a more traditional look, choose chandeliers that are inspired by the early colonial era.
The Bathrooms
The bathrooms in a colonial-style home are often simple and utilitarian. Bathrooms are one of the most commonly used rooms in the house, so it's important to make them practical. There are many antique pieces available today as reproductions that can be used to style a bathroom.
The bathroom is a functional space, so it's important to keep things simple when styling it in a colonial-style home. One of the most important elements of this space is the vanity. Finding an antique vanity and styling it with accessories from the era will create a functional and beautiful space. Another key element to consider is the lighting. Chandeliers are a must in the bathroom, so choosing one that fits this style can help create a beautiful look.
The Bedrooms
Continuing with the bedroom decor, bedrooms are typically structured in three parts with the bed situated at the center. The first space is for walking into the room where there is often a variety of things like entry tables, cabinets, and armoires to store clothing. The second section is the sleeping area where there are often two wingback chairs near an armoire or bureau set. The last part of this area is for storage, which has lots of dressers and chests.
American colonial-style bedrooms are pretty similar to the family room style: comfy, cozy, and filled with the comforts of home. A standard colonial bedframe is pretty sturdy and simple, but other versions may have curtains or drapes. They're pretty stylish and are more common in warmer weather climates, like Florida and the West Indies area. But this doesn't mean they can't be in New England as well.
It's also common for bedrooms to feature chandeliers, similar to the kitchen area. Back in the 1600s and 1700s, the chandelier had actual candles, but even electric candles can offer a historical flair to the space. The distinctive, vaulted, triangular roof is yet another lovely feature, as the master bedroom is generally on the second floor.
Styling Your Colonial Style Home
Lots of fun accessories can be added to a colonial-style home to further personalize the look. Here are a few common trends to consider:
American Colonial Colors
Colors, in the American colonial era, were limited by the settlers' knowledge of pigments and available natural resources. Whitewash, a solution of lime and water, was the most readily available and often used. The simple white of early colonial years eventually gave way to a predominance of basic primary colors, including barn red, indigo blue, and yellow ochre. Green was produced by combining yellow ochre and charcoal black with calcite and animal glue as a binder. In some cases, a translucent layer of weak plaster was used instead of paint.
Spotting and sponge painting were two of the most popular decorative techniques used in colonial homes. "Spotting" referred to the decorative application of dots on walls and ceilings, and was usually done in black dots on whitewash. Colored water-based distemper paints were also sometimes used, such as dark gray dots on a red ceiling.
A common treatment even today in colonial homes is to whitewash the walls and ceilings. This will give the home a bright and airy look, and it's a great way to keep attention on the furnishings and decorative accessories.
One of the most popular ways to add color to a colonial-style home is to use accent colors on the woodwork. Consider either painting the woodwork or using a stain that will give it a different color. For example, the woodwork can be stained a dark brown to create a richer look.
Traditional-Themed Fabrics
Many traditional-themed fabrics were used in American colonial homes. Chintz, a polished cotton fabric with colorful floral patterns, was often used as a motif in curtains, upholstery, and bedding. Meanwhile, Priscilla or dotted-Swiss curtains with ball fringe were common in informal rooms such as bedrooms and bathrooms.
Round or oblong scatter rugs in reproduction Oriental designs were often used to decorate Colonial Revival floors. They added a touch of luxury and style to an otherwise simple room.
Colonial-Inspired Accessories
One popular type of decoration in colonial homes is a mirror or painting that features goldleaf trim. This type of mirror usually has a frame that features a decorative design and is made from materials like wood, plaster, or metal.
Paintings are also an option for decoration. Colonial paintings usually depicted things such as hunting scenes, ship images, or portrait figures. Silhouette art also became popular during this time and was sometimes used to decorate walls, and any of these pieces would be well at home in a modern-day colonial house.
Wedgwood-style china was a popular design for dishware in the era. The style is often characterized by its blue and white color scheme, as well as its intricate designs. English Staffordshire-style china was also popular during this time, characterized by its pastoral scenes and floral designs. Pewter accessories were also highly prized and were often displayed in dining room hutches.
Bring American Colonial Interior Design Into Your Home
American colonial interior design is one of the most persistently popular styles among homeowners. If a potential buyer is house-hunting in New Jersey, they may wish to take a look at our list of the best neighborhoods with colonial-style homes to find a perfect fit.