Best Golf Courses in Monroe, NJ: Where Are the Best Golf Courses Near Monroe?
Posted by Rob Dekanski on Friday, June 11, 2021 at 10:35 AM
By Rob Dekanski / June 11, 2021
Comment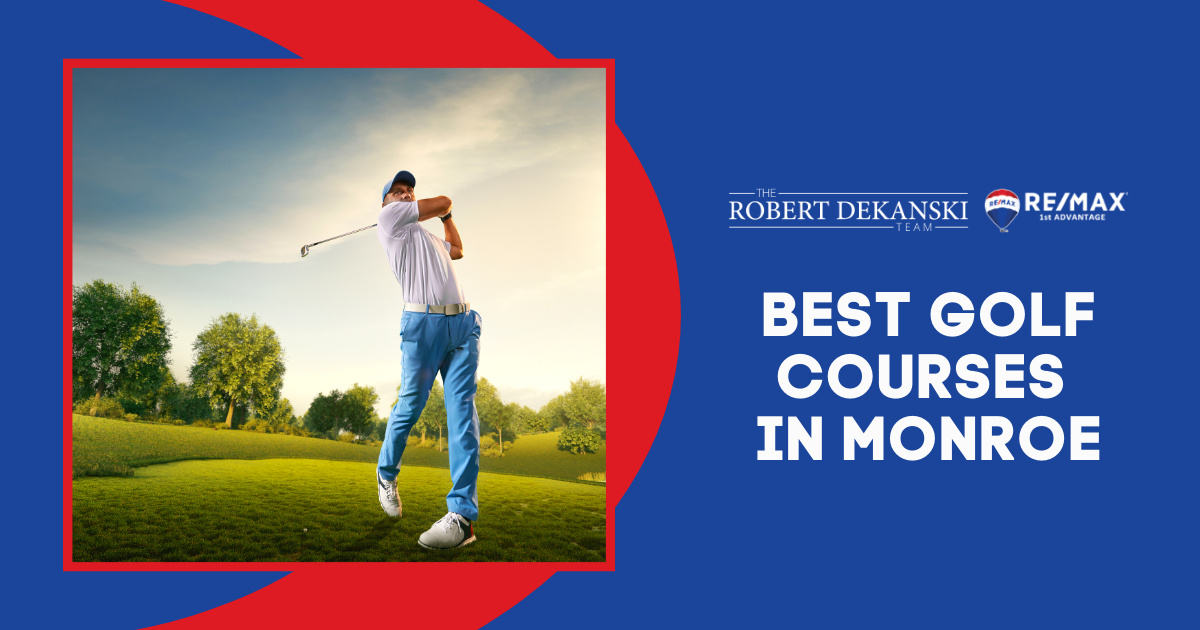 Golf has long been a popular sport in New Jersey. In fact, the New Jersey State Golf Association has been established for over 120 years. Despite being located in the northeast, most golf courses in the state remain open throughout the year. Should snowfall or a freeze affect the course, all efforts are made to prepare the greens for golfers to play. Fortunately for residents of Monroe, NJ, multiple private and public golf courses are available in the area. While avid golfers are welcome to visit as many courses as possible, they can take a look at the list of the best golf courses in and around Monroe below.
Concordia Golf Course
Concordia Golf Course is designed for visitors of all ages and group sizes to enjoy a day playing golf. Designed by Brian Ault and Tom Clark, this 18-hole championship course spans 6,200 yards. While the golf course is located within the Concordia 55+ Monroe community, it's open to the public. Numerous programs are available to allow every player to enjoy their time. From single sessions and memberships to group outings, Concordia Golf Course is ready to provide an exceptional round of golf and meet everyone's needs.
Rossmoor Golf Course
Rossmoor Golf Course is a beautifully designed course by the renowned Gordon Desmond Muirhead. It boasts over 900 mature trees and three lakes. The 18-hole championship course sits on 104 acres near the Rossmoor gated community. At a par of 72, this course is challenging enough to test seasoned players while remaining enjoyable for those hitting the green for the first time. This course hosts the Howard Taylor Memorial Amputee-Pro Golf Championship Tournament and PGA Junior Golfer State Competition annually. During these championships, many of the players score within the 60s!
Forsgate Country Club
Forsgate Country Club is home to two golf courses designed by Charles H. Banks, a "Golden Age" golf architect, and redesigned by the Arnold Palmer Group. Constructed in the early 1960s, Forsgate Country Club features the Banks Course and the Palmer Course. While both courses are maintained at the championship level, the Banks Course ranks among the Best In New Jersey by Golf Digest. This 36-hole country club allows golfers of all levels to challenge their skills. More than 10 holes feature water hazards, and many holes feature dramatic bunkers. While this is a members-only club, members can also enjoy swimming and other activities.
Knob Hill Golf Club
Knob Hill Golf Club was designed by Mark McCumber, and it continues to challenge golfers to this day. The meticulous design details allow golfers to improve their skills to improve their handicap. This 18-hole golf course sits on over 145 acres of heavily wooded land. Golfers can expect to play against the natural topography. Those who choose to become members of the club will gain full access to Concordia Golf Club.
Pine Brook Golf Course
Pine Brook Golf Course brings together long-time golf traditions with a new modern sport. This executive-length, 18-hole golf course extends 4,168 yards. Players will challenge their skills against one par-5 hole, five par-4 holes, and a dozen par-3 holes. The course has earned a 59.8 rating from the USGA and has a slope rating of 93. Golfers who want to challenge their skills in a different format can also play footgolf. Rather than using a club, players use their feet to get a larger ball in larger holes.
Tamarack Golf Course
Tamarack Golf Course is home to two 18-hole championship courses designed by Hal Purdy. The East is a par-71 course measuring 6,266 yards, and The West is a par-72 course measuring 7,025 yards. Players may challenge themselves to play both courses in one day. Many challenges and hazards have been intricately designed into the course to ensure players put their skills to the test. In fact, many Middlesex County high school golf teams call these courses home. Additionally, Tamarack features The GolfBoard, a faster, modern way to get from hole to hole. It combines elements of a skateboard, surfboard, snowboard, and golf cart.
Tee Off in Monroe
With the range of options available to golfers, it's easy to see why so many Monroe residents take up the sport, whether they live near the courses or in Monroe's townhomes downtown. Residents and visitors can find a golf course and program that fits their exact needs. Those who want to live and breathe the sport can even find golf course homes.
Monroe is more than just a golfing community — it's an area dedicated to providing residents with everything they need to enjoy their daily lives. Streets are regularly cleaned throughout the summer, and snow is plowed around the clock when it falls during the winter. Driving to and from golf courses, work, schools, and stores and taking public transit are designed to make getting around Monroe as simple as possible. Combined with the range of restaurants and other activities, it's no wonder so many individuals call Monroe, NJ, home.
If you're looking for a home in a Monroe golf course community, contact The Dekanski Home Selling Team of RE/MAX 1st Advantage with New Jersey Real Estate Network at (800) 691-0485 to get in touch with Monroe real estate agents who can help you find a home where getting on the green is as easy as stepping into your own backyard.