Best Lakes in Perth Amboy: Perth Amboy Waterfront Guide
Posted by Rob Dekanski on Tuesday, March 30, 2021 at 9:02 AM
By Rob Dekanski / March 30, 2021
Comment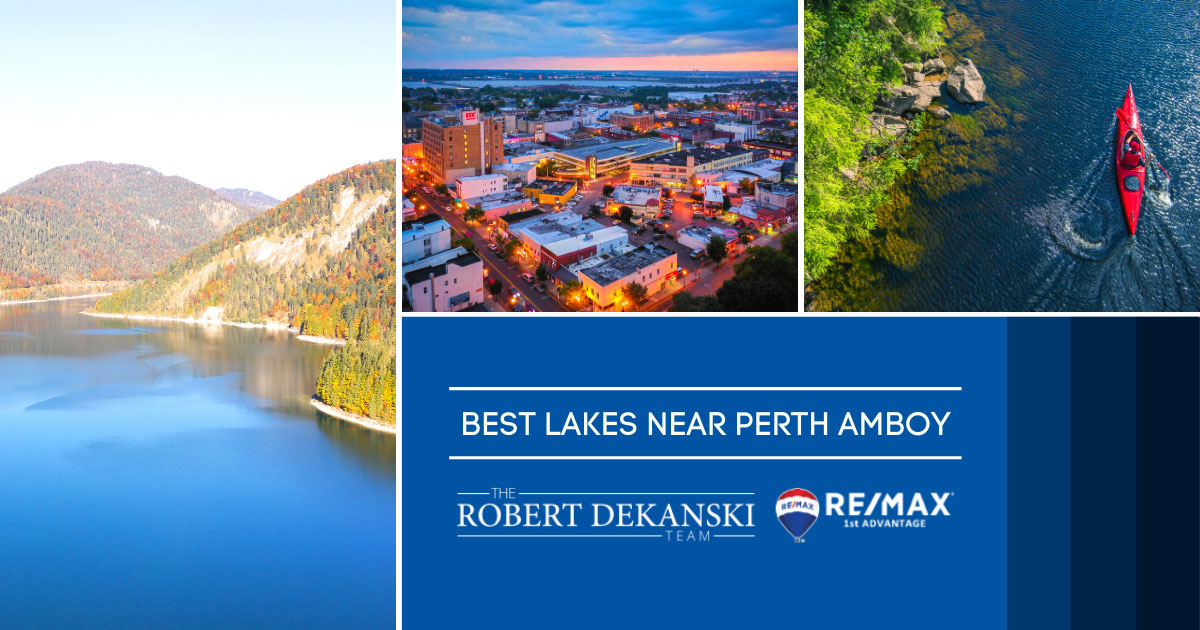 There is so much more to Perth Amboy than just the Raritan Bay. The city is never too far from the stunning wilderness in New Jersey. With thousands of acres of lakes and land in Perth Amboy to explore, adventure is calling and ready to supply memories that will last a lifetime.
Some of New Jersey's best lakes are near Perth Amboy. Residents only need to hop in their vehicle and take a short drive to some of the area's most popular and best-kept lakes, including the following six destinations.
Hooks Creek Lake
Hooks Creek Lake Amenities
Fishing
Canoeing and kayaking
Swimming
Surrounded by fields, marshes, swamps, and a hardwood forest
Hiking and camping in the camp
Camping and picnicking
Sledding, cross-country skiing, and snowshoeing
Address: Cheesequake State Park, 300 Gordon Rd, Matawan, NJ 07747
Hooks Creek Lake is a large lake near Perth Amboy in Matawan, NJ, which offers visitors quite a bit. For only $5 on weekdays or $10 on weekends and holidays, New Jersey residents can visit the lake inside Cheesequake State Park. On Hooks Creek Lake, fishing, canoeing, kayaking, and swimming are encouraged.
This unique geographical location offers two different ecosystems for visitors to enjoy when they spend time on the water. The lake is surrounded by open fields, marshes, swamps, and a hardwood forest. Both freshwater and saltwater can be found in the marshes. Visitors may also hike or camp in the park itself. Advance registration is required to pitch a tent or set up a delicious lunch at one of the picnic areas.
During winter, visitors can enjoy sledding, cross-country skiing, and snowshoeing. Winter conditions are closely monitored by Cheesequake State Park staff to ensure it is safe for visitors to engage in these activities. Just because snow is on the ground does not mean all activities will be permitted. People can always call ahead to see if they can engage in a particular activity after a large snowfall hits the area.
Lake Papaianni
Lake Papaianni Amenities
Kayaking allowed
Swimming allowed
A one-mile trail for walking, running, and biking
Tennis courts, basketball courts, and lawn
Address: Papaianni Park, 100 Municipal Blvd, Edison, NJ 08817
Lake Papaianni is a small lake that is open to the public 365 days a year. Visitors do not need to pay to visit this lake in Edison, NJ. The lake itself is located in Papaianni Park.
Visitors can kayak or swim on the lake, and a one-mile trail is available for walking, running, or biking. The trail itself is mostly asphalt, so athletic shoes are encouraged to prevent injuries. Visitors may also enjoy the tennis courts, basketball courts, and lawn.
Treasure Lake
Treasure Lake Amenities
Rich folklore to discover
Birdwatching opportunities
Views of Staten Island and Manhattan skyscrapers
Located in Aberdeen, NJ, Treasure Lake is said to have hidden treasure at the bottom of the lake. Resembling the shape of an X, the folklore has long been told by residents to those who visit the area.
Visitors can find birdwatchers at Treasure Lake throughout the year. Chickadees, redpolls, ospreys, eagles, herons, woodpeckers, and more are easily seen from the lake's shore.
When visiting the lake on a clear day, it is possible to view Staten Island from the nearby seawall, which is located right on the Raritan Bay. If there is 100 percent visibility, it is even possible to see skyscrapers in Manhattan.
Farrington Lake
Farrington Lake Amenities
Paddleboarding allowed
Kayaking and canoeing allowed
Wildlife watching opportunities
Farrington Lake is a freshwater reservoir popular for visitors who want year-round access to water activities. Those who own paddleboards, kayaks, and/or canoes can easily take in the peaceful sounds of nature. Numerous species of wildlife are visible from the water, including turtles, fish, and many bird species. Only a few waterfront homes are nearby, so the peaceful ambiance of the lake is preserved.
Lake Nelson
Lake Nelson Amenities
Canoeing and kayaking allowed
Paddleboarding allowed
Secluded, low-traffic location for a peaceful day out
Located in Piscataway, Lake Nelson is a small lake in Lake Nelson Park. While there are no amenities in the area, there are rarely crowds, perfect for those who want to escape and get back to nature. The road leading to the park is not paved, so care must be taken after a storm or snow. There is a small launch area for canoes, kayaks, and paddleboards.
Roosevelt Park Lake
Roosevelt Park Lake Amenities
Walking, jogging, and biking on the lake's paved pathways
Stocked lake with fishing
Oldest park in Middlesex County
Address: Roosevelt Park, 151 Parsonage Rd, Edison, NJ 08837
The eight-acre Roosevelt Park Lake has always been the natural focal point of the park. The lake is stocked for fishing by the State of New Jersey, so visitors will find many anxious anglers trying their luck on any warm day. Visitors can also enjoy the lake's beauty with other things to do such as walking, jogging, or riding their bike around the lake's pathway, which is paved with rails. Roosevelt Park is the oldest park in Middlesex County.
Spend the Day at One of Perth Amboy's Best Lakes
While Perth Amboy may be situated right on Raritan Bay, that does not mean residents are limited to just that bay water. These six lakes showcase just how diverse of an area residents can enjoy. From popular city parks to secluded areas, there is a lake for everyone. It's just as easy to find a crowd as it is to escape the noise and wait for nature to showcase its beauty. With so many lakes near Perth Amboy to choose from, now is the time to begin planning spring and summer lake day adventures!