8 Best Neighborhoods in Freehold Township: Where to Live in Freehold
Posted by Rob Dekanski on Wednesday, July 27, 2022 at 10:53 AM
By Rob Dekanski / July 27, 2022
Comment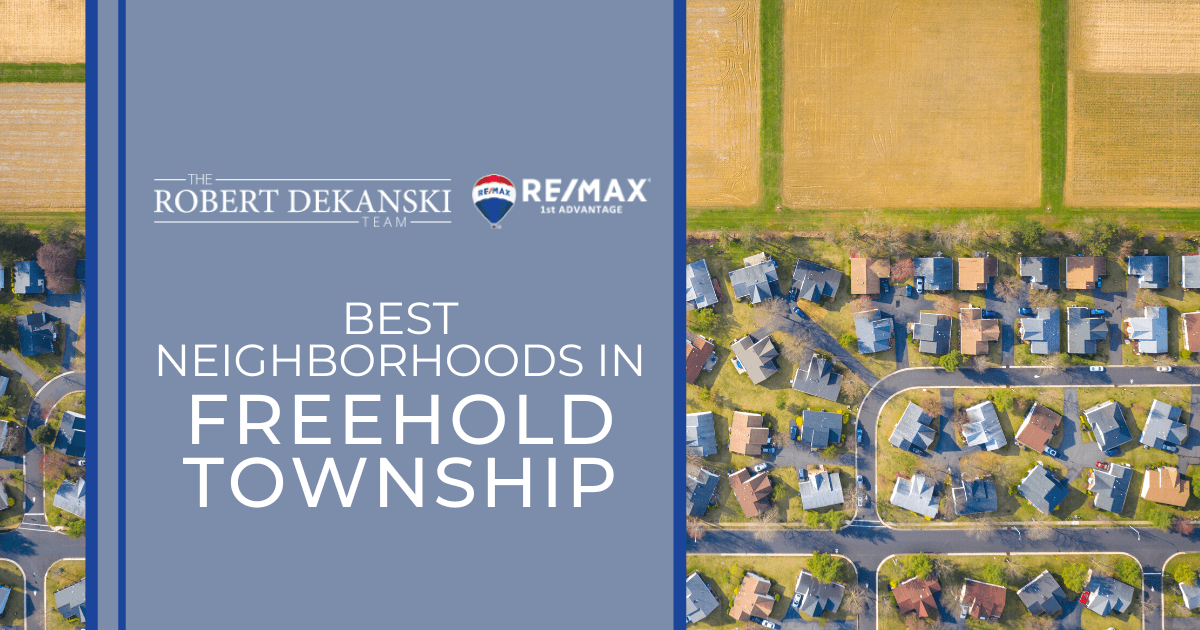 When it comes to finding a great place to live, Freehold Township, New Jersey, has dozens of unique and pleasant neighborhoods to choose from. Some have vibrant downtowns, while others are home to serene surroundings. For prospective residents to choose the best Freehold Township neighborhood for their needs, it's important to understand each community and all its services and amenities.
Stonehurst
Stonehurst is often recognized as one of New Jersey's best neighborhoods. The area has a cozy atmosphere thanks to its mature trees, meandering sidewalks, and quaint street lamps. Major nearby thoroughfares include Highways 9 and 33, and downtown Freehold Township is less than a ten-minute drive from the neighborhood.
Two of the best parks in Freehold Township, Turkey Swamp Park and Michael J. Tighe Park, are local to Stonehurst. Residents of the neighborhood are also close to plenty of shops, restaurants, and other retail stores. Some popular Stonehurst hotspots include The Bagel Nook, Tommy's Tavern Tap, and Moore's Tavern & Sports Bar.
Schools in Stonehurst include Laura Donovan Elementary School, serving grades kindergarten through fifth; Clifton T Barkalow School, a middle school; and Freehold Township High School, containing grades nine through twelve.
Homes for sale in Stonehurst generally range from as low as $200,000 for a condominium unit to as high as $1,000,000 for a luxury single-family home.
Stonehurst Amenities
Walgreens
Livoti's Old World Market
The UPS Store
Woodcrest Park
Lemon Mediterranean
Planet Fitness
Runner's High
Krispy Pizza
Raintree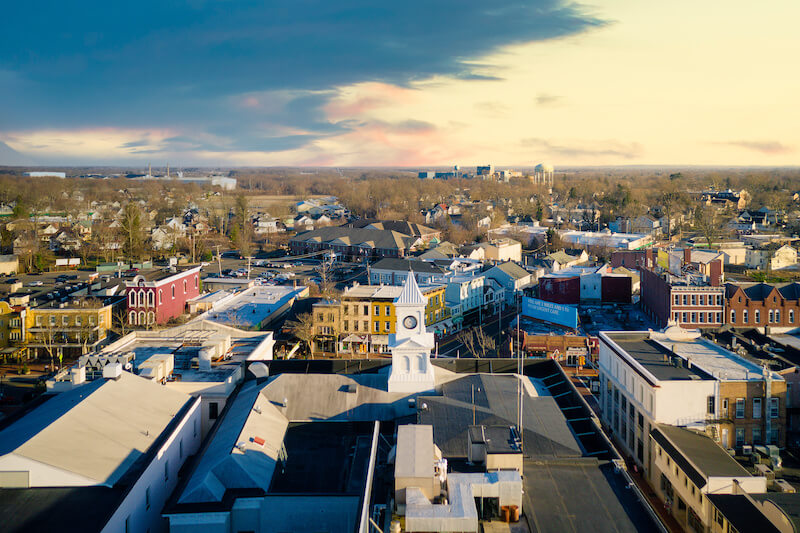 Raintree is a centrally located gated community. Construction in the neighborhood first started in 1982, and by 1996, the neighborhood was home to over 1,000 properties. This transformation resulted in a beautiful setting easily accessed by major thoroughfares like Wemrock Road and West Main Street.
The neighborhood is convenient to NJ Transit's Line Routes 139 and 836. These routes provide transportation to New York City and the city of Asbury Park, respectively. Nearby are a fair number of dining and entertainment attractions, including LongHorn Steakhouse, Freehold Marketplace, and the ever-popular Oakley Farm Museum.
Located just down the road is the CentraState Medical Center. In addition to primary care, this medical center offers offices specializing in sports medicine, orthopedics, and dentistry.
Homes for sale in Raintree are cozy, with most properties ranging between 700 and 1,500 square feet. Condominium and townhome living is available, with units typically ranging in price from $215,000 to $450,000. Since homes here are new construction, they're modern and contain state-of-the-art features and appliances. Homes generally range between $300,000 and $500,000.
Raintree Amenities
Raintree Golf Course
Stop & Shop
Dunkin' Donuts
Raintree Town Center
Jade Palace
CVS
Freehold Pointe
Freehold Pointe is a neighborhood conveniently located between East Freehold Road and Route 79. Building started in the community in 2004, and the neighborhood now contains nearly 200 homes just a short walk from nearby parks, lakes, and waterways.
There are ample shopping and dining options just minutes away, and residents are within walking distance of several neighborhood attractions, including The Cabin and Manasquan River Linear Park.
Residents can also take advantage of the many schools nearby. Marshall W. Errickson Elementary School, Freehold Township High School, and the Freehold Montessori School are a short walk or drive away from most Freehold Pointe residences.
Most Freehold Pointe real estate options are luxury homes, and vacancies don't last long in the neighborhood. Properties are usually listed in the low $1,000,000 range, sometimes with up to five bedrooms, a full basement, and a gourmet kitchen.
Freehold Pointe Amenities
Freehold Township Open Space
Marina Grill
Sam's Club
G.Y.R.O
Tatchen's
ACME Markets
Woolley's Fish Market and Seafood House
Juniper Farms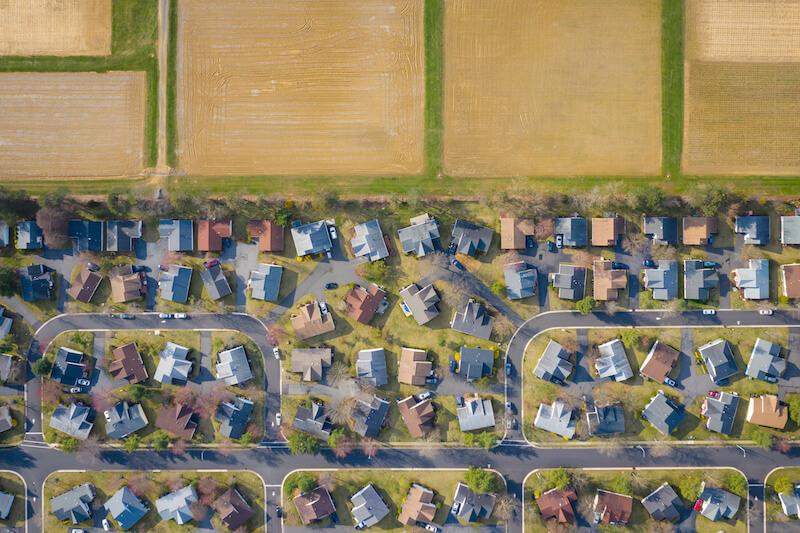 Juniper Farms is a prime option for prospective homebuyers in the market for a friendly, quiet neighborhood with plenty of nearby amenities. Its scenic landscape and proximity to major nearby cities, including Trenton and Princeton, make Juniper Farms one of the best places to live in the area.
The area is home to picturesque streets and beautiful parks, including Monmouth Battlefield State Park and Forman Park. There are also plenty of shops and eateries in the area. Some of the most popular establishments in this walkable community include Great American Food, It's Just Wings, and El Meson.
There are over 250 homes in Juniper Farms real estate, surrounded by mature trees and beautiful green space. Prices generally range from $400,000 to $800,000. Homes in the area are typically between three and five bedrooms, sitting on spacious lots up to 25,000 square feet.
The neighborhood offers a variety of property types and architectural styles, including split-level Ranch homes and two-story Colonials. Home exteriors feature private, fenced-in backyards and sprawling frontage, while interiors offer gleaming hardwood floors, open-concept floor plans, and soaring ceilings.
Juniper Farms Amenities
Barnes & Noble
Jersey Freeze
Aarzu Modern Indian Bistro
All Seasons Diner II
The Home Depot
Christmas Tree Shops
AMC Freehold 14
Seven Oaks
The Seven Oaks neighborhood offers top-notch scenery and amenities. Nearby roads include Kozloski Road and Colts Neck Road, and the neighbourhood is ideal for commuters with Manhattan less than thirty minutes away. NJ Transit Line Route 836 also has stops throughout Seven Oaks.
The neighborhood is filled with close to 150 newly constructed luxury homes. Prices for homes for sale in Seven Oaks typically range from $700,000 to $1,000,000. Interiors are spacious, ranging from 3,000 to 5,000 square feet of living space. Properties are usually located on oversized lots and offer detached garages housing two to three cars.
Several schools are within walking distance of Seven Oaks residents; Catena Elementary School, Eisenhower Middle School, and Biotechnology High School are within a mile of most Seven Oaks residences.
Nearby parks like Orchard Hills Park and Sandy Brook Park offer picnic benches, open fields, athletic courts, and playgrounds. Popular shops and eateries local to Seven Oaks include Tre Pizza, Pasta, Beer Garden and Jumbo Kitchen.
Seven Oaks Amenities
Wegmans
Court Jester Restaurant
Sargent Park
Cafe 360
Monmouth County Fair
Wawa
Trader Joe's
Sleepy Hollow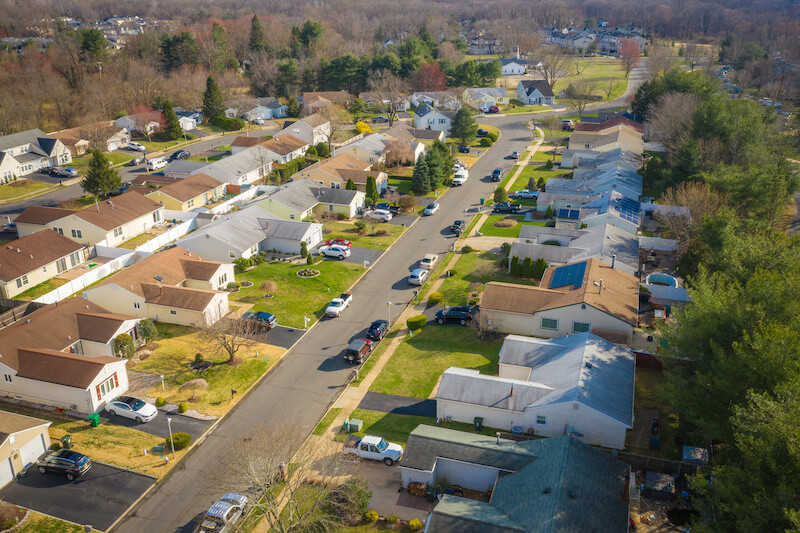 The Freehold Township neighborhood of Sleepy Hollow is named after Washington Irving's fictional 'Legend of Sleepy Hollow.' Construction began in the late 1960s, and today it is one of the best neighborhoods to buy a home in the area.
Homebuyers looking for lush and private property will be thrilled by Sleepy Hollow's quiet surroundings and dappled sunlight. Sleepy Hollow also has plenty of trails and bike paths winding through the neighborhoods, allowing residents the opportunity to appreciate the lush landscape.
There is no shortage of eateries and attractions located on U.S. Route 9, less than a five-minute drive from Sleepy Hollow. From fast food comfort stops like Taco Bell and Chik-fil-A to upscale eateries like Miss Saigon and Park Nine Diner, there is something for everyone.
Real estate in Sleepy Hollow generally starts at $500,000 and typically doesn't rise above $800,000. Home interiors exude a warm and inviting atmosphere, and most properties boast between 2,000 and 3,000 square feet of living space and up to five bedrooms.
Sleepy Hollow Amenities
Stonehurst Park
ASU MARE
Tony's Family Pharmacy
Relentless Fitness & Training
Hands On Salon
Vingelina's Italian American Market
Orchard Hill
Orchard Hill is a sought-after subdivision in the Freehold Township neighborhood. Major nearby roads include County Route 537 and New Jersey Route 18, and NJ Transit Line Route 838 has several bus routes close to the neighborhood, providing service to the coastal Red Bank community.
The neighborhood is tight-knit, and residents enjoy attending local events and activities. There are plenty of bike paths and walking trails within Orchard Hills, and Hominy Hill Golf Course is located on Mercer Road. Parks and green spaces are plentiful within the area, with Orchard Hills Park, 5 Point Park, and Sandy Brook Park all within a roughly one-mile radius.
There are also several schools and career development opportunities local to the neighborhood. Colts Neck High School, Briar Hill School & Camp, and the Monmouth County Career Center are all within a short drive from Orchard Hill residents.
Cattle ranching is a popular neighborhood industry, which can be seen from the oversized lots available—most properties are built on lots that are at least a half-acre. Interiors are just as spacious, ranging between 2,400 and 4,000 square feet of living space. Prices for Orchard Hill real estate generally fall between $700,000 and $1,000,000.
Orchard Hill Amenities
Scalici Farm & Greenhouses
Monmouth County Historical Association
Cuzin's Seafood Clam Bar
Asian Food Market
Freehold Raceway Mall
iPlay America
Poets Corner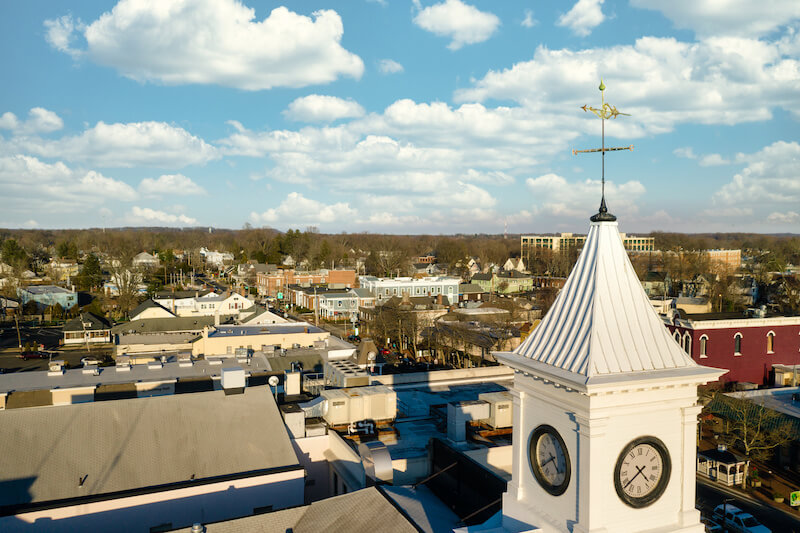 Poets Corner is a beautiful and conveniently-located neighborhood. In addition to its lush landscape and well-maintained homes, the neighborhood is within a short drive of Routes 19, 33, and 537, and is a quick twenty-minute trip to the Jersey Shore.
There is plenty for residents to do in Poets Corner without going far from home. The Cheesecake Factory and Vincent's restaurants are only ten minutes from the neighborhood. Nearby on East Main Street is an abundance of shops, services, and eateries, including La Palma Mexican Grocery and Freehold Thrift Shop.
The neighborhood is home to about 400 properties built in the 1980s and 1990s, each home built in one of four styles approved for the neighborhood. Most Poets Corner real estate sells between $300,000 and $500,000.
These properties are almost exclusively duplexes and contain two stories, up to four bedrooms, and between two and three bathrooms. Interior living space hovers between 1,000 and 2,000 square feet. Backyards are spacious and, unlike many townhome neighborhoods, fenced-in backyards are allowed.
Poets Corner Amenities
Amazing Escape Room Freehold
Exito Fresh Market
St. Peter's Thrift Shop
Texas Mexican Restaurant
New York Fried Chicken
Rug Mill Deli & Convenience Store
ReStore Habitat for Humanity
Excellent Living is Available in Freehold Township
For prospective homebuyers debating a major move, it's important to consider the features of a neighborhood. Location, commuting times, local amenities, and home prices are just a few decisive factors when determining whether a new neighborhood is the right place to call home.
Thankfully, many great neighbourhoods are available for those moving to Freehold Township. Each community offers its own unique atmosphere and attractions, so there is bound to be something for everyone in the city.
Read Our Best Neighborhoods Guides For Each City Below