8 Best Neighborhoods in Marlboro Township: Where to Live in Marlboro
Posted by Rob Dekanski on Monday, August 15, 2022 at 11:23 AM
By Rob Dekanski / August 15, 2022
Comment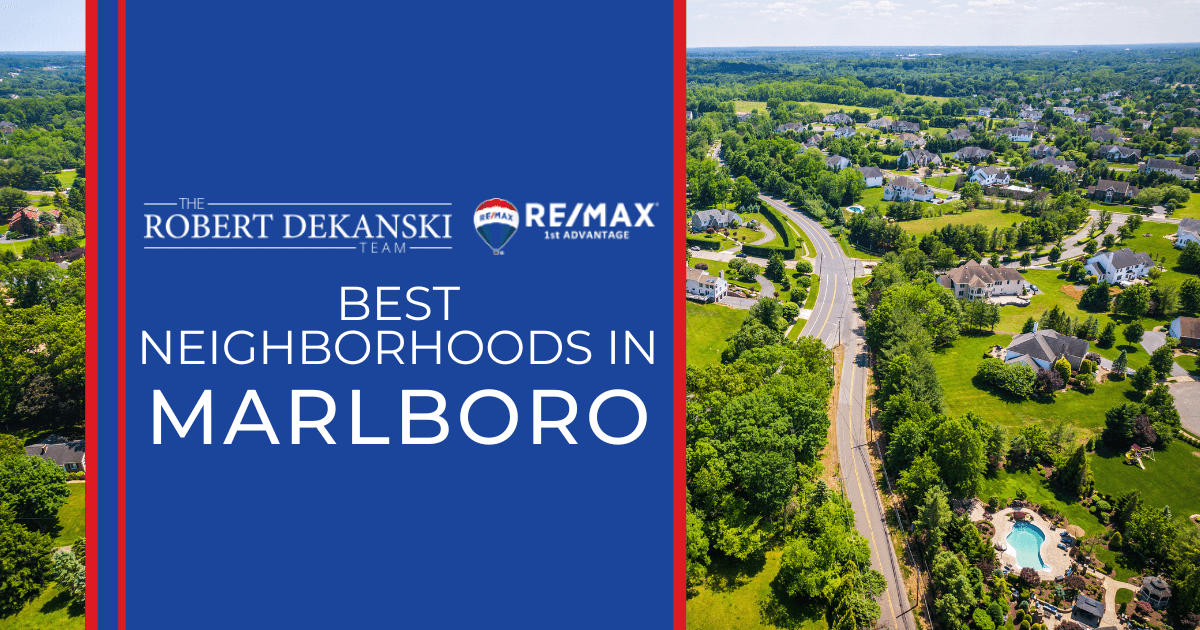 In northeastern New Jersey, Marlboro is a Monmouth County community offering a quiet suburban lifestyle. With a population of over 40,000, the Marlboro community has experienced an increase in popularity thanks to its proximity to New York City and its stunning natural beauty, namely its rolling hills and green spaces. Because of this, more prospective residents are searching for the best neighborhoods in Marlboro for the right area to call home. Whether buying or selling a home in Marlboro, it's great to know that these best neighborhoods all contribute to the high demand for housing in this Monmouth County treasure.
Millponds
The Millponds community in the Marlboro area is close to major highways and ideal for those who commute to larger cities. With approximately 550 condos and townhouses within the community, Millponds has many homes and floor plans for prospective homeowners, ranging from one to three bedrooms.
In addition to its convenient location, Millponds has a full-service homeowners association with various community amenities and services, including a community pool, a clubhouse, a basketball court, tennis courts, and a playground. The association also offers snow removal, lawn care, and garbage removal. While Millponds real estate prices in the community vary based on the floor plan, two-bedroom condos in Millponds are typically priced between the high-$200,000s and low-$300,000s, with an association fee of $333 per month.
Millponds Amenities
The Parisian Tea Room
Cafe Luna
Big Play Zone
Georgetown Estates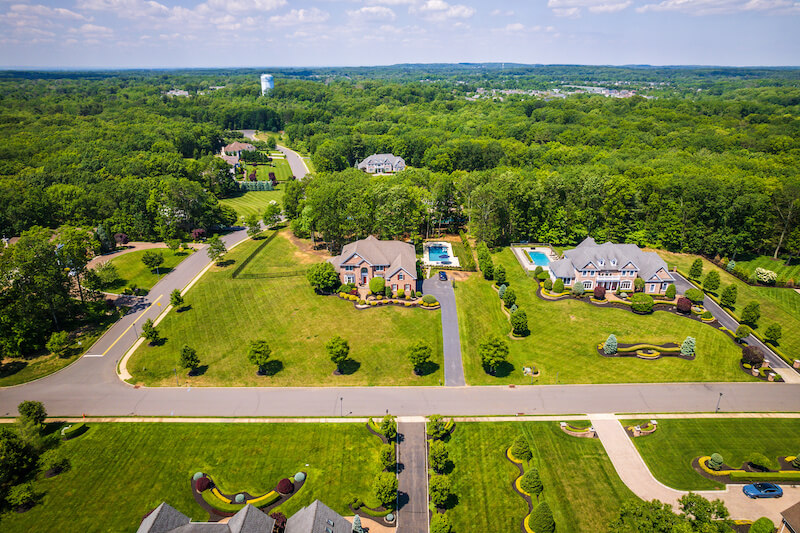 Located in beautiful Morganville, Georgetown Estates is an idyllic neighborhood set in one of Marlboro's most desirable areas. With easy access to Highway 18, Georgetown Estates is a centrally located neighborhood, making it ideal for big city commuters and locals who live and work in the area. Georgetown Estates is also conveniently located near many highly sought-after amenities, such as area restaurants, shops, parks, golf courses, and athletic facilities. It is just a short drive from the Pine Brook Golf Course, a private 18-hole golf course in Monmouth County.
Georgetown Estates residents also have easy access to the Atlantic Coast and Trenton. This neighborhood has over 87 single-family homes set on generous half-acre lots, providing homeowners with more acreage than is typical for lots in the area.
Along with the neighborhood's sizeable lots, Georgetown Estates' homes are also large—most single-family homes here boast four to five bedrooms. Prices for Georgetown Estates homes for sale vary based on the number of bedrooms and overall square footage.
Georgetown Estates Amenities
Conveniently Located Near Highway 18
Pine Brook Golf Course
Pomegranate Restaurant
Marlboro Swim Club
Greenbriar
Conveniently located in the heart of Monmouth County, Greenbriar at Marlboro is a premier 55+ adult community. Once known as Greenbriar North, Greenbriar was developed between 1981 and 1992 by U.S. Homes, offering a one-of-a-kind community for active older residents. As a result, Greenbriar strikes a balance between tranquility and vivacity for its residents. This highly walkable neighborhood contains quiet streets and paths, and is only an hour from New York City and 30 minutes from the Jersey Shore.
With over 755 homes, Greenbriar offers a variety of home styles, ranging in sizes and floor plans. This neighborhood has single-family homes, ranging from 1,300 to over 2,500 square feet, with two to four bedrooms, two or three bathrooms, and an attached one- or two-car garage. Some homes even have an optional loft space, which can convert into a hobby area or an additional bedroom.
Greenbriar also offers many amenities, including several social and recreational clubs and organizations for residents to partake in, such as Zumba Class or Tennis Club. The community also has many social events, including movie nights and day trips. Homes for sale in Greenbriar range in price between the low-$400,000s to the mid-$500,000s.
Greenbriar Amenities
Conveniently Located near Highway 18
Monmouth Heights Swim Club
Marlboro Dog Park
Crown Palace
Unique Musique Entertainment
The Inferno Training and Performance Center
Prides Crossing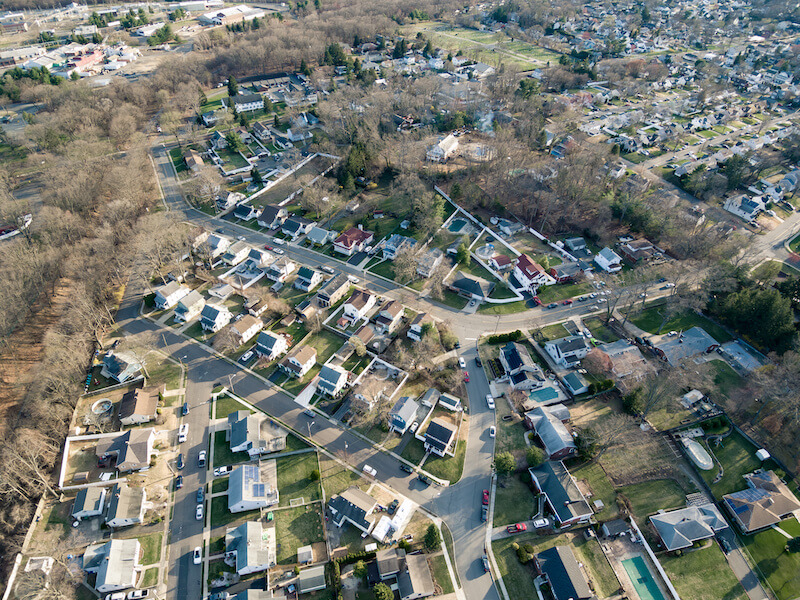 Ideally situated next to Highway 9, Prides Crossing is a popular Monmouth County neighborhood for commuters. The Prides Crossing community is a beautiful subdivision with many large homes. The neighborhood has a variety of midcentury homes built between the 1950s and 1980s, plus newer homes from the 1990s.
Prides Crossing is conveniently located near Union Hill Road and is just a short distance from many amenities, including the Union Hill Recreation Complex. On average, homes here vary in size and style, ranging from three to five bedrooms with an average of 2,200 square feet.
Lots are larger, giving prospective homeowners more room. On average, Prides Crossing real estate prices range from the high-$400,000s to the mid-$800,000s.
Prides Crossing Amenities
Conveniently Located Near Highway 9
Small World Kids
Grill Point Mediterranean Cuisine & Cafe
Pomegranate Restaurant
Triangle Oaks
Located adjacent to Highway 18, the Triangle Oaks community is a picturesque neighborhood with tree-lined streets and single-family homes. With roots dating back to the 1970s, Triangle Oaks has homes ranging from traditional Colonial and midcentury properties to more contemporary architectural styles.
Like Prides Crossing and other surrounding communities, Triangle Oaks has various homes built on larger lots. Along with the area's beautifully maintained homes, Triangle Oaks is conveniently near many amenities, including the Marlboro Swim Club and many of Marlboro's best parks and restaurants.
For prospective buyers searching for a larger home, Triangle Oaks offers many multi-story properties with desirable features, including spectacular curb appeal, finished basements, and sprawling lots. Houses typically have three to six bedrooms, averaging 3,000 to over 3,500 square feet. Prices for Triangle Oaks real estate typically range from the low-$700,000s to $1 million.
Triangle Oaks Amenities
Conveniently Located Near Highway 18
Marlboro Swim Club
Marlboro Middle School
Marlboro County Park
H&L Soccer Fields
Monmouth County Library
Whittier Oaks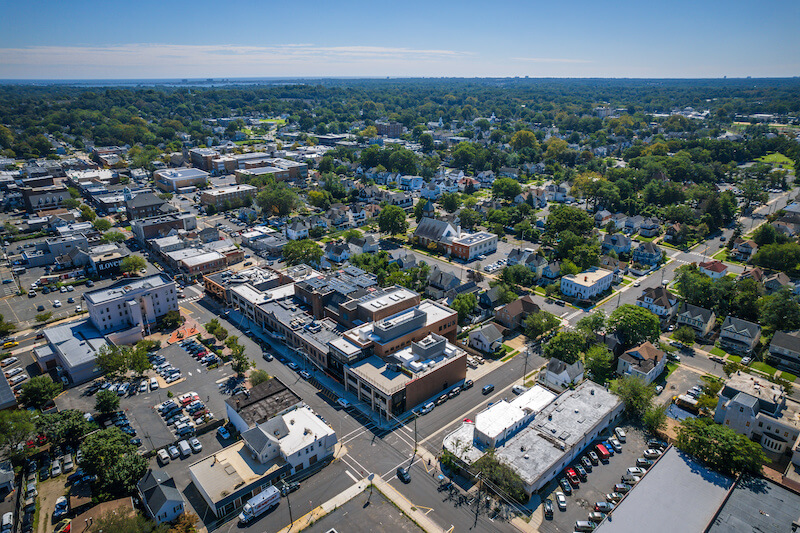 Situated near Highway 9, Whittier Oaks is one of the area's most beautiful neighborhoods, with its tree-lined, walkable streets and beautifully maintained properties. This community also backs onto the Pine Brooks Golf Course, making it ideal for golf enthusiasts.
Whittier Oaks contains the greatest diversity in architectural styles. Established in the 1970s, the Whittier Oaks community offers many condos, townhouses, and single-family homes, catering to nearly every type of homeowner. It's also near many great amenities, including restaurants, healthcare facilities, and shops.
Two-story Colonial homes with basements and sprawling yards are some of the most common home styles in Whittier Oaks. While home sizes and styles vary significantly in this area, houses are typically three to six bedrooms, with sizes averaging 1,600 to over 5,470 square feet. Prices for homes for sale in Whittier Oaks range from the mid-$500,000s to over $1 million on average.
Whittier Oaks Amenities
Marlboro Medical Center
Bulbap Grill
Pine Brooks Golf Course
Animal Health Care of Marlboro
Top Kitch Bagel & Eatery
Nonna's Citi Cucina
Marlboro Manse
Located near Highway 79, Marlboro Manse is a highly sought-after neighborhood with spectacular homes and stunning natural beauty. Bordering Big Brook Park, one of the area's most popular destinations for outdoor enthusiasts, the Marlboro Manse community was established in 1997 and is one of the area's most bike-friendly neighborhoods. Its proximity to Highway 79 makes it an ideal neighborhood for commuters and residents alike, with easy access to shopping, restaurants, and area parks.
Offering some of the area's newest homes, Marlboro Manse provides various styles, including condos, townhouses, and single-family homes, with single-family homes being the most popular style. Many of the homes in the area are contemporary two-story properties with expansive driveways and spacious floor plans.
As one of the area's newer subdivisions, Marlboro Manse has some of the largest houses in Marlboro, with homes typically ranging from 3,300 to over 3,700 square feet, with three to six bedrooms. While home prices vary based on size and style, Marlboro Manse real estate prices typically range from the low-$800,000s to over $1 million.
Marlboro Manse Amenities
Conveniently located Near Highway 18
Big Brook Park
Wickatunk Recreation Area
Centercourt Club & Sports
Falson Park
Old Bridge Soccer League
Paddock Club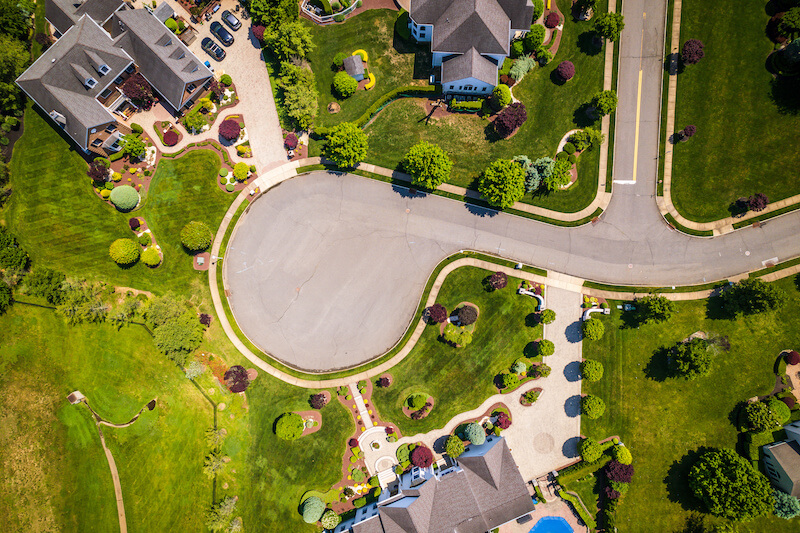 Located in northern Marlboro, the Paddock Club community is just off Route 79. With easy access to Highway 18, Paddock Club is a popular neighborhood for those who commute to and from New York City. Paddock Club is a bedroom community developed in the 1980s and features many luxury homes.
Paddock Club is part of a homeowner's association, offering neighborhood amenities, including a community pool. Other amenities include parks, recreation centers, and restaurants.
Bordering the Tepehemus Brook, Paddock Club is a well-maintained, beautiful neighborhood with large homes on sizeable lots. The community offers a variety of single-family homes, mainly four to five bedrooms, with many features, such as finished basements and in-ground swimming pools.
With such sizeable and beautiful homes, Paddock Club is one of the more expensive neighborhoods in Marlboro. Houses, on average, are around 2,500 square feet or larger. Homes for sale in Paddock Club typically begin in the $500,000 range, reaching up to $800,000 or more.
Paddock Club Amenities
Conveniently Located Near Highway 18
Greenbrier Clubhouse
Takajum Dance School
Marlboro Dog Park
Marlboro Recreation Center
Galata Turkish & Mediterranean Cuisine
Discover Life in Marlboro, New Jersey
From its thriving adult communities to its tranquil subdivisions, Marlboro is a dynamic township offering nearly every type of community imaginable for its residents. For those considering moving to Marlboro, exploring the area with an open mind is essential.
Buying or Selling
a
Marlboro Home?
Work With the
#1 Real Estate Team in New Jersey Now!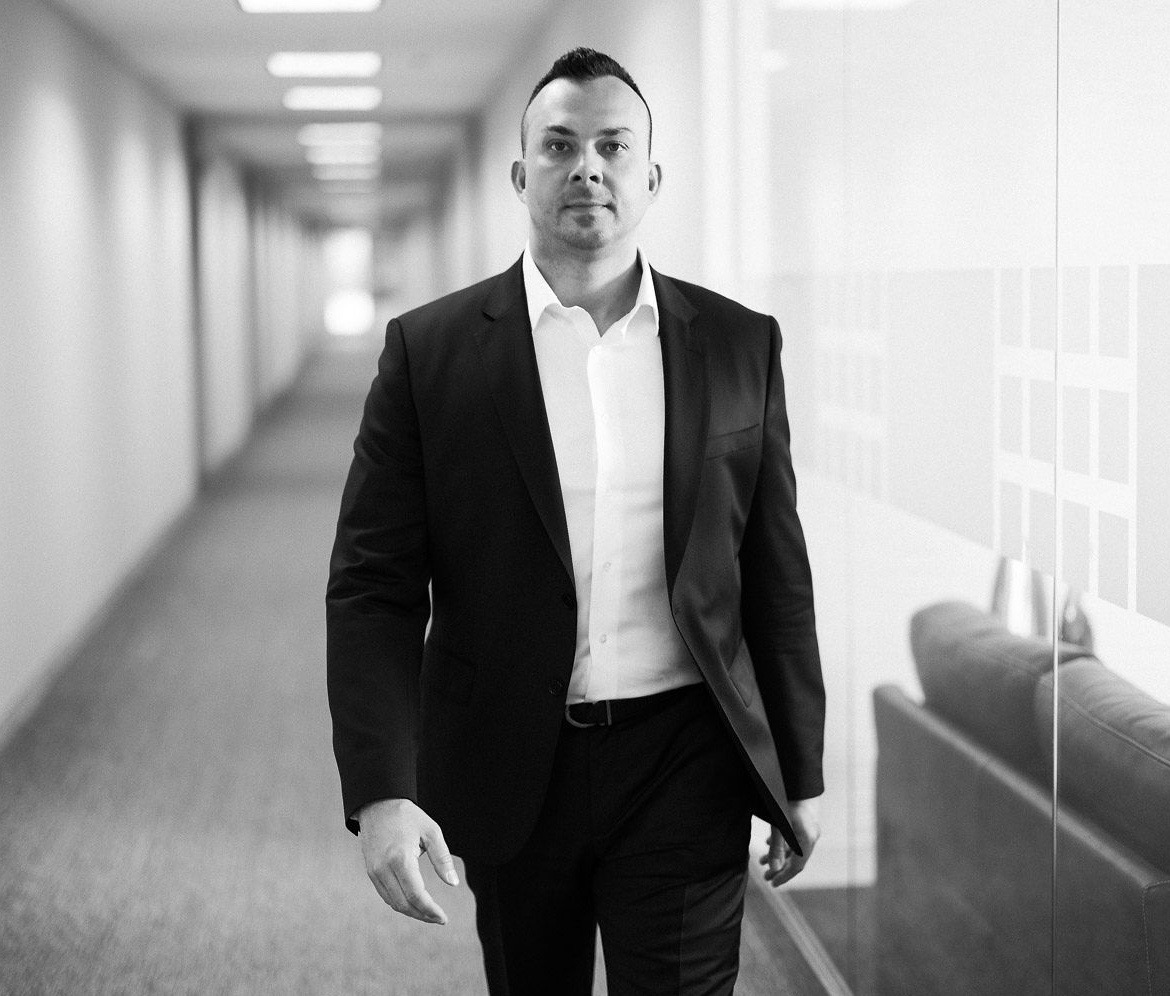 Read Our Best Neighborhoods Guides For Each City Below