8 Best Neighborhoods in Old Bridge: Where to Live in Old Bridge
Posted by Rob Dekanski on Thursday, March 30, 2023 at 10:48:56 AM
By Rob Dekanski / March 30, 2023
Comment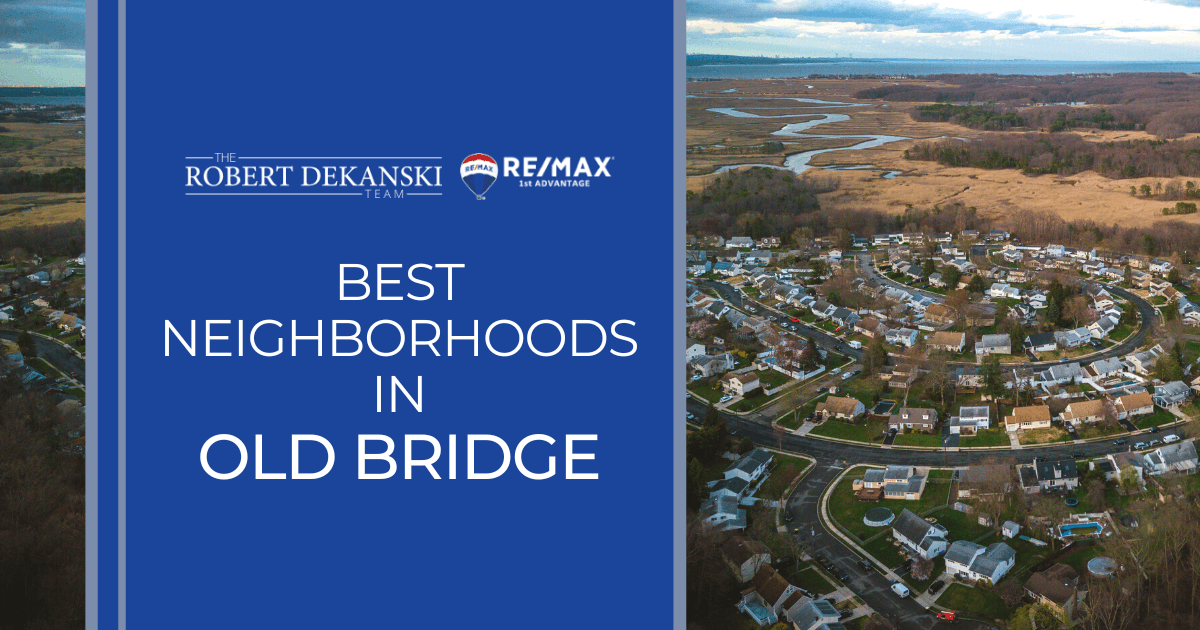 Named for a historic bridge that was the first built to cross the South River, the community of Old Bridge is in Middlesex County, roughly halfway between Trenton and New York City. Old Bridge is the name of this census-designated place and the official township it's located in, though the two are not the same.
The best neighborhoods in Old Bridge offer locals all the perks of living in a suburban area less than 40 miles from the nation's most iconic metropolis, New York City. As you may expect, there's a lot to know about living in Old Bridge, one of Middlesex County's best towns.
Woodhaven/The Hills of Matchaponix
Nearly seven miles south of Old Bridge—on the border with Monroe Township—is the neighborhood known as both Woodhaven and The Hills of Matchaponix. Established in 1970, this community features a pleasant mixture of homes built between the 1980s and 2000s. Houses in Woodhaven/The Hills of Matchaponix are known for being large and stately, with nice-sized yards.
Residents in Woodhaven/The Hills of Matchaponix have their choice of single-family homes, with some Middlesex County condos, townhouses, and high-rise apartments. As with many Old Bridge neighborhoods, Woodhaven/The Hills of Matchaponix is an excellent community for commuting to NYC or Trenton, offering a more easygoing suburban contrast to the hustle and bustle of the big city.
Residents who live in this area of Old Bridge enjoy being close to many hotspots, popular stores, and essential services. The membership-only wholesale store Costco has a location nearby, and there's a Whole Foods Market.
For transitioning between work and play, there's Long Live Paintball, New Jersey's largest outdoor paintball park, where you can exercise and bond with friends.
Woodhaven/The Hills of Matchaponix Amenities
HMH Old Bridge Medical Center
John A. Phillips Outdoor Space Preserve
Old Bridge Township Raceway Park
Walmart Supercenter
Cedarview Estates
Cedarview Estates is a community within the north-central part of town, primarily comprising Old Bridge single-family homes and apartments of various sizes. Many apartments here are inside older Victorian homes that have been renovated and divided into multiple units.
A slightly older neighborhood, Cedarview Estates features several residences that were originally built between 1940 and 1969. Although they're not quite as common, you can find some homes built between 1970 and 1999. This community is conveniently located for commuting to NYC and driving in New Jersey, and most residents drive their vehicles into the city.
Cedarview Estates residents have convenient access to ShopRite of Old Bridge for everyday shopping. The store sells produce, food, and other grocery items and has a deli and bakery. The locally-owned and operated Grand Marquis event center features several individual wedding venues and banquet halls for receptions and other parties.
Cedarview Estates Amenities
CVS Pharmacy
Grillestone Old Bridge restaurant
Old Bridge Ice Arena
Old Bridge Public Library
Browntown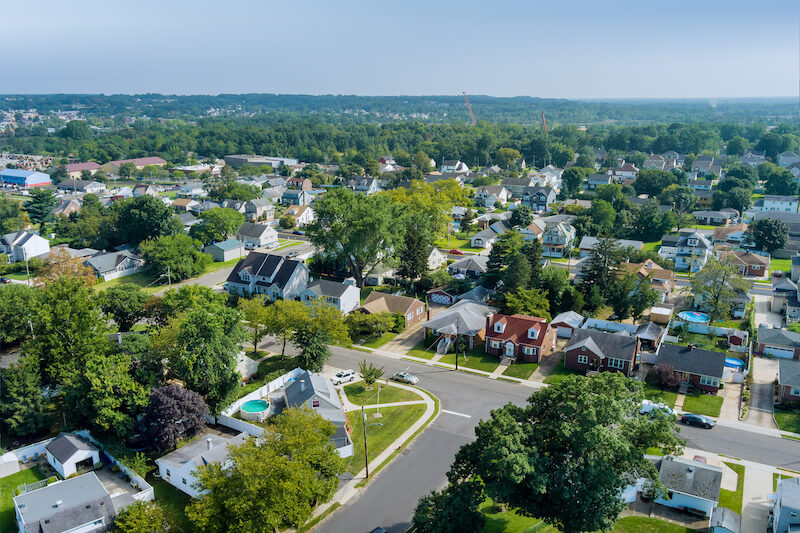 Located approximately one mile east of Old Bridge is the community of Browntown. This well-established neighborhood primarily comprises single-family homes built between 1940 and 1969, although some Old Bridge homes in Browntown were built in the 1990s.
Similar to Cedarview Estates, Browntown has some historical community roots. The area was named after John and Susannah Brown, some of the first settlers to arrive in Old Bridge from England. NYC commuters interested in living in an older, well-established neighborhood should consider Browntown.
Living in Browntown means Lombardi Field is nearby, an athletic complex serving as the main football facility for Old Bridge Township public schools. When football, lacrosse, and track events are not taking place, the track is open to the public for people to get some exercise and fresh air.
After working off some calories, residents can refuel at the local hotspot Ponte Vecchio, a traditional Italian restaurant. Open for lunch and dinner every day except Mondays, the restaurant offers classic cuisine in a casual yet upscale setting. It's named for the famous landmark bridge in Florence, Italy.
Browntown Amenities
Jersey Strong Gym
Old Bridge Ice Arena
Old Bridge Public Library
The UPS Store
Spring Knolls
The Spring Knolls community is near Browntown, southeast of Old Bridge. Spring Knolls is considered one of the township's somewhat younger communities, with most residences built between 1970 and 1999. Most homes in Spring Knolls are mid-sized, between 1,600 and 2,200 square feet, with the most common style being two-story single-family homes.
Compared to other Old Bridge communities, Spring Knolls offers a slightly more rural feel for NYC commuters. About 60% of residents here commute using their vehicles; in contrast, less than 10% use public transportation. The typical commute from Spring Knolls to NYC can run 45 minutes to an hour, heavily dependent on traffic. Fortunately, Spring Knolls is easily accessible via routes 9 and 18, which connect to the Garden State Parkway and the New Jersey Turnpike, respectively.
One of the popular hotspots in the neighborhood includes Istanbul Bay Premium, a local eatery specializing in the cuisine of Turkey and the Mediterranean overall. The restaurant is open daily for lunch and dinner, and online ordering is available. Follow that meal up with a sweet treat at the perennially popular Old Bridge outpost of Friendly's.
For household necessities and projects, many residents shop at Lowe's Home Improvement on Route 9.
Spring Knolls Amenities
Costco Wholesale
HMH Old Bridge Medical Center
Wal-mart Supercenter
Whole Foods Market
Springhill Village
Springhill Village is a well-established suburban community just north of Old Bridge that includes primarily apartments and medium-sized homes, most of which were built between 1940 and 1969. The area also has some of Old Bridge's new construction homes.
One of the major draws to Springhill Village is that the neighborhood offers a slightly closer commute to New York City than several other Old Bridge neighborhoods. Only 15% of locals experience commutes longer than one hour each way.
Living in Springhill Village also means quick, convenient access to shop for everyday needs and wants. Future Pharmacy and Medical Supply, located on Route 34, is open from 9:00 a.m. to 7:00 p.m.; on Saturdays, the pharmacy closes at 2:00 p.m. Head to Ralph's Italian Ice when you need the occasional sweet pick-me-up. Enjoy sweet and cold treats such as Italian ice, ice cream, shakes, and smoothies at the Old Bridge location of this popular nationwide chain.
Springhill Village Amenities
Grand Marquis
Schulmeister Greenhouses
Springhill Village Basketball Court
Springhill Village Park
Sayre Woods
The neighborhood of Sayre Woods sits southwest of Old Bridge, just north of where routes 9 and 18 intersect. Sayre Woods is a bit more densely populated than other Old Bridge communities, featuring an array of multi-unit housing such as townhomes and condominiums. Homes in Sayre Woods feature 1,200–2,700 square feet of living space.
Sayre Woods residents can reach Routes 9 and 18 within minutes—this convenience is one of the neighborhood's biggest pros. Each route connects to major highways such as the New Jersey Turnpike and the Garden State Highway, facilitating quick access to other parts of the Garden State and the Greater New York area.
Another reason to love Sayre Woods includes Krispy Pizza. Lovers of classic New York-style pizza can eat their fill from this award-winning spot that serves over 15 specialty pizzas, hot hero sandwiches, rice balls, and more. The Old Bridge Family YMCA is another beloved local hotspot. Part of the YMCA of Greater Monmouth County, this local branch offers athletic facilities and programs that promote healthy living, community connectedness, and social responsibility. Speaking of athletics, Sayre Woods has a notably active Little League baseball community, with many people showing up for games and a strong sense of hometown team pride.
Sayre Woods Amenities
Grillestone Old Bridge
HMH Old Bridge Medical Center
Mannino Park
Ponte Vecchio Restaurant
Middlewood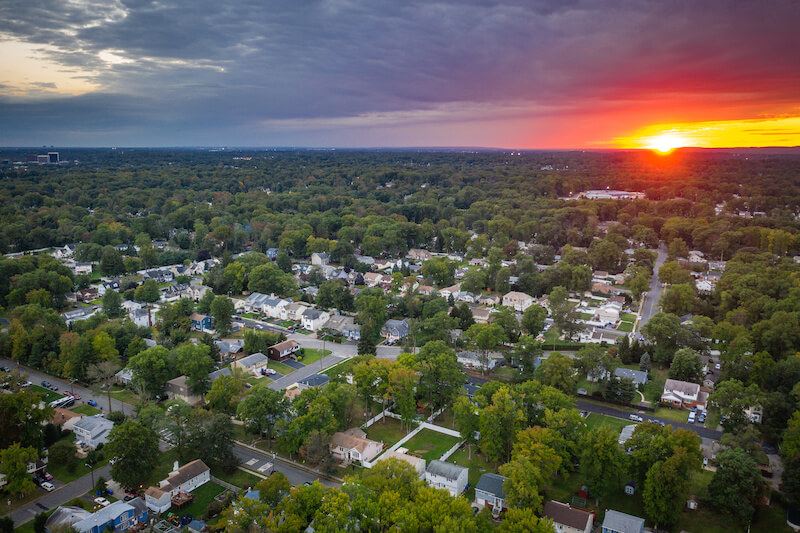 About 4.5 miles west of Old Bridge lies the community of Middlewood. Established in 1960, this suburban area features mostly single-family homes averaging between 1,300 and 1,500 square feet, primarily mid-century construction. However, a few homes in Middlewood were built between 1970 and 1999.
Middlewood is slightly closer to Trenton, New Jersey's capital city, than other Old Bridge neighborhoods are. Over a quarter of Middlewood's residents enjoy relatively short commutes that are between 15 and 30 minutes long.
As a Middlewood resident, you'll be spoiled for choice with local eateries practically in your backyard. Popular hotspots include General Saloon, a local hangout that resembles a slightly more upscale dive bar. It has a cozy, homey feel centered around a menu of American classics and is open daily with extended hours on Fridays and Saturdays. It's a great place to watch the game or listen to live bands. The classic diner-style Old Bridge Diner and Family Restaurant is another local favorite. It's open daily from 6:00 a.m. to 2:00 p.m., serving made-to-order dishes, including burgers and loaded biscuits.
Middlewood Amenities
HMH Old Bridge Medical Center
John A Phillips Open Space Preserve
Keystone Park
Mannino Park
Pine Haven
Pine Haven lies southwest of Old Bridge and just north of Sayre Woods. More densely populated than some other Old Bridge communities, homes in Pine Haven are made up of condos, townhouses, and small- to medium-sized houses ranging from under 1,000 square feet to over 2,000 square feet.
Pine Haven residents are near routes 18 and 9 via the Old Bridge Matawan Road, facilitating easy commutes to other parts of New Jersey and New York City. About 12% of residents have a commute that is longer than one hour in each direction.
Living in Pine Haven means you have several great eateries at your doorstep. The gourmet hot dog stand and food truck Nikki's Dawgs serves over 20 types of hot dogs and a large selection of burgers. It's on Old Bridge Matawan Road near Mannino Park, and the food truck delivers. The Bagel Boy shop is also famous for quick meals; for a taste of iconic East Coast-style pizza, Giusseppe's is a can't-miss.
Residents with dogs will enjoy frequenting the community Bark Park at Mannino Park. It's open daily from 6:00 a.m. to 8:30 p.m. and features separate areas for smaller and larger dogs.
Pine Haven Amenities
Keystone Park
Mannino Park
Old Bridge Family YMCA
Old Bridge Little League Baseball Field
Crossing the Bridge to Old Bridge
If life calls you to work in Trenton, NYC, or parts between, Old Bridge, NJ, is a fantastic community to call home. It features several established neighborhoods, each offering a distinct feel and various types of homes, and accessing all the things to do in Middlesex County is a breeze. Choose from communities with a more rural atmosphere or distinctly suburban ones with mid-century and turn-of-century architecture. Either way, you're never far from supermarkets, home improvement stores, local eateries, outdoor parks, and other amenities.