Best Neighborhoods in Perth Amboy: Perth Amboy, NJ Community Living Guide
Posted by Rob Dekanski on Tuesday, February 23, 2021 at 11:37 AM
By Rob Dekanski / February 23, 2021
Comment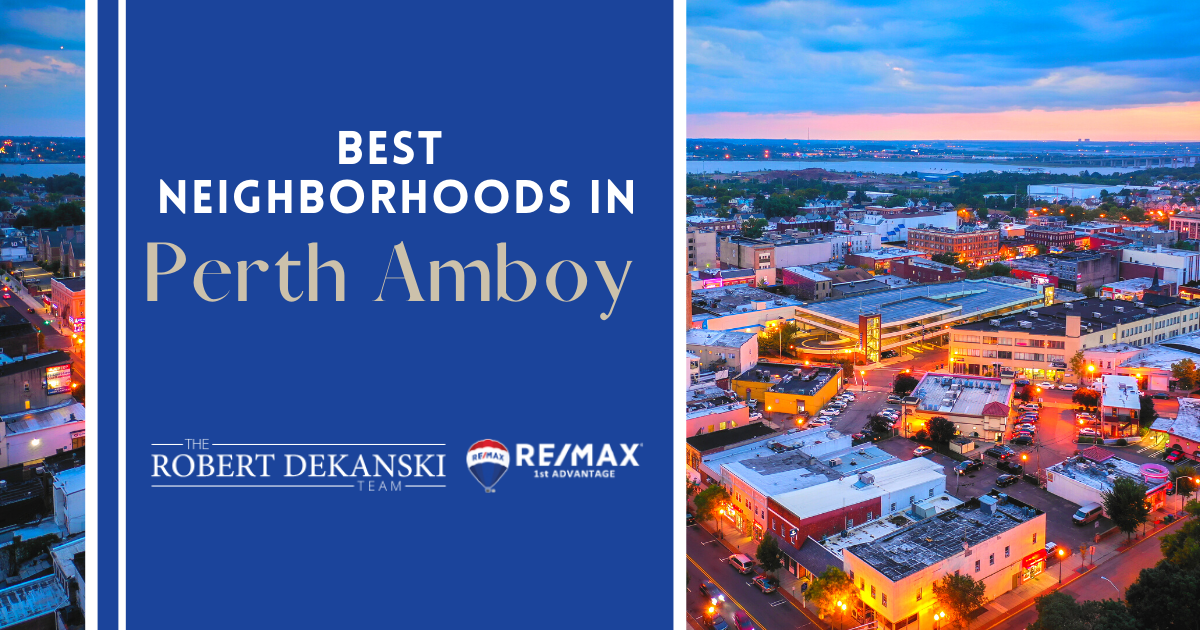 Known as the City of Firsts, Perth Amboy is an exceptional area to call home. From the waterfront dining to the neighborhoods boasting fresh suburban feels, it is difficult for current residents to imagine living anywhere else. The city is growing at a steady rate, which means more restaurants and activities continue to make their way to the area. The Raritan Bay sits right on Perth Amboy's boundaries and allows residents to enjoy beautiful skies year-round.
While there is no undesirable area to live in Perth Amboy, every city has its most sought-after neighborhoods. In Perth Amboy, the best neighborhoods are all vastly different and allow residents to find exactly what they need to fit their desires.
The Waterfront
The Waterfront Amenities
Steps from Bayview Park
Raritan Yacht Club
Perth Amboy Fishing Pier
Beautiful sunrises and sunsets
Anyone who wants to live next to the water and breath in fresh, salty air will love living in The Waterfront neighborhood. Just as the name implies, a large majority of this neighborhood has views of the Raritan Bay.
The Waterfront features sidewalk-lined streets with numerous architectural styles. Many homes are traditional colonials from the 1800s, but some newer construction is available. Residents get to enjoy homes that are at least three bedrooms with two or more bathrooms. Some homes offer attached garages, but street parking is more common.
The median home sale price in The Waterfront is $309,500. However, home prices often range from the high $200,000s to the low $600,000s.
The Waterfront neighborhood isn't a traditional subdivision, but a community within walking distance of schools, the river, and downtown Perth Amboy.
The Waterfront Hotspots
The Waterfront Cafés
The Waterfront Restaurants
Chickentown
Chickentown Amenities
Washington Park
Easy access to Route 440 and Convey Boulevard
Numerous auto repair shops and dealerships nearby
All roads in neighborhood are small and have low speed limits
Anyone looking to move into a neighborhood that checks all the boxes should consider Chickentown. Home to Perth Amboy's largest park, Washington Park, residents can enjoy running, jogging, biking, or even walking the dog to and from the park every day.
Most homes in Chickentown feature at least two bedrooms, and many have private yards and garages. While many are two stories, it is possible to find a single-story, single-family home here. The median home value in the neighborhood is currently $265,000. While homes are similar in architectural style, Chickentown is not an HOA community.
Chickentown Hotspots
Chickentown Shopping
Chickentown Cafés
Spa Springs
Spa Springs Amenities
Willow Pond Park
Numerous national chain brand stores and eateries are just a few minutes walk away
Spa Springs was built between the 1960s and 1970s. The homes here vary in size and architectural style. It is possible for buyers to find homes ranging from the upper $100,000s to the mid $400,000s. The median sale price is currently $320,000. Homes range from two to five bedrooms with one to three bathrooms.
Spa Springs is centrally located, which makes it easy for residents to get to and from their destinations. With proximity to the Garden State Parkway, U.S. Highway 9, and State Highway 440, residents are able to get to work, school, or anywhere else as quickly as New Jersey traffic allows.
Spa Springs Hotspots
Spa Springs Shopping
Spa Springs Restaurants
Hall Avenue
Hall Avenue Amenities
Numerous public transportation stops
Minutes away from medical and urgent care services
Quick drive to major shopping centers
Less than five minutes from major roadways
Hall Avenue is the smallest neighborhood in Perth Amboy. Comprised of only one street, Hall Avenue, this neighborhood features a quiet living environment for all residents. The street itself is residential, so the neighborhood does not have any commercial buildings. However, medical services are just on the edge of the neighborhood's boundaries. Residents aren't too far from major roadways or modern conveniences.
Hall Avenue features single-family homes and multifamily properties. The median home value is approximately $279,000.
Hall Avenue Hotspots
Hall Avenue Cafés
Triple Joy Deli & Grocers
Hall Avenue Restaurants
Downtown Perth Amboy
Downtown Perth Amboy Amenities
Steps from Perth Amboy NJ Transit stop
Access to banks, public library, small shops, and restaurants
City feel
When it comes to city living, there is no better option than Downtown Perth Amboy. Living in downtown means that residents do not need their vehicle most of the time, as they can easily walk to stores, restaurants, cafés, and possibly their place of employment.
Those who live in the heart of Downtown Perth Amboy can often catch views of Raritan Bay. Most homes available for purchase range between 1,000 and 1,500 square feet. Home prices in downtown are between the low $200,000s and the mid $300,000s.
Downtown Perth Amboy Hotspots
Downtown Perth Amboy Cafés
Alquimia Bakery
Vita Centro
Downtown Perth Amboy Restaurants
Rancho
Kennedy Fried Chicken & Pizza - Halal
Choosing the Best Perth Amboy Neighborhood
The best neighborhoods in Perth Amboy each offer unique characteristics. Some offer waterfront views, while others eliminate the need to use a vehicle to get groceries or enjoy a date night. Whatever someone is looking for in their dream residence, they are sure to find it in any of these Perth Amboy neighborhoods.