Best Newark, NJ Suburbs: Newark Suburbs Living Guide
Posted by Rob Dekanski on Wednesday, June 2, 2021 at 11:35 AM
By Rob Dekanski / June 2, 2021
Comment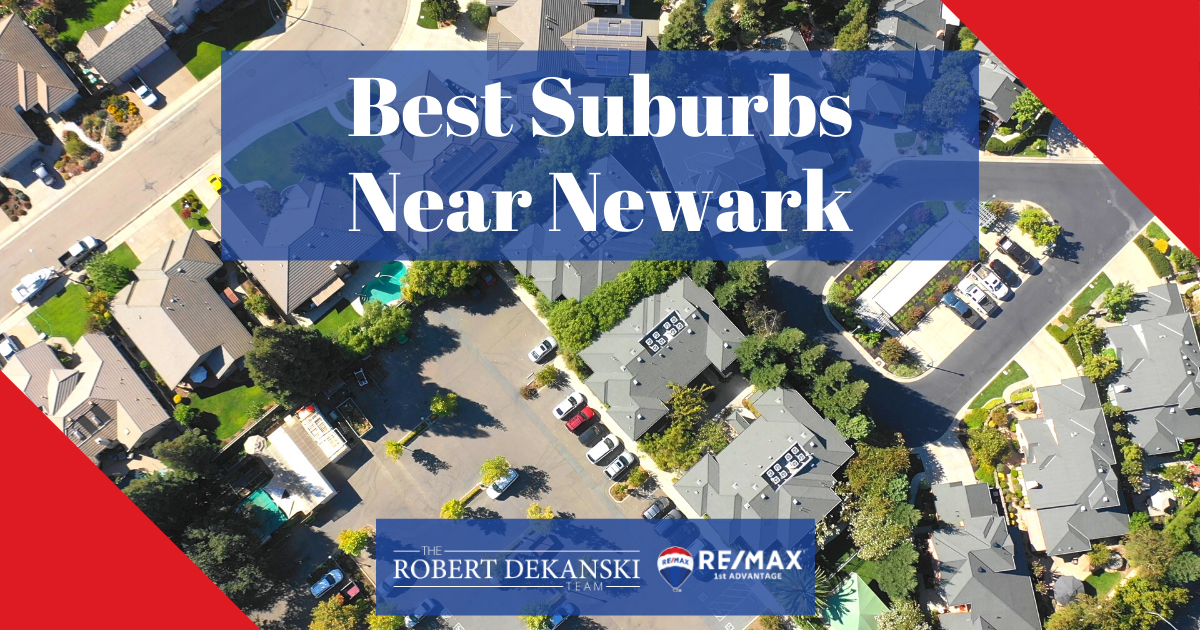 Newark, New Jersey, is the most populated township in the state and is divided into multiple neighborhoods, each with its own unique attractions, home styles, restaurants, and retail establishments. The city is one of the earliest known cities in America, established in 1666 by Puritans from the New Haven Colony. Newark's harbor has become an important part of New Jersey and New York shipping ports due to its position at the entrance of the Passaic River, where it runs into Newark Bay. The Newark Liberty International Airport was the country's first major municipal, commercial airport, and it remains one of the busiest today.
Are you planning on moving to New Jersey? Read on to discover the top suburbs and places to live near Newark.
Ho-Ho-Kus
The borough of Ho-Ho-Kus is located in Newark, New Jersey, and is home to several old landmarks, such as The Hermitage and the Ho-Ho-Kus Inn.
The town was ranked the top city to live in New Jersey by New Jersey Monthly Magazine in 2011, noting its economic success as a factor in the decision. Additionally, the town's proximity to New York City and other major economic and commercial destinations make it a great place to live for commuters. Here, residents can find Newark new construction homes alongside the town's best restaurants, boutiques, and more.
Woodcliff Lake
The Borough of Woodcliff Lake is located in Newark in Bergen County, New Jersey. Its boundaries cover about 2,300 acres or 3.6 square miles. The Borough is located in the Pascack Valley and is a popular tourist destination for historical landmarks, unique shopping, and eclectic dining. The neighborhood is essentially completely developed, with vacant property or land accounting for less than 2%.
Single-family homes on lots of 15,000+ square feet make up almost half of the residential new home construction. Woodcliff Lake is also the name of the Borough's reservoir, where there are waterfront homes, townhomes, and more. Only a small section of the lake extends into Hillsdale on the southeastern edge.
North Caldwell
North Caldwell is part of a section of land bought from the Sagamore Indians by a party of colonists in 1701. Before 1798, when it was formally renamed Caldwell Township, the area was known as "Horseneck." Over the next 100 years, North Caldwell remained a part of Caldwell Township before becoming incorporated.
North Caldwell is a quaint part of Essex County and is considered a "green jewel" with its hilly, forested roads and gorgeous luxury homes. The area is mostly taken up by single-family residences, with commercial sites on the north and south ends of town. There are two townhouse sites in the Borough where new home construction has created great spots to call home.
North Caldwell was named the 10th best place to live in New Jersey by New Jersey Monthly Magazine in 2010 and the 3rd best place in 2013.
Westfield
According to the town's history, Westfield was named after the bountiful fields west of Elizabeth Town. Westfield is home to many high-end houses, some of which reach into the multi-millions in value. The town's downtown features over 200 retail establishments and 400+ commercial enterprises, making it a regional destination. Many of the area's restaurants and retail options have been established for over a quarter of a century.
The town features several parks, including part of a 450-acre wildlife reserve, and hosts numerous festivals each year.
Allendale
The roughly three square miles that comprise Allendale today were once part of a large wilderness established by indigenous Americans. Settlers reached the area in the early 1700s and started to clear the region for farms and homesteads.
Allendale was part of the Ramapo Tract, a 42,500-acre stretch of land managed by the East New Jersey Board of Proprietors, a group of old-world property investors who rarely visited the U.S. land they owned. Allendale grew into an agricultural town, farmers cultivated vast quantities of produce, and the area became well-known for its expansive peach and apple orchards.
In the 1840s, the railroad was constructed, bringing with it Allendale's first retail establishments. The industrial district took on a fresh appearance over the next two decades; what was once a suburban neighborhood with tree-lined streets was transformed into a bustling business district.
Some of the homes were turned into shops, while others were relocated to surrounding streets. Beautiful townhomes and condos now surround the business district in Allendale's suburban areas.
Maplewood
Maplewood is a township that was once many beautiful pathways used by Algonquian Natives. Robert Treat discovered them when exploring the region and acquired the land for European settlements, even though there were few other settlements in the area.
These trails served as the foundations for the city's major roads—Springfield Avenue, South Orange Avenue, and Ridgewood Road. Around 1675, the first European immigrants arrived.
Currently, Maplewood is a great place to enjoy the conveniences of Newark city life and the beauty of nature.
Cranford
Cranford was founded in 1871 and is a 4.8-square-mile community with charming suburbs, historic landmarks, and gated community homes along the Rahway River, some of which date back to the late 1800s.
Cranford was dubbed as having the top downtown area in New Jersey after an online poll. The Star-Ledger called it "adorable [and] snowglobe-like," and New Jersey Monthly Magazine ranked the town #34 in their 2010 "Best Places To Live" rankings. Cranford is considered part of the urban region of New York City and has long been regarded as a commercial hub.
Downtown Cranford has aimed to attract more dining establishments and develop a vibrant nightlife. Cranford Crossing, a renovation project on the community's south side, includes retail space, new construction homes, and a parking deck. More restaurants, townhomes, and apartments have been added to downtown due to the Riverfront renovation project on South Avenue.
Montclair
Montclair was established as a township on April 15, 1868, from parts of Bloomfield Township to allow for the construction of a second railroad. The city's name comes from the French word mont clair, translating in English to "clear mountain."
Montclair is located on the east side of the Watchung Mountains' First Mountain, and any of the township's higher points provide spectacular views of the surrounding mountainside and the New York City skyline.
Popular New York Times author Brooke Lea Foster wrote in 2018 that Montclair was one of several "least suburban of suburbs" in New Jersey, each one praised by investors as much for its trendiness as for its available housing and sophisticated city life.
Montclair was the setting featured in the HBO television drama The Sopranos. Many Montclair locations were shown in the series, including the famed Bloomfield Avenue. Montclair is known for its diversity, historic and luxury homes, proximity to New York City, and vibrant arts and culture scene. Montclair is also home to the state's second-biggest university.
Restaurants, movie theaters, stores, and nightlife are abundant in Montclair's vibrant commercial districts, attracting tourists from all over the area.
Find Your Home Near Newark
Residents and visitors to Newark enjoy the many amenities the different neighborhoods within the township offers. Residents can find luxury homes, gated community homes, townhouses, apartments, condos, and waterfront homes all within the boundaries of Newark, conveniently located just minutes from shopping, dining, and nightlife.
If you're wondering which area near Newark might be the best fit for you, contact The Dekanski Home Selling Team of RE/MAX 1st Advantage with New Jersey Real Estate Network at (800) 691-0485 to get in touch with local Newark real estate agents who can provide more information and help you find your Newark dream home.