Best Outdoor Activities In and Around Franklin Township
Posted by Rob Dekanski on Wednesday, September 8, 2021 at 8:51 AM
By Rob Dekanski / September 8, 2021
Comment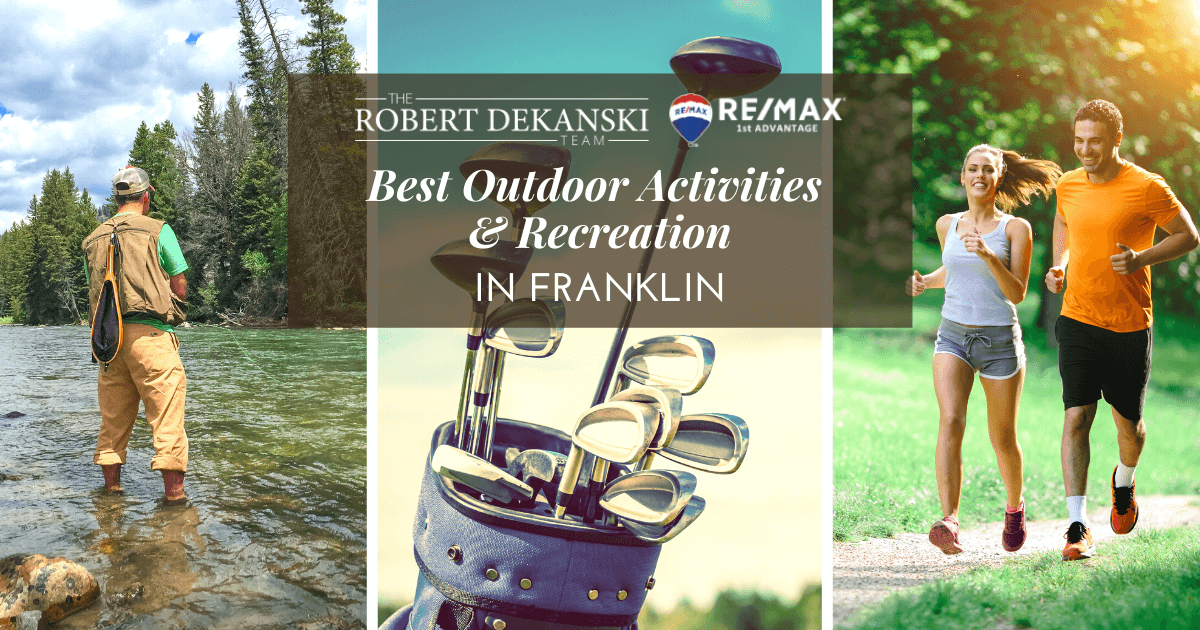 The Franklin community in Somerset County is home to thousands of residents and covers nearly 50 square miles. Aside from featuring some of New Jersey's best 55+ community homes alongside Franklin's many condos and townhomes, Franklin Township provides plenty of reasons for residents to get outdoors. Whether one wants to stay dry or dip their toes in the water, there's something for everyone. Read on to learn more about some of the most popular outdoor activities in Franklin.
Water Recreation in Franklin
Water Activities Near Franklin
Fishing
Swimming
Kayaking
Canoeing
Boating
Water activities in Franklin are a given because of its proximity to the Delaware River. Delaware and Raritan (D&R) Canal State Park provides numerous water activities that guests can enjoy. For those who enjoy fishing, this is one of the best areas to do so! Various locations along the river are regularly stocked with trout. Additionally, American shad and striped bass migrate into the Delaware River during the late winter and early spring. Along with fishing, visitors can also enjoy kayaking, canoeing, or paddleboarding. Several boat launches are available to ensure easy entrances and exits to the river. No motorized vessels are allowed in the Delaware River.
Along with the D&R Canal, fishing in Colonial Park is also popular. Centrally located in Franklin, Colonial Park is easy—and free—to access any day of the week. Three ponds are stocked annually for anglers of all ages. It's important to remember that fishing anywhere in the Garden State requires a valid New Jersey fishing license.
Those who want to float along the Delaware River without purchasing their own kayak or canoe can rent one at Griggstown Canoe & Kayak. The slight current makes it easy for even complete beginners to enjoy their time on the river. All rentals start and stop at Griggstown Canoe & Kayak, so there's no need to worry about transportation back to one's vehicle.
Franklin Hiking & Biking Trails
Trails Near Franklin
Six Mile Run
Bunker Hill Natural Area
Colonial Park Trail
Hiking and biking are both popular activities for residents in Franklin. Six Mile Run spans over 3,000 acres and is part of the Delaware & Raritan Canal State Park. The entire hike spans 6.2 miles and takes 2–4 hours to complete. The lush forest provides exceptional shade, which makes it comfortable to hike throughout the year. Hikers can follow a loop trail or complete the out and back trail, which ends in a suburb.
Bunker Hill Natural Area offers a variety of short trails that can be completed individually or combined to create a hike of about 4 miles. On the hike, visitors will need to go over two rock-hop stream crossings. This may be more difficult to complete after heavy rain or during the winter if there's ice. While hiking, visitors will come to a 30-foot cliff that offers nice views.
Colonial Park Trail is just over 2 miles long. The first part of the trail is completely paved, which makes it perfect for bikes and strollers. On the trail, guests can veer off to take a short half-mile nature loop. It contains many rocks and roots, so be aware of the rough terrain. There's a creek that's perfect for a splash on the nature loop.
Franklin Parks
Parks Near Franklin
Colonial Park
D&R Canal State Park
Bunker Hill Natural Area
Many of the outdoor activities in Franklin are concentrated in three parks. The first is Colonial Park, which is a public county park. Spanning 685 acres, the park offers numerous amenities for visitors to enjoy. An 18-hole championship golf course, large open areas, a 1.4-mile fitness parcourse, and three ponds make up some of the park's notable features. There's also a softball field that can be reserved for leagues or tournaments. During the winter, the park offers ice skating and cross-country skiing to guests.
Colonial Park also offers several gardens, including an arboretum, a fragrance and sensory garden, a rose garden, a garden designed to showcase plants that grow well in central New Jersey, and other gardens for education, gardening inspiration, and enjoyment alike.
Delaware and Raritan (D&R) Canal State Park is over 70 miles long and follows the Delaware River. Visitors will find numerous activities are available. Aside from the obvious fishing, kayaking, and paddleboarding, visitors can swim in the water or have a picnic on the bank. There are grills in the designated picnic areas that are available for use. Those who want to hike or bike will find over 70 miles of flat trails that follow the entire corridor of the park. During the winter, many will cross-country ski along the former rail lines.
Bunker Hill Natural Area may not offer as much in terms of amenities, but it does have plenty of activities for those who are looking to get back to the basics and nature. Hiking, walking, and running are popular activities. Biking is not permitted anywhere in the park. During the winter, cross-country skiing becomes a popular activity. Visitors can lay out a picnic blanket anywhere in the vast fields to enjoy a nice lunch.
Golf Courses in Franklin
Golf Courses Near Franklin
Bunker Hill Golf Course
Quail Brook Golf Course
Tara Greens Family Golf Center
It's no secret golf is popular in the Garden State, and Franklin has its own set of courses that every golfer should play at least once. Bunker Hill Golf Course is a public 18-hole golf course. Spanning 3,800 yards, this par-72 course is designed to provide challenges for players of any handicap. The owners are also improving the course to ensure golfers can have the best round possible. The course is open year-round.
Quail Brook Golf Course is rated as one of the top 20 golf courses in New Jersey by the Golf Advisor community. At 6,630 yards, the 18-hole golf course has a par of 72. Franklin locals hail this course as the best in the area because of the exceptionally manicured greens and affordable rates.
Tara Greens Family Golf Center spans over 100 acres and provides a fun spin on a traditional day on the golf course. The center has a 9-hole, 550-yard, par-3 short game golf course. It has bunkers and is designed to enhance a golfer's skills. The golf center also provides a large driving range and practice green for golfers of all ages to hone their abilities. In addition, Tara Greens features a mini-golf course.
Enjoy the Outdoors in Franklin Township
When it comes to finding something to do in Franklin, the outdoor activities at residents' fingertips should make it easy to make weekend plans. From kayaking and fishing to hiking and golfing, there's an activity for everyone when moving to Franklin.