Best Outdoor Adventures in New Jersey: Explore NJ's Great Outdoors
Posted by Rob Dekanski on Monday, March 20, 2023 at 12:51:43 PM
By Rob Dekanski / March 20, 2023
Comment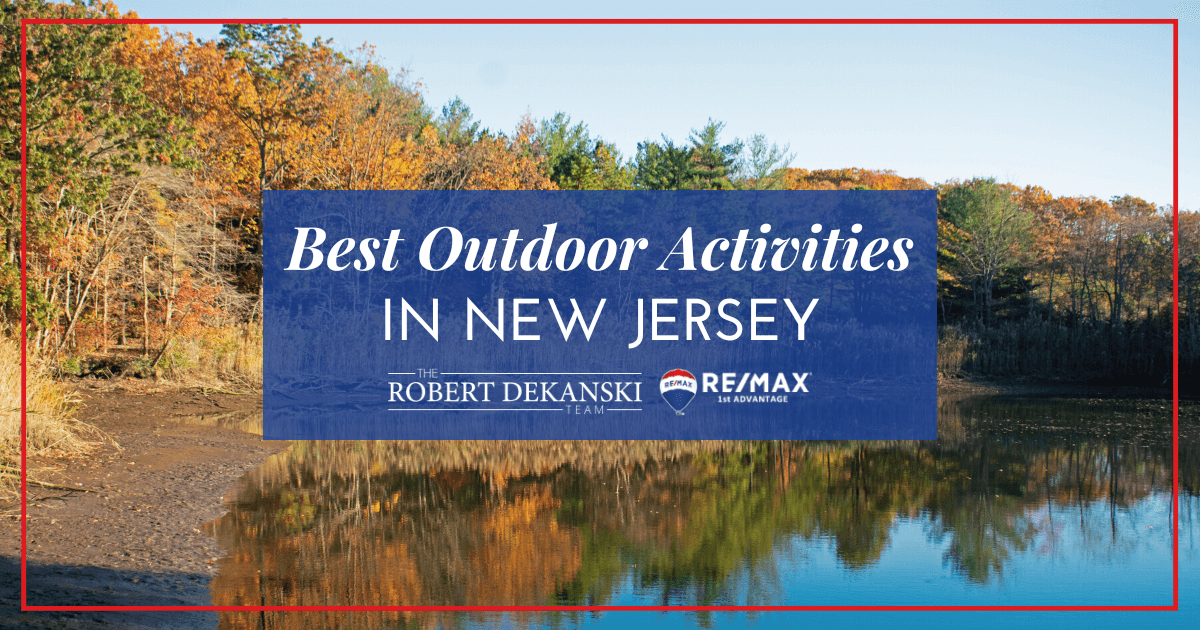 New Jersey is well-known for its stunning beaches and boardwalks, but the outdoor adventures don't end there. Hiking trails, golf courses, and everything in between await year-round, giving residents endless opportunities to enjoy the natural landscape. And while traffic conditions can be less than ideal, the relatively compact nature of the state makes getting around New Jersey fairly simple.
With so much to see, do, and experience, it's no wonder that more than nine million people proudly call this state their home. The unique blend of urban and rural living fosters the atmosphere in these vibrant and oft-historic neighborhoods.
When moving to New Jersey or just visiting, it's wise to scope out all the best outdoor activities in the region. To get started, use this guide on all the most popular things to do in the great outdoors in New Jersey.
Water Recreation in New Jersey
While living in New Jersey, residents are always just a day trip away from the oceanfront. Ample rivers, lakes, and ponds offer even more opportunities to enjoy waterside recreation activities, from swimming and kayaking to fishing and whale watching. On top of that, there are many excellent waterparks, including Tomahawk Lake Waterpark, Breakwater Beach, and Hurricane Harbor.
When residents want to enjoy the oceanfront, they can go to the Jersey Shore to enjoy parasailing, fishing on a charter, or hunting for treasure with the Jersey Shore Pirates. For a glimpse at the marine life, a trip to Jenkinson's Aquarium is a must before leaving Point Pleasant Beach.
Inland waterways to explore include the Delaware River, Greenwood Lake, and Lake Hopatcong. While at the river, visitors love tubing, kayaking, and rafting along the quick-moving current. Camping and fishing are popular pastimes as well. The local lakes have dedicated areas for swimming plus boat ramps that allow residents to launch their watercraft at their leisure.
People who love to get a glimpse of freshwater fish while they swim can always count on having a great time at Lake Wawayanda. Located in Hewitt, New Jersey, this lake has crystal-clear waters perfect for snorkeling. There's a boat rental stand on the shores, too, making it easy for visitors to get on the water in a canoe, rowboat, or other non-motorized watercraft.
For a thrilling water adventure, residents cannot go wrong with a trip to Six Flags Hurricane Harbor. At the center of this waterpark is the Tornado water coaster that takes riders on an exhilarating trip down a 132-foot tunnel. Other popular rides in the park include the Big Wave Racer, Hurricane Mountain, and Calypso Springs. Kids also enjoy exploring the 55 interactive activities in Caribbean Cove.
New Jersey Hiking & Biking Trails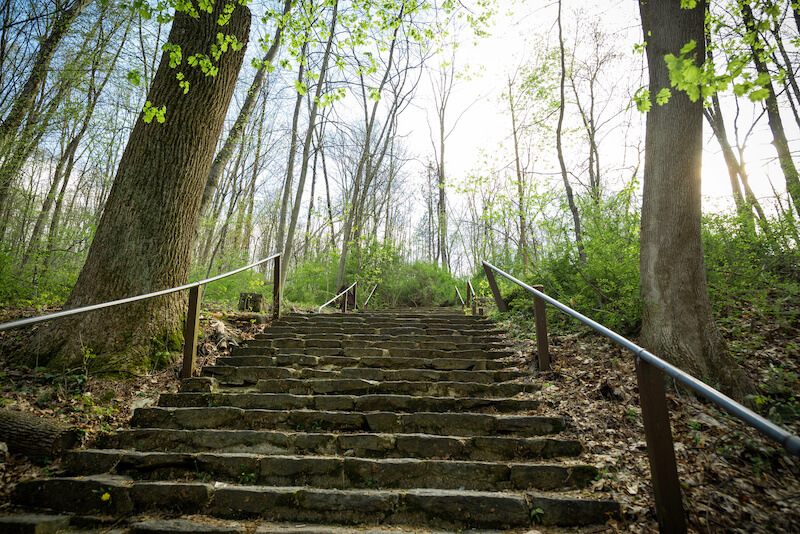 Residents across New Jersey have access to 88 hiking and biking trails—totaling over 450 miles of outdoor goodness—many of which are, fittingly, located in New Jersey's most walkable cities. Trails that get the most action year-round include Columbia Trail, Middle Township Bike Path, and the West Essex Trail.
Every year, more than 150,000 people hike through the woods on the Columbia Trail. Located in the northern part of the state, this trail meanders for 15 miles from beginning to end. While traveling down this trail, visitors go on an unforgettable trip down into the gorge, past town, and back into the forest. The Raritan River is a highlight of the adventure with its trout-filled waters that attract fishermen from all over the state. The trail renovations along the section running through Morris County are well worth experiencing.
Bicyclists love to pedal along the Middle Township Bike Path throughout the year. This nine-mile path starts at the Cape May County Park & Zoo and ends at the Cold Spring Bike Path. Riders can complete their journey on that path or keep their adventures going all day. In addition to the zoo, the path takes riders past many other excellent attractions, including locally-owned eateries and wineries galore. Nearby campgrounds give riders a place to rest up for the night if they wish and soak in the beauty of the surrounding area.
Residents can always count on the West Essex Trail for a shorter hike or bike ride. This trail runs along the former Erie-Lackawanna Railroad for about three miles, and it's most easily accessed from the township of Cedar Grove. While walking along the route, visitors get to walk along a trestle over the Peckman River and look upon the gorgeous scenery in their midst. Woodlands surround the trail toward the end, offering a chance to escape it all, at least briefly.
New Jersey Parks
New Jersey parks allow residents to enjoy a picnic, exercise, and spend time in nature. The top parklands in the state include Cheesequake State Park in the Matawan borough, Barnegat Lighthouse State Park in the Barnegat Light borough, and the Belleplain State Forest.
People come from far and wide to spend time birdwatching, fishing in the lake, and walking the trails at Cheesequake State Park. Birdwatchers get the show of a lifetime at every visit, thanks to how this park spans two distinct ecosystems. It's common to see Carolina chickadees, red-tailed hawks, Canada geese, fox sparrows, and American goldfinches in one visit. The fishing is always good at Hooks Creek Lake, too, since there's an equally diverse array of fish biting year-round. As for hikers, they have their choice of six excellent trails, ranging from one to four miles apiece.
Residents can head out to Barnegat Lighthouse State Park to take in scenic views of the waterfront. While standing in the lighthouse's shadow, visitors can see Island Beach, Long Beach Island, and Barnegat Bay from a single vantage point. At over 150 years old, the lighthouse is also a sight to behold. Other fun things here include fishing, hiking the trails, and viewing the wildlife, especially during the twice-yearly bird migration periods.
Belleplain State Forest lets residents wander through an old-growth forest filled with towering oak, cedar, and hickory trees. There are swamplands, marshes, and many other habitats within its confines. Visitors love walking the trails, hunting, fishing, and simply stargazing after the sun goes down. Those who want to stay overnight can set up at one of the 169 tent and trailer camping sites to enjoy a weekend getaway in the forest.
Golf Courses in New Jersey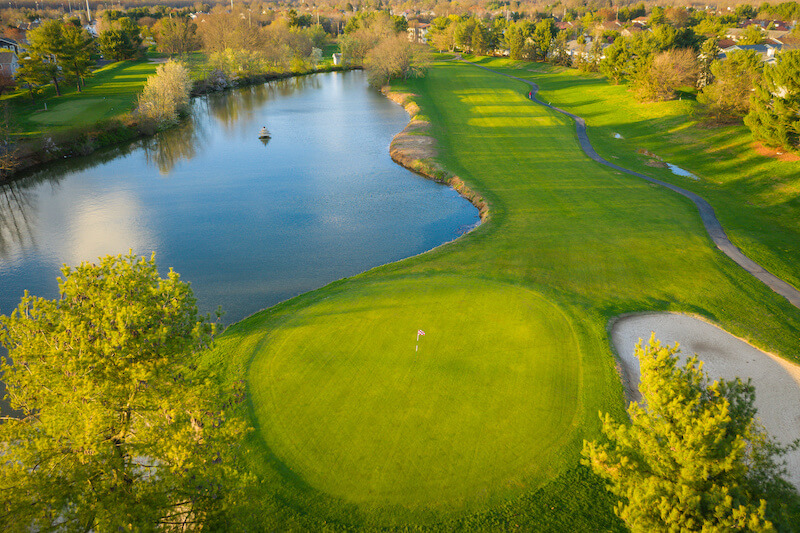 Beautifully designed public and private golf courses abound across the state, and many of them are in some of the best counties in New Jersey. Private golf courses are available for members, while public golf courses are for everyone to enjoy. Residents who want to join a golf club to access a private course can go to Ridgewood, Pine Valley, or Somerset County. As for public golf courses, the most popular sites are Ballyowen, Atlantic City Country Club, and Scotland Run.
Ballyowen is an 18-hole course set in the Crystal Springs Resort. This course takes up 250 acres of land, offering a playing field of over 7,000 yards from start to finish. Built as an homage to Scottish links courses, this space doesn't have any trees to speak of, just craggy knolls throughout. Five holes have water hazards that prove challenging, but overall, it's a pleasant place to play a round or two of golf. The resort also has five other courses onsite for visitors who want to spend the whole day working on their golf game.
In Atlantic County, residents can spend the day golfing their hearts out at Northfield's Atlantic City Country Club. This 18-hole golf course is well-known as one of the oldest in the US, giving visitors a look into the region's rich history at every visit. In 1903, for example, the course became the birthplace of the birdie when a player came in at 1-under par for the first time. The rock at the 12th hole commemorates this day and is a fun backdrop for mid-game selfies.
Links and quarry-style holes create a truly challenging course at Williamstown's Scotland Run Golf Club, located on the outskirts of Monroe Township. This layout pays homage to the site's original life as an old sand quarry. The mining machinery still sits onsite, giving visitors lots to talk about as they move through the 18 holes. A propeller plane even butts into the game at the 16th hole, filling the waste bunker and serving as a target for those who want to take an extra swing.
Other Outdoor Adventures in New Jersey
Outdoor activities in New Jersey go well beyond the waterways, parklands, and golf courses. There's always something fun to do at all the following attractions:
The Wetlands Institute: Observe birds and other wildlife in a picture-perfect natural setting
Black Knight Bowbenders: Try archery on an open shooting range for a truly unique outdoor experience in Jackson
Presby Memorial Iris Gardens: Head to the township of Montclair to gaze in awe at over 1,500 types of Iris and check out a bee sanctuary
Lakota Wolf Preserve: See wolves housed in a natural environment and go on exciting photography tours
Lorrimer Nature Sanctuary: Explore walking trails and interactive exhibits designed to teach visitors about the local wildlife
Grounds for Sculpture: Study larger-than-life sculptures jutting out of the ground in new and inspiring ways
The local farmer's markets are always a fun stop through the growing season. These outdoor markets let patrons browse all the fruits, veggies, and more grown in New Jersey. Fresh apple pies, alpaca blankets, and many other handmade goods round out the offerings and make every visit a veritable treasure hunt. Winter markets keep the fun going year-round, giving residents a place to shop for fresh, local produce, artisanal goods, and so much more.
Once the cold season is in full swing, residents can stop by a maple sugaring demonstration to see how their favorite sweets are made. Venues offering these demonstrations include the Tenafly Nature Center and Great Swamp Education Center. Their instructors teach visitors about finding maple trees, using taps, and transforming sap into tasty maple syrup.
As spring comes into view, it's time to visit the many wonderful butterfly gardens across the state, including The Watershed Institute. At this Pennington, New Jersey, garden, native butterflies arrive to feed on the local plants, filling the air with colorful flapping wings. There are even Monarch butterflies on site as soon as the milkweed plants bloom.
Enjoy Fantastic New Jersey Outdoor Adventures
Endless outdoor adventures are on tap all across New Jersey. So, why not experience the beauty of the natural landscape for yourself and check out some of New Jersey's best cities and outdoor activities? A weekend getaway filled with biking, boating, and much more will prove rejuvenating. Plus, as you go to each destination, you'll see why everyone loves living in this great state.
If you're excited by the opportunities in New Jersey, contact The Dekanski Home Selling Team of RE/MAX 1st Advantage with New Jersey Real Estate Network at (800) 691-0485 to get in touch with our experienced team of real estate agents and discover the perfect New Jersey home for you today.
Read Our OUtdoor Activity Guides For Each City Below