Best Newark Outdoor Activities - 2021 Recreation Guide
Posted by Rob Dekanski on Monday, July 12, 2021 at 10:22 AM
By Rob Dekanski / July 12, 2021
Comment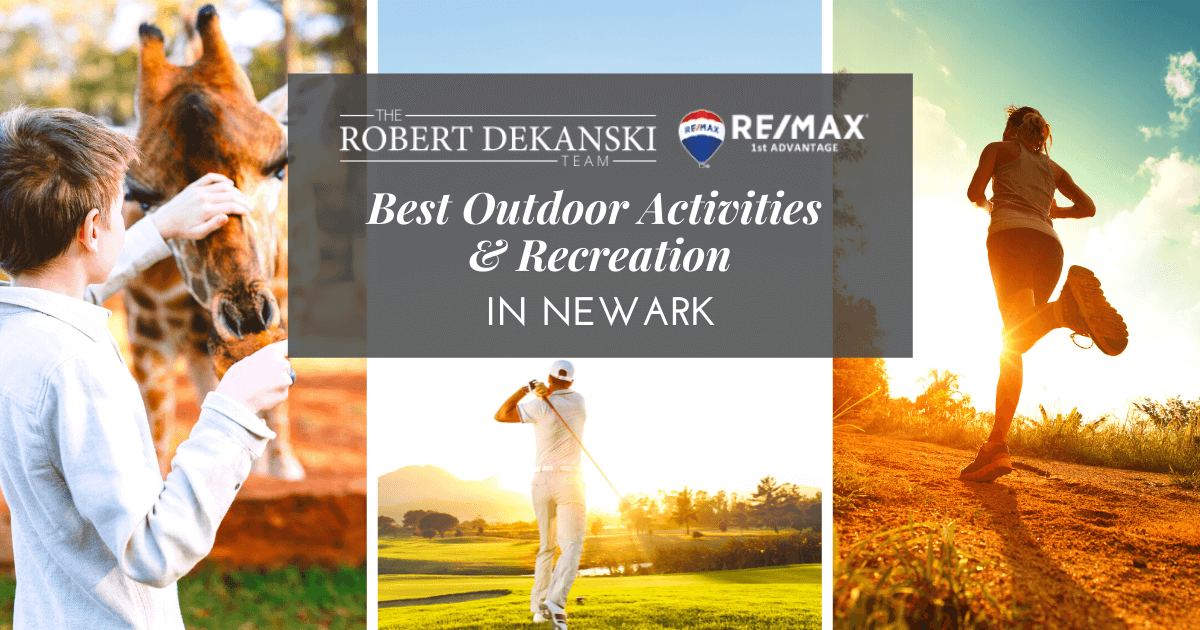 Newark is more than a hustling hub for local, domestic, and international travel. Yes, there are cars, buses, trains, airplanes, and ferries running nearly around the clock. However, Newark has far more to offer than the city lifestyle—it has a plethora of outdoor activities available to residents throughout the year! Whether one loves to be near the water, ride their bike, play a round of golf, or simply spend time breathing in some fresh air, there is an outdoor activity for every resident of the Newark community. Read on to learn more about some of the most popular outdoor activities in and around Newark.
Water Recreation in Newark
When it comes to water recreation activities, Newark doesn't disappoint. DreamWorks Water Park, located inside of the American Dream megamall, is one of the largest indoor water parks in North America. Even though this waterpark is inside, guests can be whisked away to a tropical environment 365 days a year. A comfortable 81-degree climate is always maintained to ensure guests can enjoy the waterpark, even if there is snow on the ground. A wave pool and over 15 water slides are available for guests to enjoy.
Fishing is incredibly popular for Newark locals. Fortunately, two stocked fishing areas are located right in the city: Branch Brook Park Pond and Weequahic Park Lake. It's important to note that a New Jersey Fishing License is required in order to fish anywhere in the state. Visitors can expect to catch trout, catfish, and sunfish throughout the year.
For those who want to learn more about the city they call home, a boat tour is a great way to do so. Hidden Harbor Tours' two-hour tour provides a history of Newark while sailing over a 7-mile stretch of the river. Visitors can witness spectacular views as well.
Newark Hiking & Biking Trails
As soon as spring begins to show up, Newark residents can be found hiking and biking at many of the trails in the area. West Hudson Park Path is a 2.2-mile long paved pathway. It's suitable for strollers, bikes, and leashed pets. Guests can enjoy getting in some exercise while walking along the scenic tree-lined path. The path provides visitors quick access to a lake, water park, and basketball courts as well. Eventually, the West Hudson Park Path will be part of the East Coast Greenway, which will run up and down the entire Eastern Seaboard.
Hudson River Waterfront Walkway allows visitors to stroll along a 1.5-mile paved walkway next to the Hudson River. Visitors will witness picture-worthy views of Manhattan, including views of the One World Trade Center. Bikes and leashed pets are permitted on the walkway.
Roselle Park Bike Path is a short one-mile out-and-back trail that is nestled near the New Jersey Transit's Raritan Valley Line. Visitors can even use the path to make their way to the Roselle Park transit station.
Newark Parks
Since many of the condos and townhomes in Newark don't have yards, Newark's parks are incredibly popular for residents. They allow visitors to enjoy fresh air without having to stray too far from home. Branch Brook Park was the nation's first county park. Spanning over 360 acres, the park is on both the New Jersey and National Registers of Historic Places. With 19 unique bridges and a 24-acre lake, the park is popular among Newark locals. Walking, biking, and bird watching are among the most popular activities. Furthermore, the park is home to the largest collection of cherry blossom trees in the United States. An annual festival is held at the park to celebrate the blooms.
Military Park is a historic park in the center of downtown Newark. Military Park regularly hosts 13 fitness programs, 16 arts and culture programs, and 7 children's programs throughout the year. Additionally, visitors can enjoy free movies, music, and board games.
Riverbank Park is located in the Ironbound neighborhood. Positioned along the Passaic River, visitors can use the park for many recreational activities. It's one of the smallest parks in Essex County, but it's also loved by many. Visitors can enjoy using the soccer field, baseball field, and lighted tennis courts at their leisure.
Golf Courses in Newark
New Jersey is well known by golfers around the world for its diverse course offerings. Fortunately for local golf enthusiasts, Newark has several courses nearby. Weequahic Golf Course is a county golf course designed by George Low in 1913. As the oldest golf course in the area, it has recently undergone complete renovations to ensure the course meets modern golfing standards. The renovations also improved the overall appearance of the park. Just under 6,000 yards, the golf course is difficult to score low on due to its small greens. The 3rd hole and 16th hole are the most challenging, yet most loved, holes on the golf course.
Galloping Hill Golf Course is the "Golf Course That Never Sleeps." After its renovation in 2014, the golf course has seen a large uptick in membership. Every bunker has been renovated to meet new industry standards. Additionally, the course drainage has been improved to ensure golfers can get back to the course quicker after it rains. Open to the public, the course is fun and challenging for players of all skill levels.
Suburban Golf Club is a historic A. W. Tillinghast golf course that captures the complete essence of who Tillinghast was as a designer. The par-71 golf course is designed to challenge even the best golfers in the world. The current course record of 63 is held by PGA Tour player Ryan McCormick. There are no tee times at Suburban Golf Course, so players can enjoy their game on their own schedule.
Other Newark Outdoor Activities
Newark's exceptional outdoor activities can't all be captured in a single guide. Aside from the above categories, a few other notable activities await residents and their guests. Turtle Back Zoo is dedicated to providing wildlife education and conservation for all to enjoy. With several recreational activities available at the zoo, visitors of all ages are sure to have fun looking at and learning more about the animals. All tickets purchased for entrance to the zoo support the animals and the zoo's conservation efforts.
The outdoor Newark Air Museum features over 140 retired military planes, aircraft engines, power units, and a rocket motor. Some of the aircraft were flown by the United States Military while others were flown by the Royal Navy. Visitors can see models of fighter jets and bomber planes side by side while learning about how the planes were developed and improved over time. For a nominal fee, visitors can even get inside of the planes.
Enjoy the Outdoors in Newark
With so many outdoor activities available, it's easy to see why so many choose to move to Newark. The ability to travel to New York City in under 30 minutes or hop on an international flight is something few other cities can offer. The diverse cultural cuisine, shopping, and central network of Newark's public transportation make it easy to find whatever a resident pleases. The fact that residents can escape from the noise of the city without having to stray far from their new construction homes in Newark is another added bonus of calling Newark home. With a community offering so many amenities, why would anyone want to live anywhere else in the Garden State?
If you're looking for the right place to live in Newark, contact The Dekanski Home Selling Team of RE/MAX 1st Advantage with New Jersey Real Estate Network at (800) 691-0485 to get in touch with a Newark real estate agent who can help you find your ideal Newark home today.