Live Close to These 6 Amazing Neighborhood Parks in Elizabeth
Posted by Rob Dekanski on Monday, September 20, 2021 at 1:25 PM
By Rob Dekanski / September 20, 2021
Comment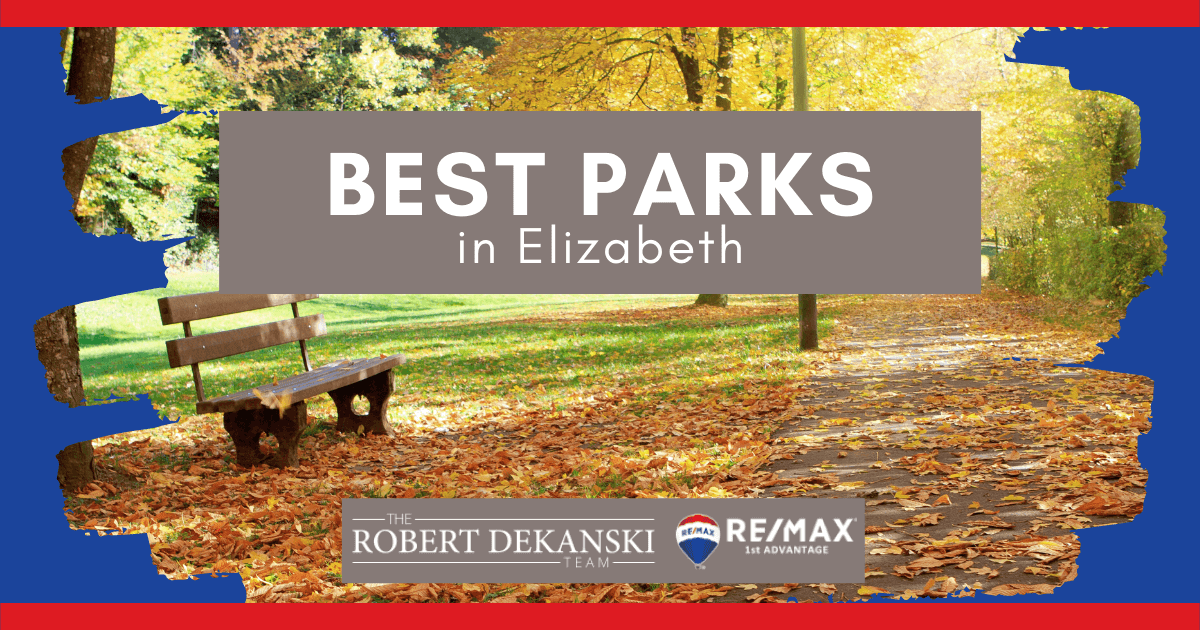 The Elizabeth community, originally called "Elizabethtown," was founded by English settlers. It was New Jersey's first capital and was frequently attacked by British forces during the American Revolutionary War. Many of Elizabeth's park spaces, statues, and monuments commemorate this rich history.
Today, Elizabeth is the county seat of Union County and is New Jersey's fourth most populated city. Those who reside in the community have access to more than 40 local parks just outside their front doors. Discover some of the best parks in Elizabeth, New Jersey, by reading on.
Mattano Park
Mattano Park Amenities
Ball fields
Two half-courts
Two baseball diamonds
Playgrounds
Spray Pads
Trail loop
Mattano Park is a year-round play destination. There are numerous ball fields, two blacktop half-courts, and two baseball diamonds that bring out visitors ready for some practice or competition. The youngsters enjoy the playgrounds, and the spray pads are open during the summer months. The skate park delights both skateboarders and inline skaters and is one of the few such zones in Elizabeth.
Pack a picnic to enjoy by the river, which boasts beautiful gardens and green fields. In the winter, there are plenty of groomed areas to crunch around in the snow. There is a full loop surrounding the park for hikers, walkers, and cyclists. Photographers also frequent here for birding and nature scenes, especially in spring and winter as the seasons change.
Mattano Park Additional Information
Address: Mattano Park, 360-484 5th Avenue, Elizabeth, NJ
Phone: 908-527-4000
Hours: 7 a.m.–9 p.m.
Kellogg Park
Kellogg Park Amenities
Spray park
Fountain zone
Paved trails
Shaded picnic tables
Home to one of Elizabeth's best spray parks and fountain zones, Kellogg Park is a treat in the summertime. However, the park also has walking trails, shaded picnic tables, and a large playground structure with soft kid-friendly features available year-round. The paved trails surrounding the park are accessible, and this is a favorite spot for runners and cyclists. Dogs are permitted on the pathway but must be leashed and able to follow vocal commands.
Kellogg Park Additional Information
Address: Kellogg Park, 1145 Fanny Street, Elizabeth, NJ
Phone: 908-820-4220
Hours: 7 a.m.–8 p.m.
Veteran's Memorial Waterfront Park
Veteran's Memorial Waterfront Park Amenities
Marina
Fishing Pier
Boardwalk
Multi-use trail
Playground
Chess tables
Opened in 1993 to honor those who served the nation, Veteran's Memorial Waterfront Park is a huge space that borders the New York Harbor and Arther Kill Waterway. Water enthusiasts, anglers, and boaters enjoy access to the city-run marina and a fishing pier. There is also a nice boardwalk that provides excellent views of the community.
The park has a multi-use trail where joggers, skaters, and cyclists can get a few hours of exercise. A brand new playground structure lets parents keep a close eye on the kiddos, as there are lots of benches and seating in the shade nearby. Chess tables are often filled with novice and experienced players alike looking to test their skills. Veteran's Memorial Waterfront Park has ample parking and bike racks.
Veteran's Memorial Waterfront Park Additional Information
Address: Veteran's Memorial Waterfront Park, Elizabeth Ave. & Front Street, Elizabeth, NJ
Hours: 7 a.m.–8 p.m.
Warinanco Park
Warinanco Park Amenities
200 acres
Elizabeth River fishing
Paddle boating
Trails
Playgrounds
Sports fields
Ice rink
Spray pads
One of the largest and most amenity-filled green spaces near Elizabeth is Warinanco Park in the Roselle community. Spanning just over 200 acres, locals can easily spend an entire day here and never run out of things to explore and experience. Visitors can fish in the Elizabeth River, ride paddle boats, cycle the trails, or play on the impressive playgrounds.
There are zones for cricket, handball, horseshoes, tennis, basketball, and an ice skating rink that opens during the winter in the renovated Sports Center. Warinanco Park also has spray pads near the picnic area filled with cherry trees, or guests can pick up a snack at the onsite cafe. The park also has a small lake where boats can be rented for a day on the water.
Warinanco Park Additional Information
Address: Warinanco Park, St. Georges Avenue, Roselle, NJ
Phone: 908-527-4000
Hours: 6 a.m.–8 p.m.
Phil Rizzuto Park
Phil Rizzuto Park Amenities
Fitness trail
Playground
Spray features
Soccer field
Shaded picnic tables
Covered pavilion
There are several hundred acres that comprise Phil Rizzuto Park in the nearby Union community. Many locals head here to get in a run on the fitness trail before or after work, and kids flock to the massive playground. In the summer months, the spray features come alive to keep visitors cooled off. In addition to several open spaces, there is a soccer field where many local leagues play.
The park features several shaded picnic tables, and a covered pavilion can be reserved for larger events. WiFi is available in the park, and restrooms are located nearby the parking and picnic zones. Dogs are welcome here but must remain leashed or on a run while in the park.
Phil Rizzuto Park Additional Information
Address: Phil Rizzuto Park, 599 Morris Avenue, Union, NJ
Phone: 908-527-4900
Hours: Dawn to Dusk
Lightning Brook Park
Lightning Brook Park Amenities
Playgrounds
Elizabeth River fishing
Sports fields
Lightning Brook Park is a great place to have gatherings or spend some time watching the kids play in the large activity center. Swings, climbing stations, monkey bars, spiraling slides, and bridges keep youngsters engaged for hours. As a part of the Elizabeth River Parkway, one can sit on the banks or dip a kayak in the refreshing water for fishing experiences.
Other perks at Lighting Brook Park include fields for baseball, soccer, and lots of open space for football, frisbee, and other outdoor activities. Dogs on leashes are allowed in the park, and they can accompany their owners along the short trails or take a dip in the river. There is ample parking along with restrooms and water fountains.
Lightning Brook Park Additional Information
Address: Lightning Brook Park, 1596 Union Avenue, Union, NJ
Phone: 908-527-4900
Hours: 7 a.m.–8 p.m.
Explore Nature at Elizabeth, New Jersey's Peaceful Parks
Residents and visitors to Elizabeth have access to a number of things to do, including enjoying the community's lovely parks. Most have easy trails and beautiful scenery. However, many of the parks in Elizabeth can be walked or biked to relatively easily from most of the more popular neighborhoods. Come explore all that this wonderful community has to offer, from Elizabeth's outdoor recreation to its pleasant attractions—it all awaits along with much more in Elizabeth, NJ.