6 Best Parks in Franklin Township, NJ: A Guide to Colonial Park, D&R Canal State Park & More
Posted by Rob Dekanski on Monday, November 29, 2021 at 8:02 AM
By Rob Dekanski / November 29, 2021
Comment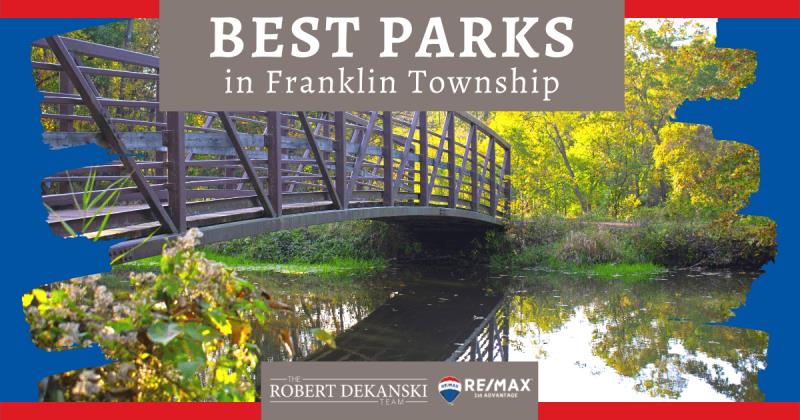 Rain or shine or snow, there's abundant outdoor fun to be found in Franklin Township, New Jersey. The township sits in Somerset County and is part of the New York metropolitan area. Residents can find the best parks in town located within easy access to major routes like Interstate 287 and State Highway 27.
Franklin Township has more than 20 parks, preserves, and open spaces, plus miles of recreational trails. Read on to discover the best parks in Franklin Township and get ready to play, relax, and get back to nature.
Colonial Park
Colonial Park Amenities
Lois Howe Nature Trail
Spooky Brook Golf Course
Tennis and pickleball courts
Putting course
Paddle boats
Playground
Spray park
Off-leash dog park
Colonial Park, a county park, spans nearly 700 acres and is located between Weston and Amwell Roads and east of the Millstone River. The park blooms throughout most of the year, offering visitors a chance to explore the horticultural displays, including: an arboretum, fragrance and sensory garden, ornamental grass collection, perennial garden, the Rudolf W. van der Goot Rose Garden, and a shrub collection.
The Lois Howe Nature Trail winds through the park with views of Spooky Brook Pond. Along the paved trail is a more than mile-long fitness course open daily. There are three ponds for fishing, stocked by the New Jersey State Division of Fish, Game, and Wildlife, and in winter, there is ice skating and cross-country skiing.
Other facilities in Colonial Park include the 18-hole Spooky Brook Golf Course, tennis and pickleball courts, a putting course, and paddle boats. Kids can have fun in the playground and then cool off at the spray park. There is even an off-leash dog park. Two large picnic areas are available for groups of 20 or more by reservation.
Colonial Park Additional Information
Hours: 6 a.m. until 9 p.m.
Six-Mile Run State Park
Six-Mile Run State Park Amenities
3,037 acres
Numerous trails
Cross-country skiing and snowshoeing
Six-Mile Run State Park is part of the D & R Canal State Park area and is located north of Pleasant Plains. Six-Mile Run spans approximately 3,037 acres with an ecosystem including wetlands, forest, grasslands, and open fields.
Visitors have a choice of trails to explore. Creek Trail and the Blackwells Trail are both nearly five miles long, while the Twisty Trail spans about two and a half miles. The Cedar Trails is the shortest at approximately one and a half miles. Bikes, horses, and dogs on a leash are permitted on the Six-Mile trails. In the winter, trails are open for cross-country skiing and snowshoeing. The park office can be found at Blackwells Mills.
Six-Mile Run State Park Additional Information
Franklin Park
Franklin Park Amenities
Nearly four miles of trails
Cross-country skiing and snowshoeing
106 acres
Discover Franklin Park just north of Route 27. The 106-acre Franklin Park Natural Area and the adjacent 112-acre Bunker Hill Natural Area are part of the Ten-Mile Run Greenway system. Franklin Park and Bunker Hill are divided by the Ten-Mile Run stream.
The park has nearly four miles of trails. There's the 1.19-mile Yellow (rated easy), .29-mile Blue (easy), .81-mile Red (easy to moderate), and 1.23-mile Brown (easy to moderate).
All trails allow walking, running, and dogs on a leash. The Brown Trail allows bicycles and even horses, but only with an equestrian permit. In the winter, snowshoeing and cross-country skiing are popular at this park.
Parking can be found on Bunker Hill Road and at Old Vliet Road on the park's northern edge. Franklin Park is a carry-in/carry-out facility.
Franklin Park Additional Information
Delaware and Raritan Canal State Park
Delaware and Raritan Canal State Park Amenities
70 miles of trails
Five boat launches
Canoeing and kayaking
Fishing for perch, trout, catfish, and more
Birdwatching
The Delaware and Raritan (D & R) Canal State Park is a large site that is part of the National Recreation Trail System. It's home to 70 miles of linear, multi-use trails located along the historic canal. Trails in this state park vary but range from natural surfaces to crushed stone. Within the park are five launching sites on the Delaware River plus canoe rental facilities at Griggstown and Princeton. The canal is a popular location for water recreation in Franklin.
History lovers may enjoy seeing the wooden bridges, 19th-century bridge tender houses, hand-built stone-arched culverts, and charming cobblestone spillways.
Delaware and Raritan Canal State Park Additional Information
Inman Park
Inman Park Amenities
Sports fields and courts
Trails
Picnic shelters
Playground
Visit Inman Park for a day of outdoor recreation in Franklin, from team sports to picnics and playground adventures for the kids. The park sits adjacent to MacAfee Elementary School with access off John F. Kennedy Boulevard.
Inman Park has multiple athletic fields for baseball, softball, and soccer, plus basketball, tennis, and pickleball courts. Trails wind through Inman Park, making it an ideal place to walk, jog, or take a bicycle ride. For visitors' convenience, there is parking, a picnic shelter, and bathrooms in upper Inman and a parking lot in lower Inman. Dogs must be kept on a leash.
Inman Park Additional Information
Middlebush Park
Middlebush Park Amenities
Sports fields and court
Skate park
Trails
Exercise equipment
Middlebush Park is a neighborhood park located less than a mile from downtown Franklin Township. It's walkable to residential blocks and within easy proximity of the public library and post office. It has a large, central parking lot for convenient access to various facilities.
The park's turf football field is lighted and adjacent to the parking lot. Other sports facilities at Middlebush include soccer fields, baseball and softball diamonds, and a basketball court. The skate park has a fenced enclosure and is near the children's playground. Like the other top-tier parks in Franklin Township, Middlebush has trails for walking and running. Bicycles are also allowed in the park, and exercise equipment is also available for visitors. All dogs must be on a leash while visiting.
Middlebush Park Additional Information
Hours: 8 a.m. to 9:30 p.m.
Enjoy the Outdoors in Franklin, NJ
The best parks in Franklin Township, New Jersey, offer residents, visitors, and their guests an oasis from the urban landscape. The best parks provide a haven for outdoor recreation for all ages and abilities. Franklin Township parks have a diverse collection of ecosystems, miles of trails, and a wide selection of fields, equipment, and space to play. Forget about the daily grind for a while, and spend some time at one of the best parks in Franklin Township.
Read Our Park Guides For Each City Below