Best Parks in Perth Amboy
Posted by Rob Dekanski on Saturday, April 3, 2021 at 1:40 PM
By Rob Dekanski / April 3, 2021
Comment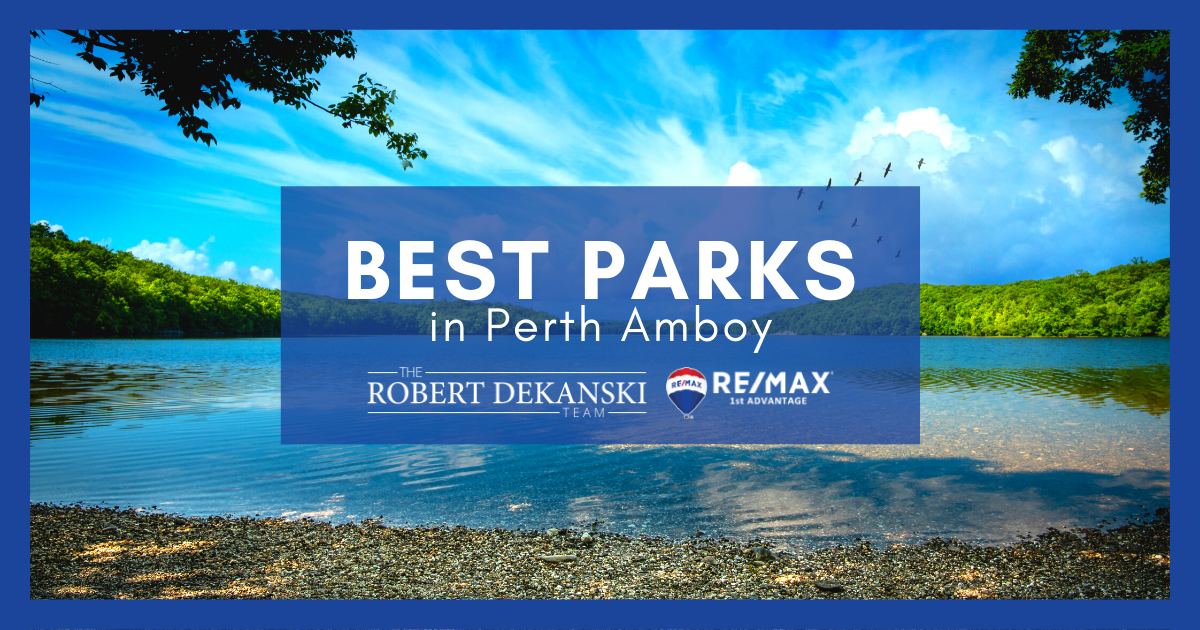 Perth Amboy, New Jersey, is commonly referred to as the East Coast's City by the Bay. Indeed, it is situated directly on the Raritan Bay, at the confluence of the Staten Island Sound (formally called the Arthur Kill Tidal Strait) and the Raritan River. It is in Middlesex County, within the official New York City Metropolitan Area, and directly across from Staten Island.
The city is historically important, having been founded in 1683 by Scottish colonists and formally chartered in 1718. From 1686 to 1776, Perth Amboy was the capital of what was then known as the Province of New Jersey. Perth Amboy is also home to the oldest continuously operating City Hall in the United States, and the first Bill of Rights was signed here in 1790.
Today, Perth Amboy has grown into a small but bustling and vibrant metropolis. Still, it maintains much of its historic charm in the well-preserved buildings and waterfront. There has been a central focus on restoring, improving, and expanding the city's open green spaces and parks, and Perth Amboy has several for the community to enjoy when they get outdoors. Here are some of the best parks in Perth Amboy.
Washington Park
Washington Park Amenities
Baseball field
Rock climbing walls
Playgrounds
Skate park
Address: Washington Park, 660 New Brunswick Ave., Perth Amboy, NJ 08861
This small community park is located in the center of the historic Washington Park neighborhood, which celebrated its centennial in 2019. Washington Park features black-top walking and jogging paths, basketball courts, a baseball field, a skate park, and two children's playgrounds, one aimed at toddlers and one designed for older children. The playgrounds are side-by-side sitting on a soft, sponge-like ground, and they each feature slides, small rock climbing walls, and swings. There are also several benches scattered throughout the park, plus plenty of seating at the baseball field for families and friends to watch practices or games. Several bird species, butterflies, and squirrels are frequent visitors to Washington Park, so it's a popular spot for people to bring lunch and watch for wildlife. Charming, well-preserved historic homes border the park, and there is a small, dedicated parking lot as well as free street parking.
Sadowski Parkway Waterfront Park
Sadowski Parkway Waterfront Park Amenities
Sandy beaches
Walking trail
Fishing piers
Tennis courts
Address: Sadowski Parkway, Perth Amboy, NJ 08861
Part of the Perth Amboy waterfront area, Sadowski Park comprises nearly eight acres of primarily open green space. The park includes a half-mile stretch of sandy beachfront on the Raritan River and is popular for sunbathing, walking and jogging, volleyball, kite-flying, and picnicking. Swimming is prohibited in this area because of a dangerous current. There is also a walking trail, several half-court basketball courts, a gazebo, several benches, an open field frequently used for casual baseball and softball games, and a veteran's memorial. Two fishing piers, High Street and Brighton Avenue, sandwich either end of the Sadowski Park, and there are numerous exercise stations between them along the waterfront. The Sadowski Parkway Waterfront Park is also home to the Brighton Avenue Community Center and Teen Center, as well as eight tennis courts, where tennis programs for children and adults are offered year-round.
Rudyk Park
Rudyk Park Amenities
Baseball field
Two playgrounds
Walking path
Picnic tables
Address: Rudyk Park, 500 Valley Place, Perth Amboy, NJ 08861
Locally known as "the baseball park," Perth Amboy's Stanley F. Rudyk Park prominently features a lighted regulation-sized baseball field with seating for about 1,300 people. There are also soccer fields, two basketball courts, and a concession stand. Perth Amboy High School athletic teams use the fields for their games and some practices, and there is ample seating for spectators, as well as plenty of parking.
In addition to the sports fields, Rudyk Park has two playgrounds, a walking path, and several picnic tables and benches. Popular community events and festivals are held at this park, including the highly anticipated annual Puerto Rican Festival of Perth Amboy. There are plans to substantially expand Rudyk Park and install additional play areas, extend the walking path, and create picnic and barbecue spots under shade trees.
Bayview Park
Bayview Park Amenities
Picnic tables
Performance venue
Proximity to Staten Island
Surrounded with restaurants
Address: Bayview Park, Perth Amboy, NJ 08861
Located directly across Front Street from Perth Amboy's marina, Bayview Park offers picturesque scenery and tranquility right in the heart of the city. The park prominently features a large gazebo that directly overlooks the marina down below and serves as a popular performance venue. When there are no concerts or other events being held in the gazebo, it has plenty of seating for relaxing, picnicking, or simply visiting. On clear days, visitors can sit under the gazebo, one of the many large shade trees, or at any one of the several benches or tables and look across the marina to Staten Island. There are also a number of restaurants, food trucks, and an ice cream parlor in the area that surrounds the park and marina.
Caledonia/Roessler Park
Caledonia/Roessler Park Amenities
Spray park and splash pad
Large playground for children
Plenty of green space for picnicking
Within walking distance of the Perth Amboy waterfront
Address: Caledonia/Roessler Park, Sadowski Parkway, Perth Amboy, NJ 08861
Often referred to as Caledonia Park by locals, this park is dedicated to the colonists who settled Perth Amboy in 1683, paying homage to the city's rich history. Caledonia Park features a large children's playground with two separate sets of swings, an abundance of open green space that's popular for picnicking and relaxing, and a popular spray park and splash pad. The park is within easy walking distance of Perth Amboy's waterfront area and popular downtown attractions, including the historic Proprietary House museum.
Dalton Park & Field
Dalton Park & Field Amenities
Proximity to James J. Flynn Elementary School
Playground and swings
Multi-purpose sports fields
Address: Dalton Park & Field, 635 Chamberlain Ave., Perth Amboy, NJ 08861
Dalton Park is located adjacent to James J. Flynn Elementary School in a primarily residential neighborhood. It features a large multi-purpose field that can act as two baseball, softball, or soccer fields, or can be used for various events. There is also a roller hockey and rollerblading rink, plus swing sets and a playground. In September 2019, volunteers from the community came together to expand on the playground and install new equipment.
Visit These Amazing Parks in Perth Amboy Today
Perth Amboy has a great deal to offer year-round, and recreating at one of its parks or dog parks is just the beginning. From waterfront views to sports fields, tennis courts, and walking paths, there is a park in Perth Amboy for everyone to enjoy, whether they live in a historic townhome or new construction.
Is Perth Amboy the perfect home for you? Contact The Dekanski Home Selling Team of RE/MAX 1st Advantage with New Jersey Real Estate Network at (800) 691-0485 to get in touch with a Perth Amboy real estate agent and discover your dream home in Perth Amboy today.
Read Our Park Guides For Each City Below