Iconic Restaurants in Monroe, NJ: Monroe Dining Guide
Posted by Rob Dekanski on Monday, June 21, 2021 at 12:10 PM
By Rob Dekanski / June 21, 2021
Comment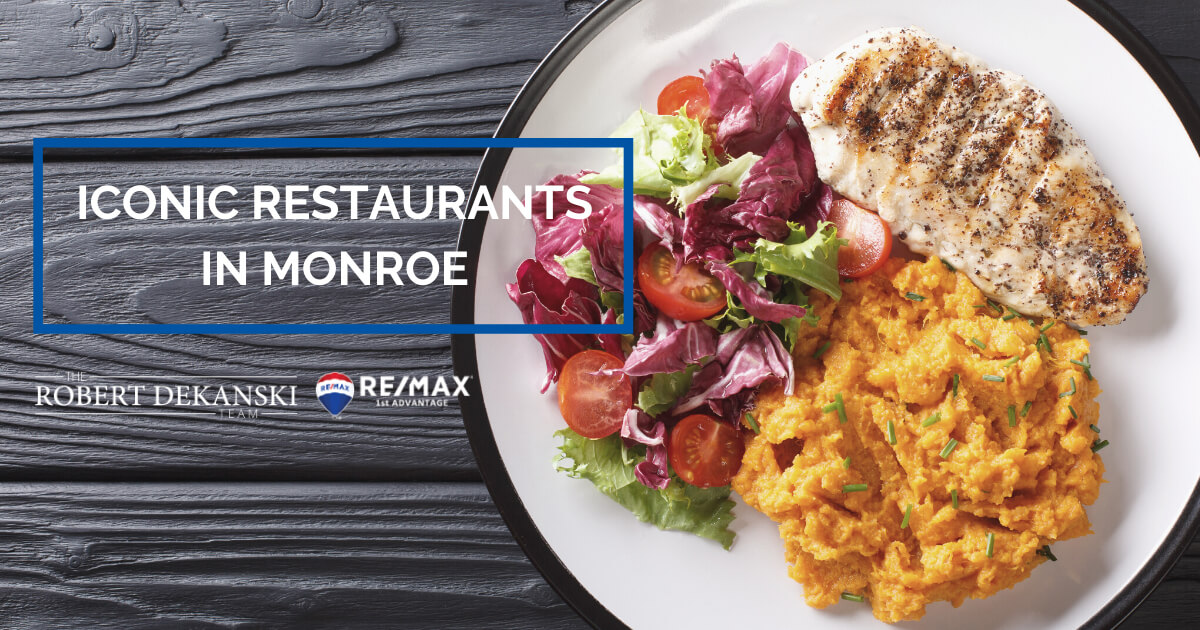 Named in honor of former president James Monroe, this once-small farming community has flourished into a bustling suburb. After all, residents get all the benefits of small-town living while never being more than an hour from New York City or Philadelphia. With the best of both worlds available to Monroe residents, it makes sense why many visitors move to Monroe, and many born here choose to stay. With long-standing citizens come iconic restaurants that many visit weekly—if not more often. There are numerous options for every preference and diet. Whether locals or visitors want international cuisine, Italian, vegetarian-friendly, or good old meat and potatoes, they're sure to find their fill at any of the popular Monroe restaurants listed below. Read on to discover our top picks for the most iconic restaurants in Monroe, NJ.
Bovine Burgers
Popular Dishes at Bovine Burgers
Yous Guys Burger
Chili Cheese Bovine Dog
A-Fish-ionado Sandwich
Sultry Poultry Burger
The BRO-Vine Burger
Urban Cowboy Burger
Bovine Burgers may readily admit that it isn't hard to make a decent burger, but what separates it from other restaurants in the area is the attentiveness to its clientele. Rather than creating menu items that please the owners, the menu stays up-to-date with exactly what the neighborhood wants to eat.
Of course, the passion for serving mouthwatering, flavor-bursting burgers doesn't hurt its reputation. The all-beef patties are an in-house, three-part blend of fresh, never-frozen Certified Angus Beef. Traditional burgers are available alongside burgers featuring bleu cheese, Diablo aioli, fried avocado, and even more interesting combinations. A range of free toppings can be added to any burger, along with delicious premium toppings.
Because the clientele guides the menu, Bovine Burgers has vegan, vegetarian, fish, and chicken options so that all guests can come in and enjoy a flavorful bite.
Taqueria Maria's
Popular Dishes at Taqueria Maria's
Enchilada de Mole
Molcajete
Burrito de Maria
Mile High Torta
Huevos a la Mexicana
Grilled Steak Chimichanga
Taqueria Maria's is built on one principle: providing customers with delicious, affordable food. Only the highest quality ingredients come into the kitchen. Each morning, the staff begins by prepping fresh produce and cooking all ingredients from scratch. Taqueria Maria's prides itself on not having any frozen or canned items in its kitchen.
The mole is the essential dish everyone must try at least once. Made from the heart with over 100 spices, any guest will taste just how much time and care goes into making it daily. Empanadas, tacos, quesadillas, and vegetarian plates are also available.
Persis Indian Grill
Popular Dishes at Persis Indian Grill
Tandoori Chicken
Egg Biryani
Onion Uttapam
Paneer Butter Masala
Chicken Vindaloo
Sizzling Brownie
Persis Indian Grill brings authentic dishes to Monroe that many guests had never tried before stepping inside the restaurant. That's sure not to be the case for long, though—whether someone has never tried Indian food or knows and loves all the dishes, everyone will be delighted by the high-quality taste in each bite. It's easy to decide to visit again to try another menu item.
With a range of appetizers, entrées, bread, and desserts, guests can stop in for a quick bite or enjoy a multi-course meal. Small and large parties alike are welcome into the restaurant. The servers will do everything in their power to ensure every guest has a memorable experience.
Baker's American Bar & Grille
Popular Dishes at Baker's American Bar & Grille
Kielbasa & Pierogies
Rib Eye Steak
Baby Back Ribs
All American Chili
Pulled Pork Sandwich
Wood-Fired Spicy Sausage Pizza
Baker's American Bar & Grille is the place to go for American cooking. With multiple large, wide-screen TVs, patrons can enjoy the latest sports and news during their meal. With a full bar and kitchen, sports fans and casual diners will enjoy their dining experience. While it has a sports-bar atmosphere, Baker's is friendly to all ages and has a kid's menu.
Like any good American restaurant, Baker's offers a wide range of dishes to meet any palate. Burgers, ribs, meatloaf, sandwiches, pizza, and more are on the menu. Come inside to enjoy ribs that fall off the bone, creamy mac 'n' cheese, and meat with the perfect amount of smoke and char.
Ciro's Ristorante Italiano
Popular Dishes at Ciro's Ristorante Italiano
Grilled Octopus
Homemade Gnocchi Bolognese
Linguine Clam Sauce
Eggplant Parmigiana
Chicken Francese
Veal Della Casa
Ciro's Ristorante Italiano is an authentic Italian restaurant right in the heart of Monroe. Any guest who steps foot inside will immediately feel swept away to Italy. The ambiance, servers, and the food are "al bacio!" With a charming bar and perfectly decorated patio, guests can enjoy dining at Ciro's any time of year.
With only the freshest ingredients coming into the kitchen, guests can have peace of mind they are being served high-quality dishes. Whether sharing a meal with others or dining alone, the large selection of imported wine, beer, and spirits will perfectly pair any meal. Dining at Ciro's Ristorante Italiano is an experience anyone will want to repeat soon.
Fiddleheads Restaurant
Popular Dishes at Fiddleheads Restaurant
Carolina BBQ Shrimp Tacos
Zucchini Cakes
Crab Provolone Melt
Orange Brandied Salmon
Malibu Chicken Sandwich
Blueberry Ricotta Cake
Fiddleheads Restaurant has served the Monroe community since before the Internet was invented. Focused primarily on new American cuisine, Fiddleheads is always ahead of the latest culinary trends. Daring combinations and classic flavors are found throughout the menu. The restaurant is established as BYOB, allowing guests to unwind at their own pace and enjoy every bite of their meal.
Fiddleheads is close to active adult communities in Monroe, and the interior of the restaurant has a fun, vibrant atmosphere. One could easily compare it to the inside of a recently opened art gallery.
Seasonal menus are available, which allow guests to come back time and again to try the latest in new American cuisine.
The Diner
Popular Dishes at The Diner
The Diner Belly Buster
Blueberry Pancakes
Pizza Fries
Monte Cristo
Caesar Chicken Wrap
Jersey Burger
The Diner is more than just another diner. In fact, it's "the diner" to any long-time Monroe resident. Other diners have come and gone, but The Diner has lasted the test of time. With a variety of consistently excellent dishes, a homey atmosphere, and unparalleled service, it's easy to see why other diners can't compare.
When one walks into The Diner, they immediately feel at home. The atmosphere and wide range of dishes allow everyone to sit back and relax. With vegetarian options, Spanish cuisine, and classic American fare, everyone can find something that fits their tastes.
Better still, the entire menu is served all day. If someone wants a stack of pancakes for dinner, it's no problem at all at The Diner.
Simply Jerk Jamaican Grill
Popular Dishes at Simply Jerk Jamaican Grill
Boneless Jerk Chicken
Curry Shrimp
Oxtails
Jerk Wings
Jerk Fish
Vegan Jerk Burger
Simply Jerk Jamaican Grill is a recent establishment that opened in 2014 to provide healthy fast food without skimping on flavor quality. However, this iconic restaurant is the brainchild of the owners of Jamaican Delight and The Green Grotto restaurants, which served the New Brunswick area for over 15 years. By using high-quality ingredients and modifying a few classic options, healthy Jamaican food was brought to Monroe.
Striving to create a modern-rustic ambiance, Simply Jerk welcomes everyone through its doors. Whether someone has never tried jerk or has dietary restrictions, the menu can accommodate anyone ready to eat. The authentic Jamaican cuisine and caring staff create a memorable experience. It's what keeps Monroe residents coming back for more each week.
Monroe Deli
Popular Dishes at Monroe Deli
Italian Combo Sub
Genoa Salami & Provolone Sub
Traditional Gyro
Western Omelet
Eggplant Wrap
Bacon Cheeseburger
Monroe Deli is an unsung hero of the Monroe community. Offering free delivery close to the restaurant and very modest delivery charges elsewhere, it's an iconic restaurant in Monroe that ensures everyone gets something good to eat at affordable prices. Those who don't want to leave their Monroe condos or townhomes during a snowy winter day can still get the best subs, bagels, and coffee in just a few minutes.
Monroe Deli also offers indoor dining for guests who want to get out of the house and have a relaxing place to eat. The entire staff is ready to make everyone feel right at home. Monroe Deli can accommodate anyone's tastes, from subs, cold cuts, and cheese by the pound to salads, drinks, desserts, and more. With prices that have barely changed over the years, it's no wonder any resident will recommend Monroe Deli in a heartbeat.
Get a Taste of Monroe
While all of New Jersey has great restaurants with many bold flavors and great service, there is something about visiting Monroe's best restaurants that is truly special. Long-time residents continue to eat at the same establishments because it feels like a second home. The service, food, and quality are unwavering. Whether a resident is looking for a new place to eat or someone is looking at listings in Monroe's most popular neighborhoods, not one restaurant on this list will disappoint. Each of these restaurants showcases the unwavering loyalty and respect that Monroe Township offers its citizens. If anyone is looking for a place to grow roots, Monroe is the place to call home.
If you're ready to call Monroe Township home, contact The Dekanski Home Selling Team of RE/MAX 1st Advantage with New Jersey Real Estate Network at (800) 691-0485 to get in touch with experienced Monroe real estate agents and find your ideal Monroe home today.