Where to Live in NJ to Enjoy Amazing Walking Trails
Posted by Rob Dekanski on Wednesday, September 22, 2021 at 10:48 AM
By Rob Dekanski / September 22, 2021
Comment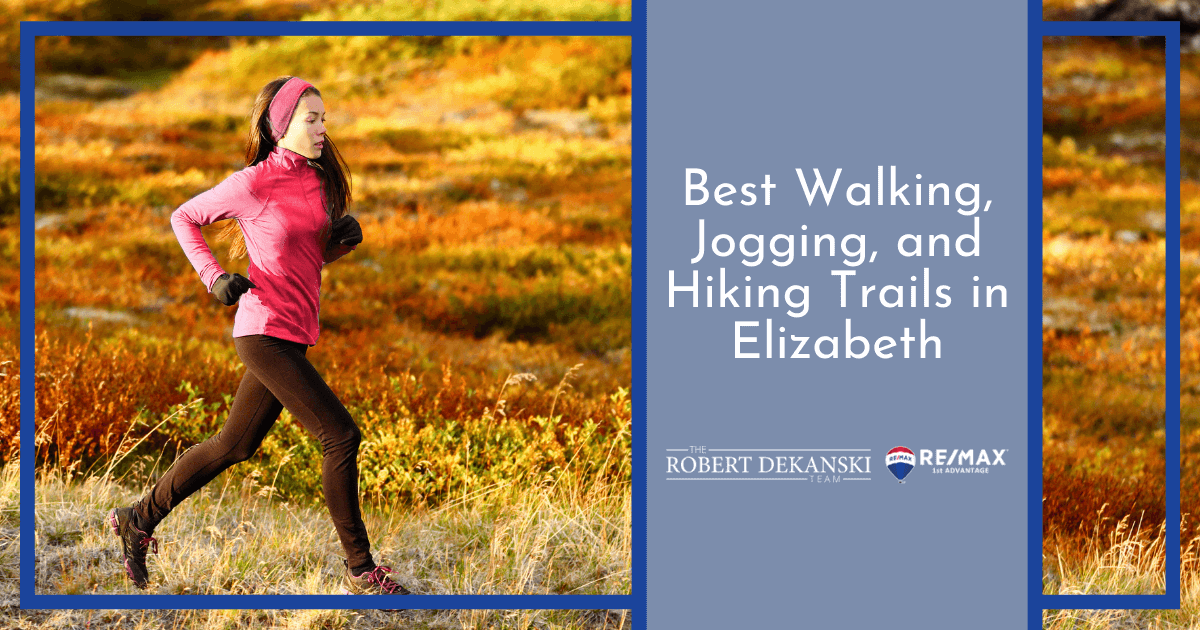 Elizabeth, New Jersey, is the county seat of Union County and is the fourth most populous city in the state. Anyone moving to Elizabeth will be pleased to know that they can access many parks and trails just minutes from their condos and townhomes. The trails are interconnected, making hopping on and off at local transit depots, nearby schools, or popular outdoor activities in Elizabeth a breeze. Keep reading to learn about some of the best walking, hiking, and biking trails within the city of Elizabeth.
Elizabeth River Trail Connects Walkers to the City
The 1.5-mile Elizabeth River Trail serves as a pathway to numerous connecting trails that take people to areas throughout the community, such as Goethals Bridge, the riverbank, the public library, and midtown. Along the way, walkers and cyclists are treated to works by local artists that highlight Elizabeth's history. The trail runs between Clifton Street and South Broad Street and, in some sense, serves as an outdoor classroom.
This well-cared-for pathway aims to preserve the natural beauty of the city. There are quite a few birds here, but not many animals due to the high pedestrian traffic in the area. Throughout the trail, there are a few recreational areas and benches.
Elizabeth River Trail Additional Information
Address: Elizabeth River Trail, Elizabeth River Trail Phase I, Elizabeth, NJ 07202
Hours: Dawn to 10 p.m.
Phone: 908-289-0262
Warinanco Park Loop: A Naturally Beautiful Walking Loop
Situated in the impressive Warinanco Park complex, the Warinanco Park Loop is a modestly trafficked 1.9-mile loop trail near the town of Roselle. The path is excellent for runners and pedestrians wanting to experience an abundance of nature during their trek.
The loop passes a lake where one can stop and take in the sight of the water. In spring, the cherry blossom trees come into full bloom. More than a place to walk, the park also has a boathouse at the lake where pedal boats can be rented and snacks can be purchased. There is a sporting center with turf for soccer, golf, and other sports endeavors.
Transform a simple walk into a picnic at one of the shaded tables or pavilion and enjoy the picturesque scenery. The park and parking are free, and the area is open year-round. This local site is popular as it sits in a residential community.
Pedal Through the Roselle Park Bike Path
Cyclists highly favor the track at the Roselle Park Bike Path nestled near the Raritan Valley Line of the New Jersey Transit System. Thanks to the convenience of Elizabeth's public transit, locals can pop their bikes on a bus rack and get to the trailhead with ease.
This 2.5-mile loop is situated within a 240-acre nature preserve. It is just over a mile in and back, and there is a decent bit of pedestrian traffic along the bike path.
In winter, some people snowshoe the Roselle Bike Path. Entering the park and parking is free. Parking is available along Lincoln Avenue and on Chestnut Street at the trailhead. The trail endpoints are at 822-810 Galloping Hill Rd, Roselle Park, NJ 07204, and Chestnut St at E Lincoln Ave, Roselle Park, NJ 07204.
Staten Island Greenbelt: Stroll Among 3 Miles of Wildflowers
The Staten Island Greenbelt Trail is a heavily trafficked loop trail near NYC. This 3.3-mile pathway boasts beautiful wildflowers in spring and summer, while the leaves are gorgeous during the fall. Flora and fauna are abundant, and sightings of birds around the streams and ponds are common. White-tailed deer are often spotted by those taking an afternoon stroll.
This natural area is just a part of a network of parks and trails, so it's used frequently by locals heading to work or school. The Staten Island Greenbelt is also close to a popular retail corridor. The trail is best accessed from the Nature Center at 700 Rockland Avenue.
New Springville Greenway: Freshly Paved for Pleasant Walks
One of the newer trails in the area is the 3.2-mile New Springville Greenway. This route traverses the eastern edge of Freshkills Park and provides access to Richmond Avenue, heading both north and south. Getting around Staten Island is greatly eased by this convenient trail, surrounded by plenty of open green spaces.
New concrete and asphalt pavement were recently installed, so the trail is smooth and is also ADA-accessible. Users can connect to the Staten Island Greenbelt, another 2.6-mile trail. Parking is available at the trailhead in Bulls Head and travels south to Eltingville. Bike racks and benches are scattered along the pathway. There is often a charge for parking on the street after the free lot fills up.
Walk and Play at Clove Lakes Park Loop
Clove Lakes Park enjoys protection as a "Forever Wild" site due to its prized ecological assets. The park holds a few secrets from the past and has a rich array of natural wonders. Visitors come here to stroll groomed woodland trails and the asphalt two-mile loop, and leashed dogs are welcome on the loop trail.
The lake is a huge draw, and guests can paddle the bodies of water, which includes a pond and a lake. Serpentine rock outcroppings surround the waters, and Clove Lakes Park is home to a 300-year-old tulip tree.
This Staten Island park also serves as a modern recreation zone. There are several baseball diamonds, a football field, basketball courts, a soccer field, and playgrounds. The Staten Island WWII Veterans Memorial Ice Skating Rink is also here near the fields and other courts.
Clove Lakes Park Loop Additional Information
Address: Clove Lakes Park Loop, 1150 Clove Rd, Staten Island, NY 10301
Hours: Always open
Phone: 718-390-8000
Love Being Outdoors and Getting Around Town?
Whether the goal is just some exercise, a nature walk, or a trip to a nearby location or public transit station, there's likely to be a trail or pathway that helps locals get there. Elizabeth parks are graced with several great trails for hiking, biking, running, or just strolling about. Once people come here for a visit, many choose to purchase single-family homes in Elizabeth and move here for good. Come and find out what makes this special place so appealing for outdoor enthusiasts.