5 Marlboro Walking Trails & Hiking Areas: Walk, Jog & Hike Near Your Neighborhood
Posted by Rob Dekanski on Tuesday, September 27, 2022 at 10:43 AM
By Rob Dekanski / September 27, 2022
Comment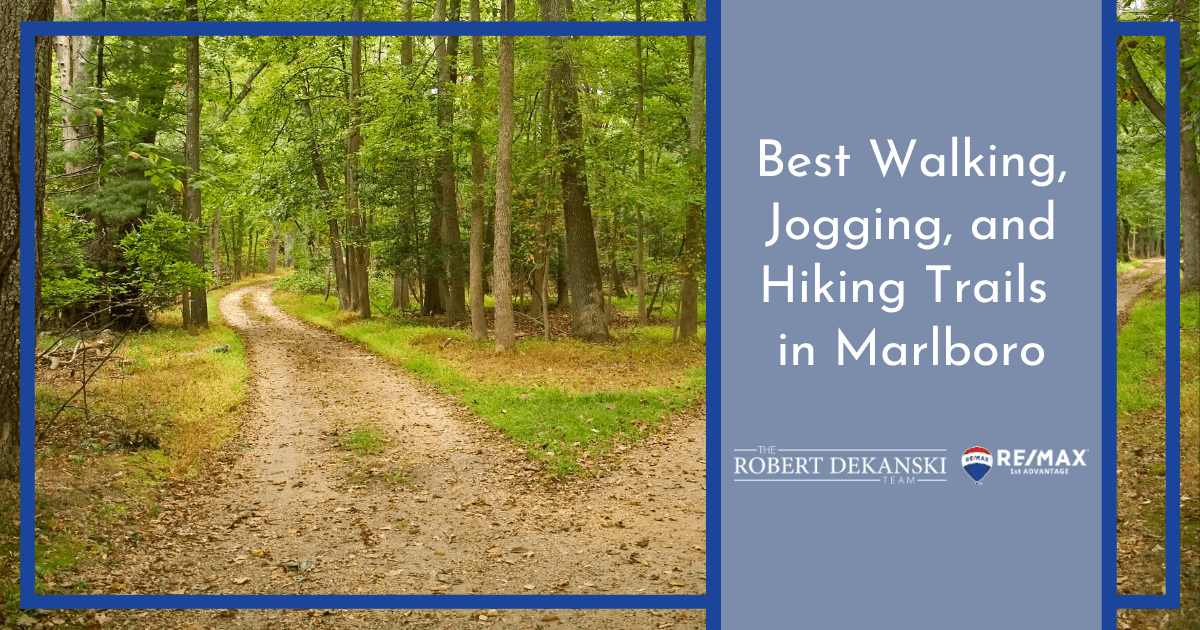 Scenic walking and hiking trails near every neighborhood are an exciting perk for people moving to Marlboro. Once an agricultural region, today, Marlboro Township, New Jersey, has plenty of parks and green spaces to enjoy. The surrounding Monmouth County manages an extensive park system with over 30 parks, including recreation areas and extensive trail systems. Many of the most popular trails are tucked right into Marlboro neighborhoods, offering walking, hiking, trail running, or biking opportunities without even needing to leave town. Here's a look at five of the best.
John A. Phillips Preserve
Trail length: multiple trails from 0.3 to 1.75 miles
Rating: Easy
The John A. Phillips Preserve in neighboring Old Bridge Township is one of the county's largest parks, with 1,728 acres. The preserve has over 6.5 miles of hiking trails and several unmarked sand trails. The short and sweet Nature Trail is the easiest and most popular one, at just a half-mile long! Brochures are available at the trailhead kiosk to help you identify flora and fauna like blueberries and sweet pepperbush along the route.
Despite their varied lengths, the scenic pine forest trails in the John A. Phillips Preserve are rated as easy and mostly paved. Several trails also have scenic boardwalks for crossing over wetlands and brooks. You can choose a trail depending on how long you want to hike.
0.25-mile Pine Glen Spur
0.5-mile Nature Trail
0.6-mile Blueberry Flats
1.1-mile Old Bridge Sands Trail
2.1-mile Pleasant Valley Trail
Alternatively, you can also hike the longer Park Loop, which encompasses several shorter trails and totals 1.75 miles.
It's important to note that there are several unmarked sand spur trails within the park. Take a map from the kiosk to be sure you don't get turned around, and if you happen to find yourself on one of the unmarked trails, take care in trudging through the sand and keep a close eye on your surroundings.
Big Brook Park: Henry Hudson Trail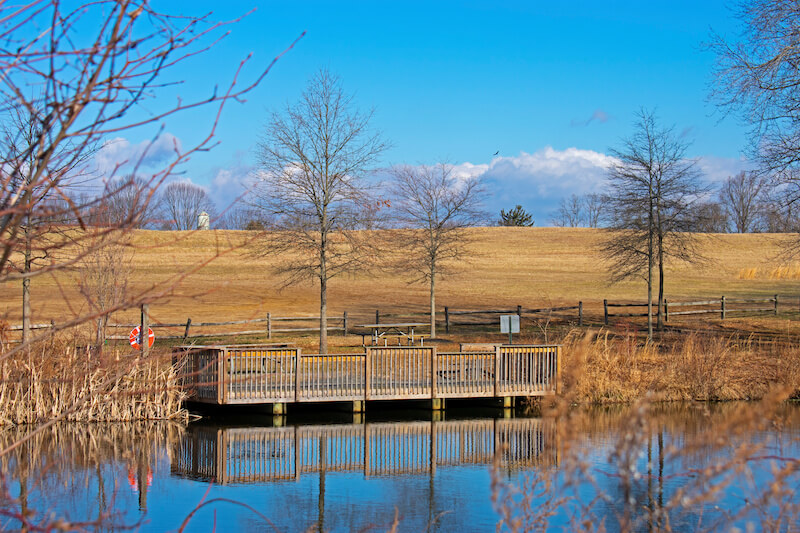 Trail length: 5.7 miles
Rating: Easy
The Henry Hudson Trail is paved and mostly shaded, part of the extensive Big Brook Park trail system, which spans 24 miles. There are three sections on the Henry Hudson Trail—one northern and two southern. The most well-known is the southernmost 5.7-mile section of trail, spanning from Marlboro to the borough of Freehold.
Interestingly, the Henry Hudson Trail is part of the famed Rails-to-Trails Conservancy network, highlighting former railways that have been transformed into community trails. Much of this peaceful trail is lined with native trees, but some sections offer views of streams and wetlands. It's considered an easy route that takes about 1.75 hours to complete, but there are a few small hills. Note that the trail is also a popular spot for road biking because of the paved path.
Durand Park Trail
Trail length: 0.6 miles
Rating: Easy
For wildlife lovers, the Durand Park Trail near Freehold is a must-visit. This 33-acre park is a haven for birds, with sandpipers and various species of sparrows and warblers along the popular loop trail. During migration, plenty of ducks can be seen in the park's small lake.
This 0.6-mile loop is considered an easy route and will take most people less than 15 minutes to complete, making for a pleasant, quick outing. Pack a picnic, as there are several picnic tables within the park. It passes through a unique bottomland forest and by a small lake and grasslands. It's important to note that there are no paved pathways here, so the area can be muddy after rains.
Holmdel Park Trails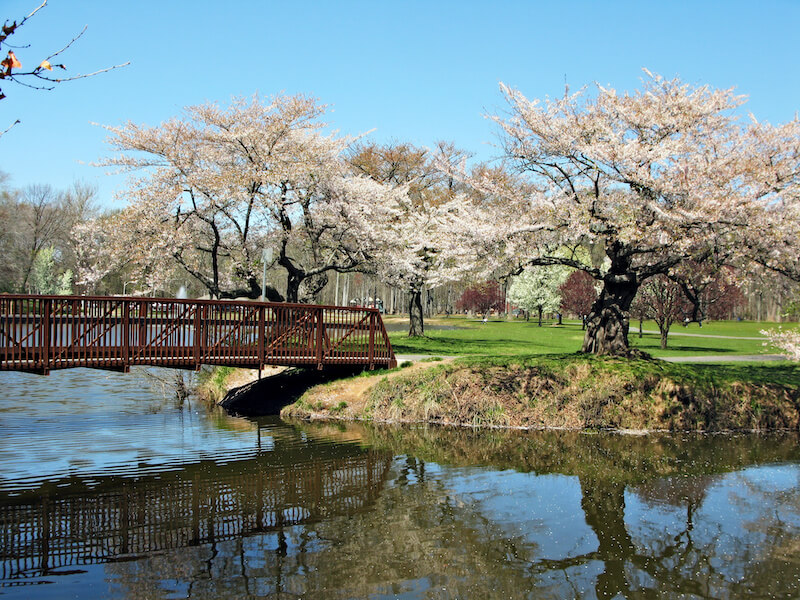 Trail length: multiple trails from 0.5 to 3.1 miles
Rating: Easy (with one Moderate trail)
The trails within Holmdel Park are short, peaceful, and great for beginner hikers, those who want to hike with children, and anyone looking to fit in a quick workout. There are over 10 miles of trails in this Holmdel Township park, almost all rated as easy. The courses are mostly gravel paths, but there are some boardwalk sections and a few smaller hills. Walkers should also be careful of tree roots that may stick out of the ground.
There's a trail for everyone at Holmdel Park:
The Paved Trail: 0.3-mile loop, suitable for strollers and wheelchairs
The Marsh Trail: 0.5-mile trail with boardwalks over marshes, passing a wildlife viewing area
The Cross County Trail: A great option for cross-country runners at 3.1 miles
The Fitness Trail: Loop trail with several exercise stations along the route
Dorbrook Recreation Area Trail
Trail length: 2.3 miles
Rating: Easy
Dorbrook Recreation Area, located in Colts Neck Township, features 540 acres of open green space with hiking trails and recreational amenities, including a playground, seasonal spray park, two swimming pools, basketball courts, and more. As you might imagine, it's an incredibly popular destination for local children, especially in the summer.
The 2.3-mile paved trail here winds its way through the north section of the park, with two separate loops—the West Loop and the East Loop, both stroller- and wheelchair-friendly.
The West Loop is 1.1 miles long, fully paved, and follows through the woods, whereas the East Loop is 1.3 miles long and travels around farm fields and ends at the athletic facilities. Both are rated as easy and take the same amount of time to complete.
Dorbrook Recreation Area is also a well-known spot within the county for horseback riding, and equestrian trails can be found on the park's south side.
Marlboro, New Jersey, is an excellent community for hiking enthusiasts
If the idea of spending time in nature and having convenient access to many trails from right in town appeals to you, consider a move to Marlboro, NJ. Remember, above are only five of more than 30 trails winding through Marlboro's best parks, so the great outdoors await!
Read Our Trail Guides For Each City Below