Best Monroe, NJ Walking & Hiking Trails [2021 Guide]
Posted by Rob Dekanski on Thursday, June 10, 2021 at 4:10 PM
By Rob Dekanski / June 10, 2021
Comment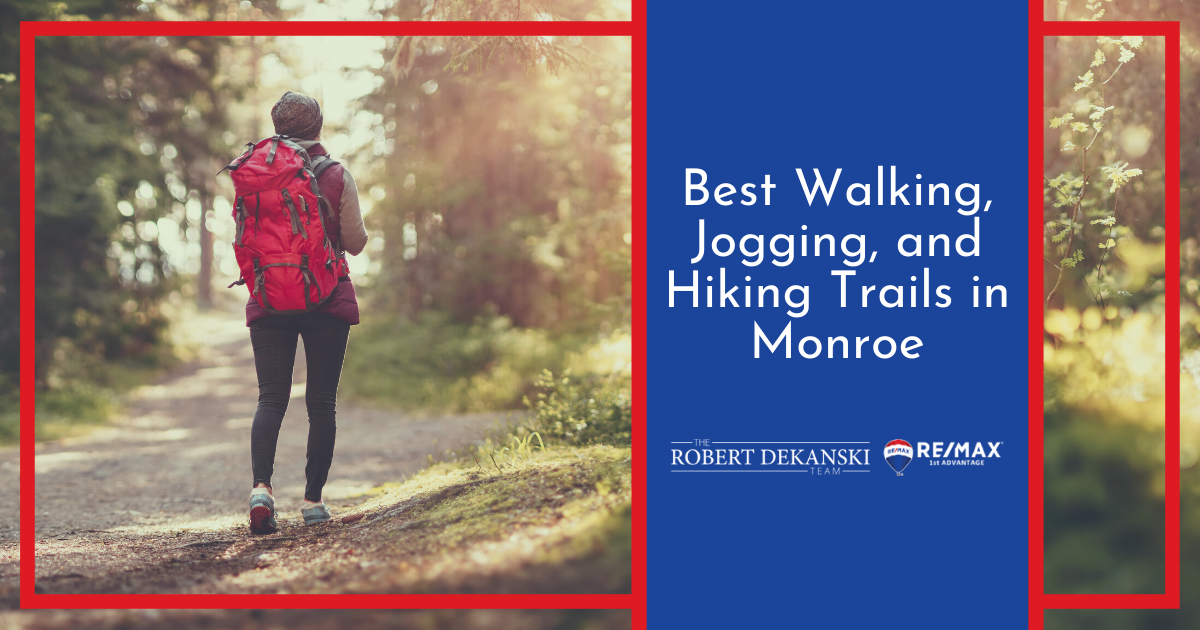 Exploring Monroe's lush landscapes with a visit to local area parks is a great way to get acquainted with the city's outdoor vibe. From parks in Monroe's best neighborhoods to expansive conservation areas, there are multiple choices to suit all ages and levels of experience. Whether it's taking a morning hike before starting the day, taking the kids along to study nature, photographing wildlife, testing techniques while mountain biking, skiing atop powdery snow, or exercising along with canine companions, Middlesex County has plenty of picturesque destinations to choose from year-round. Here are some of the best walking and hiking trails around Monroe.
Thompson Park
For a relaxing day with opportunities to enjoy outdoor activities, Thompson Park, at 675 acres, is one of the Middlesex County Parks Department's largest and most popular parks. There are plenty of activities for visitors to experience, including a network of easy interior hiking trails that include the red, blue, green, orange, white, and yellow trails. For short hikes along dirt surfaces, the scenic trails wind through the trees. There's also an invigorating 3.5-mile hike, and for those who want a challenge, additional hiking of about eight miles is possible by connecting to the Thompson Park Conservation Area. There are also paved trails, unmarked trails, restrooms, and ample parking.
Thompson Park also features a small zoo, picnic areas, a playground, Manalapan Lake, canoeing and kayaking, fishing, and an off-leash dog park. Near the park are Julian Capik Preserve and John A. Phillips Preserve, both of which have trails.
Monmouth Battlefield State Park
If you're looking for a longer day, drive about 12 miles to Monmouth Battlefield State Park. History and outdoors enthusiasts alike can explore an extensive 25-mile network of farm roads and field edges, following the paths of Revolutionary War soldiers. Individual trails vary in length, with the shortest being about half a mile and the longest around four miles. The landscape reflects hilly 18th-century farmland, including restored buildings and a visitor's center. Long dirt paths make for an easy walk down the roads of times past.
Monmouth Battlefield has many trails designated for horses, including a two-mile loop in the Battlefield South area. Visitors can also bike and, in the winter, ski cross-country through the vast area.
Gravel Hill Trail
For a leisurely walk, jog, or run, or for downhill skiing during the winter, the moderately rated Gravel Hill Trail offers a 3.5-mile loop for visitors to enjoy. The forest setting and colorful landscapes provide a cool and scenic experience, with plenty of trees and various wildlife and birds to view along the loop. The trail surface is well-marked with signage, well-maintained, easy to navigate, and the elevation is minimal, making it an easy journey for visitors of all ages. The trail takes visitors through wooded areas, across bridges, and past a soccer field. The Gravel Hill Trail to Hoffman Station Trail is a quiet trek for all, including canine companions.
Jamesburg Park Conservation Area
Visitors to the Jamesburg Park Conservation Area have access to a variety of activities providing hours of fun. Several trails weave their way around a scenic lake within the conservation area with a dock and boat launch and an observation blind to view birds and wildlife. There is also the opportunity to fish. If a picnic is on the agenda, the park provides a picnic and pavilion area plus a playground. The area is also an ideal place to bring your canine and go for a stroll.
Hikers have access to multiple trails within the forested area, including the Swing Hill Trail, Snuffy Hollow Trail, Pitch Pine Loop, and the Cedar Swamp Trail, for an extended exploration experience covering 6.75 miles in one of New Jersey's first protected areas.
Frost Woods Loop
Accessible year-round, Frost Woods Loop provides quiet time through a lush and wooded landscape for hiking, jogging, and walking along its 2.5-mile expanse. Within the area, several off-shoot paths are an option to extend the hike. More offshoots offer a few short climbs, small hills, and jumps to challenge mountain biking enthusiasts. The short loop is well-marked and within view of residences, so it's not isolated. It's rated easy, making it a good choice for those interested in a short jaunt to enjoy the fresh air. The loop also offers opportunities to view local wildlife such as deer, foxes, and birds. Dogs are permitted on the trail as long as they are on a leash.
Ireland Brook Conservation Area
The 520 acres of Ireland Brook Conservation Area provide visitors with multiple scenic hiking trails to experience the natural beauty of the area and its wildlife inhabitants. Photographers will also find Ireland Brook a popular location to take pictures or videos of egrets and great blue herons. The Ireland Brook Trail itself extends 1.8 miles.
Also within the area, the easy 0.8-mile dirt Forest Brook Trail runs alongside a bubbling brook and can be accessed via the Riva Avenue Trailhead. The 1.1-mile Farrington Lake Trail is bordered by the calm waters of Farrington Lake and the bubbling waters of Lawrence Brook. Hikers will enjoy serene views of the lake and its unusual rock formations. Davidson's Mill Pond Park is connected to the conservation area via the Farrington Lake Trail.
Getting Out and About in Monroe
When residents want to take a break from the new construction around Monroe and Monroe's condos and townhomes and get out amid the area's natural beauty, there are more than enough destinations to provide ongoing physical and visual entertainment. The parks and conservation areas alone provide over 6,300 acres for hiking, biking, and horseback riding. Birdwatchers have over 300 species to observe while hiking the easy to moderate dirt and paved trails, and fishing enthusiasts can spend the day dropping a line to catch bluegill or bass from area lakes and rivers. Winter is also a time for fun with snowshoeing or cross-country skiing along snow-covered trails.
House-hunters eager to experience Monroe should contact The Dekanski Home Selling Team of RE/MAX 1st Advantage with New Jersey Real Estate Network at (800) 691-0485 to get in touch with local real estate agents who can help them find their ideal Monroe home.