Lowest Property Taxes in New Jersey: 7 Best Places to Live in NJ with Low Taxes
Posted by Rob Dekanski on Thursday, March 16, 2023 at 12:00:07 PM
By Rob Dekanski / March 16, 2023
Comment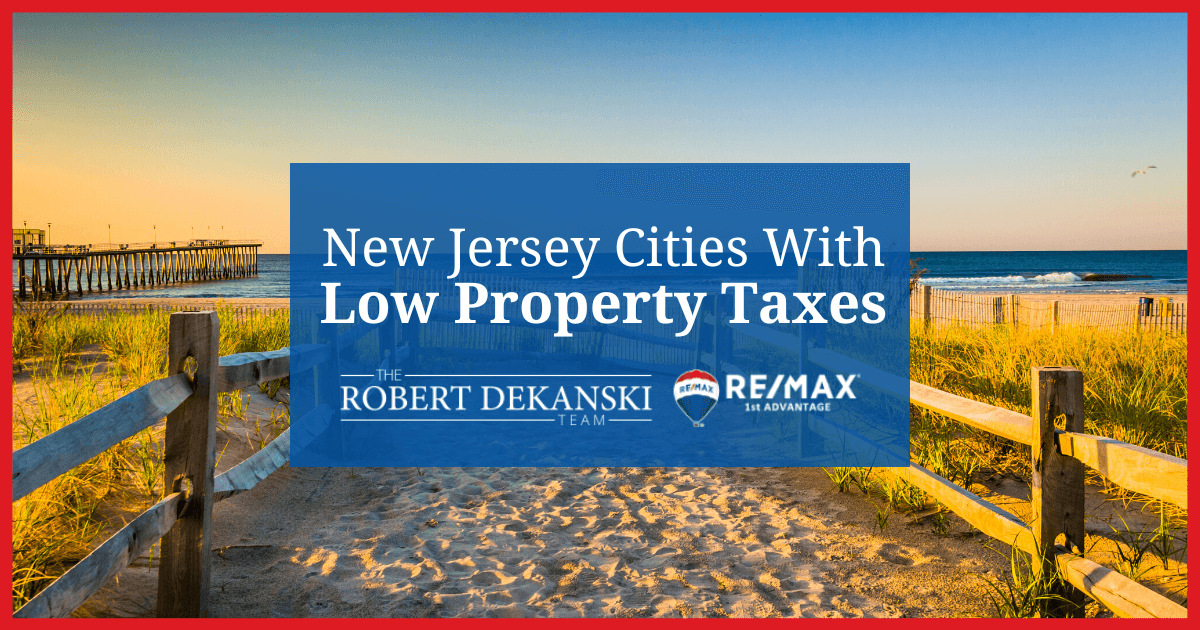 Upon moving to New Jersey, residents can access gorgeous beaches, popular indoor attractions, and everything in between—and New York City and Philadelphia are always just a day trip away. A healthy job market with competitive wages and benefits packages sweetens the deal even more. As if all that's not enough, residents also enjoy average home prices in the $495,000 range.
While New Jersey cities can have high property taxes, many of the state's low property tax areas have rates well below the national average of around 1.1%. Knowing where to find those ultra-low rates is critical to getting the most house for the money, and it's possible to do so in some of the best New Jersey counties to live in. To get the inside scoop, use this guide on the cities with the lowest property taxes in New Jersey.
Avalon
Avalon has a tax rate of 0.568. The Cape May County homes in Avalon list for an average of $2.3 million, resulting in an annual tax bill of around $13,000. At this rate, a $495,000 home would have an annual tax bill of $2,811.
With its location on Seven Mile Island, Avalon gives residents open, panoramic views of the stunning oceanfront and the wetlands. Most of the borough features densely packed residential neighborhoods, although several parks, restaurants, and other venues are nearby.
Right in the middle of it all lies the Avalon History Center. At this venue, visitors can explore the history and culture of Avalon through photos, videos, digital archives, and more. The recorded oral histories offer the best glimpse into the past while showing how the area evolved through the years.
When residents want to enjoy fun in the sun, they just have to head to Avalon Surfside Park. This newly renovated park has a playground, seating areas, and facilities, plus it's located right on the beach. During the summer, local musicians host a weekly concert series that fills the air with music and gets residents dancing the night away.
Avalon Amenities
Rock N Chair
Princeton Bar & Grill
8th Street Fishing Pier
Avalon Dunes and Beach Trail
Grace O'Brian Park
Spring Lake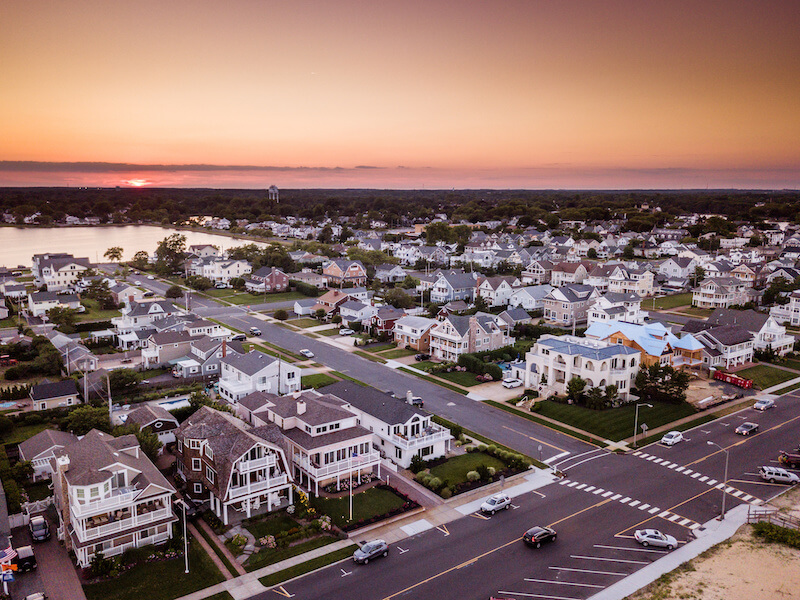 The annual tax rate for Spring Lake is 0.517. Since homes in Spring Lake list for an average of $2.6 million, yearly tax bills usually fall in the $13,000 range. Property taxes on a $495,000 home would cost $2,559 per year at the set rate.
Spring Lake is located on the Jersey Shore and offers residents unmatched waterfront views and a serene living experience. The small-town aesthetic creates strong community bonds, especially among the theatre crowd.
Local talent regularly put on shows at the Spring Lake Theater, much to the delight of their neighbors. The performances change each season but often include high-end productions like Mary Poppins, Clue on Stage, and The SpongeBob Musical.
When residents aren't coming by to see their favorite shows, they're often found at Spring Lake Beach. Its sandy shores are perfect for building sandcastles, sunbathing, and strolling at sunset. Lifeguards are on-site during the swimming season, typically from Memorial Day weekend to Labor Day. During the off-season, it's common to see fishermen casting their lines in the permitted areas in hopes of adding to their big fish stories.
Spring Lake Amenities
A.M. Kitchen
Driftwood Coffeehouse
Dandy Canine Pet Store
Irish Centre Gift Shop
Marucci Memorial Park
Stone Harbor
Stone Harbor has a property tax rate of 0.692. The homes in Stone Harbor list for around $2.5 million on average and have a property tax bill of around $17,000. At the local rate, a $495,000 home would have an annual tax bill of about $3,400.
Located at the southern end of Seven Mile Island, Stone Harbor is a waterfront borough through and through. Well-protected wetlands stretch between the island and the mainland. On the other side of the neighborhoods are miles of sandy beaches leading to the open ocean.
Residents can explore the natural landscape in great detail with a visit to the Wetlands Institute. In addition to its conservation activities, this organization offers educational workshops and tours year-round. In addition, they regularly host community events like their ever-popular Creature Feature, which provides a chance to see local wildlife up close and learn about how they live.
When residents want to get outdoors and explore the local landscape, they can go to Stone Harbor Point. At this conservation area, visitors are welcome to stroll on the beach, go fishing, and enjoy beachcombing for treasures. To protect local wildlife habitats, swimming and dogs are not allowed.
Stone Harbor Amenities
Spiaggetta
Pure Juice + Kitchen
Stone Harbor Bird Sanctuary
Bay Front Fishing
Hobie Cat Beach
Deal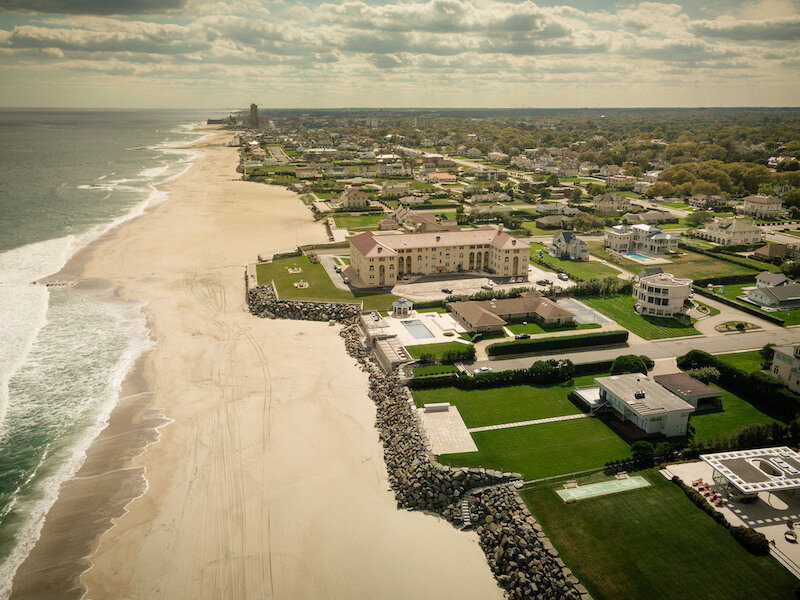 The annual property tax rate on homes in Deal is 0.576. On average, homes in this area cost $2.6 million, which results in an average tax bill of $19,774. The annual tax bill would cost $2,851 for a $495,000 home if calculated at the local rate.
Deal is a primarily residential borough located along the coast in Monmouth County. This area has many Monmouth County waterfront homes, golf course homes, and other beautiful upscale settings. There are restaurants and small shops at key points, plus the Axelrod Performing Arts Center is just outside the city limits.
Residents can visit the Deal Casino Beach Club to escape it all. This semi-private beach pavilion puts visitors on the waterfront, where they can lounge the day away. Visitors can swim in the pool, kick back on the lounge seats, and enjoy goodies from the snack bar. The sandy beach and water beyond are only a few steps away, making it a great place to spend the day.
Deal Golf & Country Club is a great place to go for even more outdoor fun. The par 71 course is the star of the show, with its narrow fairways and challenging hazards surrounding many of the tee shots. Despite the beauty of this fantastic course, many visitors just come by to work on their swings on the driving range and putting green.
Deal Amenities
Nahum Grill
Ouri's Market
The Bar Room + Kitchen
Hathaway Beach
Allenhurst Fishing Area
Allenhurst
Allenhurst has a tax rate of 0.678. On average, homes in Allenhurst cost around $2.5 million, which puts their annual tax bill in the $17,000 range. At the local rate, a $495,000 home would cost approximately $3,300 in property taxes each year.
The borough of Allenhurst sits along the coast right between Deal and the Loch Arbour community. Deal Lake stretches along the neighborhood's western side, while the oceanfront serves as the eastern border. The unique layout gives residents a relaxing atmosphere and open views of the nearby waterways.
The Allenhurst Fishing Area gives residents ample opportunities to soak in the beauty of the ocean while seeing what's biting. The short boardwalk positions fishermen on the jetty, giving them prime access to all the tastiest fish.
To explore the lake, residents can head to the Kayak Launch. They can park in the lot and launch their kayaks from the shore to head out on their adventures. After that, they can paddle north toward the golf course or head south along the borders of Asbury Park.
Allenhurst Amenities
Down to Earth
Cravings Desserts
The Butcher's Steakhouse
Shore Antique Center
Allenhurst Beach Club
Mantoloking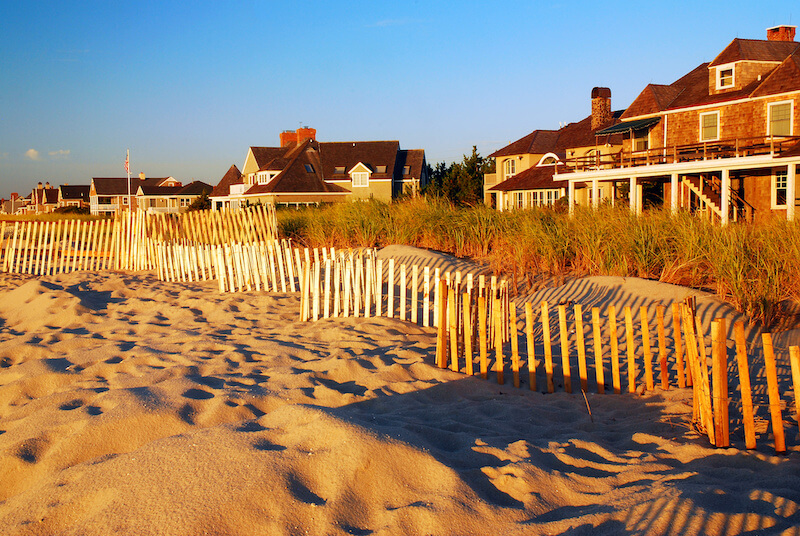 The property tax rate in Mantoloking is 0.7. Homes in Mantoloking cost about $3.9 million on average, resulting in an annual tax bill of around $27,000. Homeowners would pay $3,465 a year in property taxes for a $495,000 home at the local rate.
Thanks to its access to multiple waterways, Mantoloking is a popular place to spend the summer months; the town's share of Ocean County waterfront homes is spectacular. More than 300 people live here year-round, but as the warm weather arrives, population numbers swell to over 5,000. Local homes sit on large properties; many come equipped with swimming pools and their own docks leading out onto the bay.
Residents without their own dock can store and launch their watercraft from the marina at the Mantoloking Yacht Club. Upon signing up, members get access to all the club amenities, including the use of the tennis courts and the chance to sign up for sailing lessons.
The Yacht Club is a popular venue for weddings, anniversary parties, and other special occasions. The exquisite setting is a beautiful backdrop for photos, especially as the sun starts to set.
Mantoloking Amenities
Traders Cove
Mantoloking Bridge County Park
Downer Ave Beach Access
Lyman Street Beach Access
Herring Island
Sea Girt
Sea Girt has a property tax rate of 0.625. The average listing price on homes for sale in Sea Girt is $1.7 million, putting its annual tax bill just under $11,000. When calculated at the local rate, property taxes for a $495,000 home would cost about $3,100 each year.
The Sea Girt township is a small nook surrounded by Manasquan and Spring Lake. A National Guard Training Center takes up the southern section of the area and is surrounded by pubs, stores, and service centers. Residences cover the rest of the landscape, including many set along the beachfront. And while Sea Girt isn't considered one of the most walkable towns in New Jersey, its beachside layout makes walking around town a pleasure.
Despite being built in the late 1800s, the Sea Girt Lighthouse still shines its light brightly to this day. Residents can visit the lighthouse to learn about the structure's history and its importance to the borough. Special events, including a summer art show, pop up at this location quite often.
Whenever residents are in the mood to get out in nature, Crescent Park is the place to go. This 17-acre maritime forest has holly trees from end to end, creating a magical landscape for all to explore. Visitors can also get in time on the tennis and paddleball courts while enjoying the view of the forest.
Sea Girt Amenities
Rod's Tavern
Reef & Barrel
Sea Girt Beach
National Guard Militia Museum
Sea Girt Library
Cape May Point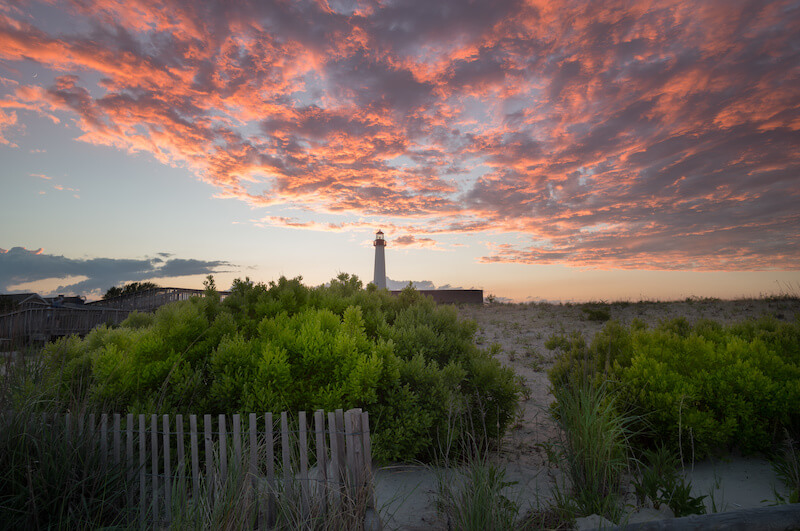 Cape May Point has a property tax rate of 0.705. Local homes cost $1.3 million on average, which pushes the yearly property tax bill to just over $9,000. A $495,000 home would have an annual tax bill of $3,498 if charged at the local rate.
The borough of Cape May Point lies at the tip of the peninsula, located at the mouth of Delaware Bay. This area has a nice mix of residential blocks and beautifully preserved waterfront landscapes. There are also many restaurants, museums, and other venues for residents to enjoy leisurely. Tourism is important to the New Jersey economy, and Cape May Point is among the popular shore destinations in the state.
Residents can visit Cape May Point State Park year-round for outdoor fun and adventure. This park has over 244 acres filled with diverse habitats, ranging from meadows and forests to dunes and ponds. Visitors can explore the hiking trails whenever they come by, play on the beach, and check out the exhibit gallery. They can also view the lighthouse and World War II Gun Battery 223.
On the other side of the borough is the Nature Center of Cape May. Visitors can attend harborside chats, art workshops, cooking classes, and so much more at this venue. This venue also hosts school trips and runs outreach programs that let scholars explore the world around them.
Cape May Point Amenities
The Lobster House
Willow Creek Winery & Farm
Higbee Beach Wildlife Management Area
Emlen Physick Estate Museum
Sunset Beach
Experience the Magic of New Jersey Living
Low property taxes are just the start of what New Jersey offers. So, plan a visit to some of New Jersey's best cities, explore the beautiful landscapes, and check out all the great amenities. In just one weekend, it'll be clear why so many people adore living in this great state.
If you're excited by the opportunities in New Jersey, contact The Dekanski Home Selling Team of RE/MAX 1st Advantage with New Jersey Real Estate Network at (800) 691-0485 to get in touch with our experienced team of real estate agents and discover the perfect New Jersey home for you today.