4 Design Tips To Maximize Ocean Views at Your Waterfront Home
Posted by Rob Dekanski on Wednesday, June 1, 2022 at 2:00 PM
By Rob Dekanski / June 1, 2022
Comment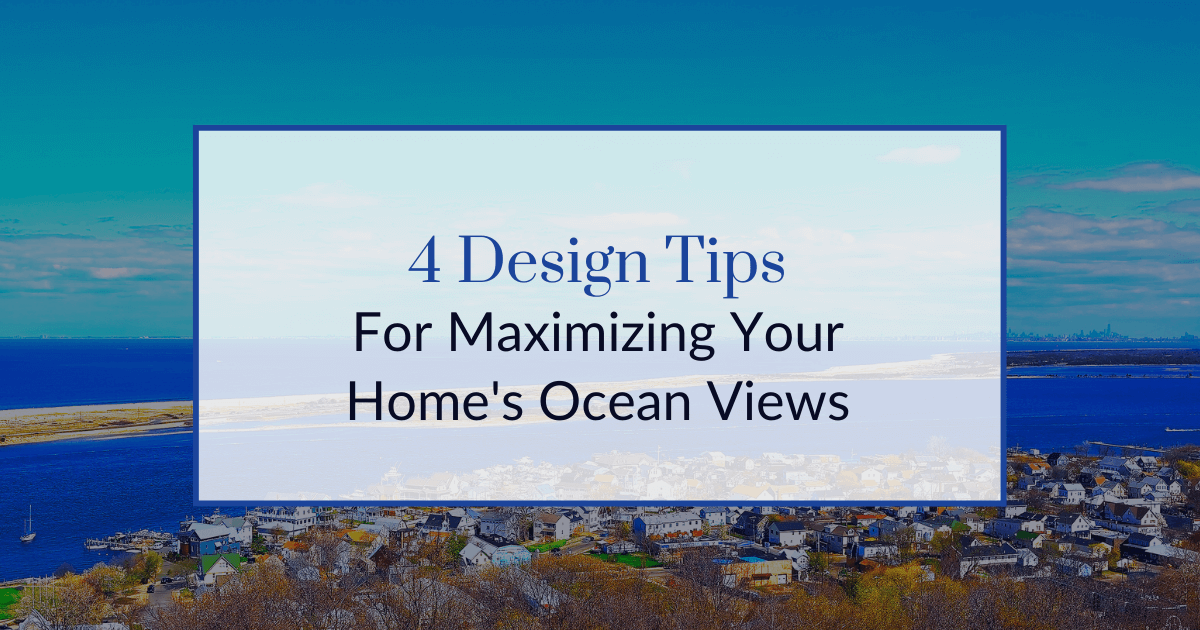 Is there anything more desirable for adventurous homebuyers than investing in a property with a remarkable waterfront view? Whether the house faces the ocean or a bay or fronts a lake or river, buyers will want to maximize those opportunities to have daily unsurpassable views. The best way to begin waterfront home construction projects is to properly situate the home directionally and design the interiors by keeping those views accessible from the most utilized rooms. Read on to learn about construction styles that maximize the water views of your luxury waterfront home.
Focus on the Rooms Most Used
It is vital to position a new construction home with windows that showcase the best views from the front and the back. Keeping in mind that waterfront visibility is most important, if there are optimal sights to see from other directions, take advantage of those views during the initial architectural drafts.
Work with the builder and architects to determine how the sun moves across the skies during the day. This allows the design to make the most of natural light through windows that provide optimal views and comfort from commonly used rooms. The living and dining rooms are central areas in the home and should optimally face the waterfront, which is a look that can be achieved with oversized windows to showcase the sights.
An east-facing bedroom or kitchen with light streaming in might be optimal for early risers who want to head for a cup of coffee at the break of dawn. Late sleepers might prefer a west-facing bedroom, regardless of the available views.
Prioritize Water-Facing Windows
When a home is positioned with a wall facing the waterfront, designers can install a number of windows to optimize visibility. However, instead of numerous smaller windows across water-facing walls, consider floor-to-ceiling windows for unimpeded views. High-visibility screens can be installed to shield the space from intrusive glares. Owners can also invest in smart glass panes that tint and clear as the lighting changes, and they can also be operated upon command.
Other great options to maximize views are bay windows or custom-cut panoramic installations that add charm and character to a luxury waterfront home. Those who truly want unique windows that stand out with enhancing vistas can incorporate a few custom corner windows into the building plans. This allows occupants to indulge their senses in style in everything their coastline offers.
Open Floorplans Mean Open Sight Lines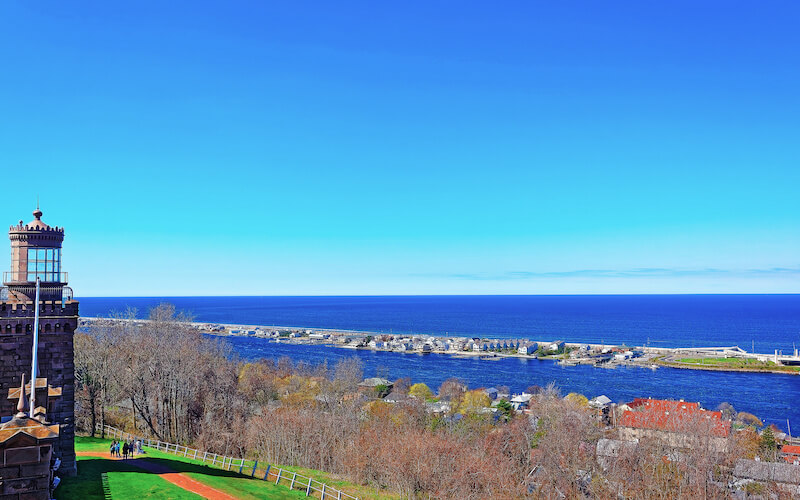 The fewer the walls indoors, the fewer potential obstructions to those prized waterfront views. Using an open floorplan concept allows windows to be more visible, and owners can plan around these views when designing the interiors. Those with homes that aren't laid out with an open concept can be renovated by removing non-load-bearing walls.
The goal is to have openness along the front row of the home facing the best views. These areas typically consist of the most frequented rooms, such as living rooms, dens, kitchens, and outdoor living spaces. In essence, fewer diving walls equates to having the ability to soak in the landscapes outdoors from several angles in the home. Such a design fosters a sense of tranquility in space while allowing the views to be a continual source of inspiration and relaxation.
Invest in Outdoor Living Spaces
On many waterfront properties, the central hub where most occupants like to spend time sipping morning coffee or taking in orange and pink expanses during sunsets is amid an outdoor living space. Installations common to luxury homes on a body of water include:
Balconies
Decks
Gazebos
Pergolas
Trellises
Docks
Be sure to plan these to face the water when possible to create an inviting area that will be appealing day after day. Some great ways to decorate outdoor living areas are comfortable furnishings, fire pits, weather-proof kitchens, an outdoor bar, and foliage that offers privacy and makes the area feel more connected with nature.
Avid boaters and anglers may want to include a dock with a seating area for impromptu outings on the water or spontaneous fishing or swimming. For existing structures, make sure to find out if there are any community restrictions for deck and boathouse installations before getting the heart set on having these amenities that can maximize the ROI of waterfront homes.
Design or Remodel a Waterfront Home for Optimal Views
Showcasing all the views a luxury waterfront property offers is a breeze with a cleverly thought-out plan concerning exterior architecture, home placement, and interior design. Let the imagination take hold when envisioning the concept of that dream home along the water, and make sure you have beautiful water views all around.