Perth Amboy Downtown Driving Times
Posted by Rob Dekanski on Friday, April 30, 2021 at 6:45 AM
By Rob Dekanski / April 30, 2021
Comment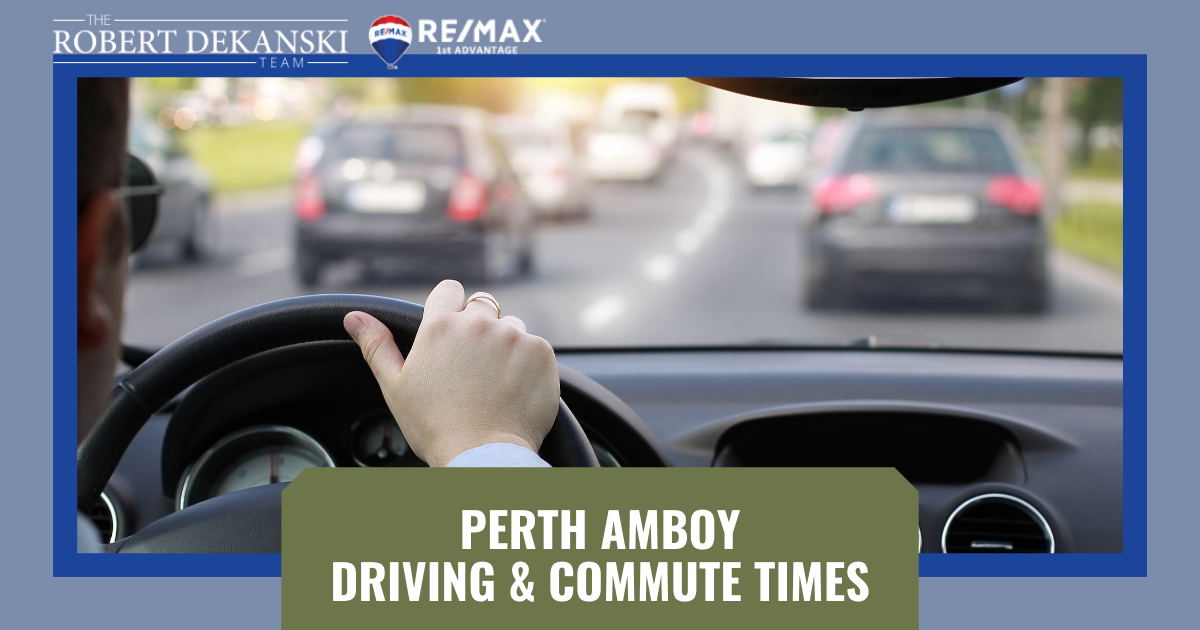 Located in New Jersey, Perth Amboy is part of the metropolitan New York City area. The 2019 census indicates a population of 51,390, a growth of just over 1% in the last decade. The community is part of the Raritan Bay tourist footprint, providing areas for beaches and several scenic outlooks. Perth Amboy neighborhoods host a vast selection of affordable condos, new construction homes, and more. During the 1980s, the Harbortown area experienced a large growth of waterfront homes and townhomes.
Many commuters love that the city is directly connected to New York City via the Outerbridge Crossing into the Staten Island borough. Public transportation even has direct links through NJ Transit. However, the Big Apple is not the only destination for those who must travel to work. Here are a few examples of expected commute times to some of the more popular communities in the area.
Perth Amboy from Edison
About 11 miles away from Perth Amboy, Edison is a township in Middlesex County with an estimated 99,967 residents. On weekends, the driving time between the two communities is approximately 16–24 minutes via NJ 440 S. During the weekday morning rush, this time can potentially stretch to 18–26 minutes using the same route. Evening weekday rush using the same roads may be the longest wait, with commute times reaching as far as 35 minutes.
Weekday evening rush travel via I-287 typically takes between 20 and 40 minutes.
Perth Amboy from Piscataway
Another community in Middlesex County, Piscataway, has an estimated population of about 56,837. It is roughly 13 miles from Perth Amboy. On a slow Saturday afternoon, travel between the communities takes 16–24 minutes via NJ 440 S and I-287. Taking I-287 N alone increases the trip to 20–30 minutes.
Morning rush hour trips during the weekday do not change much from the weekend times. However, weekday evening rush hour times can increase as much as 20–28 minutes on I-287 N.
Perth Amboy from South Amboy
Nearby South Amboy has a small population of about 9,176. The community is only about 4.5 miles from Perth Amboy, although it requires crossing the Raritan River.
Both US 9 S and NJ 35 S require a travel time of about 12–22 minutes during the evening rush. Weekday morning rush times are slightly better at 10–18 minutes. However, the best time to travel is on the weekends, where a Sunday morning drive requires 10–18 minutes.
Perth Amboy from Woodbridge
Woodbridge Township is another relatively large community in Middlesex County. The population as of 2019 is estimated at just over 100,000 people. Woodbridge is about 4.5 miles away from Perth Amboy using High St. or Amboy Ave.; there are no highways directly between the two communities, so surface streets are the best option.
Expect 10–16 minutes of travel on a slow weekend cruise. Weekday morning rush hour trips require about the same amount of time, with the range covering isolated incidents. Evening rush hour times do expand slightly to 10–18 minutes.
Perth Amboy from North Edison
Traveling to and from North Edison can take a driver a little more than 12 miles, depending on the specific destination. Evening rush hour traffic during the weekdays can take between 22 and 40 minutes using NJ 440 S or US 9 N. Using the Garden State Parkway can save a few minutes, achieving a time between 22 and 35 minutes.
Regardless of the route, travel during the morning weekday rush will take 20–35 minutes. The fastest routes on the weekend still require 20–30 minutes.
Perth Amboy from South Plainfield
A midsized community in Middlesex, South Plainfield is estimated at just over 24,000 people in the last census. Depending on the route, travel between the two townships is 12–13 miles. The fastest routes on the weekend take about 16–24 minutes, using both NJ 440 S and I-287 N. Taking I-287 N exclusively will increase the time to 20–28 minutes.
Interestingly, morning weekday travel times might be a little faster than on the weekend, with I-287 N requiring 18–30 minutes. NJ 440 S and I-287 N's combined route takes about the same amount of time at 16–26 minutes. For all routes, weekday evening rush hour traffic requires the longest commute, up to 40 minutes.
Perth Amboy from New Brunswick
With a population approaching 56,000 people, New Brunswick is another mid-sized community within the county. As the home of Rutgers University, many residents of Perth Amboy may choose to commute to the school each day, a 14.5-mile drive each morning and night.
Using NJ 440 S and NJ 27 S for the evening weekday commute could require 26–55 minutes, making this one of the slowest trips. However, those who can take I-95 S the entire way could save anywhere from 6–20 minutes. The easiest commutes are likely weekday and weekend mornings, with each taking 20–35 minutes for the fastest routes.
Perth Amboy from Metuchen
Metuchen has a small population of only about 14,543, with Edison surrounding the community. About 9.5 miles away from Perth Amboy, weekend travel takes 12–20 minutes using the fastest route. This travel time is virtually unchanged for weekday morning rush hour travel, with even the slowest routes requiring only 14–24 minutes.
However, the longest commute times definitely occur on weekday evenings, with NJ 440 S requiring 14–26 minutes and I-287 N taking as long as 28 minutes.
Perth Amboy from Monroe
Monroe Township is one of the fastest-growing communities in Middlesex County, rising from 39,132 to 45,030 between the 2010 census and 2019 estimate. One of the largest travel distances on this list, it is between 18 and 25 miles away from Perth Amboy, depending on destination.
In part because of the distance, commuters can expect evening weekday driving to take between 35 minutes and a full hour. I-95 S is the fastest route, requiring 30–45 minutes. Morning weekday commutes will take at minimum a half-hour and as much as 50 minutes. Traveling this same route on the weekend may add as much as five minutes to the travel time.
Consider Commute Times To Perth Amboy
By way of comparison, the average commute in the U.S. is just under 27 minutes. Commute times for most of these communities are better or at least about the same as people would find in other cities, making Perth Amboy an attractive place to build a life away from work. A commuter living in Perth Amboy has reasonable access to a large potential job market in surrounding cities and access to Perth Amboy's many amenities and attractions right at home. To keep the daily commute as short as possible, get to know Perth Amboy's major roads.
Are you considering a move to Perth Amboy? Call 800-691-0485 to connect with a real estate agent with The Robert Dekanski Team to discover your dream home in Perth Amboy or one of its surrounding communities today.