Elizabeth Driving & Commute Times - Things to Know [2022 Guide]
Posted by Rob Dekanski on Monday, July 5, 2021 at 2:10 PM
By Rob Dekanski / July 5, 2021
Comment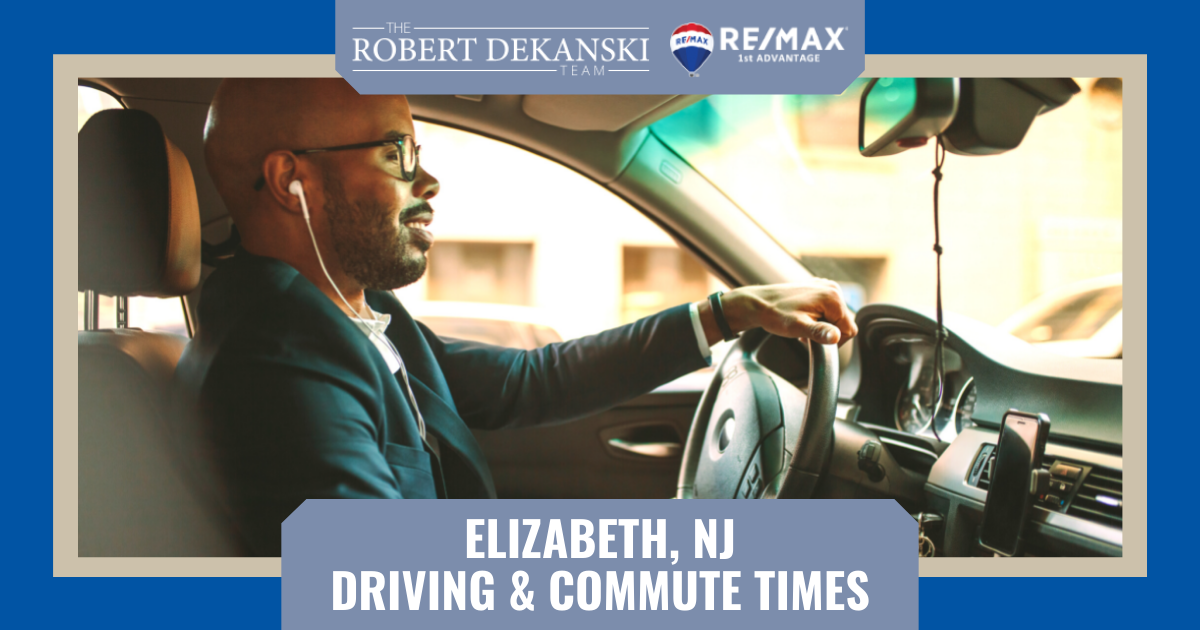 As a smaller city in the Garden State with only about 129,000 residents, one would expect driving in Elizabeth, New Jersey, to be easier than in other areas. Fortunately, getting around by car in the Elizabeth community is fairly simple. Like any small city near a cultural hub such as New York City, there is traffic and congestion. However, new residents will quickly find the best routes from their condos and townhomes in Elizabeth in no time at all. This guide will serve to teach new residents about major roads, rush hour, parking, and unique New Jersey driving rules they should know before driving in Elizabeth.
Get to Know Your Major Roads in Elizabeth
When it comes to the major roads in Elizabeth, new residents will quickly realize two major veins run through the city. The first is U.S. Highway 1, which runs north and south through the city. This roadway is free to use but can quickly become congested in the mornings and evenings. Second is the New Jersey Turnpike (I-95), which also runs north and south. This toll road sees a significant amount of traffic, but it's not as congested as other roadways due to the tolls.
From downtown Elizabeth, residents can take one of three highways to exit the area and head to their final destination. Highway 27 runs north and south, Highway 82 runs northwest, and Highway 28 runs west from downtown. These smaller highways are not used as often as the U.S. Highway 1 or the New Jersey Turnpike, so they don't see as much traffic.
What to Expect During Rush Hour in Elizabeth
Rush hour in Elizabeth is fundamentally no different than rush hour anywhere else in New Jersey. Those who drive will see congestion on major roadways between 7 and 9 a.m. and 4 and 6 p.m. Monday through Friday. It's also normal to see some congestion around lunchtime in and near Elizabeth.
The average commute for an Elizabeth resident is on par with the nation's average, which is only 26 minutes. With that being said, only about 58% of residents drive their own vehicles. Over 11% of residents carpool, which allows them to take advantage of the HOV lanes during rush hour. It also makes it easier to keep monthly transportation and parking costs down.
Just over 10% of residents take mass transit options like New Jersey Transit and PATH, both of which can take residents to work in the Newark community, Secaucus, and New York City in under half an hour. Less than 3% of Elizabeth residents work from home.
Elizabeth Parking
When it comes to parking in Elizabeth, it's generally easier to park here than in other parts of the Garden State. Parking meters are popular for residents who are running errands or stopping in only a few stores along the city streets. Rates are $0.25 per 10 minutes. There are also metric box stations available on city streets and flat lot locations that charge $1.50 per hour. Posted hourly limits vary.
Several parking garages are also available for use. The J. Christian Bollwage Parking Garage Lot #1 and Lot #6 offer daily rates of just $2.00 for the first hour, $2.00 for the second hour, and $1.00 for each additional hour.
The Midtown Garage Lot #5 is closer to the downtown Elizabeth area, so the rates are slightly higher. Rates start at $3.00 for the first hour, $4.00 for up to two hours, $10.00 for up to 10 hours, and $1.00 for each additional hour starting at the eleventh hour.
Both parking garages provide a ticket upon entering. The ticket must be provided to calculate how long a resident has parked and determine the parking fee. Those who have lost their ticket will be required to pay a flat rate lost ticket fee of $20.00 to exit the parking garage.
Other Helpful Things to Know About Driving in Elizabeth
New Jersey has a few unique driving rules that apply in Elizabeth and throughout the state. Some of these rules are likely not found in other states, so they are worth noting here.
First, every vehicle must honk if they are passing a bicyclist or skateboarder on the street. If the bicyclist or skateboarder is on the sidewalk, the driver does not need to honk. Drivers transporting pets need to ensure the pet is properly secured with a harness, including properly securing crates.
Finally, when it snows in New Jersey, all snow and ice must be removed from the vehicle. This includes the side doors, roof, and back bumper. Removing snow from vehicles helps prevent snow from falling on the roadway and causing traffic. Additionally, cars can only idle for five minutes to warm up in the winter.
Get Out & About in Elizabeth, New Jersey
With less than 60% of residents driving their vehicles solo, Elizabeth has less car traffic than other areas of New Jersey. Many residents ride their bikes or walk to complete their daily errands.
Aside from daily commutes, Elizabeth is nestled away in a wonderful area of the Garden State. Residents in Elizabeth's high-end homes are never far from the water and outdoor activities, only 30 minutes from New York City, and less than an hour from the mountains. Those moving to Elizabeth truly have it all right at their fingertips.
Read Our Driving Guides For Each City Below