Driving in Franklin Township: Tips to Shorten Your Commute on Interstate 95
Posted by Rob Dekanski on Tuesday, November 30, 2021 at 9:52 AM
By Rob Dekanski / November 30, 2021
Comment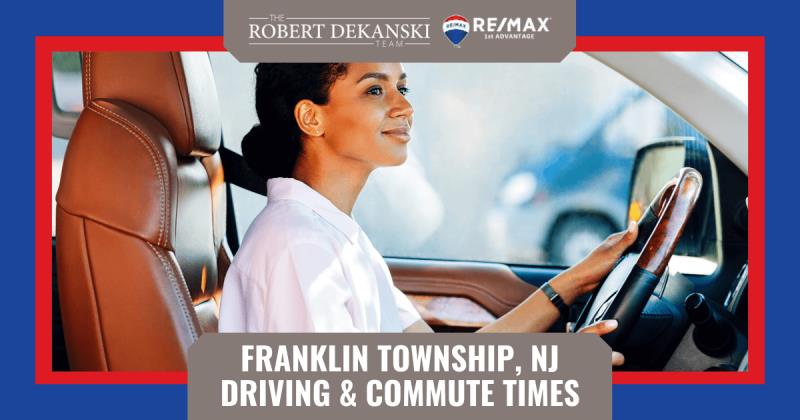 The sprawling lawns and beautiful townhomes in Franklin Township, New Jersey, don't seem like they're in an area that could see a lot of traffic. But living in Franklin Township has the benefit of being just a short drive away from all the major cultural events, international airports, professional sporting games, and everything else that the city of Newark and New York City offer. Whether residents are commuting to work or setting out to have some fun in the bigger cities, they need to have a good idea of the driving and commute times from Franklin Township. Keep reading for a closer look at some major roadways and commute times from Franklin Township.
Get to Know Your Major Roads
Interstate 287: I-287 has several major access points on both sides of the Raritan River in the north of Franklin Township. I-287 East is the main freeway heading east. It morphs into Highway 440 after the I-95 interchange and then crosses the Hudson River straight into Staten Island.
Interstate 95: I-95 is a north-south route that is just a couple miles further past the eastern boundaries of Franklin Township. I-95 continues all the way north to the New Jersey Turnpike, where it crosses the George Washington Bridge and takes drivers to iconic locations like Yankee Stadium and the Bronx Zoo. I-95 South bypasses Trenton.
US-27: US-27 is the most direct route from Franklin Township to Trenton. Take the highway south until it merges with US-206 in Princeton. Continue south on 206, and it heads directly into Trenton.
What to Expect Driving at Different Times of Day
If a person plans to head into the bigger cities, they're going to encounter more traffic than usual. In the mornings, kids are being dropped off at Franklin schools, and parents are heading to work. In the afternoons and early evenings, everyone starts heading home.
The main times when commuters will experience heavier traffic on the interstates and state highways are:
Monday Through Friday: 6 a.m. to 10 a.m.
Monday Through Friday: 4 p.m. to 8 p.m.
Saturday and Sunday: 11 a.m. to 9 p.m.
If a driver plans to head north into New York City, the best option is almost always going to be Interstate 95. Drivers should know that during the peak times listed above, it can take an extra 30 minutes to get to a destination—even if the traffic is flowing smoothly. There are simply a lot of people getting on or off at freeway interchanges during rush hour, and it slows everything down. If there is a car accident that blocks off a lane of traffic for emergency services and towing, the commute could be extended by up to an hour.
When a resident needs to be somewhere on time and they're traveling the interstate(s), they should always factor in an extra hour at peak times, just to be on the safe side.
Parking in Cities Around Franklin
Free and paid parking options are available in most of the major cities people typically want to travel to from Franklin Township.
New York City: Metered parking spots in New York City cost around $3.50 an hour, although one can find metered parking in the boroughs for as little as $1 an hour. In parking garages and paid parking lots, expect to pay rates like these:
Weekends: $17–$34
Special Events: $21–$41
Overnight: $36–$56
Commuter Parking: $21–$38
Metered parking spots in New York City are free on Sundays and holidays, although they are generally also more challenging to find at those times.
Newark: Newark has a number of parking garages where rates can vary. There is also plentiful metered parking in the city. Meter rates are a flat $0.25 for 15 minutes ($1 per hour). Meter rates are in effect Monday through Saturday, from 9 a.m. until 6 p.m. unless posted otherwise. Note: Newark's Parking Authority is diligent about parking tickets, so be sure to fill the meter up.
Elizabeth: Parking in the city of Elizabeth is usually a bit more expensive than in many parts of New York or Newark, believe it or not. Locals can purchase a monthly parking permit for all the garages and lots in Elizabeth for $150. For the rest of the city's rates, see the Elizabeth Parking Authority website.
Commute Times from Franklin Township to Nearby Cities
Whether a person wants to drive or take public transportation, they have great options for getting from Franklin Township to nearby cities. Public transit usually takes longer, but it eliminates the need to pay for parking in the destination city. Here are some commute times to nearby cities.
Franklin to New York
Public transportation from Franklin Township to New York City includes a commuter train and bus routes, if someone doesn't want to make the drive. The train takes off from the north part of Franklin Township at Main Street & Hamilton Street in Bound Brook. It heads north and through the Lincoln Tunnel, arriving at Penn Station in Manhattan in about two and a half hours. Bus routes along several state highways can make the trip in two and half hours as well.
If driving a personal vehicle from Franklin Township to Penn Station, commuting north on I-95, the trip can take just over an hour if it's not during rush hour traffic. During rush hour, it can take 2 hours.
Franklin to Trenton
There are two major bus routes from Franklin Township to Trenton. These both originate in the city of New Brunswick. The route that follows US-91 south to the Trenton Transit Center takes just over two hours, even during peak times. The bus route that begins heading south along US-27 takes a bit longer; riders have to switch buses at Palmer Square in Princeton, and then the route continues to Trenton along US-206. It takes a little over two hours and 30 minutes.
Driving south to Trenton from Franklin Township is much faster. Traffic is never as heavy on US-1 as it is on the interstates heading north. Drivers can make the commute in as little as 35 to 45 minutes most days.
Franklin to Newark
The train can travel from Franklin Township to Newark in just a couple of hours. That's about the same amount of time that the bus route north along US-27 takes. The north bus route along US-22 stretches the commute to about 2 hours and 45 minutes (it's a meandering route with more stops).
One can drive to Newark from Franklin Township in as little as 45 minutes during non-rush hour traffic. Just take Interstate 287 East and then switch to I-95 North before the Keasbey neighborhood. Rush hour traffic can make the same drive take up to an hour longer.
Other Helpful Things to Know About Driving in New Jersey
New Jersey has some unique aspects to commuting that newcomers may not know about if they're moving to Franklin Township from out of state. These things are helpful to know, both for more convenient driving and to avoid the locals rolling their eyes at the newcomer.
EZ-Pass: New Jersey has toll roads along a lot of its major interstates. The EZ-Pass allows drivers to breeze through the tolls without having to stop and pay every time. If someone is new to the area, they might be tempted to pull up to a stop at an EZ-Pass booth. Don't do this! The EZ-Pass in the car has a transponder in it. Continue forward slowly, and the fee will be taken via the EZ-Pass transponder. None of the locals expect traffic to stop, so this is one of the more common ways newcomers get into an accident.
Jughandles: What's a jughandle? It's a type of traffic interchange unique to New Jersey, and it's shaped like the handle of a jug. Let's say a driver is supposed to make a left or right turn but ends up in the wrong lane of traffic because no one would let them merge. Instead of darting across traffic, drivers can take the jughandle and quickly get back on their intended route.
Franklin Township is a Gateway to Excitement
All the action in New York City and the surrounding area is just a relatively short commute from Franklin Township. Once people get used to the rhythm and flow of the major roadways, they come to love living in this community even more.