Newark Driving & Commute Times - Things to Know [2021 Guide]
Posted by Rob Dekanski on Friday, June 18, 2021 at 6:30 AM
By Rob Dekanski / June 18, 2021
Comment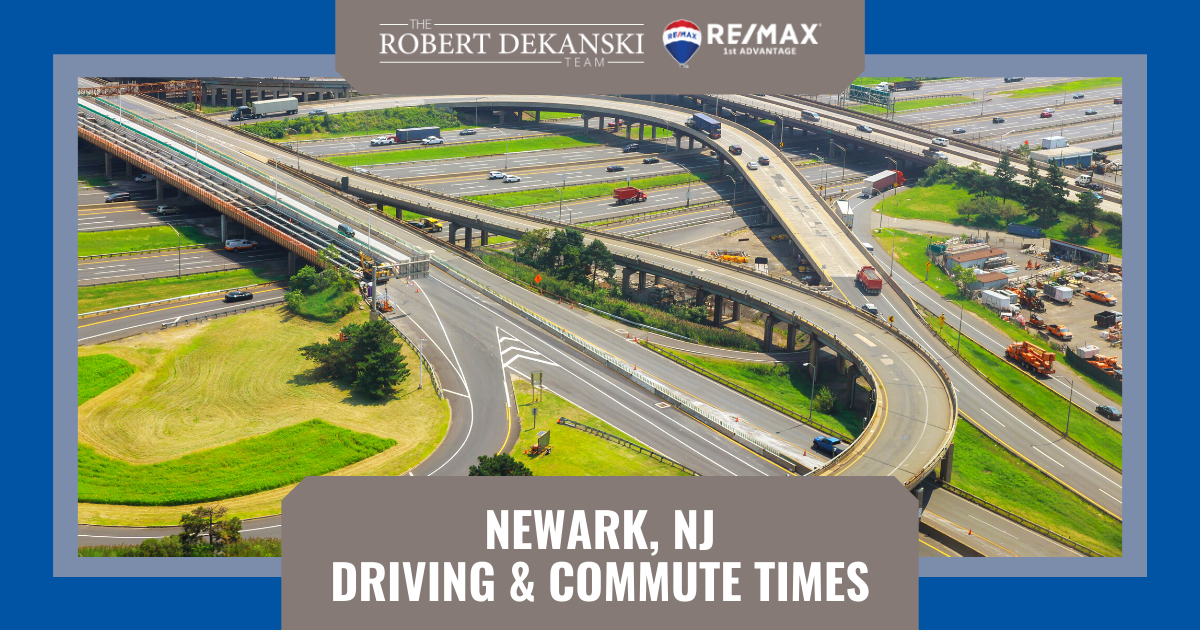 When most think of Newark, they think of its airport. However, the Newark community is home to more than just an international airport. In fact, more than 280,000 individuals reside here. With so many people living in 24 square miles of land, the driving conditions of the city may arise as a concern. Whether living in Newark's condos and townhomes or Newark's luxury homes, the high population density means planning is essential to getting places on time. The major roads, rush hour, parking, and driving laws new residents need to know for driving in Newark have been outlined below.
Get to Know Your Major Roads
In Newark, there are several major roads any resident needs to know. From these roads, drivers can get to their final destination with ease.
The first is the Garden State Parkway. This toll road cuts through the western edge of Newark and can be traveled the entire north-south length of the state, from the New York state line to Cape May. Nearly every side road eventually points to the Garden State Parkway, so drivers don't need to worry about missing a turn. However, the stretch between the Union and Essex tolls that passes through Newark is commonly considered one of the worst traffic areas in the state, so be prepared.
I-78 goes east-west across the southern half of Newark, running from Jersey City to Newark Liberty International Airport and out toward Allentown, Pennsylvania. It connects Newark to Essex County, Union County, Somerset County, and Hunterdon County.
I-95, also known as the New Jersey Turnpike, passes north-south through eastern Newark on its way down the east coast. From New York, it continues south to the Elizabeth community, Woodbridge Township, the New Brunswick area, and beyond.
Route 21, McCarter Highway, splits Newark in half as it runs north-south, linking U.S. 1, 9, and 22 and I-78 in southern Newark to I-280 in the north, heading toward Passaic and Paterson. Route 21 in south Newark has a high concentration of businesses and traffic lights and borders the Ironbound neighborhood.
What to Expect During Rush Hour
In Newark, the average commute time is around 35 minutes. This is a little longer than the United States average of 26 minutes. Sections of the commute might be a figurative parking lot, while other sections may have traffic moving freely. With three major roads running in the same direction, it can be difficult to tell which road is the best to take. Using a GPS before departing will help residents discover any accidents and roads and/or exits to avoid.
The morning rush hour can start as early as 6 a.m. and spikes at 7 a.m., only really starting to taper off at 8:30 a.m. As with most cities, planning commutes in advance can help keep travel times down.
Parking
Those relocating within New Jersey may feel that parking in Newark is no different from any other city or borough in the state. However, those who have never lived in New Jersey before may find the parking situation a bit different. For the most part, there is plenty of free parking on side streets and residential streets that do not require a permit of any kind.
On certain days of the week, cleaners come through the area. This means that one side of the street will be closed for parking. Signs are not always well placed, so new residents should take a second look to ensure they have not missed any important information. When long-time residents begin to move their cars, it's a good indicator that cleaners are about to come down the street.
When using metered parking in Newark, the rates are the same throughout the city. Every 15 minutes a vehicle is parked, the driver will pay $0.25 (unless otherwise posted). Generally, parking is only enforced from 9 a.m.–6 p.m. However, certain areas may enforce parking meter payment until 10 p.m.
Newark also has numerous parking lots that drivers can park in. Parking lots may charge different amounts; some might charge $10 for the hour, while others may charge $50 for the day. However, most offer monthly payment options. The conditions of the parking lots also vary greatly. Some are maintained and have security, while others are simply a lot.
Other Helpful Things to Know
New Jersey is a state that strictly enforces its driving laws. The city of Newark is no exception. When driving in New Jersey, it's important to follow every law, rule, and posted sign to a T to avoid a ticket.
One unique New Jersey law is that if a driver passes a bicyclist or skateboarder, they must honk first. Additionally, drivers must have their headlights on any time they are using their windshield wipers. Also, Newark residents cannot drive in the left lane, which is for passing only. Furthermore, cars must be completely clear of snow and ice in the winter before they are put into drive. This includes the roof of the vehicle!
Those who are not used to driving through numerous tolls daily may be tempted to stop in the E-Z Pass booth. The only time a driver should stop is if they are approaching a cash booth. Those using a transponder or opting to pay-by-plate should continue driving.
Get Out & About in Newark
While driving in Newark can be intimidating, that doesn't mean Newark can't be a wonderful city to call home. The Garden State lives up to its name every spring when bright, beautiful flowers begin to bloom. Additionally, Newark's residents are only 30 minutes by train to NYC and all its attractions. Between Newark's own nightlife, numerous industries, outdoor activities, and water recreation, staying right at home can be an attraction all its own. Newark just might be one of the best cities in New Jersey to fall in love with.
If you're looking for the right place to live in Newark, contact The Dekanski Home Selling Team of RE/MAX 1st Advantage with New Jersey Real Estate Network at (800) 691-0485 to get in touch with a Newark real estate agent who can help you find your ideal Newark home today.
Read Our Driving Guides For Each City Below