Elizabeth Economy: Top Industries, Biggest Employers, & Business Opportunities
Posted by Rob Dekanski on Wednesday, September 1, 2021 at 10:34 AM
By Rob Dekanski / September 1, 2021
Comment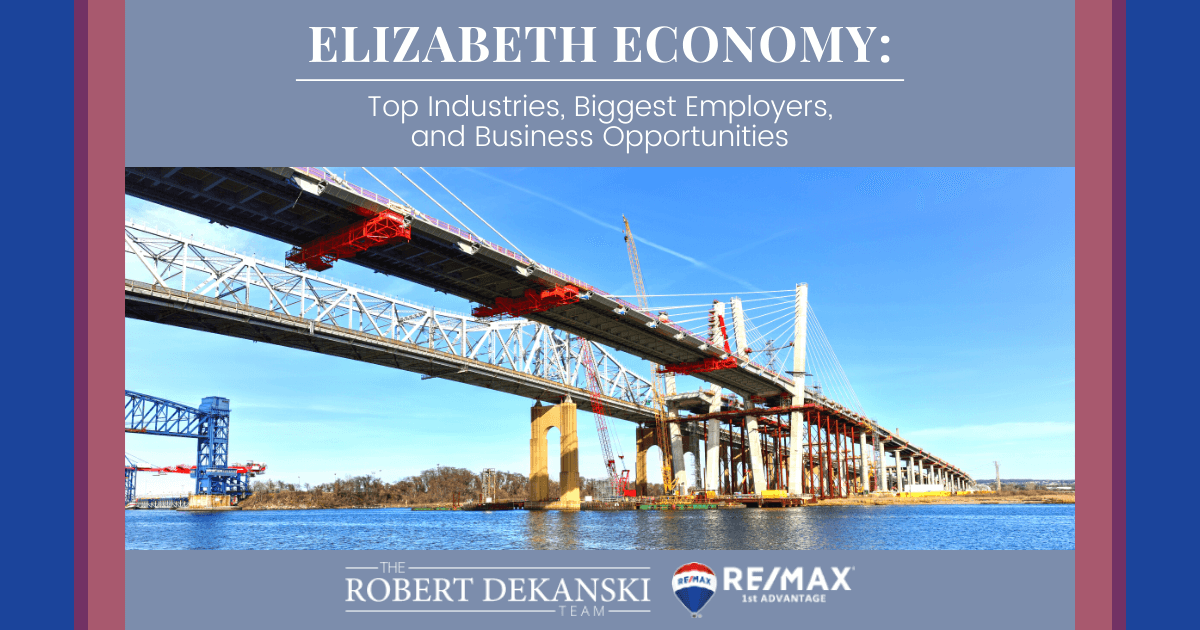 One way to become familiar with a city is to understand its economy—its roots, present, and future. The Elizabeth community is the seat of Union County and is situated in one of the most densely populated regions. A major key to its economic development is that it serves as a transportation hub. The Newark-Elizabeth Marine Terminal is one of the largest in the world and has facilities for containerized shipping. Newark Liberty International Airport is partially located in Elizabeth. The city also is a hub of major roadways, including the New Jersey Turnpike, Interstate 278, U.S. Route 1/9, Route 27, Route 28, and Route 439.
The city also is continually seeking to develop economically. Portions of the city are an urban enterprise zone, which has benefits for businesses moving to Elizabeth that include below-market loans, a sales tax exemption on business purchases and lower sales taxes on others, and corporate tax credits. The urban enterprise designation has helped the city to attract more than $2 billion in economic development. To learn more about the economy of Elizabeth, New Jersey, read on.
Industries in Elizabeth
Because the city is a transportation hub, logistics is one of its top industries. About 13% of the population is employed in the logistics and transportation industry, and several freight companies are located here. Because of the ease of transporting raw materials and shipping products, the city has a long history as an industrial center. In fact, it was the leading center for manufacturing Singer sewing machines until the early 1980s. The city has remained strong in manufacturing, with about 11% of the city's workers finding jobs in that industry.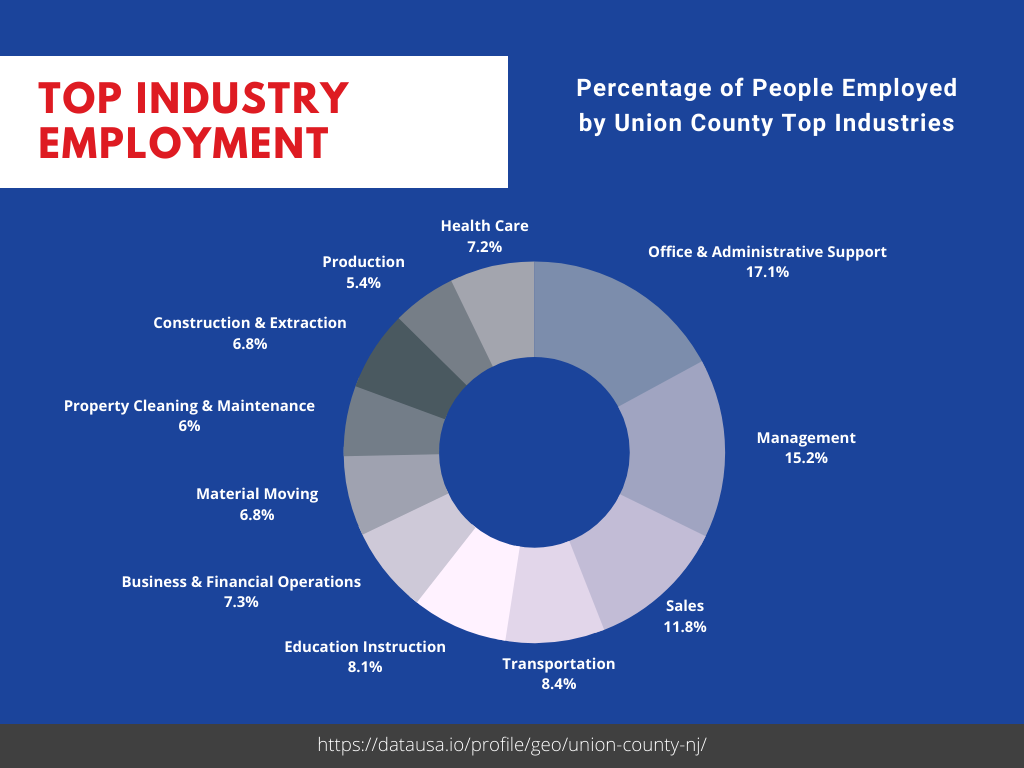 Retail trade, including clothing, furniture, and other stores, is also an important industry in Elizabeth. New Jersey charges no sales tax on clothing, and stores located in enterprise zones qualify for lower sales taxes, which helps fuel this industry. The Mills at Jersey Gardens, Elizabeth's major shopping center, is located in the enterprise zones.
Health care also is a prominent industry. This industry also grew out of the city's history as a major shipping and manufacturing center. As the city grew, the need to provide an organized medical care system grew alongside it, and Elizabeth's first hospital was founded soon after the Civil War. Health care is a major industry throughout New Jersey, and Elizabeth, which is at the state's epicenter, has its share of health care facilities and businesses.
The lodging and food services industry is important, largely because of the area's proximity to Newark Liberty International Airport. It employs about 8% of the workforce.
Top Industries in Elizabeth
Retail Trade
Health Care
Lodging
Food Service
Top Employers in Elizabeth
Trinitas Regional Medical Center is a large employer in Elizabeth. It's a 554-bed full-service health care center serving Eastern and Central Union County. It has more than 2,700 employees and annual revenues of about $300 million.
Another large employer is Business Furniture, Inc. (bfi), a furniture dealer that also provides interior design services. It's based in Elizabeth and has about 1,200 employees. Its annual revenues are about $22 million.
Papetti's Hygrade Egg Products, Inc., a subsidiary of Post Holdings Inc., is also based in Elizabeth. Papetti's manufactures extended shelf-life liquid and processed eggs for the foodservice, industrial, and retail markets. It has about 1,100 employees and annual revenues of $130 million.
Alpha Wire is a large manufacturing company headquartered in Elizabeth that produces wire, cable, and other wire management accessories. It serves a wide variety of markets, including connectivity for medical devices. Founded in 1922, it has about 1,050 employees and annual revenues of about $218 million.
Community Access Unlimited is a nonprofit serving those with disabilities across the state and is based in Union County. It has about 850 employees.
Additional Large Companies in Elizabeth
Allied Beverage Group
The City of Elizabeth
Brother Bonaventure Care Center
Atalanta
Clean Venture
Forever Beautiful
Maher Terminals
Elizabeth Economy Facts and Figures
While they don't tell all the story, economic statistics play a role in helping potential residents to understand the city and how they might fit into it. The average income for an Elizabeth resident is about $20,000 per year, which is slightly lower than the U.S. average of about $28,000. Of course, income is relative to the housing and other costs of living in the area. While Elizabeth's housing costs are higher than the national average, they are lower than in New Jersey as a whole. The state sales tax rate of 6.6% is slightly lower than the U.S. average of 7.3%. State income taxes are a little higher than average at 5.5%.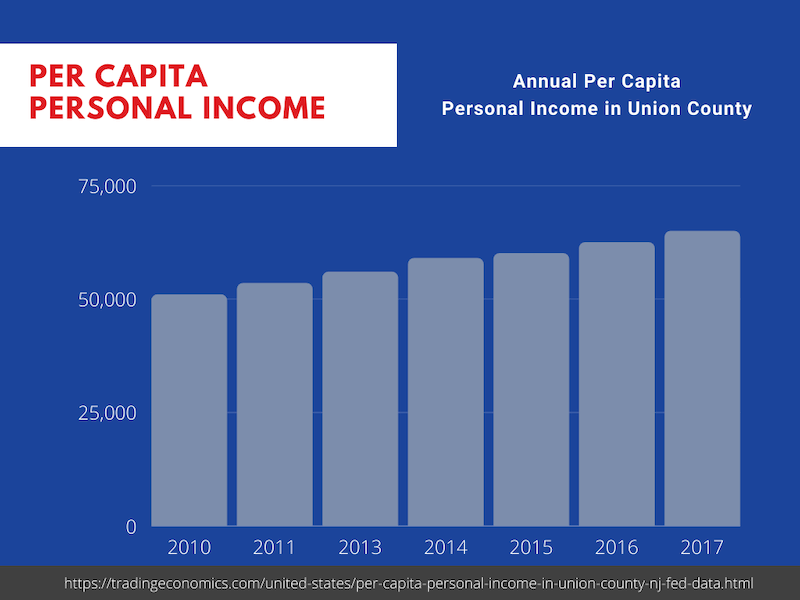 The economy and the number of jobs are expected to grow about 20.6% over the next 10 years, which is lower than the national average of 33.5%. The city's transportation systems continue to grow as they have since World War II.
In addition to the top industries, residents also find employment in construction (7%), wholesale trade (5%), educational services (5%), and other services (6%).
Elizabeth residents can also find employment in the nearby Newark community or in Manhattan, about 20 miles away. The average commuting time for Elizabeth residents is about 26 minutes.
Find Your Home in Elizabeth, New Jersey
Elizabeth is a small city with housing costs lower than the rest of the state and a variety of housing types, such as Elizabeth's townhomes, new construction homes, and single-family homes. It's close to most of what New Jersey and New York City have to offer. It includes a lot of green space within its borders, promoting outdoor recreation, and in 2008 Elizabeth was named one of America's Greenest Cities by Popular Science magazine. It's the only New Jersey city to have that distinction. The city also ranks high as a telecommuting location because of its technology infrastructure.
Read Our Economy Guides For Each City Below