Things To Do in Essex County NJ: Activities You Can Do This Weekend
Posted by Rob Dekanski on Wednesday, December 15, 2021 at 1:55 PM
By Rob Dekanski / December 15, 2021
Comment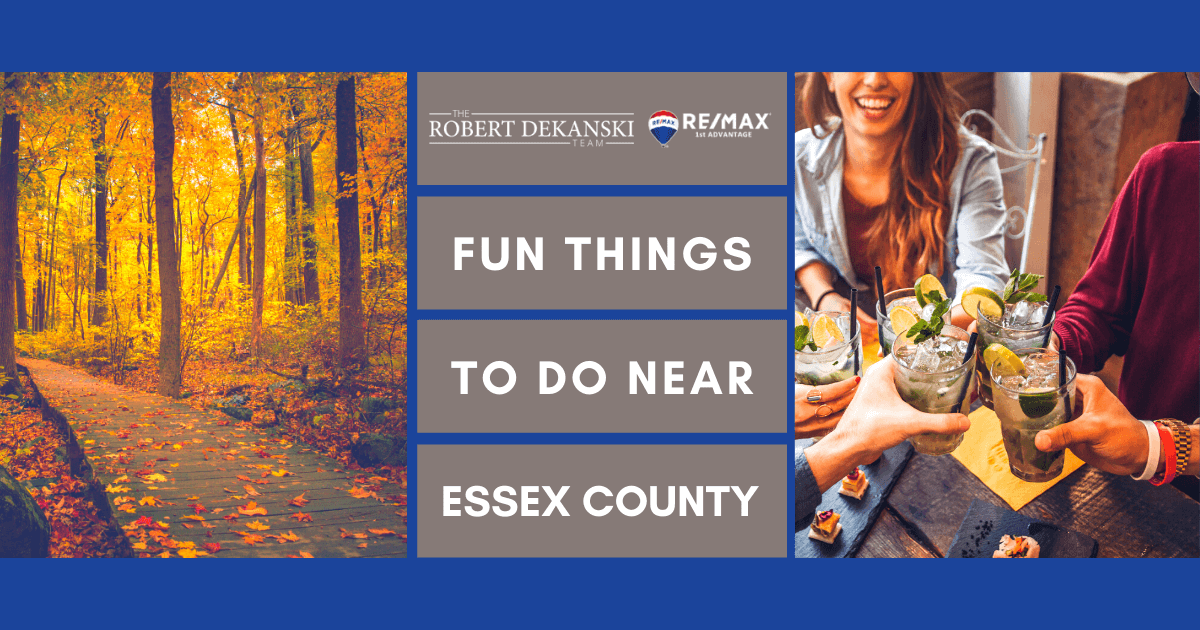 Essex County is one of the best places to live in the New York Metro Area. It's home to over 860,000 people, many of them commuters traveling into the city. The county has much to offer residents, including numerous activities to fit most people's interests. When researching Essex County real estate, it helps to learn about what there is to do in the area. Fortunately for people moving to Essex County, there's an abundance of outdoor activities, shopping areas, and cultural events waiting just outside their doors. Keep reading to learn about fun things to do in Essex County this weekend.
Essex County Outdoor Adventures
Essex County boasts parks, lakes, and trails that present fun outdoor activities in every season. The area has plenty to offer, including an extensive park system and numerous neighborhood amenities such as playgrounds and walking paths. Here are a few considerations.
Parks in Essex County
Popular Essex County Parks
Grover Cleveland Park
Riverfront Park
South Mountain Reservation
Essex County has its own parks department called the Essex County Park System. It's comprised of numerous attractive parks throughout the county. Grover Cleveland Park in the Essex Fells community is a wooded, 41-acre park and was the first county park established. It's recognized for its natural beauty in its deeply wooded paths and walking trails. There are areas for fishing, too. A lighted tennis court and baseball field are also located here. Riverfront Park in the city of Newark is another of the larger parks in the area at over 12 acres. It's a waterfront property, which makes it ideal for long walks and hikes. It's also home to several athletic fields and two playground areas.
South Mountain Reservation in the town of West Orange is a 2,110-acre nature reserve with numerous trails, a larger-sized dog park, and the S. Mountain Recreation Complex. This wildlife refuge has some off-limits areas, but area fishing, cross country skiing, hiking paths, and horseback riding also happen here.
Water Recreation in Essex County
Essex County Water Recreation Destinations
Public pools
Essex County Turtle Back Zoo
For those who want to get out and splash away the hot day, there are ten swimming pools in the county available to the public. Essex County residents can find swimming pools in the town of West Caldwell and the Glen Ridge community. Each one is slightly different in its offerings, but options exist for those who wish to join a swim team, take lessons, enjoy lap swimming, or have some fun.
The Essex County Turtle Back Zoo may be another fun place to go for water fun. It offers access to paddle boats and the waterfront itself. As a part of the zoo, individuals may have to purchase a zoo admission to enjoy the paddleboats.
Hiking & Biking Trails
Popular Essex County Trail Locations
South Mountain Reservation
Eagle Rock Reservation
Hiking and biking are some of the best ways to spend time outdoors. Most of the area parks have separate hiking and biking trails. That includes South Mountain Reservation. Though it does have rolling hills that make it somewhat of a challenge to overcome, it's a beautiful location. It's possible to hike to Hemlock Falls here for a dramatic view of the surrounding area.
Eagle Rock Reservation is another solid option. It features the 40-mile Lenape Trail along the eastern edge of the park. There are footpaths throughout the wooded areas, though some marsh-like areas exist.
Any of these outdoor activities are widely available throughout the state. Many local neighborhoods offer playgrounds, smaller parks, and open green spaces to explore.
Essex County Shopping
Essex County Shopping Destinations
The Mall at Short Hills
Essex Mall
Essex Green Shopping Center
The Mills at Jersey Gardens
Several options exist for shopping here. For a traditional mall experience, visit The Mall at Short Hills. It has high-end brand names, including Dior and Prada retailers. The designer shops here compliment the luxury homes for sale in Short Hills. Essex Mall in the town of West Caldwell is another traditional mall location, though significantly smaller.
Essex Green Shopping Center in West Orange is another option. It's home to larger stores such as Barnes & Noble and Arnold Constable and smaller shops and boutiques. In the city of Elizabeth, The Mills at Jersey Gardens provides some of the best access to retailers close to Newark. It's also home to top brand names, including Neiman Marcus and Saks OFF 5th.
Essex County Restaurants
Popular Essex County Restaurants
Montclair Bread Company
Toast City Diner
Ani Ramen House
Arturo's Osteria and Pizzeria
Cuban Pete's
Like any community with a large population, there are dozens of restaurants in Essex County worth trying. The area may be known for its pizza and bagels, but it offers a wide range of culinary options to fit just about anyone's tastes.
Montclair Bread Company is one of the best-known locations for a café-like experience. The Nutella Stuffed doughnuts are just one example of the specialties. For more of a sit-down style breakfast location, try Toast City Diner. Its red velvet pancakes are known throughout the area, but it also offers a full lunch menu.
Other locations to try out include Ani Ramen House for its ramen and shrimp tempura buns, Arturo's Osteria and Pizzeria for its authentic pizza, and Cuban Pete's for its savory dishes and sangrias. Be sure to check out all of the local corner shop bakeries and delis that make up the most iconic restaurants in Newark.
Arts & Culture in Essex County
As a part of the New York Metro area, Essex County residents benefit from being close to New York City's many arts and cultural programs and events. However, the area has a few of its own experiences worth exploring. Here are a few examples.
Museums in Essex County
Popular Essex County Museums
Newark Museum of Art
GRAMMY Museum Experience
Jewish Museum of New Jersey
New Jersey Historical Society
The Newark Museum of Art is the largest art museum in the state. It features interactive displays and galleries, including rotating Asian, African, ancient, and American displays. Take a visit to the Prudential Center to see the GRAMMY Museum Experience. It pays homage to the history of the GRAMMY awards and has numerous displays about the winners of those award shows. The Jewish Museum of New Jersey provides a historical look at the Jewish culture in total and the region. It features numerous artworks and displays to tell the story of the Jewish culture. Yet another option for history is the New Jersey Historical Society in Newark. It's full of historical artifacts and colonial-era pieces worth exploring.
Art Galleries
Popular Essex County Art Galleries
Riker Hill Art Park
73 See Gallery and Design Studio
Gallery Aferro
Aside from the art museums here, several art galleries are also present. Riker Hill Art Park is a treasure for its beautiful fine metal jewelry, ceramics, pottery, and painting. It is all a part of Livingston's United States Missile Tracking Base. This 42-acre location offers pieces of historical relevance and items to purchase. In Montclair, 73 See Gallery and Design Studio is a modern art gallery with changing exhibits. Many are in graphic design. Another choice is Gallery Aferro in Newark. This is very much a visual experience as each of the watercolors, photos, drawings, and other forms of art, including numerous mixed-media displays, are breathtaking.
Dance & Theatre
Essex County Dance & Theatre Opportunities
New Jersey Performing Arts Center
Paper Mill Playhouse
The Wellmont Theatre
When it comes to the performing arts, Essex County has a few experiences to look into for a night out on the town. That includes the New Jersey Performing Arts Center. It offers concerts, dance, theater, and numerous other experiences. It is a nonprofit arts organization, but it provides world-class performances for audiences.
Other experiences to consider include the Paper Mill Playhouse, which puts on some of the best musicals in the area and rivals Broadway's quality. The Wellmont Theatre has a long history of comedy shows, musical performances, and various special performances.
These are just a few of the many cultural experiences possible in the county. Keep in mind that many local organizations, community groups, and schools (especially those with theater productions) put on their events. It's easy to find local art galleries and smaller museums to explore in this area, too.
Essex County Nightlife
Essex County Nightlife Destinations
QXT's Night Club
Rio Lounge
La Rouge Restaurant and Lounge
Barcade
Having some fun on the town is possible in Newark and other larger cities in Essex County. For those who want something of an alternative dance club vibe, QXT's Night Club is a popular option on the weekends. It is the type of place people actually get up and dance at and usually to new wave and alternative music.
For those who want a restaurant with live music, check out Rio Lounge. It's a Brazilian and Latin-inspired menu with live music from the Americas many nights of the week. This location is in Newark's Ironbound District, which is home to a few smaller bars and clubs. Another option much like this is La Rouge Restaurant and Lounge. The food is American cuisine, and the music is upbeat. Numerous local artists perform here throughout the month.
Those looking for a local bar and arcade may want to check out Barcade. It's the perfect combination for those who want to hang out with friends over a craft beer and play some video games. It has old-school arcade games, which will make the experience even more enjoyable.
It's also important to know that many local bars and nightclubs offer fantastic shows, including some of the smaller cities in the county. Be sure to check out what's available in the local community.
Find Something Fun This Weekend in Essex County
This is just a quick look into what Essex County can offer those looking for some fun, no matter what type of experience. The area is rich in cultural experiences and passionate about its food. In all of the most affordable towns in Essex County, people can find just about any type of delicious food, along with any outdoor activity or park. People interested in buying Essex County will know that there's a diverse range of things to do that support any lifestyle.