Public Transportation in Franklin Township: How to Commute in Somerset County Using DASH & CAT
Posted by Rob Dekanski on Thursday, October 14, 2021 at 9:58 AM
By Rob Dekanski / October 14, 2021
Comment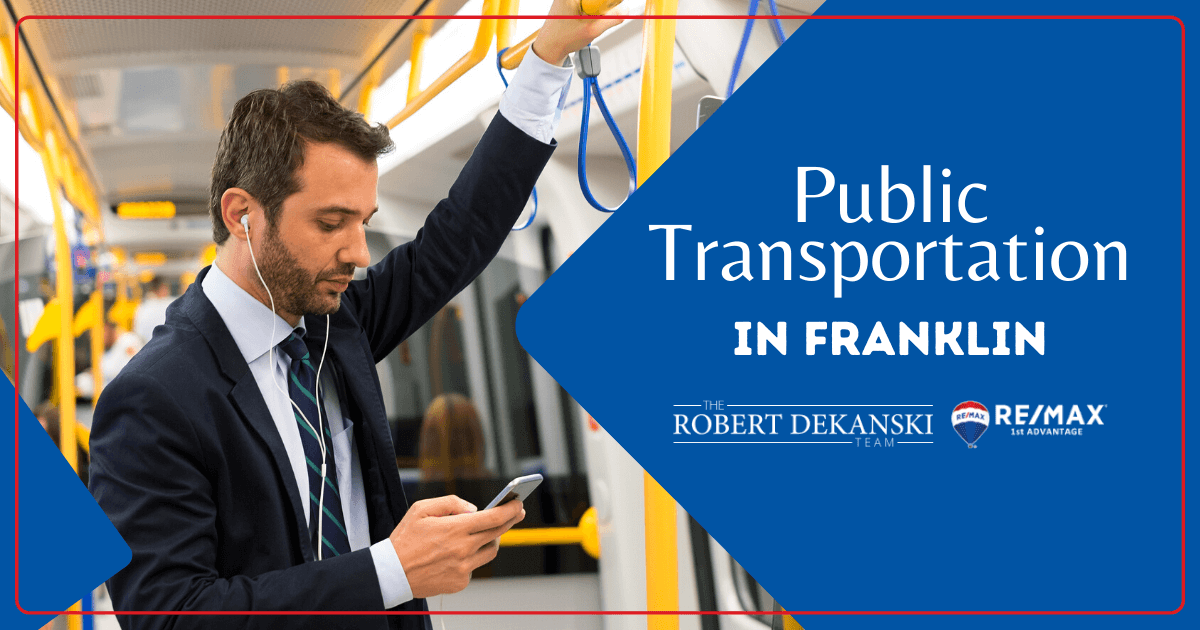 The community of Franklin, New Jersey, is home to around 5,000 people. This beautiful borough is an important location in Somerset County. It is about an hour from New York City and other cities near I-287 and I-95. For those thinking about buying luxury homes or condos in Franklin, it helps to know what options exist for public transportation. This is a smaller city, but there are several different public transportation options throughout the area to consider. Keep reading to take a closer look at the transit options in Franklin.
Somerset County Bus in Franklin
One of the options for public transportation in Franklin is to use the county shuttles. Somerset County offers transportation services to the public through eight routes. One of the options is DASH. This provides service between homes in Bound Brook and the train station in the city of New Brunswick. This is done along Davidson Avenue in Franklin Township. DASH851 and DASH852 are the route options.
A second option is the CAT line. CAT provides residents with access throughout Raritan Valley Community College in the town of Branchburg. There are three options: CAT1R, CAT2R, and CAT3R. Schedules and costs for these services have changed significantly over time. Be sure to check the county shuttle schedules before relying on service.
Anyone can use any of these public transit bus lines. The buses operate Monday through Friday. There is no need to set up an appointment time for their use. More so, the fares are $2 per trip. Users can transfer from one bus to the other for an additional $.50.
To use these buses, a flag system is in place. The passenger who wishes to ride can flag or wave to the bus driver to stop at any point along the route. As long as it is safe, the driver will pull over. Times for when drivers will be in the area are provided. The service is managed through RideWise, which provides an interactive map of the bus route.
Somerset County Bus Ticket Costs
One-Way: $2
Transfer: $0.50
NJ Transit and Amtrak in Franklin
NJ Transit offers another opportunity for moving through the city. These programs provide service to almost all of the fun things to do in Franklin. The New Jersey Transit provides a location tool that allows users to punch in where they are located to find the best station options and routes. Prices are based on the length of the trip. Users can plug in this information to determine fares, but there are also discounts to figure into it, including discounts for purchasing monthly subscriptions and using military savings promos.
Amtrak provides another opportunity. There is an Amtrak station in New Brunswick that may be an accessible option for residents in Franklin Township. The Amtrak constantly runs from 5:30 a.m. through 9 p.m., with a later start time on the weekends. This station is close to Robert Wood Johnson University Hospital and Rutgers University. Discounts include frequent use reductions, everyday discounts for kids and seniors, and economical options for multi-rides per day. Tickets for this service range from $5 to $15 for local service. Those who are traveling a longer route will pay more. Times of day and days of the week all play a role in the cost.
NJ Transit and Amtrak Ticket Costs
NJ Transit: Varies
Amtrak: $5–$15 local, longer routes more
Taxis and Rideshare in Franklin
For those seeking a rideshare option in Franklin Township, there are a few options. Both Lyft and Uber operate out of the city. The availability is dependent on active drivers for both organizations. However, for those who are traveling with a group, either of these services can be promising. Rideshare rates are hard to determine because they are based on the availability of drivers and demand, along with party size, pickup and drop-off destinations, and other services. Fares are as low as $5.
There are also taxi services available in Franklin Township. One option is Franklin Township Taxi, which provides traditional sedan service along with SUVs, minivans, and large vans. They also provide service to get to and from the airport. Options are available for up to 14 people.
Taxis and Rideshare Costs
Standard sedan or SUV: $4.00 initial fee, $0.20 per minute, $1.20 per mile
XL transfer services: $4.60 initial fee, $0.20 per minute, $1.80 per mile
Business-class services: $7.90 initial fee, $0.70 per minute, $4.30 per mile
3-9 miles: $8.80 to $18.30
10-50 miles: $19.90 to $83.30
Taxi services may offer more availability than rideshare services in some situations. If rideshare is not available, there is a good chance the taxi will be. They can be booked last minute or booked in advance.
Using Franklin Public Transportation Is Easy
For those thinking about moving to Franklin, NJ, it helps to know how easy it can be to get around the city. Having an array of public transit options is an appealing perk, especially for residents commuting to the city of Newark or Manhattan. A robust public transit system is just one of the many reasons people enjoy the amenities and features available in this city.