Fun Things to Do in Franklin, NJ: Outdoor Adventures, Shopping, Nightlife, & More
Posted by Rob Dekanski on Monday, August 2, 2021 at 7:28 AM
By Rob Dekanski / August 2, 2021
Comment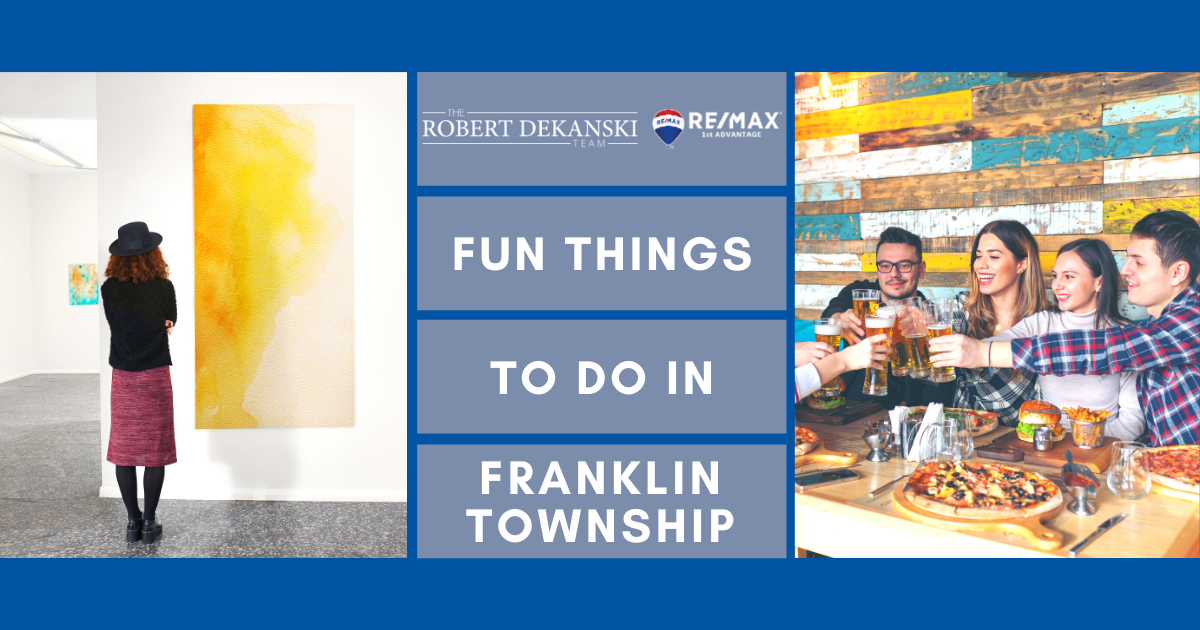 The Franklin, NJ, community is a beautiful township. Some locals have lived in Franklin their entire lives, while other residents have just recently moved. The township has a small-town feel that still offers plenty of things to do. This hidden gem of a township allows residents to escape the hustle and bustle of urban New Jersey and get back to nature. In the Garden State, that's sometimes a rare find. Read on to explore some of the things to do in Franklin.
Outdoor Adventures in Franklin
While Franklin Township may be on the smaller side, there are plenty of outdoor activities in Franklin available throughout the year for residents to enjoy.
Parks
Parks in Franklin Township
Colonial Park
Naaman Williams Park
Nassau Park
Hawthorne Park
Inman Park
East Millstone Park
There are several parks within Franklin Township that are worth visiting. First is Middlebush Park, which features numerous athletic facilities. Baseball, softball, basketball, football, and soccer fields are all available. Additionally, bikes and skateboards are allowed in the park. Naaman Williams Park is another large park in Franklin. It also features baseball, softball, and basketball fields. Additionally, visitors can enjoy the swimming pool and child's playground. Visitors can also enjoy the covered picnic areas when weather permits. Inman Park features several athletic facilities and picnic areas for guests to enjoy.
In addition to its other features, residents can also enjoy the off-leash dog park in Colonial Park. Specific areas are designated for small and large dogs to play together.
Water Recreation
Water Sources in Franklin Township
Spooky Brook Pond
Boathouse Lake
Lake Nelson
Raritan River
Snake Lake
Franklin Township has numerous water recreation activities in both natural and created spaces. For example, Delaware and Raritan (D&R) Canal State Park is a linear park that spans over 70 miles. The park features continuous flat pathways that can be used for jogging, biking, or dog walking. Water vessels are allowed on the river if they are motorless (like kayaks and paddleboards) or if they feature small electric motors. Fishing is permitted within the park.
Spooky Brook Pond allows visitors to access a 12-acre lake that has catfish, crappie, bass, pickerel, sunfish, and trough. The lake is regularly stocked to ensure fun times throughout the year. A valid fishing license is required.
Hiking & Biking Trails
Trails in Franklin Township
Sourland Mountain Preserve Trail
Six Mile Run Park Trail
Farrington Lake Trail
Colonial park Trail
Lois Howe Nature Trail
In addition to trails in the aforementioned parks, Franklin has several other opportunities for walkers and hikers. The Bunker Hill Trail is a 3.5-mile in-and-back trail that takes hikers through thick forest areas. There is a 30-foot-high red-rock cliff that is worth taking a view from at the top.
The Negri-Nepote Native Grassland Preserve offers 3 miles of trails, including a 3/10th-mile-long handicapped-accessible trail. Additionally, the Butler Road Trail is 4.5 miles long. There are streams on the trails, but there are no bridges. Hikers should expect to get a little muddy on this trail.
For those who love to get outside, Franklin will continue to provide plenty of adventures during the week and over the weekend for years to come.
Franklin Shopping
Shopping Centers in Franklin Township
Franklin Towne Center
Hillsborough Promenade
Cedar Grove Center
Summerfields Corner
Veronica Plaza
Plenty of shopping is available in Franklin. The Franklin Towne Center offers a variety of stores for both everyday shopping and specific needs. Some of the stores include New York Sports Club, North Fork Bank, GNC, Dollar PlanetJoe's TV & Appliance, Liquor King, Marty's Shoes, and Franklin Dental.
The Rutgers Plaza is a large outdoor shopping center that's just a five-minute drive from Rutgers University. This local shopping center provides numerous stores like Dollar Tree, Chase Bank, T-Mobile, GNC, and Venus Jewelers.
Franklin Restaurants
Restaurants in Franklin Township
Somerset Pizza & Restaurant
Stage House Tavern
Joe's Italian Deli
Thai Lanna
Mystah Howard's Little Kitchen
In Franklin, one is sure to find delicious food at whatever restaurant they enter, but there are certainly some local favorites. First is the Shu House Restaurant. This dine-in and take-out Chinese restaurant offers amazing cuisine and affordable prices. The restaurant prides itself on using only the highest-quality ingredients. Popular dishes allow guests to choose from a variety of proteins to add to rice noodles, udon noodles, lo mein, or fried rice.
Luca's Ristorante has been part of the community since 1994. The restaurant serves impeccable Italian dishes with modern-day twists, such as handmade cocoa ravioli with butternut squash and cognac cream sauce, ranking among the top 10 Italian dishes in New Jersey. Other delectable dinners include veal tenderloin scaloppini, Mediterranean sea bass, and 50-layered lasagne.
Confectionately Yours not only offers ice cream, sundaes, skillet cookies, and other confections, it has a full menu and has theme nights to showcase various cuisines. German, Tex-Mex, Hungarian, BBQ, and seafood nights are a staple. Additionally, guests can enjoy Italian dishes and Fish Fry Friday. After a meal (or any time, really), visitors can request delicious homemade ice cream in a variety of staple and rotating flavors.
Arts & Culture in Franklin
While Franklin may be farther away from New York City than other areas in New Jersey, that doesn't mean the township lacks in arts and culture.
Museums
Museums in Franklin Township
Rutgers Geology Museum
Hageman House
Museum at Buccleuch Mansion
Wallace House
Franklin is home to several museums. The Abraham Staats House preserves the history of the Delaware and Raritan Canal. The historic house features many objects from the time period. Buccleuch Mansion was built in 1735 and preserves the local history of Franklin. There is also a 1.5-mile cross-country fitness trail that can be used by the public. Additionally, the Rutgers Geology Museum was created in 1872 to showcase the natural history of the area. The museum was designed to include space to allow each generation to preserve its own natural history.
Each museum has its own operating hours, but they are all free for the public to enjoy. While all three and more can be visited in one day, it's better to take the time to peruse the collections and inquire about the upcoming exhibits. These museums are perfect for all ages to enjoy.
Art Galleries
Art Galleries in Franklin Township
Alfa Art Gallery
Hills Gallery
Art Euphoria
Residents of Franklin can enjoy a few art galleries in the area. Rutgers Zimmerli Art Museum is located within Rutgers University, showcasing the works of local and regional artists. Those in the art program at Rutgers can also apply to have their work displayed.
Alfa Art Gallery is designed with the first-time art buyer in mind. The gallery allows artists to display their work and tirelessly puts efforts in to ensure these works are displayed in homes throughout the region.
Dance & Theatre
Performing Arts in Franklin Township
Somerset Valley Players
New Brunswick Performing Arts Center
Mason Gross Performing Arts Center
Brook Arts Center
Several theatres operate in Franklin. The Villagers Theatre, established in 1960, is a non-profit organization that allows children, teenagers, and adults the ability to explore their acting abilities on stage throughout the year for the local community.
State Theatre New Jersey is the largest non-profit arts theatre in the area. The theatre currently entertains over 200,000 residents a year, focusing on orchestra, Broadway, dance, and family series, interspersed with everything from comedy and pop to sensory-friendly performances. Part of the theatre's mission is to make superb performance arts affordable and accessible, working with community partners to bring joy to many.
Brook Arts Center opened its doors in 1927 as a vaudeville house. The historic theatre has beautiful architecture and has earned a spot on the National Register of Historic Places. Members of the community are welcome to join the Brook Orchestra, and other events in the lineup include stand-up comedy and thundering rock music performances. The Center offers a summer camp exploring all aspects of theatre productions.
For those who are looking to get back into the arts or desire a few options for a date night, the arts and culture scene in Franklin continues to grow.
Franklin Nightlife
Bars, Clubs, and Music in Franklin Township
Perle Lounge
Corona Bar & Night Club
Roxy & Dukes Roadhouse
Hurl's Brew Pub
Huey's Knight Club
Stage House Tavern is a staple in Franklin nightlife. Since the 17th century, the tavern has provided high-quality food and the best drinks one can find in the area. With outdoor seating for up to 700 people and an excellent atmosphere, the Stage House Tavern location in Somerset is the perfect place to enjoy an afternoon meal.
Samudhra requires business casual attire to enter. Between the food, music, drinks, and dancing, guests are sure to create memories that they won't soon forget. Even those who are new to Indian culture are guaranteed to have a good time.
Stateside Tap + Tavern is dedicated to delicious food and even better brews. For those who want a relaxing night out, they won't find a better option than Stateside. The venue offers four distinct atmospheres, so every visitor can have the night they desire.
Discover What Franklin Has to Offer Today
When it comes to finding a community to call home, one might be hard-pressed to find a better place to live than Franklin Township, NJ. The numerous activities allow residents to remain entertained in all four seasons. Few other townships or cities in New Jersey offer the same level of variety in indoor and outdoor activities for residents to enjoy. For those looking to find an area with plenty of things to do, buying a new home in the Franklin community might just be a decision that's a step above the rest.
Read Our Things to Do Guides For Each City Below