8 Home Selling Mistakes You Must Avoid to Sell Fast & For the Best Price
Posted by Rob Dekanski on Friday, March 31, 2023 at 2:25 PM
By Rob Dekanski / March 31, 2023
Comment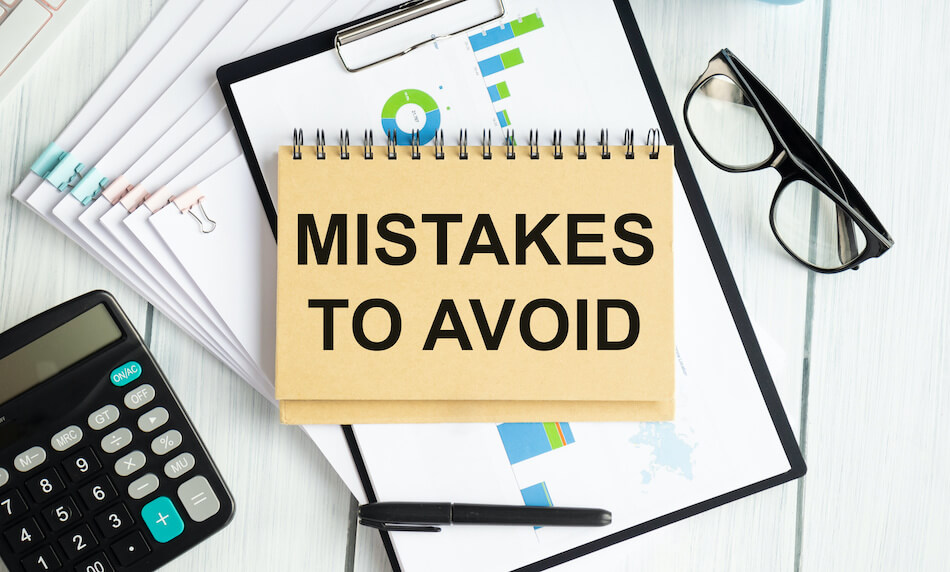 When selling your home, you want the process to go as smoothly as possible so that your house sells quickly and for a great price. Unfortunately, there are some fatal home-selling mistakes that can keep sellers from reaching these goals. If you're thinking of selling your home, be sure to avoid these common home-selling mishaps to make sure you're getting the most out of your sale.
For informational purposes only. Always consult with a licensed real estate professional before proceeding with any real estate transaction.
Sell Your Home With
Robert Dekanski.
Maximize the value of your home with the Robert Dekanski Team. Schedule your consultation today and experience a hassle-free home selling process with the best real estate team in New Jersey.
Getting Emotional When Selling
It's easy to get emotionally attached when selling a home. It's likely a place where you've built a lot of memories and made design choices, so it can be hard not to take things personally when potential buyers point out flaws in the property or seem uninterested. However, if you let emotion cloud your judgment while selling, it could cost you a great deal of money and much longer than the average time on the market.
The best thing to do is focus on what matters most: getting top dollar for your home so you can move on to your next. You might find it helpful to think of yourself as a neutral real estate agent who is looking at the house objectively to get the best price for it. You can make smart decisions free from sentimentality or nostalgia by keeping emotions out of your home sale.
Not Staging Your Home
It's no secret that first impressions matter. That's why, when it comes to selling your home, it's important not to neglect the power of staging. Not only can it help you stand out from other listings, but it also allows potential buyers to envision themselves in your space and establish a connection.
You can miss out on some major benefits when you don't consider how to stage your home to spark buyer interest:
Curb appeal: This is the potential buyer's first impression of your listing and can be make-or-break when they're deciding if they're interested. Take care of things like landscaping, pressure washing, and painting to make sure your home looks its best.
Paint and decor: Staging is intended to allow viewers to imagine themselves in the space. Try to stay away from bold paint and decor choices. Neutral colors and minimal decorations allow buyers of differing tastes to still appreciate the home.
Cluttered rooms: Furniture is great when staging to show how rooms can be used, but if the space is cluttered, it can make the home look smaller. The same goes for excessive personal items and family photos; it's best to store them and keep the home clear and neutral.
Neglected fixtures: Dusty light fixtures, dated appliances, and cracked tiles can severely affect the sale price of your home. Take care of simple fixes and home improvements to make your home shine.
Lighting: Using lighting to your advantage can make your home appear larger and more inviting. Use natural lighting whenever possible and accentuate with mirrors and artificial light sources like lamps and sconces.
Put yourself in the shoes of someone who has never seen your home before. Make sure each room is clean and clutter free while adding small touches like fresh flowers or scented candles to create a cozy atmosphere. Doing so will ensure that prospective buyers leave with a positive impression of your home.
Setting an Unrealistic Selling Price
Setting an unrealistic list price for your home is one of the most common mistakes that sellers make. When setting a price, it's important to take into account factors such as location, market conditions, recent comparable sales prices in the area, and any unique features or amenities your property may have. Seasonality heavily influences prices, so it's important to list your home at the best time.
It's also essential to remember that buyers are more likely to make an offer on a home with a reasonable listing price. You can miss out on offers from potential buyers—especially if they sense they're being taken advantage of by an overpriced listing. Working with an experienced real estate agent who knows the local market well and can conduct a comparative market analysis helps ensure that you set a competitive price and get the best return on your investment when selling your home.
No Flexibility With the Asking Price
When it comes to fielding offers, don't be too attached to your asking price. Too low a price can mean leaving money on the table, while setting the price too high can cause your property to sit on the market for months. So how do you stay flexible about the asking price?
The key is to ignore emotions and focus on facts. Gather data from recent sales in your area, then adjust according to any unique features of your home. You should also factor in current economic trends, which might influence buyers' confidence or willingness to buy. By doing your research, you can avoid making an expensive mistake when evaluating offers. Remaining flexible with your asking price can lead to more effective negotiations and the best possible closing price.
Not Having Great Listing Photos
If you don't have good photos for online listings that accurately show what your house looks like, then you probably won't be able to sell quickly or for top dollar. Photos are typically the first thing potential buyers see when viewing your home on a listing service and are often the deciding factor for whether they decide to view it in person.
Take some time and use a professional photographer for your home, or take professional photos yourself. Doing this will help ensure that your home generates plenty of interest and looks its best for prospective buyers.
Not Being Upfront About Property Issues
When selling a home, it's important to be honest and upfront about any issues the property may have. If an issue is discovered during the inspection process that wasn't disclosed before the sale was finalized, this could put buyers in a difficult position—especially if they had already given up their current residence or made other arrangements based on your disclosure statements.
In these cases, they might expect some reparation from you for not being fully transparent. If worse comes to worst, they may even sue you for damages. Make sure all relevant information regarding the state of your property is accessible to anyone considering purchasing your home.
Not Working With Buyers
It's not enough to just list your home for sale. To get top dollar and have a successful closing, you also need to work with buyers. This means being open to potential offers, negotiating in good faith, and having excellent communication throughout the process. Here are three key tips that will help ensure success:
Always answer buyers' questions and requests quickly so they don't feel ignored or forgotten.
Provide detailed, honest information about the property upfront.
Be flexible about showings. If you can, try to meet their needs, even if it means being available at times that aren't overly convenient for you.
Working with buyers can be an enjoyable experience with favorable terms for both parties involved. With clear expectations set from the beginning and the expertise of an experienced agent, both buyers and sellers can feel great about closing.
Not Hiring A Real Estate Agent
Considering the expertise in your local market, you definitely want to choose the right real estate agent when selling your home. When you try to sell your home without an agent, you lose out on valuable services and expertise related to pricing, marketing, closing costs, negotiating, and when to list your home for sale. Don't miss out on the best sales price for your home by trying to negotiate a sale by owner and be smart when choosing the right real estate agent for your real estate transaction.
Sell Your Home Successfully
Avoiding fatal mistakes when selling your home can save you time, money, and a lot of headaches. By doing things like taking the time to prepare your home for sale, setting the right price, working with a qualified real estate agent, and being open to negotiation, you can increase your chances of a successful sale. Remember, selling your home is a major financial decision, so take the time to do it right and make the most of your sale.
For informational purposes only. Always consult with a licensed real estate professional before proceeding with any real estate transaction.
Sell Your Home
With
Confidence.
Sell Your Home With the
#1 Real Estate Team in New Jersey.
Ready to sell your home for top dollar? Let the Robert Dekanski Team handle it all. Contact us now to schedule a consultation and take the first step towards a stress-free home selling experience with the best real estate team in NJ.
Sell Your Home With Robert Dekanski Today