Find Jobs in Howell NJ: 2023 Work Opportunities & Economic Guide
Posted by Rob Dekanski on Sunday, February 5, 2023 at 9:19 AM
By Rob Dekanski / February 5, 2023
Comment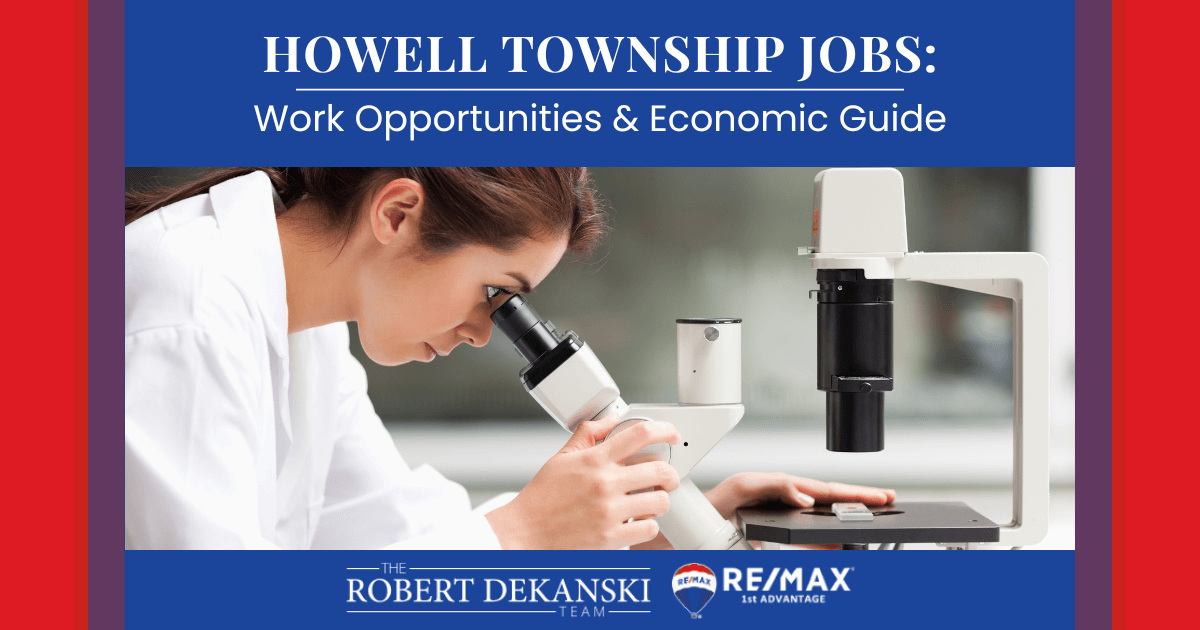 The Howell Township community is the largest area in Monmouth County, covering just over 60 square miles. Like with any city, those considering moving to Howell should take into account the economy when making the decision. It's wise to learn about the strength and specifics of a local economy, including things like employment opportunities and sectors, industries, and tax rates, before making a move. With all of these points in mind, here is everything to know about the economy of Howell Township, New Jersey.
Top Employers in Howell Township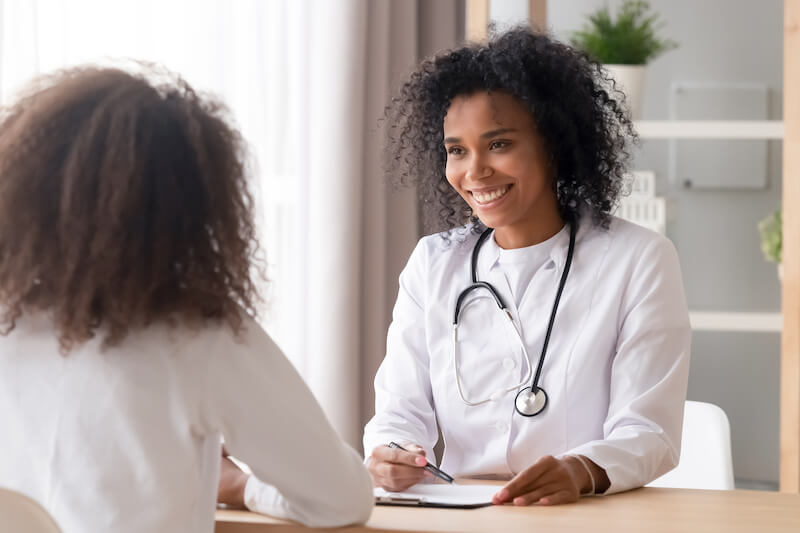 Located in northern New Jersey and part of the larger New York City metropolitan area, Howell Township has a population of about 52,000. Although many residents commute to either NYC or Philadelphia for work (both within about an hour away), there are several large employers near Howell Township.
Hackensack Meridian Health: A healthcare network, this is the largest of its kind in New Jersey. The network includes research hospitals, academic centers, and care facilities.
Saker Shoprites Inc: Known as ShopRite, this is a retailers' cooperative of over 50 supermarket brands representing over 300 stores. It's the largest food distributor in both the Garden State and the NYC metropolitan area.
CentraState Healthcare System: This nonprofit community health organization has provided healthcare services for over 50 years. It consists of a charitable foundation, an acute care facility, three senior living facilities, an ambulatory care campus, and a family medicine residency program.
RWJBarnabas Health: The result of a merger between the Robert Wood Johnson Health System and the Saint Barnabas Health Care System, this is another group of healthcare providers that includes research hospitals, care facilities, and academic centers.
Monmouth University: This private, four-year university has approximately 4,600 undergraduates, 1,500 post-graduates, and 300 full-time faculty members. Monmouth University offers degree programs in seven academic schools, including business, education, humanities and social sciences, nursing and health studies, science, social work, and an honors college.
Commvault: A global, publicly-traded data management and data protection software company, Commvault has headquarters in the nearby city of Tinton Falls.
Several global corporations also have locations in Howell, such as Walmart, Target, Best Buy, McDonald's, Starbucks, Chevron, and Kohl's.
Additional Large Companies in Monmouth County
Visiting Nurse Association of Central Jersey
Renaissance Gardens - Seabrook Village
NJ Resources
Food Circus Supermarkets
Howell Township Economy Facts and Figures
The economic outlook for Howell Township has several positives worth considering for anyone contemplating living here. An individual's average annual household income is $36,018, which is higher than the national average of $28,555. Howell Township's median annual household income is $99,177, well above the national median of $53,482 and New Jersey's, which is $72,062. These higher-than-average local incomes are largely due to many of the city's employers being healthcare providers and other well-established global corporations.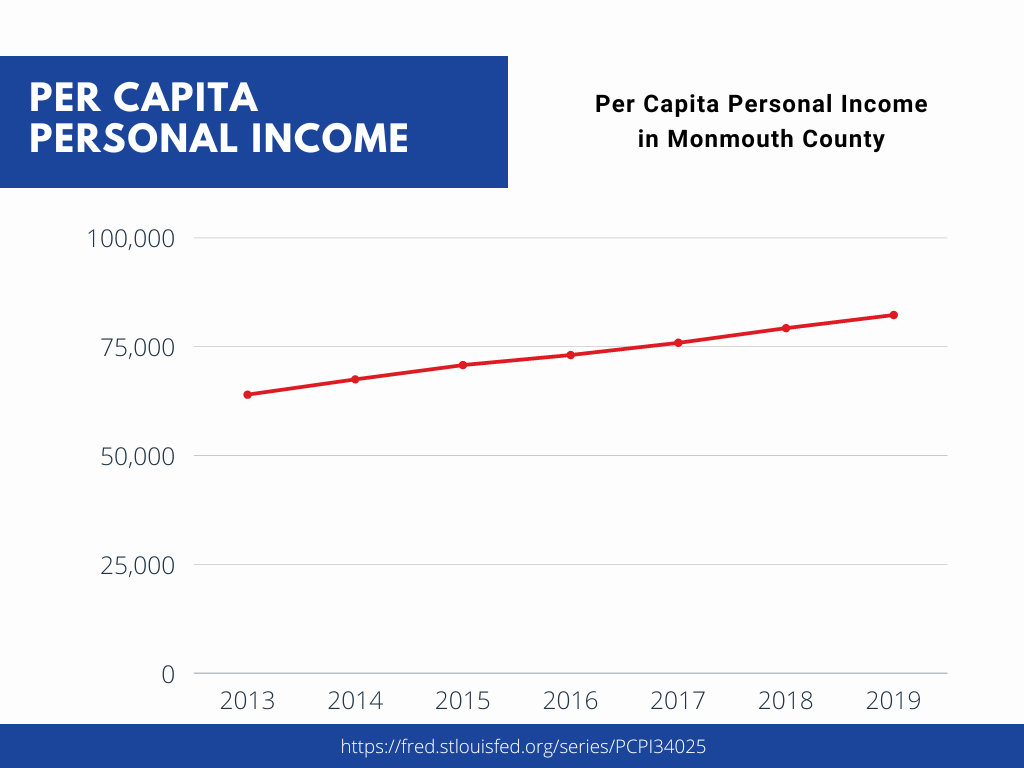 In addition to its favorable average income figures, Howell Township has a 6.6% sales tax, lower than the national average of 7.3%. The 5.5% income tax rate is also in line with the national average. Healthcare costs in Howell Township are notably lower than the national average, in part due to abundance of local providers.
Howell Township's local job market has been fairly stable over the past year, keeping in line with averages across the United States, and future job growth in the city is predicted to be 28.3%.
Howell Township Industries
There's a range of job types and career opportunities in Howell Township, New Jersey.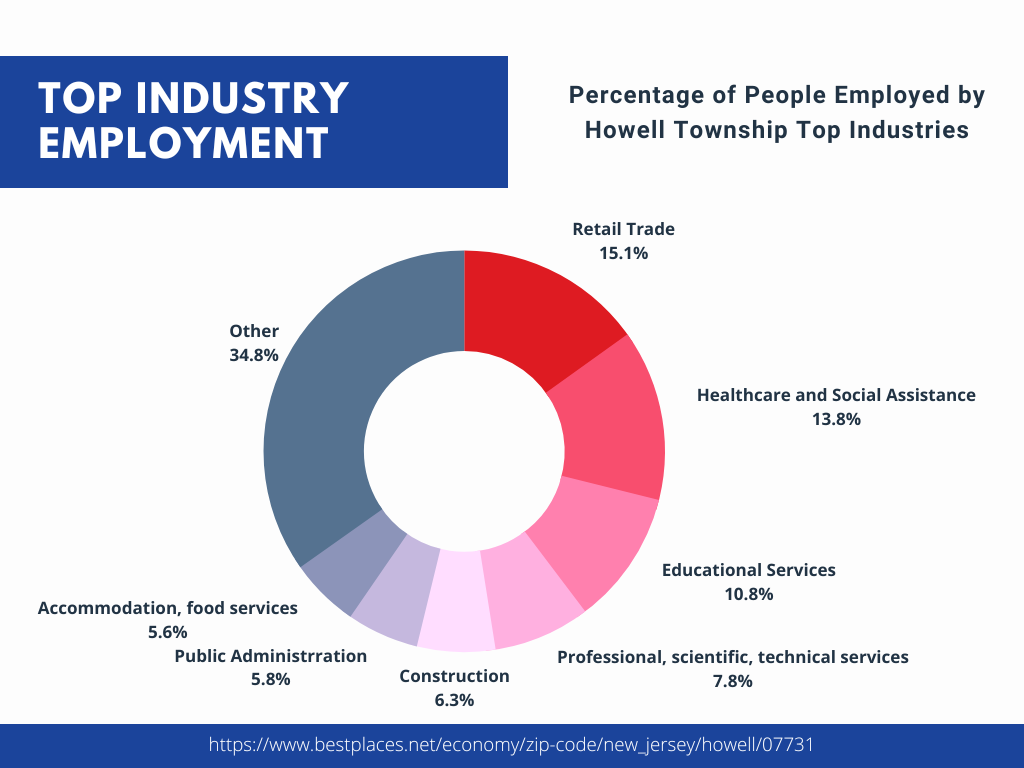 Here are some of the largest industries in the area:
Healthcare: Several healthcare providers and institutions have locations in the area, accounting for 16% of jobs. According to the U.S. News World and Report, New Jersey ranks as one of the top states for healthcare, with high marks for quality of care, access, and public health. The state's healthcare industry is also noted for its innovation and breakthroughs in treatments and products.
Education: Howell Township Public Schools provide public education from pre-kindergarten through eighth grade. High school students attend public school at one of three schools in the Freehold Regional High School District, which operates Howell High School in Howell Township. The Monmouth County Vocational School District and a variety of private and parochial schools are also available to local students. Education accounts for 11% of jobs in the area.
Professional/Technical: Accounting for 8% of the jobs in the region, professional and technical positions offer some of the highest average salaries, exceeding national averages. Jobs related to STEM fields such as architecture, computer technology, engineering, math, and science have salaries that average over $80,000, which is over twice the average individual annual income of $36,018.
Accommodation/Hospitality: Nearly 8% of local jobs in Howell are in the hospitality industry, which includes hotels and restaurants. Growth in this industry is robust across the state—over 24,000 jobs are expected to be added by the year 2027.
Manufacturing: Manufacturing accounts for approximately 7% of local jobs. It's another strong industry for the state, with an output of over $54 billion in 2019. The Garden State is home to manufacturing operations for chemical products, electrical and electronic equipment, food, sporting goods, textiles, toys, and materials such as stone, glass, and clay.
Calling Howell Township Home
Everyone considers many different things when choosing a place to live. While raw economic data shouldn't be the only criterion, it can provide good insight when researching different areas. Howell Township has a lot to offer potential residents, especially those with careers in healthcare, education, and STEM industries. When looking for a new home, most people will need to seriously consider employment prospects, but job seekers should also look into the climate, school districts, tax rates, and other features. After all, everyone deserves to look forward to coming home and enjoying everything their community has to offer.
Read Our Economy Guides For Each City Below