Dogs Love Newark: A 2023 Guide to Newark Dog Parks, Pet-Friendly Restaurants & Hotels
Posted by Rob Dekanski on Monday, December 5, 2022 at 10:16:14 AM
By Rob Dekanski / December 5, 2022
Comment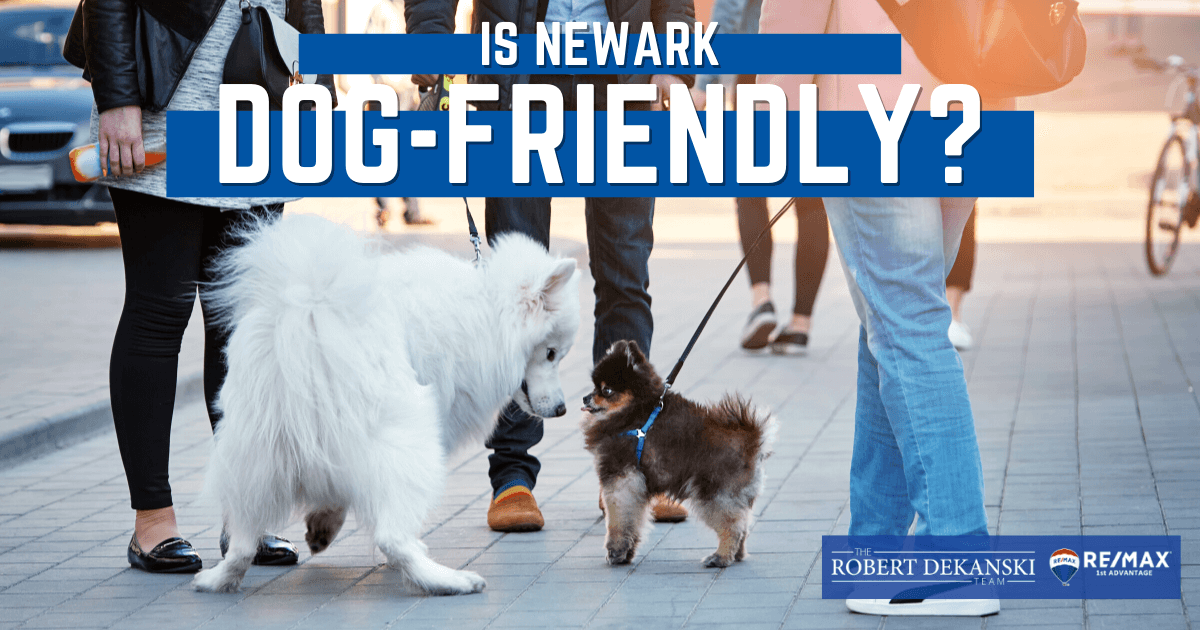 Knowing which local places allow or restrict dogs can be a top priority for dog owners planning to move, especially if their future home doesn't have much in the way of a yard for their furry friends. Dog owners in the city of Newark will be pleased to know that there are quite a few places and activities where they can bring their four-legged friends. From parks to restaurants, read on to discover a few fun things to do with dogs in Newark, New Jersey.
Dog-Friendly Activities Near Newark
Like most mid-sized cities in the U.S., Newark doesn't lack off-leash parks where dog owners can bring their pets to run and play—more on those in a moment. But Newark has some fun activities nearby where owners can bring their pets for companionship and a good time. Some are just a short drive away.
For example, there are multiple Airbnb experiences that cater to dogs in the NYC area, which is relatively easy to access thanks to the ease of driving in Newark. In New York City's Soho neighborhood, you can sit down for "Dinner with Dogs" at Chase & Papi. A chef teaches dog owners how to prepare a simple meal for themselves and a healthy snack for their dog using the same ingredients. Once the cooking is done, sit down and enjoy a meal in one of the oldest historic neighborhoods in America.
Another unique experience is "Puppy Picasso" in NYC's Washington Heights neighborhood. Owners and their dogs learn how to create a colorful canvas painting with non-toxic paints—using the dog's paws instead of a paintbrush.
Several businesses within a short drive of Newark allow owners to bring their leashed pets inside with them. These include shopping malls, breweries, and even restaurants (usually with outside patio seating). If dog owners want to enjoy a staycation near Newark, there are plenty of options to choose from.
Taking Fido For a Walk? Visit These Newark Parks & Trails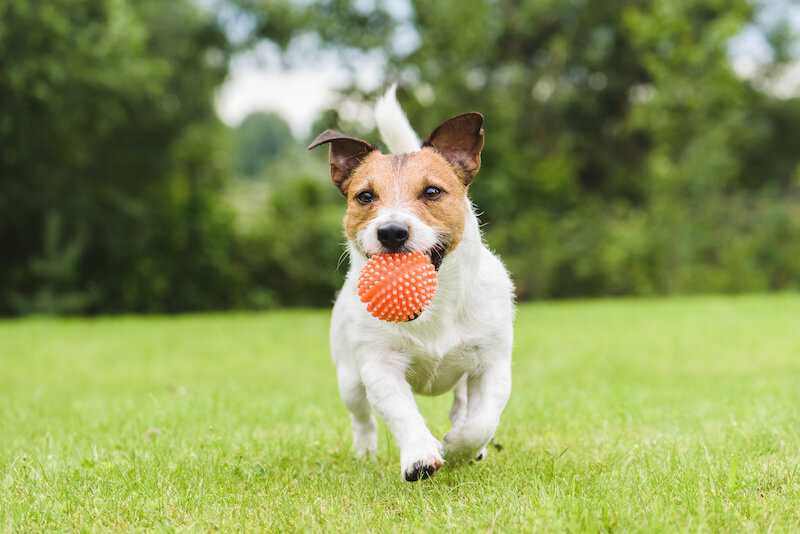 Newark provides multiple dog-friendly parks and trails for residents. Unless otherwise designated, the Essex County Parks system requires dogs to always be on a leash.
Branch Brook Dog Park
Branch Brook Park is home to the first dog park in Newark, and it has designated areas for large dogs and small dogs. The large dog area is 19,000 square feet and has 12 individual play features on which dogs can run and climb. The 11,000-square-foot small dog zone has nine features. Pets and owners alike are sure to love it here.
Beyond the pet zones, Branch Brook Park is a highlight of the city and is listed as a Historic Place due to being the oldest county park in America. There is a large lake, sporting fields, gaming courts, four miles of dog-friendly trails, and playgrounds. April brings about the blooming of the park's lovely cherry trees, and there are annual festivals to celebrate this and other events at Branch Brook Park.
Branch Brook Dog Park Additional Information
Address: Branch Brook Dog Park, Branch Brook Park Drive, Newark, NJ 07107
Phone: 973-268-3500
Hours: 8 a.m. – 8 p.m.
Kearny Dog Park
Kearney Dog Park is rather small, but it packs plenty of fun with separate pup play areas. The small dog fenced-in area is for dogs 25 pounds and under. There is a three-dog limit, and an adult must accompany them. Kearny's dog area is tucked within the Kearny Riverbank Park near South Midland Avenue on Passaic Avenue. Anyone looking for a quieter dog park than usual might prefer this hidden gem.
Kearny Dog Park Additional Information
Address: Kearny Dog Park, 479 Passaic Ave, Kearny, NJ 07032
Phone: 201-955-7400
Hours: 9 a.m. – Dusk
South Mountain Reservation Dog Park
The South Mountain Reservation Dog Park in the town of Maplewood has fantastic areas dedicated to dogs, both small and large. Dog owners and trainers come here to take advantage of the various agility courses used for skill development and recreation.
There are benches and large rocks for observers to sit on and a shaded area with several shade trees. Water fountains for pups and people are available. One unique thing about the park is the smart closing gates that allow only one to be open at a time to prevent escapes.
South Mountain Reservation Dog Park Additional Information
Address: South Mountain Reservation Dog Park, 10 Bear Lane, Maplewood, NJ 07040
Phone: 973-268-3500
Hours: 7 a.m. – 8 p.m.
Brookdale Dog Park
The Brookdale Dog Park in the town of Montclair is a smaller section of its namesake park. Folks love visiting here due to the convenience of having separate dog areas, agility installations, running water, and waste bags available at no cost. Outside the dog park, leashed dogs can join owners on the walking and jogging trails, meander through the groves or relax in the shade on the lawns. Brookdale Park also has track facilities, an archery range, sports fields, and playgrounds.
Brookdale Dog Park Additional Information
Address: W. Circuit Drive, Montclair, NJ 07042
Phone: 973-268-3500
Hours: Dawn – 8 p.m.
Lincoln Park Dog Run
Another quieter and smaller dog park near Newark is Lincoln Park Dog Run in Jersey City. It is located in a secondary area near the park's basketball, football, and soccer fields.
There are separate areas for large and small dogs, and both are well-maintained and spacious. Pets love this off-leash park with water zones, including a playful fire hydrant. There are restrooms for humans next to the long bridge that is crossed to access the park. The park is open daily, offering free parking and admission.
Lincoln Park Dog Run Additional Information
Address: W. Park Drive & Lakeview Drive, Jersey City, NJ 07306
Phone: 201-915-1388
Hours: Dawn – 8 p.m
Woodbridge Dog Park
Located in the Sewaren community, Woodbridge Dog Park is located near the lovely Alvin P. Williams Park. The dog park here has dedicated small and large areas with high fences and benches for owners. In and around the fenced zones are plenty of water fountains for dogs and people.
There is a good array of agility equipment that animals love to run, play, and train on. A gazebo is nearby, and the water in the park is refreshing on summer days. Next to the larger pup pens, there is a field perfect for playing catch or breaking out a ball launcher for some extra thrills.
Woodbridge Dog Park Additional Information
Address: Woodbridge Dog Park, 597-699 Cliff Rd, Sewaren, NJ 07077
Phone: 732-745-8090
Hours: 7 a.m. – 9 p.m.
Grab a Bite With Your Pup at These Dog-Friendly Newark Restaurants
Newark has several outdoor patio dining options available if a pet owner feels like grabbing a bite to eat at a dog-friendly restaurant. Dogs are typically allowed so long as they're leashed and well-behaved.
The famed Hell's Kitchen Lounge on Lafayette Street is another dog-friendly dining option. Some of their side dishes are crafted to cater directly to dogs, and they provide water bowls during meals. The restaurant hosts an annual event called "Woofstock" to raise money for shelter animals.
Dario's Tex Mex, located on Academy Street, serves Mexican cuisine. They're fine with dogs in the outdoor patio area if they're docile and polite.
Two of Newark's iconic restaurants on Ferry Street in the Ironbound neighborhood are also dog-friendly. Iberia Tavern & Restaurant has outdoor seating, and the staff will even provide a water bowl for your dog during the meal. Fornos of Spain also has outdoor seating areas and doesn't mind dogs during warmer weather months.
For owners who want to try some craft beers and bring their dogs along on a trip to NYC, there are more than 40 breweries on Long Island that can be enjoyed on the NYC Dog-Friendly Breweries Tour. It's hosted through Airbnb and is a great way to get to know the Queens area.
Bring Your Dog Along When Shopping Near Newark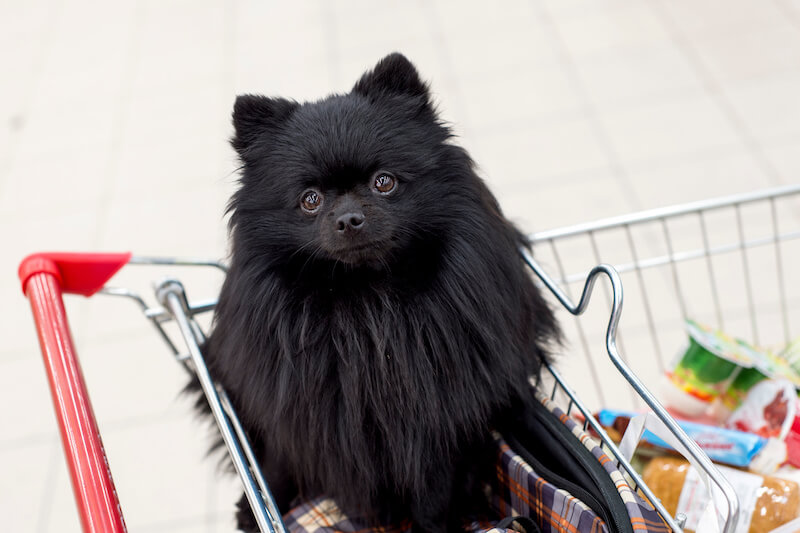 For those who want to take their dog shopping in Newark, most options will require a short drive. One of the most popular ones is The Mall at Short Hills. To get there, take I-78 west of Newark and then head north on the Morris Turnpike. Take Exit 70 to get off the freeway right at the mall.
There are a few things to know about The Mall at Short Hills. While the mall itself allows leashed dogs inside the common area, not all stores do. Owners should ask at the entrance to each store whether they can bring their dogs inside. It's one of the biggest malls in New Jersey, with 150 shops, so many options are dog-friendly. However, the dogs do have to be in carriers, so the experience is primarily for small dogs. The mall provides complimentary doggy strollers for pets that weigh less than 20 pounds.
Other than The Mall at Short Hills, the dog-friendly shopping options in the Newark area are typically major retailers. Petco and PetSmart, for example, have always allowed owners to take their dogs inside if they're leashed and well-behaved. Macy's and Nordstrom allow dogs inside, which a lot of shoppers don't realize. However, policies sometimes change, so it's a good idea to confirm before bringing your dog along.
The Metuchen Farmers Market, located near Metuchen homes about 30 minutes south of Newark, is another dog-friendly shopping adventure for owners who don't mind going for a short drive.
Pet-Friendly Lodging When Staying in Newark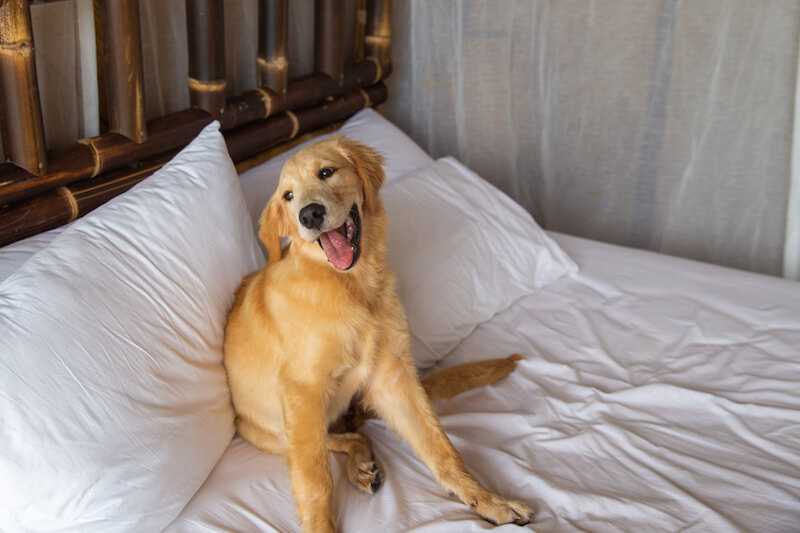 If dog owners want to take a "staycation" in Newark or need a hotel room for any other reason, there are many pet-friendly lodging options. Note that dogs must be on a leash when they are outside the guest rooms in most cases. If they're left unattended in the room, they generally need to be in a crate.
The Hilton Newark Penn Station is a popular choice for dog owners. They allow dogs up to 75 pounds in weight (one pet only), and provide a pet kit for dog owners, including a large doggie pillow. The hotel is located at the Gateway Center on Raymond Boulevard.
The Hotel Indigo Newark Downtown, located on Broad Street, is another great pet-friendly hotel. They allow one dog up to 50 pounds in weight.
The DoubleTree by Hilton Hotel Newark Airport is located on Frontage Road and allows pets. If the dog is a service animal, there is no additional fee. Dogs are only allowed on certain designated floors of the hotel. They allow up to two pets per stay, so long as they weigh 40 pounds or less.
The Homewood Suites by Hilton Newark Cranford is located just south of Newark. Dogs weighing less than 50 pounds are welcome in this hotel, and service animals stay free.
Newark, NJ is a Dog-Friendly Community
Many business owners and the city government in Newark realize that a dog is a major part of its owner's life. Whether owners want to go out to eat and order a side of bacon for their pet at the Hell's Kitchen Lounge or take their pet for a walk along Branch Brook Lake, those moving to Newark will find that Newark welcomes its new four-legged residents.
If you're looking for the right place to live in Newark, contact The Dekanski Home Selling Team of RE/MAX 1st Advantage with New Jersey Real Estate Network at (800) 691-0485 to get in touch with a Newark real estate agent who can help you find your ideal Newark home today.