8 Best Middlesex County Cities: Which Middlesex County Town Is Your Favorite?
Posted by Rob Dekanski on Thursday, February 24, 2022 at 9:00 AM
By Rob Dekanski / February 24, 2022
Comment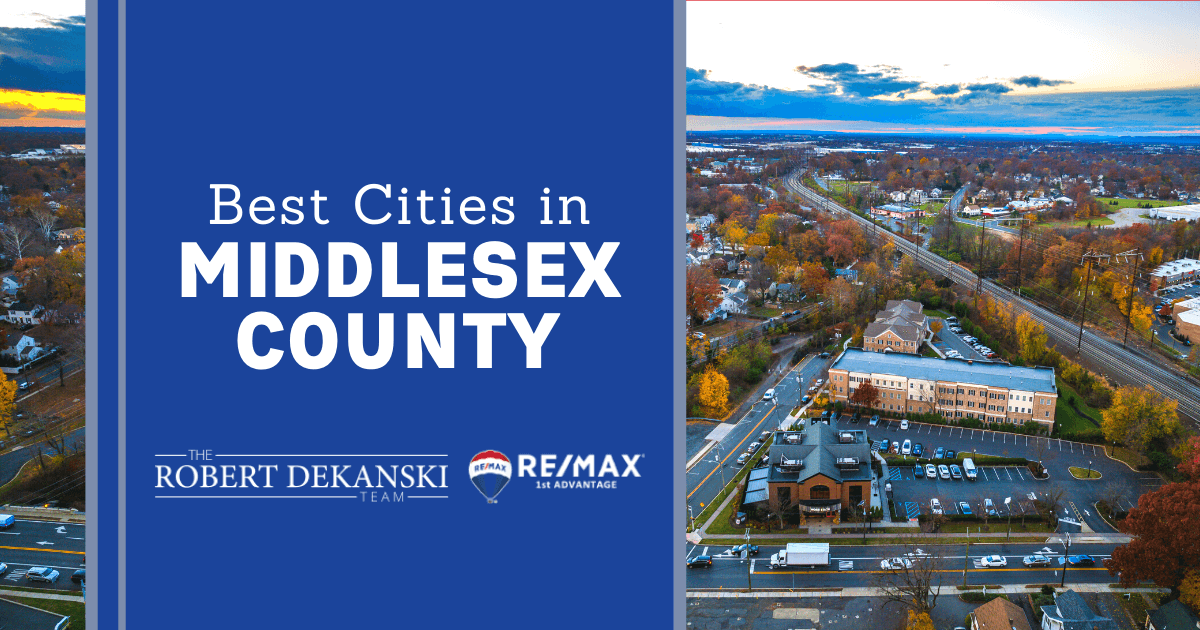 New Jersey is a well-balanced state. From the mountains and dense forests of the northwest to the beaches and marshes of the Jersey Shore, the Garden State has a tremendous amount to offer its residents. Among the best places to explore is Middlesex County, a vibrant central New Jersey county full of incredible towns. Keep reading to learn about the eight best cities in Middlesex County.
Cranbury
Cranbury Amenities
Central location
Preserved 18th/19th-century historic district
Numerous parks and green spaces
Those looking to be centrally located within New Jersey may find the home of their dreams in Cranbury. Located at the southwestern edge of Middlesex County, the township is about the same distance from New York City and Philadelphia, a drive of about one hour. For outdoor fun, residents can make a quick trip to Jersey Shore beaches in the city of Asbury Park and the Long Branch area or venture out to the mountains of northwestern New Jersey.
As for Cranbury itself, it boasts a rich history and heritage, including 18th-century buildings in the township's designated historic district, part of the National Register of Historic Places. In addition, this area is home to popular local restaurants like the Cranbury Inn and Teddy's Luncheonette. Residents can also enjoy numerous parks and green spaces like Village Park near Brainerd Lake.
Cranbury homes for sale run the gamut when it comes to age. Some historic homes date back to the 1800s, while others were constructed as recently as the last decade or two. Many were built in the post-World War II building boom of the 1950s and 1960s. Homes are typically three to four bedrooms with a similar number of baths, from as little as 1,200 square feet to more than 3,000 square feet. Prices generally start in the low $600,000s and can reach the high $800,000s up to a million or more in some cases.
Edison
Edison Amenities
Housing for all budgets
Easy access to highways/local mass transit
Thomas Edison Center at Menlo Park
Roosevelt Park
Plainfield County Club
Edison takes its name from famed inventor Thomas Edison, whose Menlo Park laboratory (now a museum) was located in the town when it was still known as Raritan. But the town's history dates back hundreds of years before that - it's been settled since the late 1600s. These days, it's among the most populated cities in New Jersey, with a thriving economy and high quality of life. It's home to the Raritan Center, the largest industrial park in the eastern United States, and NJ Convention and Exposition Center.
Residents can take advantage of numerous shopping corridors and the Menlo Park Mall, which offers plentiful dining options. Edison enjoys easy access to many state and interstate highways for quick travel around the New Jersey/New York region. It also has its own NJ Transit train and bus stop and is just a short drive from the region's Amtrak station at Metropark.
Edison real estate offers extensive options for buyers on all points of the price spectrum, from ultra-budget to high-end. Modestly sized condos can occasionally be found for less than $100,000. On the flip side, spacious four- to five-bedroom homes can quickly sell from $600,000 to more than $800,000.
New Brunswick
New Brunswick Amenities
Rutgers University
Multiple hospitals and medical facilities
Famous local art scene and theaters
Accessible transit and highway access
New Brunswick may be best known as the home of New Jersey's largest college, the public Rutgers University. The school's flagship campus is spread through the northern portion of the city along the Raritan River, forming its border. More than 50,000 students bring an incredible vitality to the town, helping support a wide variety of local restaurants and bars located along Easton Avenue and George Street. New Brunswick is also home to a significant medical presence, from multiple hospitals to research facilities, giving rise to one of its nicknames, the Healthcare City.
The town also has a thriving arts community, with venues like the award-winning Crossroads Theater and State Theatre. In addition to everything within the town, New Brunswick is also popular with commuters to New York City or other northern New Jersey spots, thanks to its excellent NJ Transit services and easy access to the region's highways.
Real estate in New Brunswick consists of a mix of condominiums and townhouses alongside single-family detached houses. Condos and smaller or older homes can be found starting as low as the $200,000s. Typical single-family homes start in the high $300,000s up to the $600,000s. However, New Brunswick luxury homes or high-end condos can sell for $1 million or more.
Metuchen
Metuchen Amenities
Small, walkable community
Thriving downtown shopping and dining district
Multiple parks and community green spaces
NJ Transit station
Metuchen is among the rare communities entirely encircled by another municipality (in this case, Edison.) Still, this small city of less than three square miles packs a ton in. Residents can enjoy numerous smaller neighborhood parks, including the Middlesex Greenway, a mixed-use trail to nearby Woodbridge Township.
Virtually everyone is within walking distance from the thriving downtown district, primarily located around Main Street and New Street. Delicious food choices include Thai at Phattra Thai to comfort food classics at Metuchen Diner. Those who enjoy staying active can take advantage of the Sportsplex at Metuchen, a multiuse facility with a gym that hosts youth and adult sports leagues and programs. Many residents commute to New York City or nearby New Brunswick, both simple trips via NJ Transit and numerous area highways.
Townhouses and single-family detached homes make up most of Metuchen real estate. Smaller one- to two-bedroom properties can be found in the $200,000-$300,000 range, while larger homes span a much broader price range, from around $400,000 to $1 million or more.
Old Bridge
Old Bridge Amenities
Raritan Bay waterfront
Cheesequake State Park
Raceway Park
Easy Garden State Parkway access
Located along the southeastern edge of Middlesex County, Old Bridge Township comprises several smaller communities, including Brownville, Laurence Harbor, and Madison Park, in addition to the town of Old Bridge itself. Laurence Harbor is home to the area's waterfront, including Old Bridge Waterfront Park and Laurence Harbor Beach, which provide access to the Raritan Bay. Nearby, Cheesequake State Park offers opportunities for camping, kayaking, and other outdoor pursuits, as do the area's many preserves and green spaces.
Residents can also get a thrill at the drag races and other events at Raceway Park. The Garden State Parkway snakes through the eastern edge of the township, providing easy access for residents to the shore, South Jersey, and the North Jersey/New York City area alike.
Thanks to the varied communities that make up Old Bridge real estate, would-be homeowners have a wide variety of housing choices, from significant condo developments to smaller duplex-style homes to larger detached single-family properties. Condos, townhouses, and smaller homes start just under $200,000. Medium to large-sized single-family detached homes tend to start in the mid-$300,000s and reach the $600,000s. However, it's not uncommon for larger or luxury property prices to start at $800,000 and span upwards of $1 million.
Highland Park
Highland Park Amenities
Extensive Raritan River waterfront, including parks
Diverse local cuisine
Close to New Brunswick and Edison amenities
Another small Middlesex County community that packs excellent benefits to residents, Highland Park, is located just across the Raritan River from New Brunswick. With nearly two and a half miles of riverfront, residents have plenty of opportunities to enjoy this beautiful natural feature, including at Donaldson Park. This waterfront park includes a boat ramp, sports fields, playgrounds, picnic areas, and more.
The main thoroughfare of Raritan Avenue is lined with more than a dozen restaurants showcasing international cuisine from Thailand, Greece, Turkey, Mexico, Japan, and more. On top of all this, the attractions, shopping, and dining of Edison and New Brunswick are just minutes away. Highland Park is also a popular bedroom community for these areas and Philadelphia and New York City.
Highland Park real estate primarily consists of single-family detached homes and townhouses with fewer condos and other multifamily communities. Some are historical, including those in the Livingston Manor Historic District. Most homes sell from the mid-$300,000s to more than $600,000. They typically contain three to five bedrooms and one and a half to three and a half bathrooms, ranging from less than 900 square feet to over 2,000.
Woodbridge Township
Woodbridge Township Amenities
Numerous distinct communities
Easy access to major roadways
Metropark mass transit/Amtrak station
Those with a daily commute into New York City will love the Woodbridge Township, one of the largest in the state. New Jersey's oldest original township (dating back to 1669) contains several distinct communities, including Avenel, Colonia, Fords, Iselin, and Woodbridge itself, among others. Located just across Arthur Kill from Staten Island, the township is also the site of the intersection of the Garden State Parkway and New Jersey Turnpike, the state's two most prominent roads. It's also the home of the Metropark Amtrak/NJ Transit station. In addition, shoppers will love the massive Woodbridge Center Mall, the state's third-largest. Those who like to get outside will enjoy numerous parks, including the popular Heards Brook Park and Merrill Park.
Woodbridge homes for sale vary widely over price ranges and by area of the community. Roughly half of the residents live in condos and townhomes, while the rest enjoy single-family detached homes. Condos and townhomes can be found from the high $100,000s to the high $200,000s. Single-family detached homes start around $300,000 but can reach as high as the $700,000s, with most in the middle of that range.
Middlesex
Middlesex Amenities
Moderately priced housing
Numerous local parks
The thriving local restaurant scene
Quieter community further removed from dense areas
The city that gives Middlesex County its name is also one of the area's top communities. This relatively compact town on the county's northwestern edge is centered around State Route 28 (Union Avenue/Bound Brook Road), which bisects the area and is home to many local services and amenities. Residents can enjoy the Garden State's farm-fresh produce from the Route 28 Farmers Market or grab a local beer at Ashton Brewing Company. Despite its less than four-square-mile size, it's home to numerous parks, including Victor Crowell Park.
Homes for sale in Middlesex are mostly limited to detached single-family houses, with a small number of condos and townhomes or other multifamily properties. Homes start in the mid-$200,000s and stretch to half a million dollars or more. They can vary widely in size over this price range, from two bedrooms with less than a thousand square feet to five bedrooms with more than double that amount of space.
Amazing Cities are Waiting in Middlesex County
Anyone moving to Middlesex County will find that it's one of New Jersey's most desirable areas, with many communities for homebuyers of all tastes and budgets. From the hustle and bustle of Rutgers and the medical community of New Brunswick to the peaceful waterfront of Old Bridge and everywhere in between, these eight communities genuinely showcase the best of the central New Jersey region.
If you're ready to call Middlesex County home, contact The Dekanski Home Selling Team of RE/MAX 1st Advantage with New Jersey Real Estate Network at (800) 691-0485 to get in touch with experienced real estate agents and find your ideal Middlesex County home today.