Things to Do in Middlesex County: Fun Activities This Weekend in Middlesex County
Posted by Rob Dekanski on Friday, February 25, 2022 at 9:10 AM
By Rob Dekanski / February 25, 2022
Comment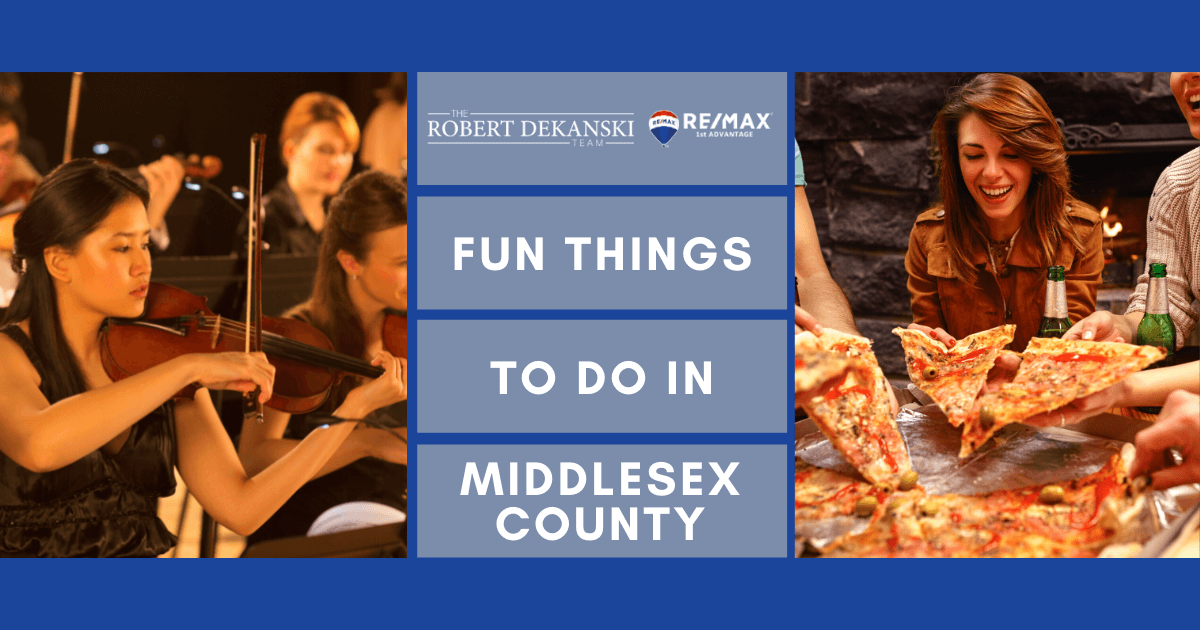 There's nothing quite like moving to a new area. It can feel like new senses of opportunity and adventure are on the horizon, with many things to be discovered. Everything from outdoor entertainment to new recreations to trendy eating locations is waiting for new homeowners.
Newcomers to the Middlesex County, New Jersey area, have plenty of exciting things to entertain themselves with and places to discover while they settle into their new home. Middlesex County is well-known for being a thriving county, so excitement and things to do are never far away. Keep reading to discover some of the many things to do in Middlesex County, New Jersey.
Middlesex County Outdoor Adventures
One of the things that Middlesex County is best known for is the amazing outdoor adventures available year-round. The county prides itself on having beautiful public parks, trails, and recreational activities. Residents and visitors can enjoy these areas all year, as they offer summer and winter amusements.
Parks
Parks in Middlesex County
Bicentennial Park
Jamesburg Park
William Warren Park
Buccleuch Park
Merrill Park
Fords Park
Middlesex County has a large system of public parks. Some of the highlights include Donaldson Park in the Highland Park community, which has a nature pond, sporting fields for soccer, baseball, and tennis, and an off-leash dog area to explore with your best furry friend. Another standout park to visit is Roosevelt Park in the city of Edison, with tennis and basketball courts, playgrounds, a skating rink, an outdoor theater, and lake fishing opportunities.
Those looking for a great place to bring the kids can take them over to Johnson Park in the Piscataway community, which contains three different playgrounds and many water features. The park also has many sporting fields and picnic groves, making it a great place to spend the entire day.
Water Recreation
Water Sources in Middlesex County
Raritan River
Raritan Bay
Duhernal Lake
Lake Tarnofsky
Farrington Lake
Middlesex County has several bays, lakes, rivers, and public pools, opening up many water recreation opportunities for those who want to get out in the surf and soak up the sun.
Crystal Springs Family Waterpark in the city of East Brunswick has fun activities for children and adults, including a lazy river, water slides, activity and kiddie pools, and spray features. Additionally, those who like fishing and boating will find many lakes and ponds to enjoy in Middlesex County, like Davidson's Mill Pond, the New Brunswick Landing, and the Raritan Bay Waterfront Park.
Hiking & Biking Trails
Trails in Middlesex County
D&R Canal State Park Trail
Farrington Lake Trail
Hidden Pond Trail
Mill Pond Trail
Middlesex Greenway
Miles of hiking, running, and biking trails in the Middlesex County area are available to all experience levels. Outdoor enthusiasts can enjoy picturesque winter hiking in the Jamesburg Park Conservation Area while getting a chance to see some beautiful plants and wildlife. Or, they can head over to Ireland Brook Conservation Area to explore all the brooks and streams in the woods.
Davidson's Mill Pond Park in the North Brunswick community has more strenuous switchback trails to consider for those who wish to step up their challenge. Cheesequake State Park offers overnight camping sites for those who want to try multi-day hiking trips. Bikers will enjoy the Barnegat Branch Trail that follows a former New Jersey Central Railroad branch.
Never worry about how you can explore the great outdoors in Middlesex County. With so many opportunities available, there's no doubt that any new homeowner in the Middlesex County area can find outdoor entertainment and get the most of nature, no matter what time of year it is or what interests them.
Middlesex County Shopping
Malls in Middlesex County
Brunswick Square
Midstate Mall
Middlesex Shopping Center
Wick Shopping Plaza
North Brunswick Plaza
Things to do in Middlesex County aren't limited to outdoor adventures. The thriving residential and business areas provide many shopping opportunities for residents and visitors to explore malls and local boutiques.
Check out Brunswick Square for many major retailers and dining options or the Woodbridge Mall, where visitors can enjoy shopping in one of the biggest malls in the United States. Or, Middlesex County residents can try the unique Menlo Park Mall in the heart of Middlesex County to enjoy the architecture and shopping opportunities.
Those who want to support small businesses can explore the local shopping areas, downtowns, plazas, and boutiques offering one-of-a-kind wares and specialty products. Check out FK Living in the Metuchen community for unique gifts or head over to Serendipity Bath & Body for handmade and luxurious beauty products.
Middlesex County Restaurants
Restaurants in Middlesex County
Jozanna's
Cahoot's
Fiddleheads Restaurant
Terras Ceviche
Lola Latin Bistro
Gusto Grill
Middlesex County is experiencing a culinary rise, offering exciting restaurants in every cuisine one can imagine. There's something for every stomach in the Middlesex County area, from classic Italian eateries to trendy up-and-coming restaurants.
Those who want an upscale dining experience can visit the Portuguese Fisherman for incredible Mediterranean flavors and stunning steaks. Additionally, the romantic Cafe Luna for Italian fare is sure to delight. Those who would rather head out for brunch instead of dinner can explore the menu of Cafe Seventy-Two for sweet and savory options.
Many long-standing restaurants in Middlesex County have been serving food for years, like the Metuchen Inn, which has been in operation since 1843, serving delicious food and wines to guests.
Arts & Culture in Middlesex County
As part of the New York Metropolitan area, Middlesex County is full of arts and cultural activities that delight any resident or visitor. Everything from stunning theater performances to museums are available for those who want to expand their minds and enjoy new experiences.
Museums
Middlesex County Museums
Cornelius Low House
Rutgers Geology Museum
Thomas Edison Center
East Jersey Old Town Village
Many different museums are in the Middlesex County area, from revolutionary-era homes to science and engineering buildings. The Cornelius Low House was built in 1741, and the Isaac Onderdonk House was built in 1796. Combined with the 1739 Buccleuch Mansion, these three houses offer different glimpses into architectural and design trends over 280 years ago.
The Liberty Science Center is a more modern museum and has many exhibits for kids. The Thomas Edison Center at Menlo Park has original artifacts and presentations centered around Edison and his life, along with many nature trails and school-trip opportunities.
Art Galleries
Middlesex County Art Galleries
Boro Art Center
Adir Gallery
Cranbury Station Gallery
There are also art galleries in the Middlesex County area awaiting exploration. Check out a wide collection at the Zimmerli Art Museum at Rutgers University, one of the most renowned university-ran art institutions in the country. The 70,000-square-foot building features upwards of 60,000 pieces from a vast range of periods, cultures, and styles. The museum is open to the public from noon until 5 p.m. on Saturdays and Sundays, 11 a.m. to 6 p.m. on Wednesdays and Fridays, and 11 a.m. to 8 p.m. on Thursdays. The space is closed on Mondays and Tuesdays.
Fine art enthusiasts are sure to love the Alfa Art Gallery in the Downtown New Brunswick area. This space hosts rotating visual art exhibits in various media, including paintings, photography, sculpture, glasswork, and more. Live performances from bands and actors also occur frequently at Alfa.
Dance & Theater
Performing Arts in Middlesex County
Avenel Performing Arts Center
New Brunswick Performing Arts Center
Mason Gross Performing Arts Center
Brook Arts Center
George Street Playhouse
Middlesex County offers dance and theater programs for residents and visitors to enjoy. Everything from modern musical performances to poetry readings, ballet dances, specialty craftsman performances, and emerging artist exhibitions happen year-round, making Middlesex County a leader in the performing arts.
Check out places like the American Repertory Ballet for fantastic performances, or head over to Barron Arts Center to listen to unique music and poetry. The Cabaret Theater offers nonprofit and student productions sure to dazzle and amaze those looking for upcoming artists.
Those interested in the arts will always find entertainment in Middlesex County. With everything from historical museums to modern local art, there are many ways to explore cultural and art opportunities. Those with children can enjoy many free or discounted days to help expand their children's minds, and special tours and exhibits are always coming and going.
Middlesex County Nightlife
Bars & Clubs in Middlesex County
Perle Lounge
Huey's Knight Club
The Polo Lounge
Scarlet Pub
Chestnut Inn
Entertainment in Middlesex County doesn't just happen during the day. The nightlife in the area is sure to excite those who want to get out on the town and enjoy bars, live music, dancing, and clubbing.
Those who want to explore bar life can check out some Middlesex County favorites like Pino's Wine Cellar and Lounge to enjoy over 93 years of excellent drinks and service. Clydz has a fast-paced yet fun atmosphere sure to keep guests entertained with exciting new drinks and cocktails.
Those who want to dance the night away should look no further than Olde Queens Tavern or Scarlet Pub. With modern music and DJs, these places can entertain all night long. The Stress Factory comedy club is the place to get your laugh on. Live music venues like Tavern on George or the Blackthorn Restaurant and Irish Pub have many new and upcoming bands alongside big favorites that will let visitors get the most out of Middlesex County nightlife.
Getting the Most Out of Life in Middlesex County
Middlesex County, New Jersey, is a thriving area full of exciting entertainment, beautiful outdoor recreation, and plenty of amusements for any new homeowner. Living in Middlesex County puts you directly in a flourishing residential district while staying in the New York metropolitan area.
There's no place quite like Middlesex County, where people can live close to a major metropolitan area while still enjoying the feel of a residential neighborhood. With so much to do, those moving to Middlesex County will undoubtedly experience the full impact of the area.
If you're ready to call Middlesex County home, contact The Dekanski Home Selling Team of RE/MAX 1st Advantage with New Jersey Real Estate Network at (800) 691-0485 to get in touch with experienced real estate agents and find your ideal Middlesex County home today.