Things to Do in Monmouth County: Fun Ideas For This Weekend
Posted by Rob Dekanski on Wednesday, February 2, 2022 at 7:25 AM
By Rob Dekanski / February 2, 2022
Comment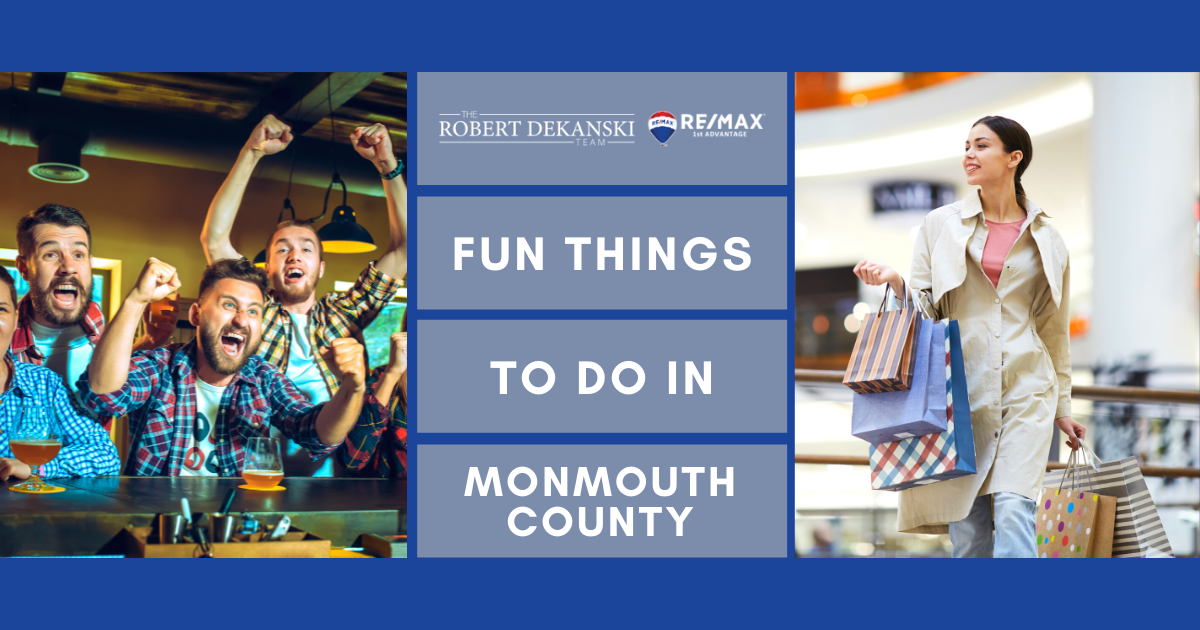 Monmouth is a hickory-forested county perched on the coast of east-central New Jersey. It's one of the state's original counties and one of the most populous, with over 600,000 residents. The area has a rich history and plenty to offer its residents, visitors, and those thinking about moving to Monmouth County. Read on to discover some of the top things to do in Monmouth County below.
Monmouth County Outdoor Adventures
Tired of the indoors? As a county in a state nicknamed the Garden State for its endless natural attractions, Monmouth County boasts its equal share of beautiful parks, water recreation, and hiking trails awaiting exploration. Here are a few to kick start any outdoor adventure:
Parks
Parks in Monmouth County
Shark River Park
Wampum Park
Thompson Park
Dorbrook Recreation Area
Monmouth County's natural parks are the best place to pursue outdoor adventures for those looking to enjoy some laidback fun without breaking the budget. Thompson Park is one such attraction. Sitting on 675 acres of land, it has nearly everything one may need for a relaxing day, from a picnic area, fishing lake, paved trails perfect for cycling, jogging, and similar activities, and an off-leash dog section. There is also a creative arts center with pottery, painting, drawing, and other art classes.
The Dorbrook Recreation area on 353 County Road 537 is another dog-friendly place and has over two miles of paved paths and a huge grassy area where dog-owners can relax during walks. Monmouth County's Sandy Hook Gate National Recreation is an excellent choice for a scenic park. The park has over 8.7 miles of trails and paths that run through Sandy Hook beaches, offering adventure-seekers an opportunity to enjoy their adventurous pursuits while enjoying incredible vistas.
Other excellent parks to check out in the county include Shark River Park, Manasquan Reservoir, Bayshore Waterfront Park, and Holmdel Park.
Water Recreation
Water Sources in Monmouth County
Sandy Hook Bay
Navesink River
Manasquan River
Shark River
Swimming River Reservoir
Assunpink Lake
As a county set by the coast of central New Jersey, Monmouth County doesn't disappoint regarding water recreation. The region boasts plenty of beautiful beach areas such as Avon-by-the-Sea, a quiet borough with stunning views of the Atlantic Ocean, and Allenhurst, another borough lined with great restaurants offering plenty of water recreation opportunities.
Besides great beaches, Monmouth also has a long string of lakes, such as the Assunpink Wildlife Management Area, featuring three lakes perfect for fishing, boating, and other water recreation. The 1200-acre Manasquan Reservoir in Howell Township also offers fishing, kayaking, and boating opportunities.
Hiking & Biking Trails
Hiking and biking enthusiasts in Monmouth County can choose from a ton of trails that support such activities. A few examples include:
24-mile Henry Hudson Trail
2.5 miles at Big Brook Park
7 miles at Clayton Park trail
2.6 miles at Freneau WoodsPark
3.3 miles of hiking and biking trails at the Dorbrook Recreation area
13.2 miles of trails at Thompson Park
Monmouth County doesn't run short of natural attractions. They range from large, well-maintained parks like Thompsons Park to small, water recreation opportunities thanks to the miles of shoreline and beaches to rivers and hiking trails.
Monmouth County Shopping
Shopping Centers in Monmouth County
Monmouth Mall
Shrewsbury Plaza
Freehold Mall
The Grove West
Outlets Tinton
Freehold Raceway Mall
Retail is one of the primary economic activities in Monmouth County. As a result, the region has plenty of world-class shopping destinations to show for it, such as the Monmouth Mall in the Eatontown community. It's one of the largest shopping malls not just in the county but in the state of New Jersey, spanning about 1,500,000 square feet. The mall has over 150 stores and restaurants and includes popular brands such as Pandora, Barnes & Noble, Planet Fitness, and Gamestop.
The Freehold Raceway Mall in Freehold Township is also another popular shopping destination. Located by one of the country's oldest daytime equine race tracks, it includes a vibrant mix of brands such as JCPenney, Abercombie & Fitch, and Aldo, entertainment options like AMC Theatres, and specialty dining options such as The Cheesecake Factory, Chick-Fil-A, and Carvel.
Other popular shopping spots in Monmouth County include Sadie James Boutique, Jersey Shore Premium Outlets, Manalapan Commons, T-Mobile, The Grove, and Hamilton Marketplace.
Monmouth County Restaurants
Restaurants in Monmouth County
Huddy's Inn
Luigi's Famous Pizza
Colts Neck Inn Steak & Chop House
MJ's Restaurant Bar & Grill
Nettie's
The Cabin Restaurant
Whether someone prefers fine dining, casual dining, or a mix of both, Monmouth County has restaurants with menus to fit everyone's taste buds. Stop by Pete & Elda's Bar on 93 Summit Avenue for the best pizza ever. Also known as Carmen's Pizzeria, Pete & Elda's has been serving its renowned thin-crust and cheese-loaded pizza to Neptune City residents for over half a century now. The pies are usually 18 inches in diameter, and if someone manages to finish one in a single sitting, they'll be instantly rewarded with a T-shirt. Besides pizza, the restaurant also features a rich seafood and Italian menu and some of the best beers in the area.
To enjoy the best Asian cuisine, stop by Teak in the Red Bank community, Taka in the Asbury Park community, and Mizu 36 Asian Cuisine in the West Long Branch community. If good brunches are of interest, visit Blend on Main in Manasquan, Over Easy Kitchen in Holmdel, or My Kitchen Witch on Monmouth Beach. Simply put, you can never run out of restaurant options in Monmouth County.
Arts & Culture in Monmouth County
The arts and culture scenes are abundant in Monmouth County as well. Stop by one of the region's many museums to learn about its history, visit art galleries to explore art with the power to inspire visual imagination and personal creativity, and don't forget to see the awesome dance & theatres highlighted below and watch art come alive.
Museums
Museums in Monmouth County
The Jewish Heritage Museum
Allen House
Monmouth Battlefield State Park
The Monmouth County Historical Association Museum & Library in Freehold is one of the region's top museums. It accommodates crowds of up to 300 visitors and contains impressive exhibits such as the Washington at Monmouth painting, an extensive collection of historical and genealogical print, and documentaries in a discovery room. Other museums in Monmouth County include the Church of the Presidents, InfoAge Science and History Museums, Twin Lights Historical Society Lighthouse, and Keyport Fire Museum & Education Center.
Art Galleries
Monmouth County Art Galleries
James Yarosh Associates Fine Art Gallery
Beacon Fine Arts Gallery
Freehold Art Gallery
Art Alliance of Monmouth County
For art enthusiasts, collectors, and even other artists, the Art Alliance of Monmouth County will be a dream come true. Established in 1978, the art center has a wide selection of traditional and non-traditional art exhibits, including unique sculptures, paintings, drawings, and photography to modern-day art pieces. The gallery has over 300 members, and new members are always welcome to register.
Besides the Art Alliance of Monmouth County, other reputable art galleries in the region include The Monmouth University Galleries, La Salle Gallery, Detour Gallery, Parlor Art Gallery, and Beacon Fine Art Gallery.
Dance & Theatre
Performing Arts Venues in Monmouth County
ALGONQUIN Arts Theatre
First Avenue Playhouse
Holmdel Theatre
New Jersey Repertory Company
Performing arts such as musical theatre, professional dance, and drama promote self-discovery and expression and encourage creativity, especially in kids. Monmouth County has plenty of theatres to pursue this passion, including the Pollak Theatre at Monmouth University, which features a 700-seat theatre for live music, theatre, and dance.
Even though arts and culture isn't always the first thing that comes to mind when Monmouth County is mentioned, the region has enough museums, art galleries, and performing arts attractions to keep people entertained year-round.
Monmouth County Nightlife
Bars & Clubs in Monmouth County
Bar Bella
Le Malt Royale
Headliner Oasis
Olde Village Pub
Buteco Sports Bar
Tom's Tavern
Monmouth County has plenty of hot spots for those who enjoy listening and dancing to great music, great company, and other nightlife activities. Asbury Festhalle & Biergarten is one such hotspot. The establishment boasts a massive, 9,000-square-foot outdoor rooftop and an equally ample indoor space renowned for its premium selection of local and international craft beers. It has good DJs and regularly hosts private and special events, with revelers having the option to book private use of the entire or selected areas of the space.
Harpoon Willy's in Manasquan is another excellent option for those looking to shake a leg. The facility offers views of the attractive Manasquan River and serves a tasteful range of crafted beers, cocktails, and other great drinks, as well as delicacies like nachos, burgers, and even famous local seafood.
For dinner and dancing, stop by The Downtown in Red Bank. It is a popular bar and music venue renowned for its finger-licking sushi, pulled pork sandwich, and an impressive selection of cocktails. The Downtown is trendy and one of the best spots to enjoy Monmouth's nightlife with groups of friends.
Other superb nightlife spots to check out in the county include Buona Sera, Brickwall Tavern and dining room, T-1 Gotham, Pinot's Palette, and Yestercades.
Living in Monmouth County
Whether you're one with nature and prefer activities that bring you closer to it or are more of a brunch and nightlife person, Monmouth County has something to offer everyone. Monmouth County in New Jersey is undoubtedly an excellent place to call home, from great parks, beautiful sandy beaches, casual and fine dining restaurants, and art galleries.
If you're ready to call Monmouth County home, contact The Dekanski Home Selling Team of RE/MAX 1st Advantage with New Jersey Real Estate Network at (800) 691-0485 to get in touch with experienced Monmouth County real estate agents and find your ideal Monmouth County home today.