Vacationing in Monroe, NJ: How to Make the Most of Your Trip
Posted by Rob Dekanski on Tuesday, July 13, 2021 at 11:17 AM
By Rob Dekanski / July 13, 2021
Comment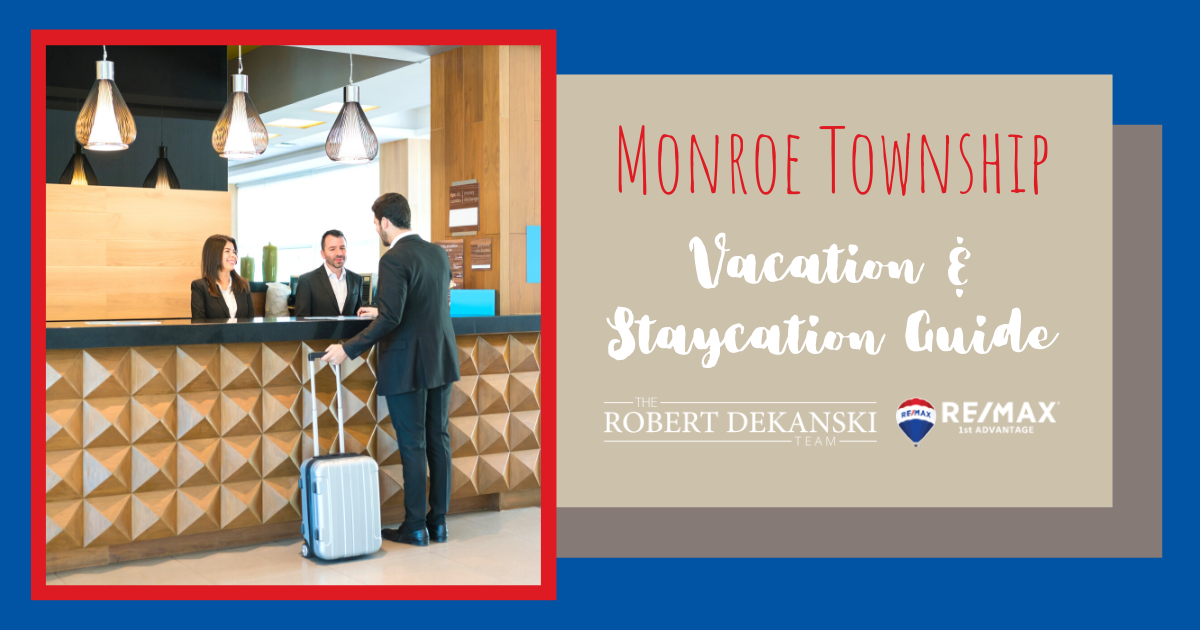 Monroe, NJ, is home to around 45,000 residents. Many are lifelong residents, while others have moved to Monroe more recently. The township itself is nestled in the heart of Middlesex County, which receives almost six million visitors annually, about 5% of New Jersey's tourism. Those visitors are all looking for a great experience, and they can find it in the Monroe community. Whether a resident is looking to escape their Monroe townhome for the weekend or visiting to find a luxurious Monroe home to call their own, there are a lot of activities to enjoy. Read below to learn how to make the most of a weekend or week-long adventure during a Monroe vacation or staycation.
Lodging in Monroe
When visitors need a place to stay in Monroe, they generally can't go wrong with the many options available. However, the three below are notable mentions that are sure not to disappoint.
Courtyard Cranbury
Courtyard Cranbury Amenities
Pet-friendly rooms
Fitness center
Valet dry-cleaning
The Bistro restaurant
Courtyard Cranbury is centrally located to all that Monroe has to offer. The modern lodging accommodations feature everything one would expect from a Courtyard by Marriott. Modern decor, free WiFi, newer mattresses, an indoor pool, and a recreation center are waiting for guests to arrive. Those who need to complete some quick business will enjoy the ergonomic workstations.
While meals aren't included in the stay, the onsite bistro offers Starbucks coffee, hot breakfast, alcoholic beverages, and delicious dinner options.
Staybridge Suites Cranbury
Staybridge Suites Cranbury Amenities
Complimentary breakfast
Fitness center
On-site laundry
In-room kitchens
Staybridge Suites Cranbury is a wonderful option specializing in extended stays, perfect for those who want a bit more time to explore Monroe. Designed as a home away from home, three suites are available for guests to select from that feature fully equipped kitchens—although the nearby restaurant accommodations may make it difficult to want to cook in when one can go out.
A complimentary breakfast buffet is available daily. Monday through Wednesday features a complimentary evening reception with cookies and drinks. All guests can enjoy the seasonal outdoor pool, fitness room, WiFi, and laundry facility.
TownPlace Suites Cranbury
TownPlace Suites Cranbury Amenities
In-room kitchens
Complimentary breakfast
Pet-friendly rooms
Fitness center
Indoor pool
TownePlace Suites Cranbury features apartment-style accommodations for guests to enjoy during their stay. With fully equipped kitchens and modern decor, guests can quickly settle in for the night or an extended stay. All closets in the suites feature designs by The Container Store, which makes organizing clothes a breeze. Guests can also take advantage of the daily continental breakfast.
During their stay, guests have access to the indoor saltwater pool and recreation center. Those who need to complete work during their stay will have large desks to work from in every suite. Furthermore, high-speed WiFi is included with every room.
Food and Dining in Monroe
Monroe is home to some of the state's most iconic restaurants. With so many available, it can be hard to decide which one is most worth a visit. The options below have something for everyone and will tantalize guests' taste buds.
Baker's American Bar & Grille
Popular Dishes at Baker's American Bar & Grille
All American Meatloaf
Chicken Pot Pie
Baby Back Ribs
Jersey Burger
Turkey BLT
Wood-Fired Pizzas
Baker's American Bar & Grille is the destination for classic American dishes and decor. With big-screen TVs always playing the day's most important games to the full bar, guests may find it difficult to leave once they've sat down. Despite having a sports bar atmosphere, Baker's American Bar & Grille welcomes guests of all ages and has a complete kid's menu.
Whether one is craving meatloaf, ribs, sandwiches, pizza, burgers, or another American classic, they are sure to find it at Baker's American Bar & Grille. Baker's is open seven days a week to serve up classic dishes.
Taqueria Maria's
Popular Dishes at Taqueria Maria's
Mole Chicken
Traditional Oaxaca
Empanadas
Enchiladas
Chiles Rellenos
Chimichangas
Taqueria Maria's is one of Monroe's best Mexican/Latin restaurants. When the team opened their doors, they dedicated themselves to providing delicious, affordable food. The owners only allow the freshest ingredients in their kitchen. Everything is made from scratch, including the 100-plus-spice mole. Each morning involves hours of prep work to ensure guests can taste the freshness in their food.
Taqueria Maria's is proud to serve vegetarian options in addition to classic meat recipes. In the owners' eyes, the goal is to see guests return week after week to enjoy their delicious dishes.
Persis Indian Grill
Popular Dishes at Persis Indian Grill
Tandoori Appetizers
Vegetable Dum Biryani
Peppery Chicken
Chicken Tikka Masala
Persis Platter
Gulab Jamun
Persis Indian Grill provides guests with North Indian, South Indian, and Indo-Chinese cuisine that sizzles on the plate and melts in the mouth. Open since 2017, the restaurant strives to showcase the best of its homeland's traditions and history. The menu includes both vegetarian and non-vegetarian options originating from all parts of India. Be sure to try the patron-favorite sizzling brownies, and get a taste of the excellent other dishes.
Attractions in Monroe
While it may be a smaller suburban area, there are still many things to do in Monroe and attractions that provide plenty of entertainment. Learn about a few of the best attractions below.
East Jersey Old Town Village
East Jersey Old Town Village is perfect for those who want to stroll through a collection of historic structures on a pleasant and sunny New Jersey day. Featuring 16 reconstructions and replicas of 18th- and 19th-century buildings, the East Jersey Old Town Village takes around one to three hours to walk through, depending on how engaged one is in each building. Most of the structures represent the farm and merchant communities of the Raritan Valley.
The Village is open year-round, but historical interpreters bring the village to life from April through October each year, providing information about the trades and crafts that took place in these buildings. The Village also runs seasonal programs.
Kelsey Theatre
Kelsey Theatre is a hidden gem that anyone will be happy to stumble upon. The intimate theatre currently hosts over a dozen resident theatre companies. Throughout the year, a range of all-ages and adult-only shows are available for viewing. There are also student shows, kid performances, and professional booked events, as well. Featuring stadium-style seating, everyone can enjoy a wonderful view from their seats. Accessible seating is reserved for the first row only. All other seats require a minimum of one step.
In addition to offering a range of shows, visitors can also sign up for workshops. Available for several age groups (including adults), individuals can test their skills and hone their voices as they come together to create private showings for family and friends. The workshops are for more than just those who want to consider theatre professionally—even those who simply want a new hobby are welcome!
Monroe Township Fall Festival and Halloween Parade
The Monroe Township Fall Festival and Halloween Parade is an annual event that occurs every October. It's put on by local businesses and volunteers who dedicate their time to creating a memorable experience for every attendee. Admission has been and will continue to remain free for years to come.
The Monroe Township Fall Festival features numerous activities for all ages to enjoy. Some fun options include hayrides, pumpkin decorating, arcade games, pony rides, and the annual pumpkin dessert competition. In addition, food from local restaurants and vendors is available for purchase around the festival.
The Halloween Parade included over 50 floats in 2019. Each year, the number of participants increases, which creates a longer parade and more fun for everyone. Judges evaluate the floats based on their theme, creativity, and music. Of course, being a Halloween parade, candy is thrown left and right from the floats for attendees to enjoy.
Outdoor Adventures in Monroe
Between the water activities and outdoor adventures, individuals visiting Monroe will wish there was more daylight to take it all in. Here are a few of the best ways to have fun outside.
Thompson Park
Thompson Park is one of the largest parks in Monroe. Spanning more than 675 acres and featuring a 30-acre lake, Thompson Park is home to a range of outdoor activities all year long. Many visitors can be found renting canoes, kayaks, rowboats, and paddleboards from the water vessel rental shop. The lake also is perfect for catching a range of fish species because it's periodically stocked by the State Division of Fish and Wildlife.
With many trails in the park, guests can hike and stroll at their leisure. Many individuals take the opportunity to stop and birdwatch, as many species of birds can be found year-round. Dogs are welcome in the off-leash Thompson Dog Park, and there are separate areas for large breeds and small breeds. Be mindful of dog park etiquette and ensure your pups know how to play nicely with other dogs.
Furthermore, Thompson Park features a zoo-like animal area. Open from dawn to dusk, the animal haven is home to a range of animals, including pigs, goats, emu, deer, peacocks, and more.
Howell Living History Farm
Howell Living History Farm is still a working farm, over 285 years after its establishment. Originally a 126-acre plot of land, the farm has grown to over 265 acres. Corn, wheat, oats, and hay are still grown by using horse-powered operations. Animals raised on the farm provide milk, eggs, and wool to New Jersey residents. Monroe residents can easily find products produced by the farm in their homes.
In addition to showing the inner workings of current farm operations, visitors can see how farming has advanced over the years. While some of the same techniques are still in use today, many advances have been made to improve efficiency and reduce the cost of certain items to the consumer. Additionally, guests may enter the historic schoolhouse, farmhouse, cemetery, blacksmith shop, gristmill, and sawmill. Not all areas of these structures can be entered, but each offers a small view of what life was like almost three centuries ago.
Keansburg Amusement Park
Keansburg Amusement Park offers guests over 40 rides ranging from tilt-a-whirls to roller coasters. For those who wish to avoid rides, plenty of arcade games are situated throughout the park, in addition to three large covered arcade centers. Boardwalk food can be found at every corner, immersing guests in the carnival experience. Parking is available on site, but it's cash only. During the week, each vehicle pays $7 to park all day. On the weekends and many holidays, the price increases to $10.
The park visitors see today is not the original. Built in 1904, the park saw many additions over the years, including the Runaway Rapids Waterpark. However, Hurricane Sandy hit in 2012, upending much of New Jersey and surrounding areas. The park was required significant rebuilding, and after many hours of work and dedication, the park reopened in 2013.
When to Visit Monroe
The best time to visit Monroe is late spring to early fall, generally from May to October. The weather is at the perfect temperature to get outdoors and enjoy everything Monroe has to offer. Many events in and around the area will occur during these months as well, which is another reason to visit. Of course, seeing the Garden State in full bloom is a given for why spring to fall is a wonderful time to visit.
Weekends can be quite crowded since locals are just as ready as tourists to experience Monroe's attractions. The winter is often cold and may produce snowfall. Those who don't appreciate cold wind or ice should consider visiting at another time of year. However, the winter months often have discounted lodging prices.
Come Visit Monroe Today
When it comes to planning a staycation, local Monroe residents truly have it all. They can quickly access the best dining, attractions, and outdoor adventures available throughout the year. They can then easily retreat to their homes to unwind after a long day. For those visiting for an evening or for a longer stay, exceptional short- and long-term accommodations await. Visitors will find that Monroe is more than a small suburban area. It's home to a rich community of culture, foodies, and history. When it comes to deciding where to live or stay, no one can go wrong with Monroe—it's a township like none other in the Garden State. Anyone who lives here or visits is quick to agree. Now the question is, what activity is at the top of the list to complete first?
If you're ready to call Monroe Township home, contact The Dekanski Home Selling Team of RE/MAX 1st Advantage with New Jersey Real Estate Network at (800) 691-0485 to get in touch with experienced Monroe real estate agents and find your ideal Monroe home today.