8 Affordable Towns in Essex County NJ: More Bang For Your Buck
Posted by Rob Dekanski on Tuesday, December 14, 2021 at 8:12 AM
By Rob Dekanski / December 14, 2021
Comment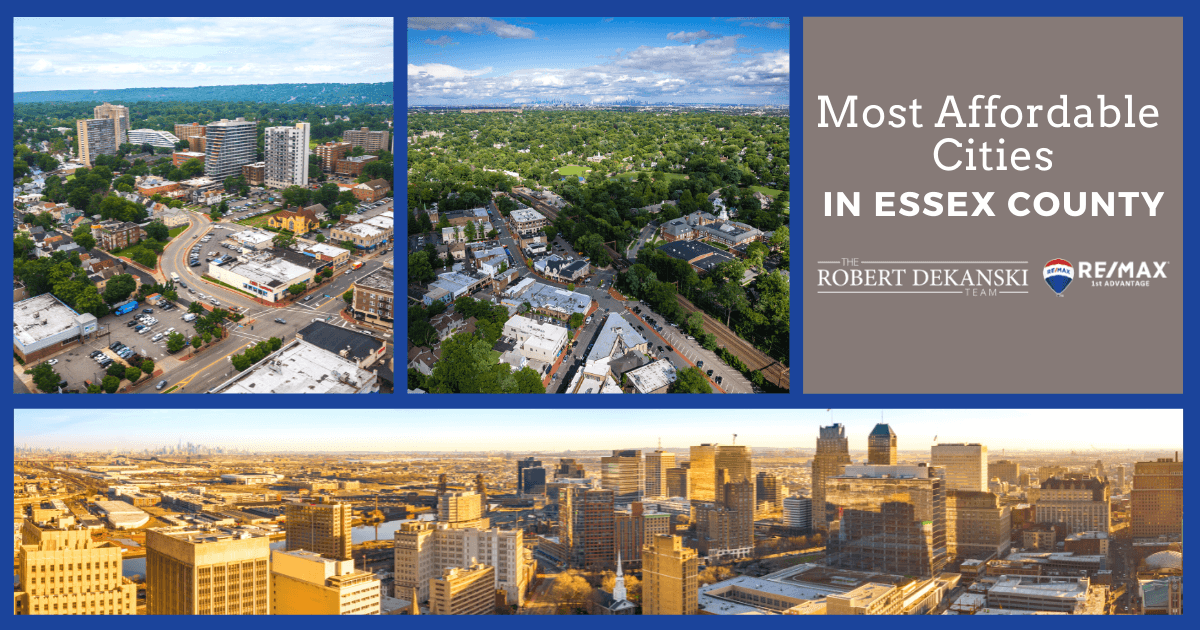 Located in the northeast section of the state of New Jersey, Essex County is the second most populated county in the state. With the county seat in Newark, Essex County is a part of the New York metropolitan area. Its central location in this metro area makes it an important hub for travel and business and gives residents quick and easy access to restaurants, shopping, and other venues not in the immediate area. In addition to the many area jobs, homes in Essex County have access to plenty of educational opportunities.
Looking for the most affordable places to live in Essex County? Keep reading to discover Essex County's most affordable cities.
Newark
Newark Amenities
Ellie's Bistro
Taste of Portugal
Fernandes Steak House
The Newark Museum of Art
First settled in 1666, the city of Newark has grown to be New Jersey's biggest city. Newark is divided into 20 distinct neighborhoods, each having its own vibe. The most prominent of these is the neighborhood of Forest Hill, which is a part of the city's historic district. As for the largest by population, the neighborhood of North Ironbound holds this distinction.
Homes in Newark usually range from the low $100s in the most affordable Newark neighborhoods to as high as over $1 million. With many two-and three-story houses in the city, many homes have anywhere from one to eight bedrooms, though some studios are also available.
Many of the restaurants in Newark are centered around the city's downtown area and include Iberia, which has a distinctly European flair to its menu; The Green Chicpea, featuring a variety of kosher Middle Eastern food; and Casa d'Paco, a tapas bar and restaurant serving Spanish dishes and desserts.
Other popular locations include Krugs Tavern, a family-owned and operated establishment that opened in 1932; Barcade, featuring classic arcade games and brews; and QXT's Night Club, offering cutting-edge dance music in a variety of genres, such as alternative, EDM, and new wave.
Orange
Orange Amenities
Hat City Kitchen
Sarrah's Café
Monte Irvin Orange Park
Gaslight Brewery & Restaurant
The city of Orange was initially a part of Newark before deciding to become a separate entity in 1806 and becoming a city in 1872. Orange is divided by Interstate 280, also known as the Essex Freeway, giving residents easy access to the rest of the state of New Jersey and beyond.
Homes for sale in Orange generally start at around $100,000 and can go up to around the mid-$800s. Home sizes range from one bed and one bath to 13 beds and five baths. Home types in the various neighborhoods in the city are usually two to three stories high, including some townhomes.
Orange also has a variety of local eateries to choose from, including Libretti's, an Italian restaurant with karaoke and live music; Danie Restaurant, serving a mix of Haitian and Latin cuisine; and D' 3fold, featuring homestyle fried chicken, BBQ beef ribs, and seafood.
Local bars and taverns include Dillon's Tavern, which has food, beer, and a variety of bar games; Castaway Restaurant & Bar, a family-owned bar and restaurant with West Indian and Chinese fare; and Star Tavern, in operation for over 65 years, serving delicious thin-crust pizza and other menu items.
East Orange
East Orange Amenities
Watsessing Park
Thomas Edison National Historical Park
Tasha's Caribbean & Soul Restaurant
The Fox & Falcon
The city of East Orange, naturally, lies directly to the east of the city of Orange. East Orange is known for its wide, tree-lined streets and spacious homes. It gets its nickname, "The Crossroads of New Jersey," due to its location at the intersection of the Garden State Parkway and Interstate 280.
Homes in East Orange typically start at the low $100s or less for condos to about $800,000 for a larger nine-bed, seven-bath home. Like many places within Newark County, houses in East Orange tend to be two to three stories.
Some popular area restaurants include the Soul Food Factory, serving a variety of soul food dishes in a stylish environment; Fatu's Kitchen, a West African restaurant offering authentic African food; and The Gyro Platter, a Mediterranean grill with a variety of Greek dishes, sides, and Baklava for dessert.
Other area locations include South Beach Bar & Grill, offering Miami-inspired dishes along with Latin fusion cuisine and cocktails; Gaslight Brewery & Restaurant, with a variety of burgers and pizza; and Oak Barrel Pub, a casual bar and family-friendly establishment serving traditional pub food and alcohol.
Irvington
Irvington Amenities
Marlo's Cocktail Lounge
ShopRite
Snipes
Brooklyn's Pizza
Named in honor of writer Washington Irving, the township of Irvington is located in the southern part of Essex County. Irvington is bisected by the Garden State Parkway, which gives residents access to big-city amenities but still provides homeowners with the peace and quiet of the suburbs.
Homebuyers can generally find 3-bedroom homes in Irvington in the low-to-mid $100s to the mid-$400s or higher for the many two-and three-story homes in the area. House sizes range from large 11-bed multi-family homes to smaller, two-bed dwellings.
Some available restaurants are Garden City Restaurant, offering dishes from Ghana, Sierra Leone, and other areas; Lucky Star Chinese Kitchen, which has a choice of many different Chinese favorites; and Abby's Deli, a small, local delicatessen that serves a variety of specialty sandwiches.
Residents also can enjoy many other area attractions and locations, including Irvington Park, a roughly 24-acre green space in the heart of the city; Mugs Pub, a local eatery and pub with a wide array of drinks and bar favorites; and Turtle Back Zoo to the northwest. The zoo seeks to provide education in wildlife and the conservation of wildlife for the residents of the surrounding region.
Belleville
Belleville Amenities
Michael's Roscommon House
Luna Wood Fire Tavern
Mickey's Bar & Grill
Viva La Beauty
The township of Belleville considers itself the "Cherry Blossom Capital of America" due to the large number of cherry trees in the area. Belleville is found north of the town of Newark and east of the city of Orange, NJ.
Homes in Belleville usually start in the low $100s and can go up to around $750,000 in price. When it comes to size, homes in Belleville generally range from two beds and one bath to six beds and three baths. Most houses in the area are two to three stories tall.
When it comes to restaurants, Bellville has a wide selection to choose from, including Belmont Tavern, an Italian-food restaurant in the southern part of the township; Brix Restaurant & Pizza Bar, which has its own covered heated patio for outdoor dining rain or shine; and Mi Tierra Restaurant, serving Dominican Caribbean food.
Shopping in Belleville is also close by, with such retailers as State Fair Seasons, a local costume shop and party store, and Krauszer's Food Store, a local grocery store. Local bars include JK's Boathouse, which has drinks, food, and live music; The Whiskey Priest, a rustic gastropub; and Core's Tavern, which has been serving area residents since 1936.
Bloomfield
Bloomfield Amenities
Six Points Pub
Easy Pickins
Core's Tavern
Fitzgerald's 1928
Surrounding the Bloomfield Green Historic District, the township of Bloomfield served as a drilling site for soldiers during the American Revolutionary War. Bloomfield lies to the north of the city of Newark and is on Essex County's border with neighboring Passaic County.
Homes in Bloomfield typically cost anywhere from the low $100s to upwards of $800,000. Home sizes can range from as small as one bed with one bath to eight beds with three baths. Home types include two- and three-story models.
Bloomfield residents have access to a variety of parks, such as Watsessing Park, offering area residents access to a variety of athletic fields, a playground, and a bandstand; Brookside Park, which has a gazebo, lighted walking path, and picnic area; and Brookdale Park, the third-largest park in Essex County with over 121 acres.
Restaurants in the Bloomfield area include Wabi Sabi, serving Japanese classics, such as sushi and ramen, among other menu items; El Matador Mexican Restaurant, which offers fresh Mexican food, including tamales, quesadillas, and tostadas; and Nevada Diner, a family-owned restaurant, bar, and bakery.
Caldwell
Caldwell Amenities
Rock 'n' Joe Coffee
Willing Hearts
Essex Mall
Caldwell Seafood Market & Cafe
The borough of Caldwell in New Jersey is named after the Reverend James Caldwell, a big supporter of the Continental Army during the American Revolutionary War. Caldwell, which lies about 16 miles to the west of New York City and just to the northwest of Newark, is also home to Caldwell University.
Prices for homes in Caldwell usually range from the $200s to $1.6 million. Caldwell homes come in a variety of sizes and can range from one bed and one bath to seven beds and eight baths.
Many of the restaurants in Caldwell are along Bloomfield Drive, one of the main thoroughfares in the borough. Restaurants include The Horseneck Tavern, a bar and tavern in the east end of the borough; the Caldwell Diner, which serves a selection of breakfast, lunch, and dinner favorites; and Divina Ristorante, an Italian-food joint that offers
Also in the area are Grover Cleveland Park, named after the former president, and the Grover Cleveland Birthplace Memorial, which sits across the street from the university. Local bars include La Taverna Bar and Lounge, Ringside Pub, and Cloverleaf Tavern.
Maplewood
Maplewood Amenities
Moonshine Modern Supper Club
Tiff's Burger & Ale House
Nuestra Tierra Restaurant
Memorial Park
The township of Maplewood is found in south-central Essex County and is the home of The Burgdorff Center for the Performing Arts, as well as the annual Maplewoodstock, featuring local and national performers. The East Branch of the Rahway River also flows through Maplewood.
Potential homebuyers can find Maplewood homes for sale with prices ranging from condos in the mid-$100s to luxury homes worth $1.6 million. Housing types include condos as well as two- and three-story homes. House sizes start with smaller studio condos and top out with larger five-bed, six-bath homes.
For area shopping, residents can go to a variety of locations, such as the Baker Street Market, a gourmet grocery and homewares store; Hopscotch, a children's clothing boutique; and Perch Home, a gift shop that has items for a variety of different tastes.
Other area eateries and bars include St. James's Gate Publick House, an Irish pub that serves Irish whiskey and coffee, among other drinks; CODA Kitchen & Bar, bringing a city vibe to downtown Maplewood; and The Able Baker, a small, cozy bakery selling scones, cupcakes, and other treats.
Essex County in New Jersey Is Full of Many Opportunities for Residents
There are a lot of homes to choose from for those interested in moving to Essex County. The area's proximity to major population centers makes it easy to travel to New York, Philadelphia, or elsewhere. In addition, the area offers plenty of economic, educational, and entertainment opportunities. This includes many parks, restaurants, shopping, and more. Newark Liberty International Airport is also located within the county for residents looking to travel further away. Essex County residents have access to it all.
Read Our Affordable City Guides For Each County Below