8 Most Affordable Monmouth County Cities: Great Homes, Great Prices
Posted by Rob Dekanski on Tuesday, March 8, 2022 at 6:40 AM
By Rob Dekanski / March 8, 2022
Comment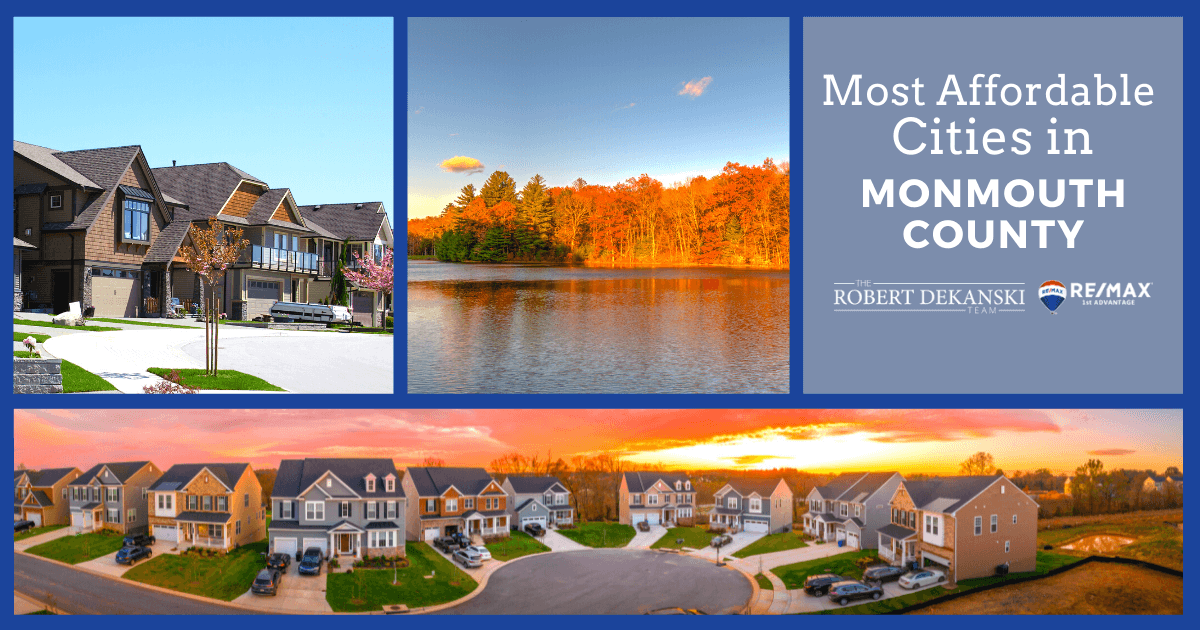 With several popular cities, townships, and boroughs, Monmouth County is a hotbed for prospective homebuyers when looking to relocate. Monmouth County real estate creates a sizable community known for its many waterways and excellent fishing. Some of the features that have homebuyers moving to Monmouth County in droves include its ample water views, proximity to New York City, and accessible public transportation.
Thankfully, this doesn't mean neighborhoods here are out-of-budget — there is a huge range of property types and home prices throughout the county. Read on to learn about some of the most affordable cities in Monmouth County, New Jersey.
Table of Contents
Quiet Neptune Township
Neptune Township Amenities
Jumping Brook Country Club
Shark River Golf Course
Local Smoke BBQ
Sunshine Village Park
Neptune Township is a quaint community located on the coast, with a surprisingly large population of almost 30,000. Despite the sizable population, Neptune Township remains a serene area for residents.
Homes in this neighborhood are typically spacious. Waterfront properties are plentiful in the area, with views of the Atlantic Ocean to the east and Shark River to the south. Classic colonials, bungalows, cottages, and Queen Anne architectural styles are present throughout the area.
Prices for Neptune Township real estate generally range between $200,000 and the $600,000s, though some go for more. Most homes have at least three bedrooms and boast great features like hardwood floors, fireplaces, recessed lighting, and generous windows that let in tons of natural light.
Major roads close to this township include Routes 18, 33, and 66. The Garden State Parkway doesn't pass through Neptune but borders it on the west. NJ Transit also serves the area, with Bradley Beach Station less than a ten-minute drive from the community. The train provides service to major hubs, including Secaucus Junction and New York Penn Station.
Neptune residents don't just live well — they eat well, too. Popular restaurants in the area include The Grand Tavern, which provides a curated menu of appetizers and entrees alongside an impressive wine and cocktail list, and Il Posto, an eatery serving up indulgent (and authentic) Italian.
Convenient Matawan
Matawan Amenities
Deerfield Park
Burrowes Mansion Museum
Brew Coffee Bar
Sweetberry Matawan
Walgreens
The close-knit suburban borough of Matawan is considered part of the New York Metropolitan Area. The community has a population of just under 30,000 residents living within roughly 2.5 square miles. The area boasts two lakes— Lefferts and Matawan— and two major highways, Routes 79 and 34.
New York City is just under an hour away by most modes of transportation. Drivers can take the Garden State Parkway to the north. The Matawan-Aberdeen station is under five minutes from Matawan and provides several trains that frequent the major metropolis.
Part of Matawan's charm is owed to its membership in the Bayshore Regional Strategic Plan. This is made up of nine municipalities in Monmouth County that share a common goal of boosting area economies by emphasizing traditional downtowns and the area's natural attractions.
Matawan homeowners get features like open floor plans, finished basements, and high-end countertops and appliances. With all these sought-after features, Matawan somehow manages to remain relatively affordable. Prices for Matawan homes for sale typically range between the high $100,000s and $700,000.
There is plenty of nature in Matawan besides the two picturesque lakes. Memorial Park is a small, peaceful park containing meaningful dedications. Nearby, Freneau Woods Park is a 300-acre wooded area with plenty of trails for joggers, walkers, and bikers.
Bustling Aberdeen
Aberdeen Amenities
Court Jester
Cliffwood Beach
Park Place Diner
ShopRite
Aberdeen is an attractive township in Monmouth County, with just under 20,000 residents. These residents are spread out across close to six square miles, so residents never feel cramped.
Like Matawan, Aberdeen is also part of the Bayshore Regional Strategic Plan. Some of the most popular shops in Aberdeen's downtown area include the Aberdeen Town Square Center, The Hobby Shop, and Bed Bath & Beyond.
Homes here are accessible to a wide range of budgets. Prices for Aberdeen real estate generally start at $200,000 and reach about $700,000. These properties offer features like hardwoods, fireplaces, master bedrooms, and proximity to the beach. On average, homes have three or more bedrooms and up to 3,000 square feet.
It's easy to get around in Aberdeen. The proximity of the Garden State Parkway makes commuting a breeze. Other nearby roads include Routes 34 and 35. The township is also home to the Matawan-Aberdeen station and NJ Transit bus routes 133 and 817, providing service to New York City.
Historic Englishtown
Englishtown Amenities
Old Bridge Township Raceway Park
Los Hermanos Deli
Trattoria Ravello
Sanford Park
A tiny borough in Monmouth County, Englishtown contains just under 2,000 residents. Despite its diminutive size, the area boasts a rich history and was home to several notable events during the American Revolutionary War.
Englishtown also has the perfect combination of charm and convenience. While many homes in the area are old, the insides have seen recent renovations and updates to their features and appliances.
Prices for Englishtown real estate typically range from $200,000 to $800,000, making the town accessible to a wide range of budgets. Most single-family homes have anywhere from two to four bedrooms and multiple bathrooms.
Condos and townhomes come at a lower price tag and typically sell in the $100,000s to $300,000s. These units feature amenities like clubhouses, fitness centers, swimming pools, tennis courts, and more.
Coffee lovers will feel right at home in Englishtown. In addition to the borough's cozy atmosphere, it is home to various cafes. The Baklava Lady is perfect for those who love to sit and enjoy a hot beverage and pastry or sandwich. On the other hand, Dunkin' Donuts is always available for those on the go.
Coastal Keyport
Keyport Amenities
Espresso Joe's
Keyport Yacht Club
Old Glory Kitchen + Spirits
Keyport Beach Park & Playground
Keyport Fishery
Keyport is a picturesque township located in Monmouth County, affectionately known by locals as the "Pearl of the Bayshore." While this name may sound like a lot to live up to, Keyport's amenities, events, and conveniences manage to do so.
With a population of less than 10,000, the area is close-knit and has the added benefit of being extremely walkable. Its downtown area has a fun commercial district, known as West Front Street, that puts on several events throughout the year.
Some of the most popular events include The Garden Walk, taking place every June, where residents have the opportunity to tour and stroll the area gardens. Likewise, the annual Saint Patricks Day Parade draws a crowd.
There is a decent mix of home types in the area, with both single-family and attached homes represented throughout Keyport. Most homes for sale in Keyport sell for between roughly $200,000 and $700,000. Most homes have at least three bedrooms and more than one bathroom.
On the flip side, condos in Keyport generally are less than $300,000. The benefits of these units include having a homeowners association that takes care of the maintenance of common areas, in addition to conveniences like pools, fitness centers, and private entrances.
Scenic Tinton Falls
Tinton Falls Amenities
Old Orchard Country Club
Sycamore Recreation Complex
Nettie's
Gargiulo's Tinton Falls
Tinton Falls is a popular destination for prospective residents of Monmouth County. With a population that sits at just under 20,000, the community grows with every passing year.
Known for its beautiful landscape, parkland, and public greenspace, Tinton Falls is home to plenty of opportunities to view nature. The borough takes its namesake from waterfalls located in the area.
Two recreation areas popular with residents are Overlook by the Falls and Shark River Park. The former provides easy trails that allow visitors to sightsee the area's waterfalls and local flora and fauna. A portion of the almost 1,000 acres of Shark River Park is located in Tinton Falls and is a favorite of locals looking to spend some time in the sunshine.
Homes in the area are just as gorgeous as the community's landscape. Property types range from quaint single-story ranches to sprawling contemporary estates. Architectural styles in the area include Colonial Revival, Victorian, Queen Anne, and Italianate.
Home for sale in Tinton Falls generally start at $200,000 and can go up to $800,000, sometimes more. Tinton Falls is one of the only areas in Monmouth County where waterfront homes can be purchased for less than $600,000.
Lively Hazlet
Hazlet Amenities
Drew's Bayshore Bistro
ShopRite of Hazlet
Hazlet Veteran's Memorial Park
China Buffet
Another Bayshore Regional Strategic Plan member, bustling Hazlet is home to just over 20,000 residents. The midsize township's claim to fame was being home to the last drive-in movie theater in all of New Jersey before its ultimate closure in the 1990s.
Despite the lack of drive-ins, Hazlet still has plenty to do. One of the most notable features of the area is its diverse cuisine offerings. Yesterday's Restaurant & Banquet Center and Assaggini Di Roma are delicious Italian restaurants located in the township. Nearby, Ae's Thai and BBQ mixes southern fare with a splash of Thai.
In addition to delicious cuisine, Hazlet provides relatively affordable real estate. Most Hazlet homes for sale generally start at $250,000 and can go up to about $650,000. Most homes have between three and four bedrooms and provide popular features like hardwood floors, high ceilings, and plenty of natural light.
The community's location makes it easy for residents who commute into the city. The Garden State Parkway runs through Hazlet, as does County Road 516. Residents also have the option of boarding the Sea Streak, a high-speed ferry that takes riders to midtown Manhattan in under an hour.
Picturesque Highlands
Highlands Amenities
Navesink Twin Lights
Highlands Library
Porcini
Bahrs Landing Famous Seafood Restaurant
Atlantic Highlands Mini Mall
Less than 30 miles from New York City, the borough of Highlands is an undiscovered gem in Monmouth County. Its more than 5,000 residents have the chance to enjoy the area's rich history, in addition to gorgeous views of the Atlantic Ocean and the New York City skyline.
Highlands gets its name from its location on a high bluff overlooking the Atlantic Ocean. It offers everything from cozy ranches to grand properties sitting on huge lots. Highlands real estate caters to a wide range of budgets, with prices typically hovering between $250,000 and $600,000, though some homes go up to $800,000 and beyond.
Some homes are cozy and boast less than 1,500 square feet, while others are spacious with more than 3,000 square feet of living space. Most homes have at least three bedrooms and multiple bathrooms.
New Jersey State Route 36 is the main thoroughfare that passes through the community. NJ Transit's 834 bus route also passes through Highlands and provides service to the Port Authority Bus Terminal.
In addition to all of the conveniences and amenities offered by Highlands, residents have the added benefit of being within walking distance of gorgeous beaches. Snug Harbor Beach and Highlands Beach both provide long stretches of soft sand in addition to boardwalks, boutiques, ice cream shops, and restaurants.
Find Great Living in Affordable Monmouth County Cities
Some prospective homebuyers may avoid looking within Monmouth County, thinking the area's proximity to New York City and the Atlantic Ocean coastline may make the real estate outside of their budget. However, quite the opposite is true. There are many cities within Monmouth County that are ideally located and filled with many sought-after amenities and conveniences while still accessible to a wide range of budgets.
If you're ready to call Monmouth County home, contact The Dekanski Home Selling Team of RE/MAX 1st Advantage with New Jersey Real Estate Network at (800) 691-0485 to get in touch with experienced Monmouth County real estate agents and find your ideal Monmouth County home today.