8 Affordable Cities in Somerset County: Low Housing Costs in New Jersey
Posted by Rob Dekanski on Wednesday, January 4, 2023 at 12:19 PM
By Rob Dekanski / January 4, 2023
Comment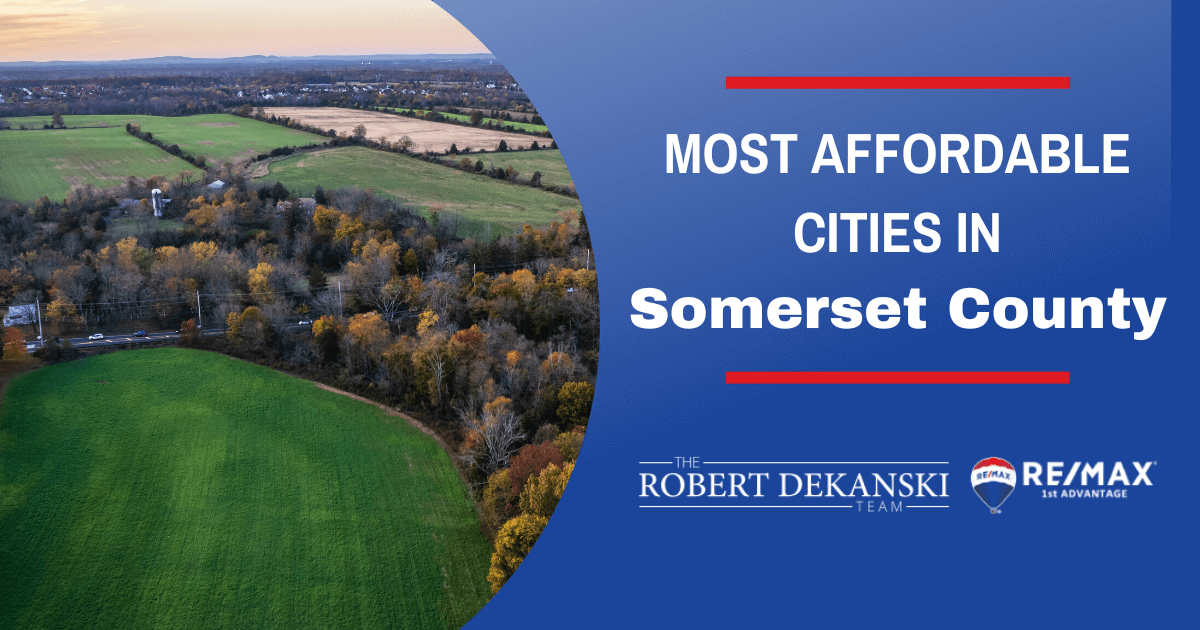 Somerset County in northern New Jersey is filled with a wide range of amenities while also being within a couple of hours of Philadelphia and New York City. The county also has scenic natural areas to explore and several parks and other outdoor amenities. While the median sale price in Somerset County is $485,000, some cities offer lower home prices and a lower cost of living. From condos and townhomes to single-family houses, those moving to Somerset County have many options to explore. The following are some of the most affordable cities in Somerset County, NJ.
South Bound Brook
South Bound Brook is a borough located just below the Raritan River in Somerset County. The borough was officially incorporated in 1907 and has seen steady growth over the decades. Home prices here are considerably lower than the county's median sale price. Homes for sale in South Bound Brook list from the $300s to the $600s, ranging from 1,000 to over 2,500 square feet. Some houses date back to the late 1880s, although some new construction homes can also be found. Houses typically have two or more bedrooms with one to three baths.
The location of South Bound Brook near the river and its many amenities make it one of the top affordable cities in the county. Residents in South Bound Brook have many amenities to enjoy, including Memorial Park for outdoor fun and excellent restaurants like Luigi's Pizza and Italian, which offers delicious pizzas, pasta dishes, subs, soups, and more in a cozy environment.
For schools, Robert Morris School serves Pre-K through 8th Grade. Bound Brook High School in the nearby borough of Bound Brook serves 9th–12th Grade.
South Bound Brook Amenities
Abraham Staats House historical site
Ovations restaurant
Delaware and Raritan Canal State Park Trail
Pancho's Mexican Grill
Lemongrass Sports Bar
Bound Brook
The Borough of Bound Brook has the Raritan River as its southern border and US-22 as part of its northern border. East Union Avenue runs through the center of the borough from west to east. This location provides residents with access to the Delaware and Raritan Canal State Park Trail and main roads for travel to other parts of the county, state, or region. Homes for sale in Bound Brook typically list below the county's median sale price, with some homes listing in the $300s to the $500s. Homes in Bound Brook typically have three or four bedrooms and at least two bathrooms.
Local schools in Bound Brook include Lafayette Elementary School, Smalley Elementary School, Community Middle School, and Bound Brook High School. Those who live in Bound Brook have numerous amenities available in the borough that are easy to get to. Codrington Park offers a swimming pool during the summer months, as well as places to have picnics or enjoy other outdoor activities. For food, the Westbrook is a casual restaurant that offers burgers, sandwiches, pizzas, hot dogs, and other American cuisine.
Bound Brook Amenities
Rancho Mateo of Bound Brook
Stan's Chitch's Cafe
Krauszer's Food Store
Girasole Italian Restaurant
Somerville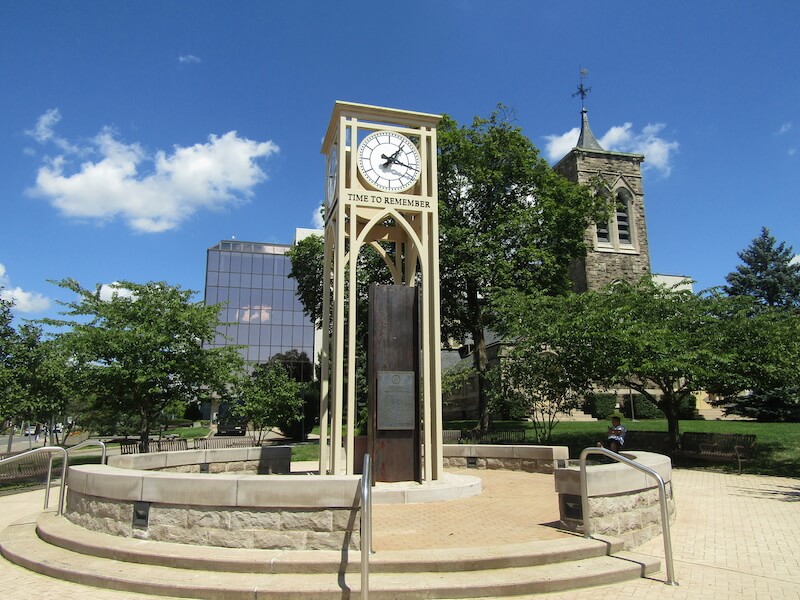 The Borough of Somerville borders Raritan River to the south and US Highway 22 to the north. Somerville is also close to I-287, Easton Turnpike, and other major roadways, making commuting and travel more convenient for residents. Homes for sale in Somerville are typically lower than the average home price in Somerset County overall, ranging from the low $300s to the $600s. Most homes in the borough are existing single-family houses, but there are some condos as well. Houses in Somerville tend to have three or more bedrooms and one or two baths.
Somerville residents have many nearby amenities, including historic sites, outdoor amenities, and dining establishments. Sarah Jane's Restaurant, which has been in Somerville since 1979, offers burgers, seafood, chicken, and other entrees. Peters Brook Greenway provides an excellent way for residents to explore the natural surroundings in the area. Wallace House and Old Dutch Parsonage State Historic Sites offer insight into the history of Somerville.
For schools, Local schools in Somerville include Van Derveer Elementary School, Somerville Middle School, and Somerville High School.
Somerville Amenities
Wolfgang's Steakhouse
Brunch by De Martino
RWJ University Hospital Somerset
Van Fleet Gardens
Schaub Park
Village Brewing Company
Millstone
The Borough of Millstone, which dates back to 1894, has small-town charm, historic buildings, local amenities, and easy access to neighboring cities and towns. While the housing market is slightly higher than in other cities in Somerset County, affordable homes can still be found here. Homes for sale in Millstone list from the $200s to the $700s. Houses in Millstone were mostly built decades ago, with some being over a century old. Many homes have three or more bedrooms and two or more bathrooms.
Millstone is a smaller borough, but it has some notable amenities close by for residents to enjoy. Sunrise Creek Deli and Grocery offers breakfast specials, deli sandwiches, subs, and burgers, as well as Lebanese menu items. Residents can visit East Millstone Park to play basketball, have a picnic, or spend some time outdoors.
Local schools for Millstone students include Amsterdam School, Hillsborough Middle School, and Hillsborough High School. Amsterdam School is just over a mile from Millstone, while Hillsborough Middle School and Hillsborough High School are a few miles away.
Millstone Amenities
Wagner Farm Park
Royce Brook Golf Club
Old Millstone Forge museum
Raritan
The Borough of Raritan, located between the Raritan River to the south and West Main Street to the north, offers a convenient place to call home. US Route 202 goes through the borough from east to west, while US Route 206 goes through the eastern edge of the borough. Historic homes, newer houses, and townhomes can be found in the borough. Homes for sale in Raritan typically list for less than the county average, with most ranging from the upper $200s to the $400s. The newest and largest homes in Raritan can list into the $700s, and they tend to have three bedrooms and at least two bathrooms.
Residents in Raritan have many places to choose from for a bite to eat, including DeLucia's Brick Oven Pizza, which has traditional pizzas and specialty pizzas. Char Steakhouse is another local hotspot where residents can go for steak, seafood, chicken, other entrees, and tasty desserts.
The Bridgewater-Raritan Regional School District serves students from Raritan. Several schools are part of this district, such as Bradley Gardens Primary School, Adamsville Primary School, Bridgewater-Raritan Regional Middle School, and Bridgewater-Raritan High School.
Raritan Amenities
Raritan Valley Country Club
Raritan Mall
Randazzo Pastry Shop and Bakery
Raritan Valley Park
Espo's Restaurant and Bar
Manville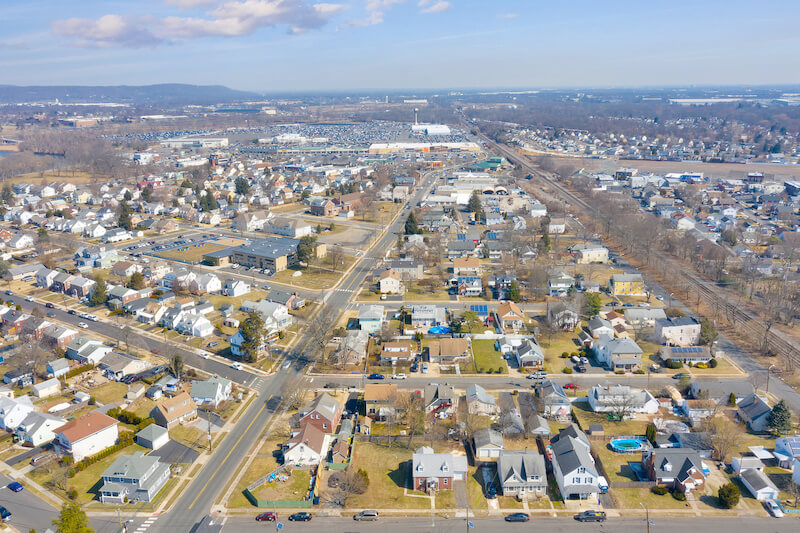 The Borough of Manville, which dates back to 1929, has two sides bordered by rivers. The Raritan River serves as the northern border, while the Millstone River serves as the eastern border. Home prices in Manville are significantly lower than the median home price in Somerset County, starting in the low $200s for single-family houses and going to the high $400s or higher for multifamily buildings. Many homes for sale in Manville have three or more bedrooms and two or more baths. Some homes have a garage as well.
The borough's location near rivers, along with plenty of shopping and dining options, provides residents with scenic sights and convenience. Those living in Manville can play sports or enjoy other outdoor activities at Lincoln Avenue Park or one of the borough's other parks. Manville Pastry Shoppe, a family-owned and operated bakery, has been providing residents with tasty treats since 1966. Residents can order muffins, doughnuts, danishes, cupcakes, pastries, custom cakes, and more from this local favorite.
Local schools in the Manville School District include Weston Elementary School, Roosevelt School, Alexander Batcho Intermediate School, and Manville High School.
Manville Amenities
Walmart Supercenter
Adam's Pizza
Duke's Parkway Park
Manville Diner
BBQ Manville
CVS Pharmacy
Stop and Go Food Store
Franklin
Franklin Township stretches from South Bound Brook to the north down to Rockingham Historic Site near Princeton to the south. Driving in Franklin Township is typically easy and convenient, as Lincoln Highway runs along the Township's eastern border while the Millstone River and Canal Road run along its western border. This central location in the Raritan Valley Region makes Franklin Township a great place to live. Homes for sale in Franklin list from well below the median sale price in Somerset County, with homes listing from the low $200s. Franklin is also home to some of Somerset County's luxury homes, which list from the $900s. Many homes are single-family detached houses with two or more bedrooms and bathrooms, although condos can also be found in town.
Franklin Township residents can spend time outside and enjoy the beautiful surroundings in Colonial Park, which includes colorful gardens. The park also has trails, a canoe launch, hiking, and other amenities, and there are plenty more things to do in Franklin Township. Stage House Tavern Restaurant offers brunch, live music, and lunch and dinner menus filled with delicious entrees, including steak, pasta, and seafood.
Several schools are part of the Franklin Township Public Schools system, including Claremont Elementary School, Franklin Park School, and Franklin High School.
Franklin Amenities
Spooky Brook Public Golf Course
Stop and Shop grocery store
Somerset Diner
Rockingham Historic Site
Hamilton Barbecue and Restaurant
Rocky Hill
The Borough of Rocky Hill, which officially became a borough in 1889, shares part of its eastern border with the Millstone River and part of its western border with Montgomery Shopping Center. Route 206 and the Georgetown Franklin Turnpike are just minutes away from Rocky Hill, which provides convenient ways for residents to get around. Home prices in Rocky Hill are sometimes lower than the median sale price in the county as a whole. Condos can be found in the low $200s, while single-family homes for sale in Rocky Hill list from the mid-$400s to the high $800s. Many Rocky Hill homes have three or more bedrooms and two or three baths.
Students in Rocky Hill typically attend Montgomery Township School District schools. These include Orchard Hill Elementary School, Village Elementary School, Montgomery Lower Middle School, Montgomery Upper Middle School, and Montgomery High School, which are close to the borough.
Residents can enjoy the sunshine and fresh air at Van Horne Park, which features walking trails that wind through wetlands, basketball courts, and other amenities. Historic Rocky Hill Inn and Tavern, which dates back to the 1700s, offers sandwiches, entrees, and other delicious menu items.
Rocky Hill Amenities
Historic Vreeland-Hayden House
Bagel Barn and Deli
ShopRite grocery store
Millstone Park
D&R Canal
Buy the Cup Coffee Shop
Small-Town Charm and an Abundance of Amenities in Somerset County
Somerset County's most affordable cities provide a wide range of options in terms of where to live. From small boroughs with historic homes and buildings to larger boroughs and townships with new construction homes and shopping malls, the county has an impressive housing market to complement all the things to do in Somerset County. These cities also offer convenient access to the wider Raritan Valley Region and other parts of the state, as well as NYC. Access to shops and dining, riverfront amenities, nature trails, and much more make these cities great options for anyone moving to Somerset County. Some are even considered among the best cities in Somerset County!
If you're ready to buy a home in Somerset County, contact The Dekanski Home Selling Team of RE/MAX 1st Advantage with New Jersey Real Estate Network at (800) 691-0485 to get in touch with experienced real estate agents and find your ideal Union County home today.
Read Our Affordable City Guides For Each County Below