8 Union County Cities With Affordable Homes: Best Bang For Your Buck
Posted by Rob Dekanski on Friday, January 7, 2022 at 8:33 AM
By Rob Dekanski / January 7, 2022
Comment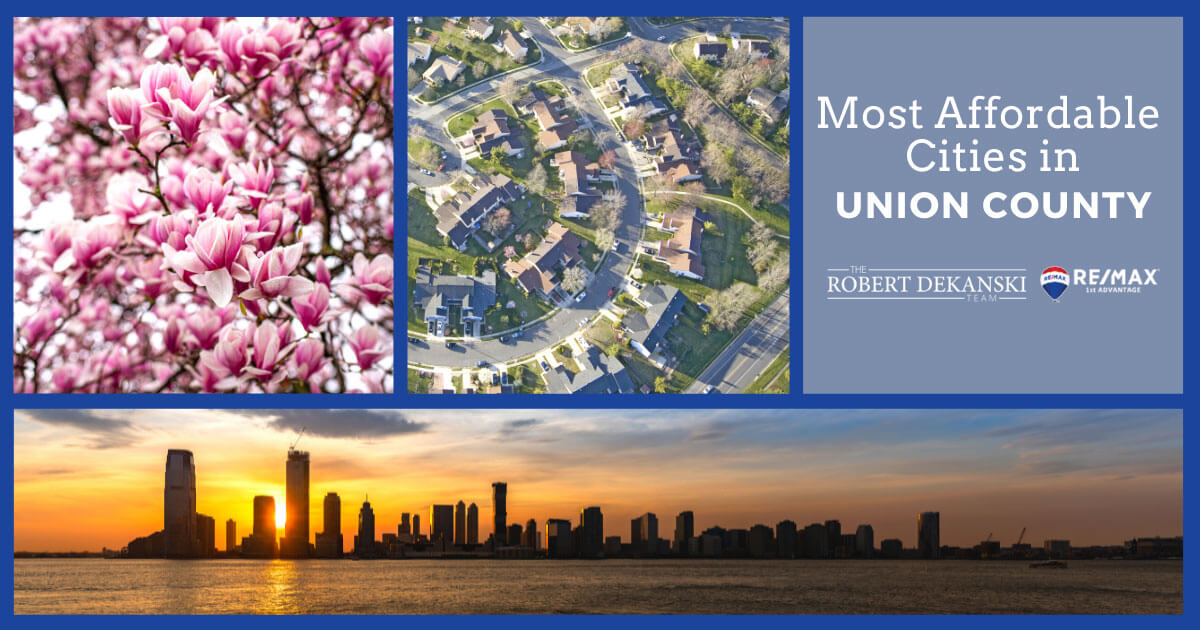 Noted for its convenient proximity to New York City, Union County is the 15th most densely populated county in the U.S. With such a robust population, the Union County real estate market offers an array of options. The houses found in Union County cities include many custom-built luxury homes at the higher end of the spectrum and smaller single- and multi-story homes at a more affordable price point. Looking for the best value for your real estate investment before moving to Union County? Keep reading to learn about the most affordable cities in Union County.
Hillside
Hillside Amenities
Dominick's Pizza Shoppes
Samy Boutique
Tanky's Bar & Grill
ShopRite
Incorporated in 1913, the Township of Hillside, NJ, is a mere 12 miles from New York City, making it a perfect bedroom community for residents commuting to Manhattan. The Hillside community is known for its quiet, suburban neighborhoods, beautiful area parks, and nearby hotspots.
Homes for sale in Hillside range in price between $110,000 and $630,000. Homes in the communities within Hillside come in various styles, including one-, two-, and three-story structures. In addition to standalone homes, potential homebuyers can also find condos and townhomes for sale in the area.
Some of the parks in the Hillside area include Elizabeth River Park, which offers a playground, sports fields, and fishing; Sanford Park, located adjacent to the Hillside Recreation Department, and features a playground, basketball courts, and soccer field; and Weequahic Park, which has a large 80-acre lake.
When it comes to food, Hillside has a selection of area restaurants to choose from, such as Mi Tierra Restaurant, offering Latin American cuisine to Hillside residents; Stephanie's BBQ, serving various barbecue dishes and sides; and Ola Café, a Brazilian-Portuguese coffee shop that also has pastries, sandwiches, and other baked goods.
Elizabeth
Elizabeth Amenities
City Tavern
Dolce Restaurant and Lounge
Mattano Park
The Garden
The fourth most populated city in New Jersey, Elizabeth was the state's first capital city. With a history steeped in the American Revolutionary War, the city of Elizabeth has a variety of monuments, statues, and museums dedicated to that period in American history.
Real estate in Elizabeth can start at prices like $170,000 for a 1-bedroom condo and go up to $950,000 for a five-bedroom home. House styles in the area include Victorians, Colonials, and custom-built models. In Elizabeth, NJ, sizes for homes range from around 600 to almost 6,300 square feet.
Historical sites within Elizabeth include Boxwood Hall, the location of George Washington's final stop before his inauguration as the first president of the United States in New York City; the Nathaniel Bonnell House, the oldest house in the city; and the Liberty Hall Museum, featuring a variety of antique furniture from the 1770s.
Area shopping includes the Express Factory Outlet, an outlet store close to Newark Bay, and Shoppers World, a department store that sells clothing, shoes, and other items. Elizabeth residents can check out Sofia's Restaurant, which offers seafood and other delicious food items when it comes to eating out.
Plainfield
Plainfield Amenities
Brick House Tavern + Tap
Faraones Night Club
Isabel's Grill
Washington Rock State Park
Plainfield is a city in New Jersey known as an urban center for ten surrounding municipalities. The Plainfield community is a leading industry area, including the manufacturing of chemicals, clothing, and electronics. The city is also considered a bedroom community for residents working in New York City.
Homes for sale in Plainfield start at around $120,000 and go up to $800,000. House styles in the area include Colonials, mother and daughter style, and split-level homes. There are also many historic homes in the city, many dating from the Victorian era and custom-built luxury residences.
Eateries in the area include The Family Soul Spot, serving a variety of delicious soul food items; the Cajun Crab Seafood Restaurant, with a wide range of seafood favorites, such as crab, lobster, and calamari, among others; and Jessica's Café, offering authentic Naples wood-fired pizza.
Plainfield has a lot to offer when it comes to shopping, including Rainbow Shops, a clothing store with fashionable clothing; Watchung Square, which has 29 stores offering various products; and Middlesex Mall, with restaurants, entertainment, and shopping.
Also located in the area is the Plainfield Country Club, which has world-class golfing, racquetball, and entertainment facilities for use by club members.
Roselle
Roselle Amenities
Sun Tavern
The Vintage Italian Restaurant
Warinanco Park
Crane-Phillips House Museum
Roselle is known for many things, including playing a prominent role in developing the light bulb. The borough of Roselle was the first village in the U.S. to be lit by the incandescent light bulb created by Thomas Edison. The borough was also the first to have a drive-up bank window in Union County.
Homes for sale in Roselle start at $120,000 and go up to $515,000 in price. Home types in the area include condos, smaller single-story homes, and larger Cape Cods. House sizes in the borough range from almost 600 square feet to over 1,500 square feet.
In addition to the many great housing options, Roselle has many amenities to offer homeowners. First and foremost is the large number of restaurants, including Roselle Fried Chicken, a local family-owned and operated chicken joint that has been in operation since 2004; Vinhus Restaurant and Lounge, offering great Portuguese food and drinks; and San Isidro Restaurante, a local Mexican restaurant.
Breweries and bars in the city include Wet Ticket Brewing, which brews all of its beers on-site; Yale Terrace Brewery, the owners of which started brewing as a hobby; and Hamilton's Tavern, which has brews, pool, and billiards.
Rahway
Rahway Amenities
The Lounge at Watt Hotel
The Coffee Box
Rahway Bagels
Firehouse Eatery & Pub
Located just 15 miles to the southwest of Manhattan, Rahway, NJ, is best known for Rahway River Park, a series of parks across Union County that encompasses over 6,000 acres. The city of Rahway also serves as a diverse regional hub for the arts in Union County.
Rahway homes for sale range from $150,000 to about $699,000. Many homes in the area are multiple stories, though some single-story residences are also available. House types range from large colonials to basement ranchers, among other house styles.
Rahway also has many shopping locations, such as Kat's Vintage and Chic Boutique, an area clothing store that features many unique fashions; Lala's Attic, a boutique, thrift shop, and consignment store; and Millie and Joy Boutique, a clothing store that specializes in women's fashions and accessories.
Rahway's other popular locations include Sabor Peruano Restaurant, a Peruvian eatery with a relaxed environment; The Waiting Room, a legendary downtown Rahway restaurant and bar; and Michelino's Pizzeria & Restaurant, serving standard Italian fare, pizza, and more.
For residents looking to explore Rahway's historical side, The Merchants and Drovers Tavern Museum is housed in a building built in the late 1700s. Also in the city is the Union County Performing Arts Center, which puts on performances throughout the year.
Linden
Linden Amenities
The Merchants and Drovers Tavern Museum
BK Lobster
Inspirations
Stancia Peruvian Fusion Restaurant
Named after the linden trees that populate the area, Linden, NJ, is known for the many industries that operate in the area, including the Phillips 66 Bayway Refinery and Merck & Co., a leading pharmaceutical company. Formed from parts of Elizabeth, Rahway, and Union Township, the town of Linden is a very vibrant community.
Linden real estate starts at around $157,000 and tops out at about $860,000. The homes available run the gamut from smaller 1-bed, 1-bath condos to larger 5-bed, 3-bath homes. Square footage for homes in the city ranges from under 800 square feet to upwards of 4,400 square feet.
Some of the many area outdoor attractions include Joseph Medwick Park, dedicated to the memory of MLB player Joseph Michael "Ducky" Medwick of the 1932 St. Louis Cardinals, and the Ernest L. Oros Wildlife Preserve, which is said to house over 388 species of birds, mammals, and other species.
Styles Inn Sports Bar & Grill offers a respite from a hard day of work with some sports and cold beverages for residents looking to relax and unwind. Another area establishment is Hook & Reel Cajun Seafood Bar, offering tasty seafood in a relaxed environment.
Roselle Park
Roselle Park Amenities
Allure Boutique
Valentino's
Just Jubilant
Warinanco Park
Home of WDY, the first radio broadcasting station licensed in New Jersey, the Borough of Roselle Park was also the home of the Marconi Wireless Telegraph lab and factory. Today, Roselle Park serves as a suburb of New York City to the east.
When browsing Roselle Park homes for sale, potential homebuyers can expect to pay anywhere between $250,000 and $649,000 for a home. Fortunately, there are a variety of home styles in the area to choose from, including Colonial split-level homes, ranches, and mother and daughter-style homes.
Most area businesses can be found along Westfield Avenue. Roselle Park area amenities include Fresca Pizza & Deli, which serves a variety of pizzas, appetizers, and standard deli fare; Sunrise Diner, which offers daily specials including Italian and American comfort food; and Pastrami & Pickles, a local sandwich shop serving a variety of other foods.
Area bars and breweries include Two Ton Brewing Co., which has beer on tap, as well as a space for private parties; Suspenders Restaurant & Pub, offering draft beer and pub grub in a low-key environment; and Central Park, an upscale sports bar with gourmet pub food.
Union Township
Union Township Amenities
2nd Avenue Thrift Superstore
Baltusrol Golf Club
Two Fish & Five Loaves
Café Z
With some of the most affordable home prices in Union County, the Union is known for its desirable parks and amenities. Union Township is traversed by various significant roadways, making it easy to get to the surrounding major cities, including New York City and others.
Union real estate prices range from $137,000 to $810,000. The listed home sizes range from 1,300 to 2,600 square feet. In addition, the house styles available in the area include Colonials, ranchers, and Cape Cods, among other architectural designs.
Some Union area hotspots include Huck Finn Diner, an old-fashioned diner that serves a variety of comfort food; Joe's Place Bar & Grill, offering typical diner-type fare; and Johnny Napkins, with a menu filled with delicious New Jersey favorites, such as pizza, sandwiches, and more.
Other locations in Union include Paddy's Place, a friendly neighborhood bar that offers daily specials, karaoke, and live music; Tiff's Burger & Alehouse, serving craft beers, burgers, and sandwiches in a warm vibe; and Union Plaza Shopping Center, home to a variety of retailers, such as Marshalls, Snipes, and others.
Find Affordable Homes in Union County
Smack dab in the middle of the northeastern section of the United States, the best cities in Union County each offer an excellent place to live. Its proximity to many other major cities in the region makes it very desirable for potential homeowners to buy a home.
This is due mainly to the smaller commute times and easy access to area transportation options through the New Jersey Transit system and its nature as a retreat from the busy life of the bigger cities surrounding the county.
Read Our Affordable City Guides For Each County Below