Most Affordable Neighborhoods in Edison: Edison, NJ Affordable Living Guide
Posted by Rob Dekanski on Wednesday, February 24, 2021 at 6:37 AM
By Rob Dekanski / February 24, 2021
Comment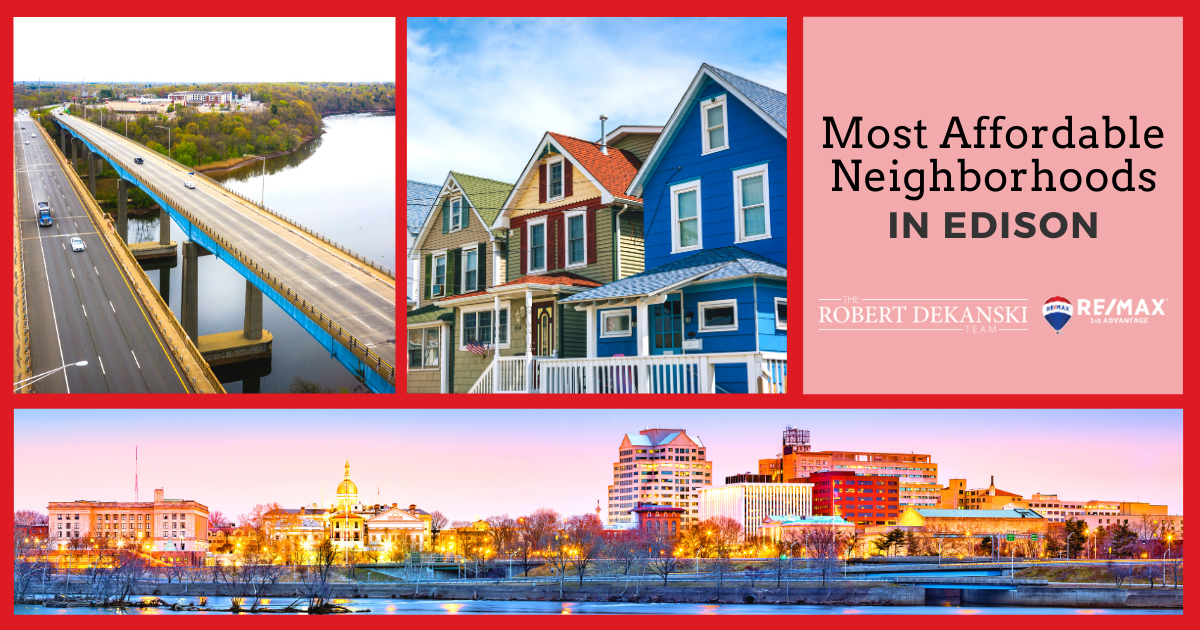 Making a move to a new neighborhood, especially when looking for affordable pricing in well-established communities with a variety of convenient features, can be overwhelming. In Edison, New Jersey, the city offers many choices in competitive home styles and prices. Whatever is prompting the move, whether it is to relocate from another city or state, a first-time buyer making an investment, or buying a larger or smaller home, consider one of these affordable neighborhoods in Edison as the next place to call home.
Mill Pointe
Mill Pointe Amenities
Within walking distance of Edison Park
Adjacent to Middlesex Community College
Less than 15 minutes from downtown Edison
The Mill Pointe community offers a choice of floor plans in beautifully designed condominiums. The attached homes reside in a well-established neighborhood with convenient access to major roads. For commuters, Mill Pointe is bordered by the New Jersey Turnpike to the west and Mill Road to the east. There are three nearby schools in the Edison Township Public School District, including Benjamin Franklin Elementary, Herbert Hoover Middle School, and Edison High School—all less than a 10-minute drive from the neighborhood.
The condos were built in the 1970s and offer one and two bedrooms with one to two bathrooms. Depending on individual needs and budgets, homes in Mill Pointe range in size from 702 to 1,188 square feet. With a median sale price of $149,500, current sales prices range between $139,000 and $249,000.
Victoria Park
Victoria Park Amenities
Near the Edison train station
Five miles from Middlesex County College
Approximately three miles from Middlesex Mall
Near Papaianni Park
Potential residents of Victoria Park have choices in townhouse-style condominiums conveniently located near Edison's public transportation, shopping options, educational centers, and dining venues. For those who enjoy traveling, the community is 30 minutes from the Newark Liberty International Airport.
The homes in Victoria Park are typically two- to three-bedroom dwellings with 1.5 to 2.5 bathrooms and prices ranging from $200,000 to $300,000 and up. The community's townhomes vary in style, size, and amenities. Many homes have features such as a private patio, laundry room, and a fireplace. The community itself has on-site amenities for resident entertainment such as tennis courts, a clubhouse, a playground for children, and an outdoor pool.
Washington Park
Washington Park Amenities
Five minutes from Papaianni Park
Three minutes from Planet Fitness
Walking distance to Washington Elementary School and Edison High School
Three minutes from Island Spa and Sauna
The Washington Park neighborhood offers a selection of architectural styles from split-level with an attached garage to a traditional ranch-style, single-level home. Washington Park is a vintage community dating to 1950 that has continued to develop through the years. It is bordered by Lincoln Highway and U.S. Rte. 1 and is five minutes from downtown.
Home prices vary widely from $100,000 and up to the mid $400,000 range, giving home buyers many options when it comes to choosing a style, size, and price. Homes with three bedrooms and two bathrooms can be priced in the upper $300,000s, a three-bedroom with one bath can average in the upper $200,000s, and a five-bedroom with three baths may be priced in the mid to upper $400,000s. On average, single family homes generally have three to five bedrooms and one to four bathrooms and square footage of 1,008 to 2,200. The current median sale price is $397,000.
Center Place
Center Place Amenities
Newark Liberty International Airport is 20 miles away
Near Middlesex Community College
Close to Edison Park
J.P. Stevens High School and Edgar Middle School is nearby
For those interested in making a move to an Edison condominium, the Center Place community has much to offer. Situated near the New Jersey Turnpike, Old Post Road, U.S. Rte. 1, and the Garden State Parkway, Center Place provides ample access to Edison and neighboring cities, parks, restaurants, and the city's shopping venues.
The townhomes in Center Place are two- to three-bedroom abodes with two to three bathrooms. Townhomes average between 1,200 and 1,900 square feet. Available features include hardwood floors, nine-foot ceilings, and an attached garage. Community amenities include a fitness room, basketball courts, outdoor pool, and a clubhouse. Prices range from $200,000 to $400,000 and up.
Tanglewood
Tanglewood Amenities
A variety of dining and shopping venues along Route 1
Near elementary, middle, and high schools
For those looking for a neighborhood offering diversity in the types of home styles, Tanglewood is a good place to start. Residents are conveniently located with access to the New Jersey Turnpike and U.S. Rte. 1. The community offers choices in condominiums, upscale and vintage single-family homes built between 1958 and 1982, and townhomes. Many of these homes are fitted with features such as multiple-car garages, floor-to-ceiling windows, granite countertops, glass-walled showers, modern appliances, central air-conditioning, scenic views, and heated swimming pools.
Homes generally range in size from 1,800 to 2,000 square feet with two to five bedrooms and two to three bathrooms. Generally, prices range between $375,000 to $452,000. The median sale price for a single-family home in Tanglewood is currently $440,000.
Discover Edison's Most Affordable Neighborhoods
When searching for well-established neighborhoods that offer convenience to nearby areas, easy accessibility to area venues, and affordable homes, look no further than Edison for a quality way of life.