8 Newark, NJ Neighborhoods with the Best Bang for Your Buck
Posted by Rob Dekanski on Friday, October 1, 2021 at 12:17 PM
By Rob Dekanski / October 1, 2021
Comment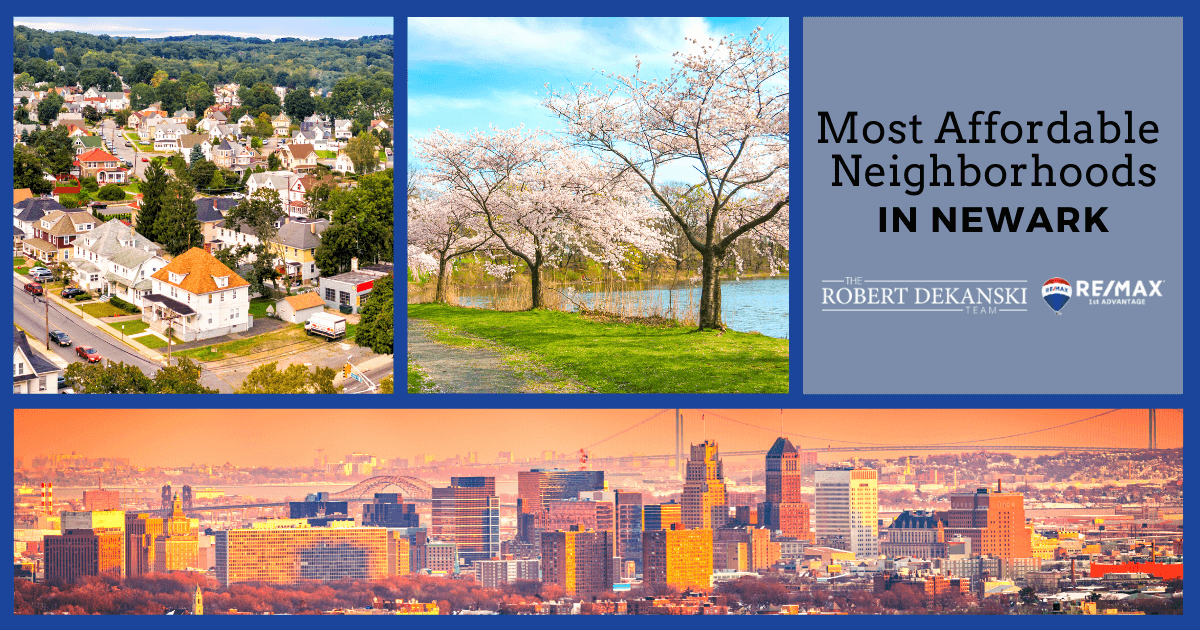 From townhomes and condos to single-family homes, Newark real estate offers plenty of options for residents. People moving to Newark also enjoy well-established neighborhoods, convenient access to the expressway, a large park system, access to the Light Rail system, and a strong economy. Love fun facts about Newark? This city is where the first M&M's candies were produced in 1941. There are so many great reasons to call Newark home. Several neighbourhoods in Newark offer more affordable housing prices and access to all the city's amazing amenities. Read on to learn about the most affordable Newark neighborhoods.
Dayton-Weequahic Park
Dayton-Weequahic Park Amenities
Weequahic Park Track
Weequahic Golf Course
Galloping Hill Park and Golf Course
La Roc Supermarket
Located 10 minutes from downtown, the Dayton-Weequahic Park community is perfect for people looking to reduce driving and commute times in Newark. Newark Liberty International Airport is also about 10 minutes away, providing even more travel convenience. Within the community, condos range in price from $499,000 to $799,900. Nearby restaurants include Crown Fried Chicken & Pizza, Manny's Deli Restaurant, Herb's Diner, and Rei Da Picanha Restaurant. Several shopping venues are also located within the neighborhood.
I-78 Express is located near the Dayton-Weequahic neighborhood, providing easy access to all the popular attractions in Newark. Belmont Runyon Elementary School and Weequahic High School are just two of the public schools in the area. With convenient proximity to nightlife and entertainment, there's never a dull moment in the Dayton-Weequahic neighborhood.
University Heights
University Heights Amenities
Newark Light Rail stops in the neighborhood
Five minutes from University Hospital
Five minutes from The Newark Museum of Art
Branch Brook Park
Veterans Memorial Park
Boys Park Site
Washington Park
Nat Turner Park
The University Heights neighborhood earned its name due to the four educational institutions that reside within the community's borders. These include Essex County College, New Jersey Institute of Technology, Rutgers School of Dental Medicine, and Rutgers University – Newark Campus. Along with educational opportunities, University Heights offers convenient proximity to medical facilities and the airport. The real estate market is a mix of single-family and attached homes with prices ranging from $225,000 to $489,000. Downtown Newark is just five minutes away.
Enjoy movie night at the Newark Moonlight Cinema drive-in. Before or after the movie, grab a bite to eat at the Resa Grill or enjoy live music and casual fare at Priory Restaurant. Suite 304 Bar & Restaurant is another option offering classic American and Italian dishes. For sports enthusiasts, Three Levels Lounge and Sports Bar is 10 minutes away. Shops and grocery stores in the area include NJIT Bookstore, the Village Market, New Way Market, and the Nike Factory Store.
Lower Clinton Hill
Lower Clinton Hill Amenities
Mildred Helms Park
Peshine Park
Tim Williams Green Oasis Community Garden
Rabbit Hole Farm
Homes in Lower Clinton Hill are just 7 minutes from downtown Newark I-78 Express. The real estate market in this neighborhood primarily consists of mid-rise multi-family buildings and Newark vacant land. Depending on the number of rooms and square footage, prices in the neighborhood range from $125,000 to $635,000.
Discover stores in the community such as Clinton & Bergen Furniture, Rosalinda Furniture, Best Provision Co., and Team USA Sporting Goods. Belmont Runyon Elementary School is conveniently located within the neighborhood. Several eateries near Lower Clinton Hill include Steak-n-Take & Seafood, Burkindi, and Panzz Seafood & Wings. The Pacific Fish & Crab House market is nearby for fresh seafood, and for specialty foods, the EcoWest Food Market is just five minutes away.
Springfield-Belmont
Springfield-Belmont Amenities
CityPlex 12 Newark
Military Park
Krueger-Scott Mansion
Nat Turner Park
Jesse Allen Park
John F. Kennedy Recreation Center
The Springfield-Belmont neighborhood, situated in the Central Ward, is located just five minutes away for residents who need convenient access to the business district. The available real estate here mostly consists of townhomes and single-family homes that have two to five bedrooms. Prices typically range from $193,000 to $395,000. Transportation is accessible by bus connecting service to Newark Penn Station and regular stops by the Newark Light Rail system. Schools less than 15 minutes away include Technology High School, Science High School, Central High School, First Avenue Elementary School, and Roberto Clemente Elementary School.
South Broad Street
South Broad Street Amenities
Lincoln Park
Jesse Allen Park
Nat Turner Park
Mildred Helms Park
Badger Park
Boasting stylish vintage homes alongside newer single-family residences, the South Broad Street neighborhood has plenty of options to match individual needs and preferences. The neighborhood has home prices that typically start at around $225,000 and go up to $700,000.
From dine-in to delivery, there are neighborhood restaurants to choose from, such as Poor Tuga Sports Bar, Vincent's Bar & Restaurant, Rosy's Place, The Boulevard, and Rosie's Sports Bar. Have a sweet tooth? Nasto's Ice Cream Co. - Old World Desserts has tasty treats to please the palate. Nearby schools, such as Arts High School, Bard Early College High School, and Mount Vernon Elementary, offer pre-K to 12th-grade classes.
Mount Pleasant
Mount Pleasant Amenities
Branch Brook Park Roller Rink
The Newark Museum of Art
New Jersey Performing Arts Center
The Mount Pleasant neighborhood features condos, townhomes, and single-family homes built between 1900 and 2015. Prices for homes are typically found between $170,000 and $338,900. Within the neighborhood, students have access to Technology High School and Rafael Hernandez Elementary School. A broad range of dining options in the neighborhood offers cuisine to satisfy any appetite.
Nearby Branch Brook Park is perfect for walking, jogging, picnicking, or swing into action at Hendricks Field Golf Course. Food Fair Fresh Market and Borinquen Bakery sell fresh foods and sweet treats, and just across the Passaic River, there's a Starbucks, Applebee's, Tops Diner, and Kearny Plaza Shopping Center.
Affordability and Amenities Await in Newark Neighborhoods
When looking for excellent amenities and affordable housing prices, these Newark neighborhoods are sure to deliver. Founded in 1663, Newark provides all these perks while blending its long history focusing on future success. Anyone looking to buy a home in New Jersey can find a property in Newark that matches their budget and desired amenities.
If you're looking for the right place to live in Newark, contact The Dekanski Home Selling Team of RE/MAX 1st Advantage with New Jersey Real Estate Network at (800) 691-0485 to get in touch with a Newark real estate agent who can help you find your ideal Newark home today.