8 Most Expensive Cities in Essex County: Luxury Awaits
Posted by Rob Dekanski on Friday, December 17, 2021 at 6:42 AM
By Rob Dekanski / December 17, 2021
Comment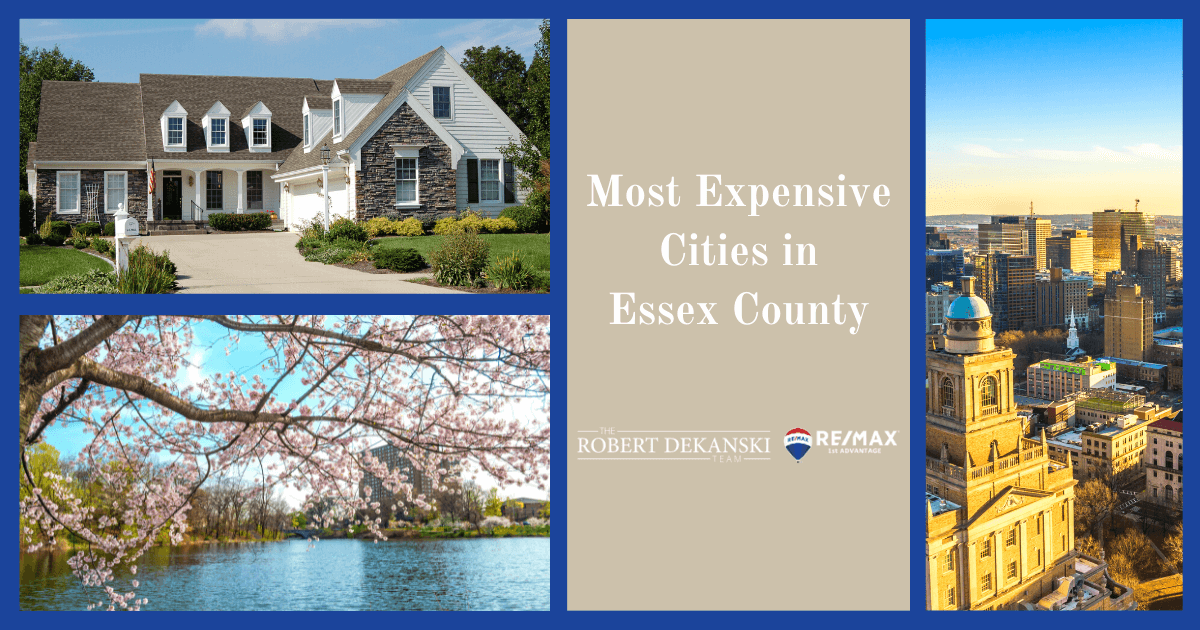 Essex County is located in the northeastern part of New Jersey. From its more suburban western half to its more populated eastern half, Essex County real estate includes towns that suit diverse preferences. The county is known as a major national transportation hub and contains Newark International Airport and numerous rail and highway connections.
People moving to Essex County praise the area for its robust economy and many things to do. The county itself comprises 22 separate municipalities, many of them classified as townships. As in many New Jersey counties, some cities in Essex County are more expensive than others. Looking for luxury homes in the best cities in Essex County? Keep reading to learn about the eight most expensive Essex County towns.
Short Hills
Short Hills Amenities
The Mall at Short Hills
Scotty's Pub and Comedy Cove
Carriage House Restaurant
Bagels-4-U
Short Hills is an unincorporated community within the township of Millburn, so Short Hills is considered a part of the larger township. Its most significant difference from the township of Millburn is the number of sprawling luxury estates are found there.
Homes for sale in Short Hills can cost anywhere between $1.2 million and $7.5 million for a stately 10-bedroom home. Most Short Hills luxury homes comprise multiple levels, though some one-story ranch models exist.
The Short Hills Area does have several area dining hotspots, including the Boxcar Bar, a bar and grill set in a 1907 train station; Sonny's Indian Kitchen, serving traditional Indian cuisine; and California Pizza Kitchen, with pizza, pasta, and other options.
Residents can also dine at Par440 Restaurant & Lounge after a day of golf at the Canoe Brook Country Club or after spending some time at one of the nearby parks, such as Gero Park, Central Valley Wetlands, or Memorial Park in the nearby borough of Madison, NJ.
Essex Fells
Essex Fells Amenities
La Taverna Bar & Lounge
Cloverleaf Tavern
Wander Atelier
The Bottle Shop
A close-knit community of older homes, the borough of Essex Fells is known for its lack of stores due to a 1928 ordinance. This quiet nature makes the Essex Fells area so attractive to the people who live there. Add to that the relatively low property tax rates, and it's easy to see why Essex Fells is one of the more desirable places to live in New Jersey.
Homes for sale in Essex Fells fall in a range of prices from a low of $850,000 to as high as $2.8 million. Home sizes in the area start at 2-beds and 1-bath and go up to 8-beds and 5-baths. Many of the houses in Essex Fells are custom-built homes set amongst area green spaces and trees, giving it a woodsy vibe.
And while the lack of any commercial buildings creates a unique residential oasis among the hustle and bustle of New Jersey, some locations serve area residents on the periphery of the borough. This includes such places as the Horseneck Tavern, an establishment that serves various bar food and drinks; Caldwell Seafood Market & Café, a quaint, local seafood place serving hand-picked seafood dishes; and Fairchilds Marketplace, a butcher shop, and deli.
Livingston
Livingston Amenities
Sweet Basil's Café & Grill
The Thirsty Turtle
The Simple Greek
Becker Park
While the township of Livingston started as a farming and lumbering community, the area has grown into a small bedroom community that provides a home for workers commuting into the surrounding cities. Livingston, NJ is also known for its diverse performing and fine arts scene only an hour outside of New York.
Homes for sale in Livingston cost homebuyers anywhere between $500,000 and $2.5 million. Homes within the neighborhoods of Livingston come in various styles, such as Colonial, ranch-style, and custom-built homes. House sizes range from having seven beds and seven baths to homes with two beds and three baths.
There are many shopping opportunities in Livingston, including Livingston Town Center, a shopping center with a selection of stores to choose from; World Market, a furniture and a furniture and home goods store offering a variety of stylish items; and the Livingston Shopping Center, a shopping mall located in a high-traffic area.
Food in Livingston includes ordering a meal at The Landmark, a local establishment offering a variety of pub favorites; Panevino Ristorante, known for its patio dining; and Assado Portuguese Steakhouse, a BYOB restaurant serving traditional Portuguese food.
South Orange
South Orange Amenities
Bunny's Sports Bar
Gaslight Brewery & Restaurant
South Mountain Reservation
Pirate's Pizza
South Orange, NJ, is known for its rich, artsy culture and numerous shade trees found in area parks. The town of South Orange is a nature lover's paradise due to the high number of parks, green spaces, and access to the outdoors.
Homes for sale in South Orange start at $2450,000 and can go up to $1.7 million. The area has many authentic Tudor, Colonial, and Victorian-style homes. House sizes include a variety of models, featuring anywhere from 2-beds and 3-baths to South Orange luxury homes with nine beds and three baths.
Shopping options in South Orange Village include Ashley Marketplace & Café, which offers take-home food items plus a sit-down menu; Little Shop of Hip-Hop, a clothing store with a hip-hop vibe; and Sadie's, which sells women's, men's, and children's clothing and accessories.
Area restaurants include Michezo, a vegan gourmet café; Harusame Japanese Cuisine, serving Asian and Japanese food, sushi; and Guanaticos Restaurant, exclusively offering Latin American food to the residents of South Orange Village and others.
The area also has many parks, all a part of the Essex County Park System, the first county park system in the U.S.
Millburn
Millburn Amenities
Cora Hartshorn Arboretum & Bird Sanctuary
Rock 'N' Joe of Millburn
Kung Fu Tea
Liv Breads: Artisan Bakery and Coffee Bar
The township of Millburn is a large community in Essex County that also contains the smaller community of Short Hills, with which it shares a school district. Millburn is known for its vibrant downtown area and The Mall at Short Hills, which some consider the best shopping mall in the state of New Jersey.
Millburn homes for sale generally run from $700,000 to $1.3 million. Home types in the area include condos, Tudor-style homes, and more modern dwellings. Room configurations include large homes with seven beds and five baths down to residences with one bed and one bath.
Area hotspots include Scotty's Pub and Comedy Cove, offering food, drink, and laughs; Charley's Aunt Restaurant, a neighborhood favorite that has been in operation for over 50 years; and Millburn Standard, serving burgers and steaks in a brick and leather set.
Some other favorite locations for residents include Paper Mill Playhouse, a regional theater that has the designation of being the state theater of New Jersey; South Mountain Reservation, and over 2,000-acre nature reserve; and Taylor Park, offering a playground, walking path, and sports facilities.
North Caldwell
North Caldwell Amenities
Giuseppe's
Neko's Tavern
Rare the Steak House
Green Brook Country Club
The borough of North Caldwell, part of what is collectively known as the Caldwells, is much smaller than the neighboring borough of Caldwell and the township of West Caldwell. North Caldwell is known as the Green Jewel of Essex County due to its beautiful homes on hilly, wooded roads.
North Caldwell properties for sale generally range in price from $630,000 to $2.5 million. Residences in the area include homes with 10 beds and seven baths down to houses with two beds and two baths. Potential homebuyers can also find one-bed, one-bath condos in the area.
One prominent area landmark is the Willowbrook Mall, a mostly one-story shopping center that offers many shopping, dining, and entertainment options. Other area shopping includes Caldwell's Floral Elegance, a flower shop in Caldwell to the south, and Stop & Shop, a supermarket in West Caldwell to the southwest.
North Caldwell area restaurants include Cappadocia Restaurant, a Turkish restaurant serving Mediterranean fare; Tavern 292, offering a casual dining experience with signature burgers, fried chicken, and draft beer; and LuNello, providing innovative food prepared with the finest ingredients.
Cedar Grove
Cedar Grove Amenities
The Fresh Grocer
Gianni Custom Clothiers
Violante & Son
DeNova European Pub
Directly to the east of North Caldwell, the township of Cedar Grove is a primarily residential area known for its proximity to New York City, about 20 miles to the southeast. Cedar Grove was ranked as the 4th best place to live in Essex County by New Jersey Monthly magazine in 2008.
Cedar Grove real estate prices range from $750,000 to $7.8 million. Homes in the area come in various sizes, including smaller one-bed, two-bath condos to larger eight-bed, eight-bath luxury homes. Home types include Mid-Century, Colonial, and ranch-style designs, among others.
Cedar Mills area outdoor locations include Mills Reservation, with the distinction of having a trail leading to a scenic overlook of New York City to the east; Cedar Grove Park, a 77-acre green space that is the fourth largest park in the New Jersey county park system; and Hilltop Reservation, offering wooded trails and bird watching.
Local eateries include Del Monico Steak & Seafood, a chophouse with menu items inspired by Asian and Italian influences; The Grasshopper, an Irish establishment serving Irish pub food and drinks; and New Kitchen, an authentic restaurant Chinese restaurant in the heart of Cedar Grove.
Fairfield
Fairfield Amenities
Crispy Critters Hobby Shop
Taqueria Los Gueros
Franklin Steakhouse & Tavern
Lumis Restaurant
The township of Fairfield, NJ, is one of the least populated areas of Essex County. As a result, Fairfield has more of a rural feel than other areas in the county. Fairfield also has a bustling industrial zone and offers easy access to nearby highways for shorter commute times to New York City, Newark, and other areas.
Homes for sale in Fairfield generally cost between $600,000 and $900,000. Home types range from luxury designer homes to simple two-story Cape Cods. As far as the number of bedrooms, houses in Fairfield usually range from smaller one-bed, one-bath homes to larger eight-bed, three-bath homes.
Local establishments include Honey's Kitchen, a small breakfast and lunch spot; Thatcher McGhee's Fairfield, a traditional Irish pub serving pub food, beer, and more; and Calandra's Mediterranean Grill, a Tuscan-inspired Mediterranean eatery.
The Great Piece Meadows Preserve is a wildlife preserve with fishing and hiking opportunities for the general public. There are also two separate country clubs in Fairfield, Green Brook Country Club, with an 18-hole course with undulating greens, and Mountain Ridge Country Club, which offers an 18-hole championship course.
Find New Jersey Mansions in Essex County Cities
Offering unfettered access to New York City and the surrounding New Jersey area, Essex County gives residents many cozy communities to retreat to when not at work. There are also many area parks where residents can escape to sightsee outdoors.
In addition, residents of Essex County can enjoy the area's many restaurants, shops, and entertainment venues, as well as those further away via the county's large number of roadways. The area is also ripe with economic opportunities for new and established homeowners.
Read Our Expensive City Guides For Each County Below