8 Most Expensive Towns in Monmouth County: Luxury Near the Shore
Posted by Rob Dekanski on Thursday, March 10, 2022 at 11:35 AM
By Rob Dekanski / March 10, 2022
Comment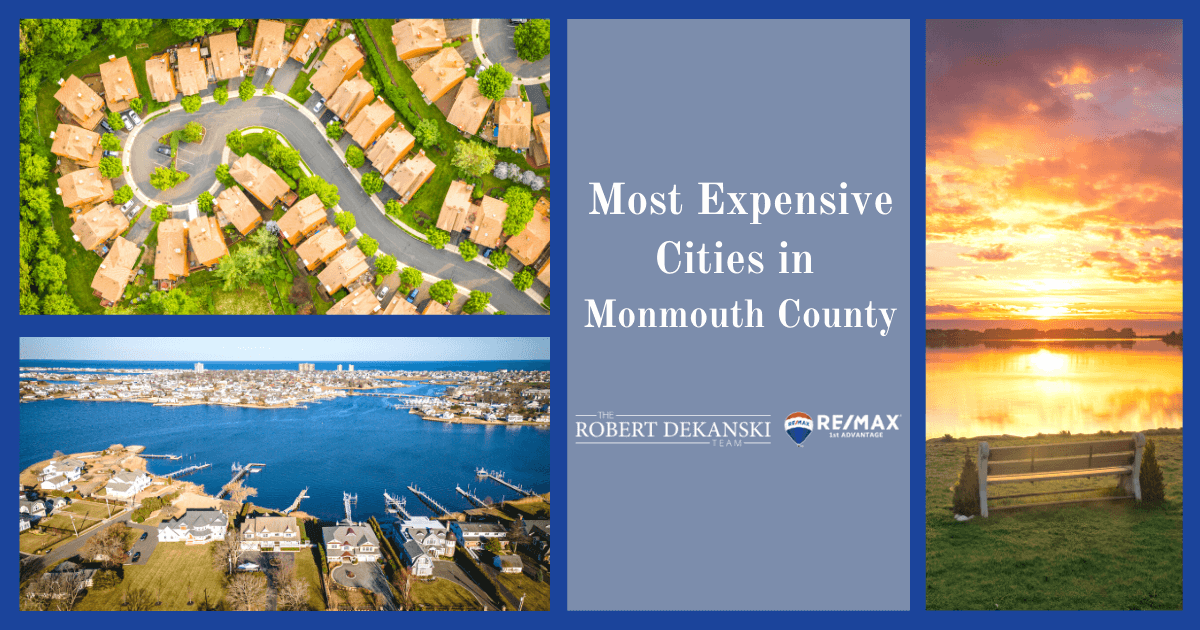 It's easy to see why Monmouth County, New Jersey is such a sought-after destination for prospective homebuyers. With a population of over 600,000 people, the bustling county has nearly everything an incoming resident could hope for. Monmouth County boasts all four seasons, views of the Atlantic Ocean, several rivers and lakes, a wide variety of home types, and real estate prices that cater to a range of budgets.
While all Monmouth County cities have perks, some have even more amenities to love. If you're thinking about a move to Monmouth County and looking to live a life of luxury, read on to learn about the eight most expensive cities it has to offer.
Table of Contents
Grand Deal
Deal Amenities
Tapas
Dougie's Bar-B-Que
Silverball Retro Arcade
Asbury Lanes
Deal is a tiny borough on the Jersey Shore with just over 500 residents. The community boasts extravagant homes just steps from beaches, shops, and local restaurants.
Prices for Deal homes for sale generally start at $1 million and stretch up to $6+ million. Most properties have at least 4,000 square feet and four or more bedrooms. These homes are known for their waterfront views, custom kitchens, and high-end features.
Deal properties set back from the shore still have plenty to offer. Most Monmouth County beaches are within a short walk or drive from the area. Hathaway Beach and Loch Arbor Beach are less than five minutes away by car and boast long, gorgeous stretches of sand and sun.
Deal is also a hotspot for commuters, offering easy access to many metropolitan areas via NJ Transit. Allenhurst and Alberon Train Stations are a short drive from Deal and provide service to New York Penn Station.
Quiet Spring Lake
Spring Lake Amenities
Scone Pony
Spring Lake Theatre
Spring Lake Bath & Tennis Club
Spring Lake Beach
Martin Maloney Cottage
Spring Lake is a tiny borough with about 3,000 residents. Its boardwalk boasts no vendors, allowing residents to stroll the two-mile stretch in peace and tranquility. Likewise, Spring Lake Beach provides a quiet respite from the hustle and bustle of downtown.
There are over 60 shops and boutiques in Spring Lake's downtown area. The borough's main stretch, 3rd Avenue, has tons of specialty and boutique stores that keep residents entertained. Local favorites include hodad, Warm Shop, and Coral Cove.
Spring Lake real estate can be below $1 million, but most homes are typically between $1 million and $6+ million. Properties are spacious, usually with at least four bedrooms, multiple bathrooms, and 2,000 square feet or more of living space.
The most popular architectural styles in the area include colonial, Cape Cod, and Victorian. Homes in Spring Lake boast sought-after features like waterfront views, soaring ceilings, finished basements, and huge backyards.
In addition to 3rd Avenue, other major roads near Spring Lake include New Jersey Routes 35 and 71. The borough is also home to the Spring Lake Train Station on the North Jersey Coast Line, which provides access to Newark Penn Station, New York Penn Station, and Secaucus Junction.
Luxurious Colts Neck
Colts Neck Amenities
Delicious Orchards
Freer Nature Preserve
Colts Neck Inn Hotel
Schlesinger Preserve
Colts Neck is a township of about 10,000 residents within the New York Metropolitan Area. Despite its proximity to New York City, the area remains a quiet community with plenty of open space and access to nearby beaches.
Part of the area's quiet comes from the strict zoning regulations meant to keep construction and development at bay. As a result, new construction homes are kept to a minimum, and Colts Neck residents enjoy the benefits of wide-open spaces.
The cost of Colts Neck real estate typically starts at around $580,000 and can be as high as $3+ million. Some massive luxury estates sell for over $10 million. These awe-inspiring properties sit on over 100-acre lots and boast nearly 20,000 square feet.
Most homes in Colts Neck, while luxurious, are not quite so extravagant. Properties typically sit on an acre of land and average 3,000 square feet of living space and four or more bedrooms. Popular features include in-ground pools, hot tubs, custom kitchens, and high-end appliances.
With the emphasis Colts Neck places on the importance of nature, it's no surprise that the community contains several recreational areas. Some of the most popular spots include Bucks Mill Recreation Area, 5 Point Park, and Dorbrook Recreation Area.
Bustling Allenhurst
Allenhurst Amenities
Ocean Grove Beach
Asbury Splash Park
Stephen Crane House
Allenhurst is a popular coastal community in Monmouth County with magnificent historic homes and a walkable downtown. The tiny borough has a population of roughly 500 residents. While small, Allenhurst contains enough shops, restaurants, and amenities to draw a crowd.
Some of the favorite hotspots in the area include Mister C's Beach Bistro, an oceanfront eatery with classic American dishes, and Back to Nature, a counter-service spot with plenty of healthy options.
The borough is also an ideal location for commuters. New Jersey Route 71 is easily accessed from Allenhurst, and the borough has its own train station: Allenhurst Station.
How much does it cost to live in an area with so much to offer? Allenhurst homes for sale generally range between $1–2 million, but some can go higher. Waterfront homes are the most sought-after properties and sell for the highest price tag.
Aside from waterfront views, other home features include hardwood floors, mahogany ceilings, and walk-in closets. Most sit on at least an acre of land and are within a short walk of the area's beaches.
Picturesque Rumson
Rumson Amenities
Lewis Point Woods
Salt Creek Grille
Tommy's Tavern + Tap
Less than an hour from New York City, Rumson is a popular commuter haven in Monmouth County. Just under 7,000 residents enjoy the leafy neighborhoods and tree-lined streets the borough has to offer. It's also considered one of the best cities in Monmouth County.
Initially a summer respite for New Yorkers, Rumson has become a year-round community that offers luxury living. Rumson real estate prices typically range between $800,000 and $5+ million. Most properties provide at least four bedrooms and up to six bathrooms.
Square footage varies widely throughout the area. Smaller homes in the area have interiors of around 2,000 square feet, while the most spacious properties in Rumson contain 7,000 square feet of living space or more.
Commuting into the city is a breeze. Little Silver and Red Bank stations are less than ten minutes from the borough. Residents can also choose to board the Sea Streak, a high-speed ferry that navigates directly to midtown Manhattan in roughly forty-five minutes.
Cozy cafes are popular among the community's quiet streets. Some of the most popular spots for residents to grab a bite and a hot beverage include Cups and Cakes, The French Market, and Atlantic Bagel Company.
Idyllic Sea Bright
Sea Bright Amenities
The Rum Runner
Woody's Ocean Grill
EvenTide Grill
Sea Bright Farmer's Market
Sea Bright is a highly desirable borough in Monmouth County with roughly 1,500 people. The area offers prospective homebuyers stately homes with panoramic views of the Atlantic Ocean and nearby Navesink River.
There are several home types here, and with this variety comes a huge range in real estate prices. One of the most affordable areas on this list, Sea Bright homes for sale generally start at $300,000 and go up to $3+ million.
The property types available in Sea Bright range from beachfront cottages to sprawling waterfront homes sitting on huge lots. From one-bedroom condos to 6,000 square foot mansions, the area is accessible to a wide range of budgets.
The borough's main thoroughfare is Rumson Road. It also provides easy access to New Jersey Route 36. Local bus service provides service to nearby Red Bank station, allowing commuters access to the North Jersey Coast Line.
Residents consistently rave about the Sea Bright beaches. In addition to the seven free public beach access ways located on Ocean Avenue, Sea Bright Beach and Anchorage Beach are also popular hotspots for locals.
Seaside Sea Girt
Sea Girt Amenities
Harrigan's Pub
Crescent Park
Sea Girt Beach
Ray's Cafe
The Parker House
The coastal community of Sea Girt boasts just under 2,000 residents. Ranked by Forbes Magazine as one of the most expensive zip codes in the United States, Sea Girt lives up to its reputation of providing luxury living for its residents.
Sea Girt real estate prices typically start around $500,000 and reach up into the $2+ million range. Homes boast anywhere from four to eight bedrooms, and most have at least three bathrooms.
Common features in these properties include custom architecture, in-ground pools, spacious yards, master bedrooms with en-suites, walk-in closets, and entire in-law apartments.
The only major roadway in Sea Girt is Route 71, which runs south-north through the borough. The closest NJ Transit station is Manasquan, less than a five-minute drive from the community. This station provides access to Newark Penn Station, Secaucus Junction, and New York Penn Station.
While Sea Girt may seem like a standard luxury beach town, the area is home to several attractions that may surprise newcomers. The Sea Girt Lighthouse was erected in 1896 and is one of only twenty lighthouses still standing in New Jersey. Nearby, the National Guard Militia Museum of New Jersey shares fascinating rotating exhibits with visitors.
Coastal Avon-by-the-Sea
Avon-by-the-Sea Amenities
Boathouse Bar & Grill
Maclearie Park
Oasis Pool & Day Club
The coastal community of Avon-by-the-Sea is truly a gem hidden amongst Monmouth County cities. The Victorian-era borough boasts roughly 2,000 residents and brims with charm and character.
Avon-by-the-Sea hugs the Atlantic Ocean coastline and is bordered by Sylvan Lake to the north and Shark River to the south. Many properties take advantage of the ample shoreline and have private jetties in their backyards.
Prices of Avon-by-the-Sea homes for sale generally range from $950,000 to $2+ million. Homes are an excellent mix of old and new construction homes, allowing the borough to maintain its rich history while still appearing updated and modern.
Common home features include wraparound porches, open floor plans, and sprawling backyards made for entertaining. In Avon-by-the-Sea, it's common to see outdoor features like in-ground pools, fire pits, barbecues, and hot tubs.
Residents of Avon-by-the-Sea also enjoy stopping for a drink at one of the area's many watering holes. Two of the most popular spots for cocktails in the area include Kelly's Tavern, an Irish-inspired eatery, and 9th Ave Pier, offering drinks and apps with views of the nearby marina.
Enjoy Luxury Living in Monmouth County Cities
Monmouth County cities offer all types of living. For those looking to enjoy luxury homes, there are plenty of cities in the county that focus on a higher-end lifestyle. While homes in these cities come at a higher price tag, the luxury features, convenient locations, and proximity to gorgeous beaches make the added expense worth it for many prospective homebuyers.
If you're ready to call Monmouth County home, contact The Dekanski Home Selling Team of RE/MAX 1st Advantage with New Jersey Real Estate Network at (800) 691-0485 to get in touch with experienced Monmouth County real estate agents and find your ideal Monmouth County home today.
Read Our Expensive City Guides For Each County Below