7 Most Expensive Towns in NJ: New Jersey Cities With Luxury Real Estate
Posted by Rob Dekanski on Monday, March 13, 2023 at 12:33:28 PM
By Rob Dekanski / March 13, 2023
Comment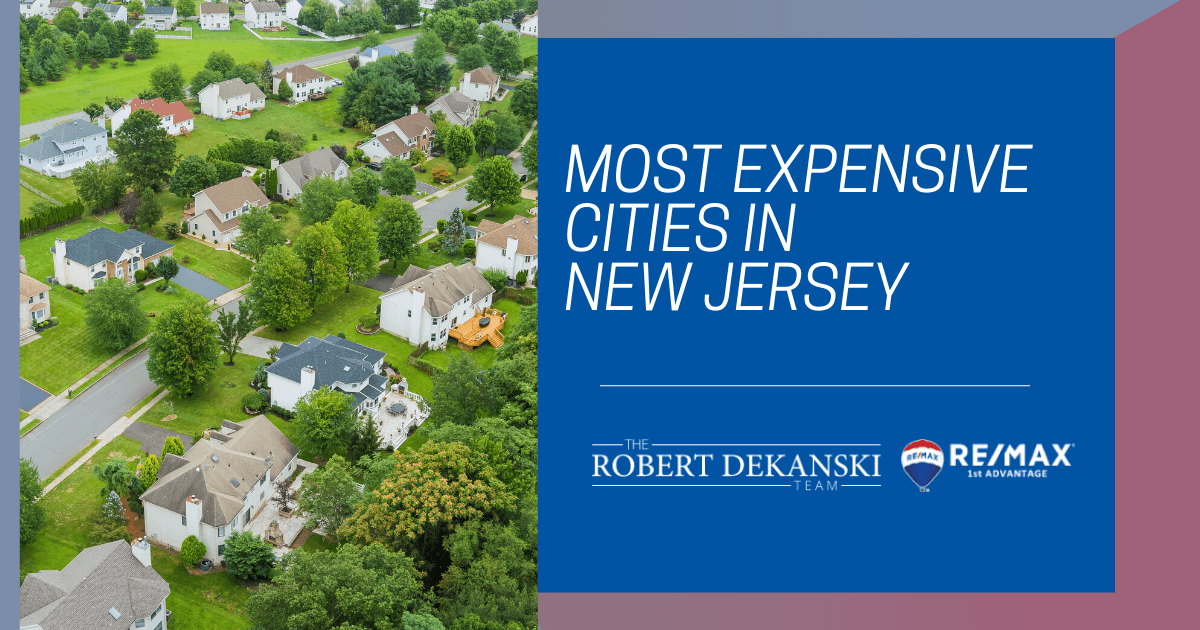 Those moving to New Jersey have many excellent housing options. While this is especially true for home shoppers with a big budget, sorting through the Garden State's many densely packed cities and towns for the perfect home can be challenging. Fortunately, several areas stand out above the rest — both in quality and price! Let's explore seven of the most expensive cities in New Jersey.
Alpine
It may be hard to believe based on its location across the Hudson River from upper Manhattan, but Alpine offers homebuyers one of the greenest, most undeveloped luxury communities in northern New Jersey. Tucked at the state's northeasternmost corner, it sits atop the soaring cliffs that line the river, land protected as part of the 2,500-acre Palisades Interstate Park. This sprawling green space offers some of the area's best views and outdoor fun. It takes its name from the nearby Palisades Interstate Parkway, quickly connecting residents to other parts of northern New Jersey or across the border into New York.
Golfers can take advantage of several nearby country clubs, and boaters can hit the water from the Alpine Marina. It's all part of a truly unique town that combines almost rural charm with the convenience of the best New Jersey and New York City offer.
This leafy borough consists of single-family detached spacious properties, often on large lots of an acre or more. Homes for sale in Alpine start just north of $1.25 million but more commonly sell between $2 million and $5 million. Ultraluxury properties can even reach the $25 million range. Those looking to build their dream home can even find undeveloped lots for around $2 million or more, a relative rarity in the region.
Alpine Amenities
Palisades Interstate Parkway access
Palisades Interstate Park
Alpine Country Club
Montammy Golf Club
Alpine Marina
Belmar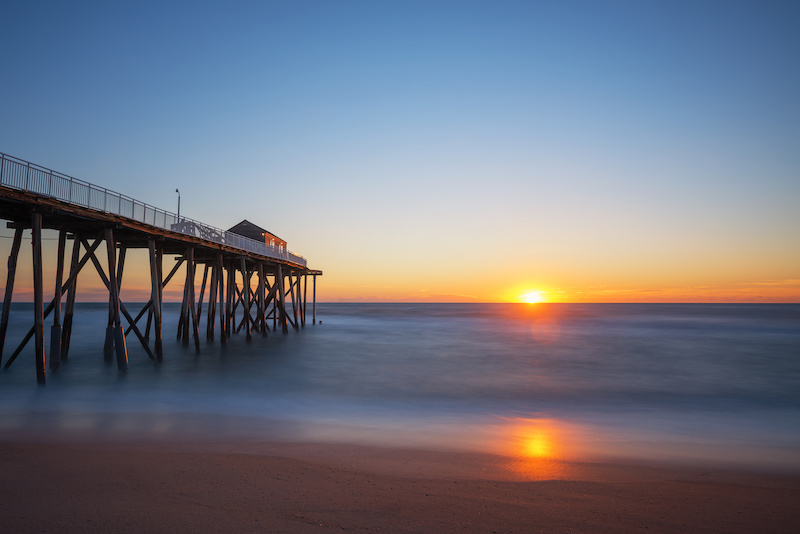 Jersey shore towns run the gamut from casual to high-end, but few offer the unique benefits of Belmar. While Belmar homes for sale can vary widely from luxury new construction homes to more modest, post-World War II beach cottages, all enjoy the township's biggest benefit: proximity to the beach without many people. Even Belmar's most distant residents are less than a mile and a half from the gorgeous mile-plus stretch along the Atlantic Ocean, and many homes are far closer.
Single-family properties range in price from $600,000 to $2.25 million or more. Some of these include multiple units, providing potential for extra income or space for friends and family to stay when visiting. The area's more limited condo options typically cost between $1.25 and $1.5 million.
Despite its more southerly location, trips from Belmar into northern New Jersey and New York City are simple, with the Garden State Parkway nearby and an NJ Transit rail stop located right within the town for those who prefer to leave the car at home. Restaurants await residents to enjoy, from waterfront seafood at Marina Grille to local beers and casual eats at Beach Haus Brewery.
Belmar Amenities
Nearly 1.5 miles of Atlantic Ocean beachfront
Shark River access
Maclearie Park
Silver Lake Park
New Jersey Coast Line NJ Transit rail station
Englewood Cliffs
Englewood Cliffs is another highly sought-after township along the bluffs of the Hudson River's western bank. This green riverfront stretch is home to parks, small beaches, picnic areas, and marinas, while overlooks like Rockefeller Lookout offer unique views.
Though much of Englewood Cliffs consists of peaceful residential communities, owners can enjoy a thriving commercial strip near Sylvan and Palisades avenues, with longtime community favorites like Brownstone Pancake Factory or the high-end Greek of Lefkes Estiatorio. Financial news network CNBC is located in Englewood Cliffs, as are the North American headquarters of LG Corporation and Unilever, providing extensive good-paying jobs for the town. Englewood Cliffs residents also have easy access to the many amenities next door in Englewood, such as the Bergen Performing Arts Center, which hosts both big-musical acts and local theatre.
Single-family detached homes comprise most of Englewood Cliffs' housing, though they vary significantly in size, style, and price. More modestly sized or older homes start in the mid-$700,000s and up. Average properties list in the $1.5 to $2 million range, though new construction homes can reach $5 million. Vacant homesites are also available from the mid-$500s to more than $1.5 million.
Englewood Cliffs Amenities
Hudson Park
Englewood Picnic Area
Englewood Marina
Bloomer Beach
Witte Field
Palisades Interstate Parkway access
Edgewater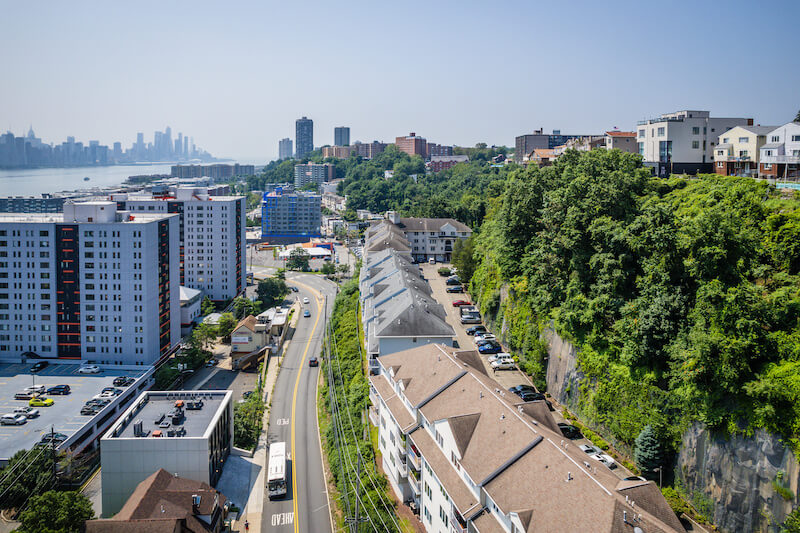 Edgewater is a long, narrow waterfront town just south of the George Washington Bridge. At points, Edgewater is less than 1,000 feet wide between the soaring Palisades and the Hudson River. Despite this, Edgewater is home to many condos and other multifamily developments, making up most of the area's housing. While they can start in the mid-$300,000s, most sell in the high six figures to $2 million or more. Single-family homes are rarer but can reach $5 million when available.
Most of Edgewater's attractions and amenities flank the town's main thoroughfare, River Road. These include the famous SoJo Spa Club, a spa featuring four floors of relaxation and wellness, from indoor pools to a Himalayan salt sauna. Mitsuwa Marketplace is also here, one of the region's best and largest Japanese specialty stores.
Edgewater is popular for commuting into New York City, a trip made easy via the nearby George Washington Bridge or ferry from Edgewater's terminal. Combined with the town's vast waterfront public space, it's easy to see why it's such a desired area.
Edgewater Amenities
Edgewater Community Center
Veterans Field Park
Convenient to George Washington Bridge
Edgewater Ferry Landing
Grand Cove Marina
Edgewater Commons shopping mall
Mitsuwa Marketplace
Ridgefield
Ridgefield is a small, northern New Jersey township east and southeast of the Hackensack River and Overpeck Creek. Ridgefield's residential portion sits on its east side, while the western part of town is occupied by wetlands and the New Jersey Turnpike, an extremely convenient way to get around the region.
In addition to quiet, tree-lined residential streets, Broad Avenue offers various local businesses and international stores. Residents can also enjoy amenities in the blocks surrounding Ridgefield Memorial High School, including Veterans Memorial Park and the public Ridgefield Pool.
Homebuyers in Ridgefield have their choice of single-family properties, supplemented by limited numbers of condos and townhouses, starting in the high-$400,000s and topping out north of $1 million. Ridgefield also offers a selection of small multifamily homes, allowing owners to generate extra income from a separate, legally rentable unit. These sell in the same range as many single-family properties but can sometimes reach $1.25 million or more.
Ridgefield Amenities
Veterans Memorial Park
Ridgefield Pool
Willis Park
Ridgefield Meadowlands Field
Convenient to NJ Turnpike, US Route 9
Palisades Park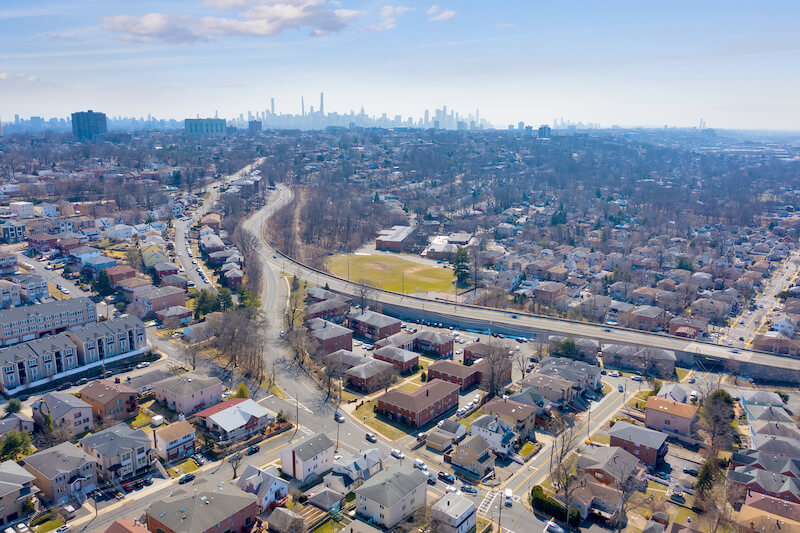 The compact, dense Bergen County town of Palisades Park occupies just over 1.25 square miles, bounded by Overpeck Creek, Harriet Avenue, 14th Street, and Oakdene Avenue. This area is home to some of the Garden State's best Korean restaurants, like So Gong Dong Tofu & BBQ and Totowah, along with other cuisines from Italian to fried chicken. Though most of the borough is developed, its western portion is made up of green space along Overpeck Creek, part of the larger Overpeck County Park that sprawls into nearby towns.
Detached and semi-detached homes provide most of Palisades Park's housing options, ranging from modest townhomes and split-levels to luxury new construction properties. These start in the high six figures but often reach $2 million on the high end. While buyers may find some budget condos, most are high-end units in small, newer buildings that sell from the $700,000s to $1.25 million or more.
Palisades Park Amenities
Overpeck County Park
Extensive dining/local shopping district
Palisades Park Swim Club
Convenient to George Washington Bridge, NJ Turnpike, US Route 46
Short Hills
For a combination of the Garden State's best shopping and the area's best parks and green space, would-be buyers should check out the unincorporated community of Short Hills. Its boundaries are State Route 24/Morris Turnpike, South Mountain Reservation, the John F. Kennedy Parkway, and County Route 510. In addition to being one of the state's most expensive areas, Short Hills is also one of the best places to live in New Jersey.
The Mall at Short Hills, one of the area's most notable attractions in Short Hills' southwestern corner, is a popular shopping center offering luxury brands and high-end restaurants. Next door, golfers can hit the links at two local courses, including Canoe Brook Country Club. Other ways for Short Hills residents to enjoy the great outdoors include the Cora Hartshorn Arboretum and Bird Sanctuary and the 2,000-acre South Mountain Reservation. The nearby township of Millburn offers a quaint, charming downtown filled with restaurants and shops, while an NJ Transit rail station commutes into the city and elsewhere.
Homes are single-family detached properties built in ranch, Colonial, modern, Tudor, and many more styles. Even the most modest Short Hills homes for sale start well over $1 million, with typical homes selling between $2 and $5 million. These impressive houses can have six or more bedrooms and up to 8,000 square feet of living space. Many also include large lots of an acre or more, complete with spectacular landscaping. These ultraluxury properties can sometimes reach $7 million or more.
Short Hills Amenities
The Mall at Short Hills
Morris & Essex Line NJ Transit rail station
South Mountain Reservation
Fox Hill Reserve
Canoe Brook Country Club
Summit Municipal Golf Course
Millburn Township Golf Course
Millburn Municipal Pool
Explore New Jersey's Most Expensive Cities
With everything these seven incredible New Jersey cities provide, buyers shouldn't be surprised to see them topping the list of Garden State home prices. These cities offer something for everyone, whether they're looking for a charming beach town, a woodsy escape, or the amenities and convenience of the dense New York City suburbs.
If you're excited by the opportunities in New Jersey, contact The Dekanski Home Selling Team of RE/MAX 1st Advantage with New Jersey Real Estate Network at (800) 691-0485 to get in touch with our experienced team of real estate agents and discover the perfect New Jersey home for you today.
Read Our Expensive City Guides For Each County Below